Justice Bartlett talks about "Empowering women (Wombs, TERFs and trans)" in this episode of Intuitive Leadership Mastery with host Michaela Light.

"We're going to talk about gender and patriarchy and matriarchy, and how that affects our businesses. both for men and women. There are some men who listen to this show as well. So I think this affects everyone is human. If there are any robots listening, it probably won't affect you. But you know, we're not going to worry about that."
Show notes
Female entrepreneurs and the patriarchy, matriarchy and misogyny 
Witch trials removing powerful women

Witchhunts and heresy 

Modern versions with cancel culture

Mary Magdalene edited out of the bible and church

Women liberation movement

Supported start of LGBTQ movement

Suffragette movement

Women exist (independent from fathers and husband and other men)

Feministment and radical feminism

Hyper male women entrepreneur vs only receiving 

Dehumanisation 

Desexualization of people

Birthing via womb or machine

Giving life

Novel Brave New World
Gender – Massive hairball of narrative confusion 
adding more consciousness

Listening and respect

Justice is great at creating distinctions, unpacking stories, nounace
Exclusions and inclusions
Transwomen and women
Transmen and men

Non-binary

Social and biologically difference
Male relationship coaches and misogyny 
Polarity coaching eg David Data

(sp?)

Patriarchy

SJW – W = warrior, attacks

Matricary
Attacks on women
Justice Women's retreat for women's issues
Initiation relation to wombs

Accused of being a TERF

TERF = trans-exclusionary radical feminist
Aggression from spite and trauma wound
Transhumanism 
Chips

DNA editing and child selection by gene

Chosen vs forced 
Enforced radical acceptance

Not just I accepting yourself

Allowed to do anything that does not hurt others

Forcing others to accept your world view

Hate porn, pile on

Word police 

Norway law

Culture wars vs political process

Sensitive and hyper-sensive

This behavior is rewarded

Money for Big Pharma and medicine

Teen girls depressed transaction – see the book Irreversible Damage: The Transgender Craze Seducing Our Daughters – Abigail Shrier

Permanent changes after adult 18(f)-24(m) years

Legal age of consent mostly 18 in USA states

Pronouns 

Example of UK govt health service doublespeak on women
Why womb rather than say women or vagina as defining characteristic for the group?
What is a woman?
Instant gendering of strangers

Not for sex

Partner selection and potential reproduction

Hierarchy 

Genetics

Upbringing

Rape culture 

Genitals

Secondary

Breasts, hips, height, strength, hair (or lack there of)

Hormones

How you brain operates 

Periods, menopause, birthing

Agree that in most cases we can all tell what a women (or man) is.

And more nuance in the definition of what is a woman:

A few genetic women are (unfortunately) born without wombs at all. But with functioning ovaries. Some are even born without a vaginal opening. Both conditions can now be healed with various surgery methods/transplants. Even to the point of being able to have babies.

There are also intersex people who don't have XX or XY chromosomes – may have XXY or other combinations. They may have both sets of genitals. Often the hospital mandates surgery for the baby to "correct" this. To make them fit into one or other of the neat and tidy gender boxes of male and female. Then the child is brought up as a natal boy or natal girl. Sometimes this works out. Other times the person is profoundly disturbed at puberty or later in life, when they discover their true gender history. I have several intersex friends who were traumatized by this process.
Podcast: Play in new window | Download (Duration: 1:36:08 — 88.0MB) | Embed
Subscribe: RSS
Mentioned in this episode
Bio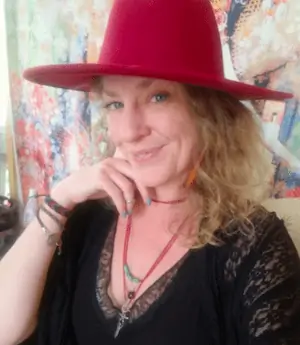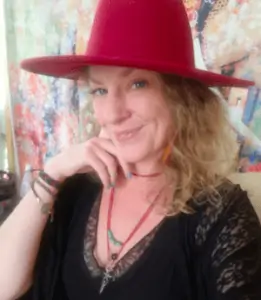 Justice Bartlett is a wild woman, writer, witch, matriarch, and consciousness provocateur. 
As a certified hypnotherapist, with more than 16 years of experience in the healing arts, Justice's main clientele is often other professional healers and therapists. However, hundreds of clients—since 2005, from all walks of life, from all over the world—have benefited from her heart-worn wisdom.
Justice believes we are the source of our own healing. She is merely an honored guide.
She offers 1:1 mentoring/healing sessions, as well as tailored long-term mentorships, to individuals (and couples). She also offers online classes and leads Wild Wisdom retreats located in the mountains of Montana. 
Justice is a frequent contributor to the online magazine, Elephant Journal. With her words, she tells stories that touch the core threads of humanity and that let us all feel and heal together.
For more info about one on one sessions, classes, and retreats check out Justice's website.
Links
Interview transcript
Michaela Light 0:02
Welcome back to the show. I'm here with Justice Bartlett back on the show again after a five year break. And we're going to be talking about how female entrepreneurs get a bit of the short end of the stick and we're going to focus on wombs, turfs and trans to elucidate and illuminates that topic. Because there was a recent, very heated discussion, though I had a lot of consciousness and love in it as well, that we had on Facebook. While Justice had on Facebook, she was the hostess of that discussion. I think that's the correct technical term. Right, justice. Sure. Yes, yes. And we're going to talk about gender and patriarchy and matriarchy, and how that affects our businesses. both for men and women. There are some men who listen to this show as well. So I think this affects everyone is human. If there are any robots listening, it probably won't affect you. But you know, we're not going to worry about that.
And if you haven't met justice before, she's a wild woman writer, which matriarch and conscious provocateur Well, what a bunch of titles you've got.
Yeah, no, yeah, forget about being CMO or CEO or anything.
And she's also a certified hypnotherapist and healing sessions, both one on one. And she also does group sessions. In fact, she was, she's organizing a group women's retreats in September, I want to say, and that's, we'll come to up how that caused a controversy, how it can be controversial, like do not really understand, I say, with tongue in cheek.
And she also writes for elephant journal and talks about,
you know, she kind of pulls out unpacks things that affect, you know, humanity and how we feel and heal together, particularly dealing with trauma. I've noticed in some of your writing the
you yourself went through one or two little trauma reps, and
just a couple. And you've helped people who have gone through trauma to come out the other side and be wildly successful people, and happy and healthy.
So welcome, Justice. Thank you, Michaela. It's nice to see you again. Yes, great to see you. We originally met Gosh, many moons ago at some energy healing work, he shot the thing that you were doing at the time with your father, whose name must not be mentioned or something just
Justice Bartlett 2:36
not being named.
Michaela Light 2:38
You shall not be named.
Justice Bartlett 2:41
Remember you?
Michaela Light 2:42
Oh, well, that's nice to know, I remember you to you were very, it was a great multi day workshop where we learned energy healing, and you were assisting and I think you did a bit talking on stage at one point, if I remember right, along with the dolphins and whales.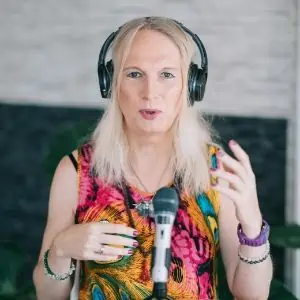 Hi, I am Michaela Light, author of "Intuitive Leadership Mastery" and "What Would It Take?". I help CEOs dramatically increase their business intuition so that they can grow their biz faster with less stress. And not burn out with even more work hours. In a 1,000 member international entrepreneur community, I am known as Ms. What Would It Take. It has been 15 years since I stopped only using my logical brain to run my businesses and stepped up my intuition to help me make faster and better decisions. I have helped thousands of CEOs reach their goals 4x faster than before. Here is what  one of them had to say: "I'm working on things that are more fun, more exciting and more enriching for me...from a personal perspective, but also from a career standpoint. And I have to say, this is surprising for me because 2016 will mark the ninth year of me running my business. I was actually looking to exit my business and to try something completely new, different and more exciting. But after working with Michaela for the past three+ months, I realized that I didn't have the right framework to reach my goals." - Dustin Overbeck, CEO of TownWeb