Read the show notes and download the episode here.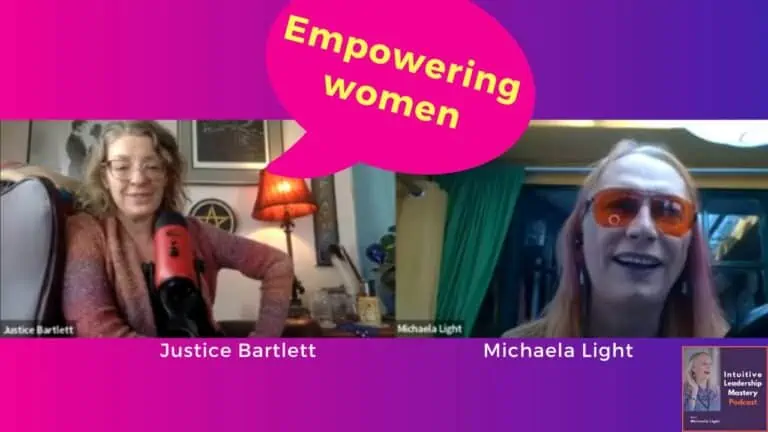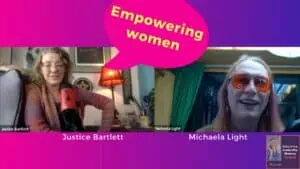 Michaela Light 0:02
Welcome back to the show. I'm here with Justice Bartlett back on the show again after a five year break. And we're going to be talking about how female entrepreneurs get a bit of the short end of the stick and we're going to focus on wombs, turfs and trans to elucidate and illuminates that topic. Because there was a recent, very heated discussion, though I had a lot of consciousness and love in it as well, that we had on Facebook. While Justice had on Facebook, she was the hostess of that discussion. I think that's the correct technical term. Right, justice. Sure. Yes, yes. And we're going to talk about gender and patriarchy and matriarchy, and how that affects our businesses. both for men and women. There are some men who listen to this show as well. So I think this affects everyone is human. If there are any robots listening, it probably won't affect you. But you know, we're not going to worry about that.
And if you haven't met justice before, she's a wild woman writer, which matriarch and conscious provocateur Well, what a bunch of titles you've got.
Yeah, no, yeah, forget about being CMO or CEO or anything.
And she's also a certified hypnotherapist and healing sessions, both one on one. And she also does group sessions. In fact, she was, she's organizing a group women's retreats in September, I want to say, and that's, we'll come to up how that caused a controversy, how it can be controversial, like do not really understand, I say, with tongue in cheek.
And she also writes for elephant journal and talks about,
you know, she kind of pulls out unpacks things that affect, you know, humanity and how we feel and heal together, particularly dealing with trauma. I've noticed in some of your writing the
you yourself went through one or two little trauma reps, and
just a couple. And you've helped people who have gone through trauma to come out the other side and be wildly successful people, and happy and healthy.
So welcome, Justice. Thank you, Michaela. It's nice to see you again. Yes, great to see you. We originally met Gosh, many moons ago at some energy healing work, he shot the thing that you were doing at the time with your father, whose name must not be mentioned or something just
Justice Bartlett 2:36
not being named.
Michaela Light 2:38
You shall not be named.
Justice Bartlett 2:41
Remember you?
Michaela Light 2:42
Oh, well, that's nice to know, I remember you to you were very, it was a great multi day workshop where we learned energy healing, and you were assisting and I think you did a bit talking on stage at one point, if I remember right, along with the dolphins and whales.
Yes, it was very fun. And it was a great introduction for me to some of this, oh, you can change reality by you know, shifting energy and using your intuition to detect things. So fabulous. work, but you've gone beyond that now and you do your own thing. I'm not naming the work deliberately. Yes. But for people listening, you know, if you if you're an entrepreneur, you're probably affected by how men and women treat each other. You know, and if you're a female entrepreneur, you've probably noticed that men are not always accepting and kind and supportive when it comes to your entrepreneurial efforts. So I mean, that's what I've noticed. Yes, so tell us that. Let's talk a bit more about about that on female entrepreneurs and the patriarchy, the patriarchy, misogyny, all of those are such long words.
Justice Bartlett 4:00
You know, it's it's regrettable at so many things go back to the the witch trials, honestly. And people don't know this. They think a lot of women were brought up as witches because we, you know, had mystical powers. But a lot of it was actually a concentrated effort to remove power from women business holders to take away their ability to run businesses way back, like, what 400 500 years ago. And I think to a degree, we're still suffering from that we've had a hard time getting our feet back under us and people don't take women business owners as seriously we, you know, we're still struggling with overcoming the stigma of women should be running the home should be raising children. And then you have to deal with the double bind that if you're doing that and you're running a business that you have to do both perfectly. There's this as a as a woman in business, especially if you want to have A family, there's almost no way to win. And these stigmas aren't levied against men in the same way. They're just not.
Michaela Light 5:09
I think that's a great, great point. I think there is a society wide trauma from all that. What was it called the Spanish Inquisition? Right? Yeah, the increase Inquisition, but I mean, also the Protestants that was a Catholic version of it, but also Protestants got up to it. And I'm sure all the confusion Chinese have their own version there. Of course, I don't think women in ancient China got treated too well, particularly their feet got tied up in fair fabric to make them so they couldn't walk, which seems a little constricting, you know. And I think we could even I mean, the witch trials and all that was around 16 Something I think, history is not whatever. And I'm not sure what brought that on whether they felt women will get I mean, it wasn't just powerful women. It was any woman who spoke up I think, and men who spoke up to anyone who was inconvenient. It was they had like, literal, effing witch hunt, right? Where anyone who was inconvenient the people in power, or to your neighbor, who's a bit irritated with you, oh, well, let's just accuse them of being a witch and, and that will get rid of them,
Justice Bartlett 6:18
or who wanted your land. I mean, there was there was all kinds of power grabs that went on under the guise of labeling people as heretics and seizing their land, their title and their power. It was a massive power consolidation grabbed on the part of the Catholic Church and on the part of the patriarchy. And we haven't recovered complete Wait
Michaela Light 6:37
a minute that's an oxymoron Catholic Church patriarchy that the same. They're both patriarchy. They're not the same thing. But the Catholic Church is patriarchal. We haven't had a woman Pope consciously ever and the only women Pope's we've had they kind of slipped in pretending to be men. I think I think that was the deal. I forget what Pope that was, was at least one Pope that was technically a woman. Right. And it's very interesting to me now you say that witch hunts and heresy because coming back today, that's exactly what's happening not with, you know, the Spanish Inquisitor or whatever that dude was, you know, burning fires and being drowned to prove you are innocent, which seems a little counterproductive, right? They used to put the witch underwater, and if she floated up, she was a witch and then could be burned at the stake or killed some other way. But if she drowned, she was an innocent, loving person,
Justice Bartlett 7:37
and then they bury you and sanctified. But you're still dead.
Michaela Light 7:42
But this phrase of witch hunt continues today, you know, we had the witch hunted in the 1950s in the United States with McCarthy. But now on social media, people are witch hunted. And, you know, JK Rowling has been witch hunted, she hasn't been brought down because she's got more whatever centeredness and groundedness a few billion dollars to tell them to eff off. No, I mean, she's a strong woman. But we have heresies now. Right? I mean, back then the heresy was you didn't follow the Catholic Church. But now if you don't follow like certain very narrow social constructs, like one of them trans men or women, transmit women I've gotten I'm getting confused myself here. trans women are women is one and therefore they must be allowed to play in women's sports and go in women's restrooms and go and women's prisons and so forth, even though they haven't necessarily had the operation to snip off any body parts that might do things that you wouldn't want if you were in those safe spaces, so I think this continued this is echoing down in today and in a different you know, different flavor.
Justice Bartlett 8:52
I love how you brought it down through that because it very much has that feeling of the quality of being of being witch hunted. Because you you know, if you are labeled as a turf, or as you know, somebody who wants to stand up for our right to have distinctions between being woman or trans woman, which I guess technically makes a person turf which what is the definition of turf? It's a it's a trans exclusionist radical feminist, which is the label that has been flung it
Michaela Light 9:26
What the heck does that mean? I mean, who fought on that phrase? I mean, it's a bunch of Well, I don't want to be upsetting to people listening, but I'm just going to speak my truth which is that a bunch of progressive gobbly gook trans exclusive truly radical feminist. Okay, well, trans. I understand that as people want to change their gender exclusionary I'm just unpacking it a little bit. Yes, please help me out. You know, the exclusionary means you don't don't You don't want to deal with them or you don't want to use excluding them somehow and radical I'm not sure what that means in this context. I mean, it's Dream I guess. And then feminist means someone who is pro women, I think I mean, totally miss defining these things. But what turf actually means is you're an evil word beginning with see that I'm not going to mention because it's one of those seven words gets banned. I think we should reopen that word myself. And God, I've lost my train of thought now. It basically is a put down, you know, it's saying You're so evil you have to be ostracized from so ostracized from the social group.
Justice Bartlett 10:33
Well, and for it to be effective, and as a tool for witch hunting to you know, to use our term that we're using, you actually have to agree that being exclusionary is a bad thing, that people are not allowed to have exclusive spaces. And we have had exclusive spaces for different specific reasons and groups all all through society all throughout time immemorial. You have a for alcoholics anonymous and a for Narcotics Anonymous and they don't they don't want people who are non addicts attending their meetings because it doesn't fit the intention of the group. Right. Same with social clubs. Same with Mason's same with there, there have been distinctions in the creation of exclusive groups for as long as we have been functioning as a society.
Michaela Light 11:24
Well, what's the problem with people getting together and having something in common, you know, and being able to keep the conversation focused, because they all have a similar experience? I mean, right. Seems pretty natural to me. But apparently, for some people, that's terribly upsetting. And we branded with a letter T.
Justice Bartlett 11:46
So it's a catch 22. Because what I've been told as someone who wants to host a woman's retreat specifically for people who identify as a woman who have come up through the life, initiations of womanhood, that revolve around having a womb, I'm allowed to create this space, I'm allowed to, you know, I'm allowed to create it online, I'm allowed to have it hosted in, in person, but when I'm so far, but when I'm not allowed to do what makes what makes me a turf, is the fact that in order for this space to exist, I have to acknowledge that there are distinctions that makes this space available and acceptable to certain people, and that it is not acceptable and available to others. And this distinction in this regards, is that there is a distinction between being a trans woman and being a woman, biologically. And if I make that distinction, then that makes me a turf. Makes sense.
Michaela Light 12:45
It makes sense. Well, I understand the logic of it, it doesn't make sense to me. I mean, it's pretty pretty effing silly if you can follow the law. I'm coming from I am a trans person, trans woman, I guess. Yeah. I do identify as a woman, but I haven't had though, you know, I don't have all the the biological, you know, bits and pieces. I mean, I do some I've been taking hormones. Now. I've got some of the things happening. And I do have some, whatever, but it's not the same. And I didn't have it when I was growing up. So I didn't go through all the, you know, experiences of, you know, puberty and having people harassing me. While I have been harassed sexually and I have have been, I haven't been raped. But I've came quite close to it one time by a guy, I should say.
Justice Bartlett 13:33
Naturally, well,
Michaela Light 13:35
no, you can't wait. Women can relate to but a lot rarer.
Justice Bartlett 13:38
It is much rarer. Yes. No, I have I know many instances in which this occurred, but it it does tend to come from from
Michaela Light 13:47
home. Yeah, it tends to come from men, partly because they they behave more aggressively. And I think rape is less of a sec. I mean, yeah, there's a sexual aspect, right? But a lot of it's a pack move, you know, absolutely subjugate someone and it doesn't really matter whether you're using that body object that begins with pee or you have a bottle or your hand or whatever, you know, it's it's all about control on subjugation. Which dehumanization? Oh, well, I hadn't even thought about yet. dehumanization or objectification, God these. We get too many. My dyslexia can't handle long words, I get overload. But yeah, I didn't go through the same experience. And, you know, you want to have a group to discuss more women centered things. What's the big deal? And I don't know I don't, you know, I don't I'll tell you I have a lot of trans friends and most trans friends I have, don't subscribe just for people listening because you may not have many transfers necessarily. Most trans people I know don't agree with this radical hate type thing where you try and Take down people, because they don't agree with this somewhat radical idea that, you know, if a man one day wakes up and says, I'm a woman, then you have to accept their woman immediately. Right? So
Justice Bartlett 15:16
when I mean, we discussed this before we began recording I asked you because I didn't know what pronouns you identify with. And you told me,
Michaela Light 15:26
you know, small nouns. But this
Justice Bartlett 15:29
is a very big deal to some people. And if you get their pronouns wrong, they become deeply offended. And it's not necessarily like, there's an intentional insult behind that misunderstanding. There's just a lack of knowledge. And it's not everybody's priority to educate themselves on what the current acceptable specifically, you know, kind of liberally engineered lingo is, for whatever social issue it is that we're destruct discussing. There's just too flippin many of them. Not all of us. Not all of us are.
Michaela Light 16:11
Yeah, it's frustrating. And it's hard to keep up. And I love I'm glad to use that word engineering. And we'll talk more about that later in the episode because I really do feel a sum under the there's an undercurrent of liberal engineering going on with this. And it's not it's not organically being birthed into the world, you know, some things organically happen, maybe with a bit of help, you know, like, racial equality, I feel that, okay, the work people like Martin Luther King and many other people who worked to make racial equality happen, but there was also an organic sense that this is justice, right? This is fair. Right? I don't think that's what's happening here. But as though it was, and if you don't agree with it, you must be a really evil, bad person. All right.
Justice Bartlett 17:11
Well, I mean, it's so curious. It's so curious what the process of dehumanization, because you're talking about people, a group of people, you know, trans people, men or women who chose to identify differently, because that was how they felt inside of themselves. And many of them, as I understand that, as you said, have experienced this process of dehumanization. And yet, when somebody you know, such as myself, who was a woman, you know, says that no, I'm sorry, there is actually a biological distinction. There is immediately this piling on of dehumanization that that goes into this sort of witch hunt. So it's like, how does it serve us as people? How does it serve us is trying to understand or communicate with each other, to take the same tactics that they've experienced that have been so painful, and then use it against the very demographic of people that they say that they want to be accepted? As? It's very confusing to me that I don't understand at all?
Michaela Light 18:12
Well, I think there are several aspects to that. One is women are easier to attack, if you did the same kind of attack moves on men, they probably, you know, push back, whereas women want to appear in their social circle as loving and kind and good. And that's not true for men. No, obviously, most men like to be good and loving and kind, but that's not their primary driver. I don't think whereas I think for women having social acceptance in your circle, and correct me if I mean, you know, I'm speaking from someone who has observed womanhood from, you know, whatever, the more edge of the female spectrum. So, it's easier to beat up women over this. Yeah. Yeah. So that's partly and then I think there is when we get when we get to the social engineering part, I really do feel that because of what we talked about earlier, that women are very powerful. We're in contact with our intuition, you know, magical abilities or witchy abilities, whatever you want to call it. is perceived as dangerous by many men and dangerous by the patriarchy and they actually want though they don't want women to be powerful. And coming back to something you mentioned earlier. I don't think we said it explicitly in the recording. They don't want women to exist. They want to remove women. In fact, I I guess I'm gonna jump into this now. I think their ideal is a sexless you know, society where people can be controlled because if you didn't have the sex urge and families and marriage interesting how much easier is to control all the, you know, the dehumanized widgets so that women are a defense against that right because they are strong. Are we standing for their femininity and womanhood and inclusion? What? Sorry? I'll let you speak Oh,
Justice Bartlett 20:06
no, it's I'm excited to you. The erasure of sexual identification in general sort of points to an underlying transhumanist agenda, because if you don't have the distinction between while women have wombs and women bear bay with their children, right, suddenly, men can do that, because they have wombs, because like, there begins all this sort of this dissolving of these kind of just natural products of our biology. Um, next thing you know, and I've seen this, you've got people who are advocating for going babies and pods, like you have no more use for for women and women into the society, or we're typically sort of the role of mother is moderately accepted, the role of maiden is highly praised for our youth, for our beauty for our sexuality, we start moving into these deeper levels and values that revolve around femininity, protection of life, protection of our personal spaces of our bodies, creativity, intuition, the ability to hold the life and death cycle within sight of ourselves, and birth and resurrect life. This is something that is biologically and imperative to us, you start erasing that distinctions and you're you're actually even more so you're limiting the role of womanhood in society, not only as a function, but as a mythological force of who we are and what we're capable of. It's extremely hateful.
Michaela Light 21:48
I think it is. And it's, I think it's being done to put to be able to control not just women, but also men as well, because the flip side of this, women don't exist, or strong women don't exist, or, you know, I mean, the only thing that we say, I want to get the sentence into the podcasts that you said, women don't exist independent from men. And I've wrote in fathers and husbands because that's traditionally you couldn't own property as a woman a few 100 years ago, 200 years ago, I want to say, it's not that long ago, you couldn't get a business. Yeah, that was only 30 years ago, I want to say you couldn't get a credit card as a woman. Or they expected your husband to trot in to co sign stuff, you know, business loans and things. And I think we finally have moved, more or less from that, although we don't always get respect in business meetings or banks, you know, as women. And I, so I just wanted to get that in. And then also this thing about moving to birthing children from pods or machines, I mean, that's straight out of the novel, Brave New World, if you've ever read that, where they genetically engineered the different class, you know, they had worker classes a through through, I think, II, where A's were like, did the intellectual work and bees were managers, and I forget what the letters are, they got up to but E's were like, you know, they just dig roads or whatever. And they were all brought up without a mother or a father. There was no family. And they were totally controlled by society. And also, in addition, in that novel, they were all drugged using a drug they gave out to everyone called Summer I think that stopped them kind of getting too conscious getting too uppity on a slave plantation that in the whole world was great novel. I mean, that and you haven't read that one? Well, it's worth checking out and see if it resonates with you, you know, but I mean, it was written around the same time as 1984, you know, so they both with dystopian views that when you've read Yeah, well, we've got a lot of 1984 going on right now. And that sort of ties into some of this stuff with the trends and men and women because in the novel 94, there was a lot of control of speech and thought and history. There was editing of history, there was editing of speech, and it ends up editing what you're allowed to think. And I think that's what happens with some of this trans stuff and turfs and women's stuff. We're not even allowed to think these things, not allowed to speak them aloud. Write them not that tweet them. Maybe that's changed now, because they're changing who owns Twitter, so maybe we'll be allowed to tweet it. For the last few years, it's been a quote so illegal, socially illegal to write these things, you get ostracized, you actually will get kicked off some of these social media platforms. If you say some of the things you've said, Wow, I believe people have been
Justice Bartlett 24:55
well, I mean I found myself have even in writing some of my posts, because an additional distinction between being a woman or being a trans woman seem to need to be made, saying wound bearing people, right? Which is it's and then you go, okay, so if it's a wound bearing person, does that mean that a trans man who still holds a womb is now welcome into your spaces? Because they've gone through the initiations of womanhood? Like, well, no, not for this specific space, because it is to actually hold women who identify as women who are still going through, or as binary, potentially, who are still going through who relate to the initiations of womanhood. Right? So then that gives me a whole nother layer of like, well, you're, you know, you're a hateful bigot in that direction as well. Well, well, no, I'm actually just not interested in, you know, having I would relate it to, like, having someone who someone who had like, I don't know, it's, I can't even think of it. I'm like, I'm going to all these addiction models and thinking like well, gambling and Na Na, that's still an addiction. So that doesn't quite work. But it's an important distinction, where it's not a space that is geared specifically to to talk about those issues, it is geared to talk about these scenarios and these issues quite specifically, right. So then I have
Michaela Light 26:37
Well, I mean, we've got all kinds of labels, we've got races, you know, black, yellow, whatever colors, people are talking about Latino, even though that's not really a race, that's like an overlay on race. So you've got religions, right people, Jewish people might have a group to talk about the Jewish religions, they really want Protestants or Confucians, or Islamic people to come to that Not really. Now, they don't I mean, they might have, they might have guests evening to, like help explain Judaism to them, but they don't really want them for the deep discussions of the religion itself.
Justice Bartlett 27:09
Right, because it doesn't actually pertain to them and to create a discussion that pertains to them, you have to change the intention of the space. Yeah. And I don't think that we should be required to change the intention of our spaces.
Michaela Light 27:24
Only women who are required to do this, I feel I don't think any of the other groups, it's not like people are going around and saying, Oh, this Muslim group must lead and Christians because like, you know, it's anti Christian not.
Justice Bartlett 27:37
And the reason that they're not doing that is it comes back to the erasure of the biological distinction in the first place, that if you identify socially sexually in this specific way, that that automatically erases races that that biological distinction, and it doesn't, and it can't, I have seen some papers that are now this sort of new sciences coming out that are saying that gender is not actual biological reality as well. Well, I'm sorry, I was born with ovaries and I was born with a uterus and I have created a baby inside of me. And it doesn't matter how long you Mikayla identify as a woman, you you've been alive longer than me and perhaps identifying as a woman longer than I have existed. You can't make a baby that is a biological reality and a necessary distinction when we're talking about how we move and operate in relation to each other. And it matters.
Michaela Light 28:36
Well, I think it does matter. And I just want to come back to that languaging womb bearing people because in the United Kingdom, they use some similar phrase. You know, in the National Health Service, when you go to the hospital, they kind of don't want to identify men and women now you're either we're, you know, baby womb, I forget what their phraseology is, but they can't effing use the word woman. Right? And that's another ratio of womanhood. And, and it's gotten to the point now, because of trans trans, some trans men still can get pregnant, even if they don't identify as women necessarily. And they have a new icon, you know, an emoji that shows a pregnant man for that reason. I know if you've seen that around, as well. It's very whatever. But the whole point I want to make is why can't we reopen the word woman and the word for nearly everyone on the planet 99% of people, it's pretty effing clear whether someone is a woman or man, you don't have to go and open up their abdomen to see check. They have ovaries or uterus. Yeah, you can tell. Yeah. And I think nearly every human can tell if someone's a man or woman and maybe we'll talk more about that if we didn't already. I don't think we did in this. I get confused what we talked about before I hit record.
Justice Bartlett 29:53
Well, I mean, I think you know, the fact that we're supposed to police our thoughts to the degree where we You don't recognize that natural gender distinction is? Yeah, it's, it's, we can't help ourselves. And I think part of that is the underlying biological imperative of life is to reproduce. So whether we're consciously deciding whether we want to, like hook up and take this person to bed or not, there is an underlying unconscious noticing going on when we run into someone, is this person, possibly a reproductive mate for me? And then if you're meeting them, a good one, there's a good one, there's an exchange of pheromones. So the very first thing that our body wants to know is biologically like I'm a, I have female reproductive organs, does this person have male reproductive organs? Could we potentially make a baby, it's not a conscious thing. It's unconscious, it is, it is the way that survival continues on the planet. So we it's not something that socially we can we can delete the language from our link to delete it from our language. But from a biological standpoint, and the way that we function unconsciously, it's not something that we can take away.
Michaela Light 31:12
I agree with that. I think within half a second people gender, other people they meet however they meet and whether it's or they try to, and if they can't, they get very anxious. Like, and if you remember that, a comedy show Saturday Night Live SNL. And they used to have a recurring character called Pat, which is a deliberately androgynous name. And you could the whole joke of that whole sequence of sketches is no one could tell if Pat was the man or woman, and they would kind of lead up to something really, you know, Pat said I was away at the weekend, and I was at something and you think you were just about agendas, Pat, and you, but then you were frustrated, and you couldn't? But the whole reason that was funny is because it's so there's this such an urge to gender people? And I'm gonna say yes to what you said that yeah, there's some part it probably is subconscious. Maybe it's our, you know, our wombs and penises that want to decide this is happening at that level of our body. But also, I think it happens in the brain and the heart. And also, because we're you live in a patriarchy where men are on top, and women are on the bottom, we want to know, how should we treat this person should be given them extra respect, because they're a male? Or should we give them less respect because they're female? That's at such a low level. Gosh, I remember the name of this woman. She's at Georgetown University and she wrote a book about gendered language. Barbara Tana nice, Deborah Tannen. That's her name. I'll stick a thing in the show notes. But she did a lot of studies of this. And one thing she did is she listened to receptionists at businesses answer the phone. And if you've ever called a business, I'm sure all of us have. And you've had a woman read, some businesses still don't have automatic computer, blah, blah, blah, they actually have a human being, because they think they make more sales that way, which I think is true. If a woman answers the phone, she typically will go into a high girly voice submissive, right? I'm sure you've noticed this, like, Hi, this is ABC Company. Can I help you? Yeah. But what was interesting, if she was talking to a man, on the other end, she'd stay in the girly, submissive voice. If he was talking to another woman, she'd drop her voice and relate as a woman. So but she had to hear the other person before she could decide.
Justice Bartlett 33:38
Fascinating. That makes a lot of sense.
Michaela Light 33:41
Yeah. Yeah. And I think this happens in society, we interact with people, and we're trying to figure out because we're in a patriarchy and the whole deal with Patrick is a hierarchy. Right? The way men typically operate is top dog, bottom dog, top dog, bottom dog pattern, who's going to boss who around, whereas women tend this is this is a generalization. There are some men who don't do this, there are some women who do do it. And women tend to more work in a shared group. You know, we're all in this together in a circle kind of thing. We're cooperative. And, and the other thing if you ever read her book, I think it's called you just don't understand. I think that's the title of it. I'll put it in the show notes exactly what it is. But she also recorded interactions of people speaking and found out that women use a different syntax. They have a different grammar for men, they have a different vocabulary. There's all kinds of differences and when women speaking together, it's like a shared conversation. They're always interrupting each other. When men are talking they hold they don't let anyone interrupt and one man talks and then another man talks, right? Oh, anyway, I've been talking far too much for projecting my feminine disease.
Justice Bartlett 34:53
But everything that you're bringing forth is so it's interesting. It's relevant and like my my train of thought as well. I want to follow that and I want to follow that no one. Like, I want to find that the one thread that I really want to that I want to address and you're talking about the sort of submissiveness that is expected within the feminine, that was actually something that I was addressing specifically that got this whole conversation started for me. I'm in the coaching industry, I'm, I'm, you know, privy to lots of different coaches and different models of healing and on social media world, it just, it comes through my awareness. One of the things that comes up a lot is what's called polarity coaching, which is something that David diet is essentially the godfather for and it kind of subtly, and not so subtly, it grooms the feminine to be submissive to the master to the dominant masculine. And there are traits, I think that within us that naturally exists, but essentially, it's an infantile realisation of the feminine, it's sort of an over maturation of the masculine, but it promotes these underlying trauma traits that the masculine and his traumatic state is more dominant, that the feminine hurt, and her traumatic state tends to be more submissive. It's how we survive because feminine women, we don't typically fare well if we go up against men. So in order to survive a dominant masculine aggressive encounter with a man, we do better, if we resort to fawning, and we do better if we submit, we're more likely to survive a situation. That's just that has been, that's been a long time survival tactic for women. So the misogyny that gets in folded in this specific form of coaching is that it promotes these traits as being idealistic relational strategies between the masculine and the feminine. My original post, I was calling out misogynist male coaches, and that's who I was specifically speaking to. But because I had used the language if you if you don't have a womb, essentially, then stay out of the feminine mysteries like mind your asshole was was like my closing statement on that post. And I had a trans woman come in and essentially tear at me, because I was making that distinction that people who don't have wombs should not be teaching feminine mysteries. Okay, so the feminine mysteries revolve around the initiations of the womb, so No, you shouldn't, period. It's not to say that trans women don't have lots to offer in regards to how femininity functions into the energy and the energetic dynamics of femininity. That's not what I was talking about. So essentially, I got brought, this whole conversation got brought out of me, because I experienced from a trans woman, a very misogynist approach to the material that I was addressing within the misogynist community. How ironic. Ironic, right. And then I was told that I was and then from there it was, it was brought in then I was potentially a turf, and then I was bigot and all this other stuff that got lumped onto that.
Michaela Light 38:31
But what was interesting to be in that discussion, you know, I think you said you lost five Facebook friends who unfriended you through that, which is pretty small, considering how many friends
Justice Bartlett 38:42
friends who are actually promoting that perspective out of okay, but they weren't
Michaela Light 38:48
all trans is my point. No, they weren't. I think some of the more would identify as progressive I think that's precisely so it's very interesting to me. All right, I'm back I had to take a quick bio break that I find when I'm talking I got very excited with all these concepts. And I find when a lot of new ideas are coming or spiritual energies coming, it all goes to my bladder and my body's very smart, it puts all that energy it needs to release in an easy place release instead of putting into my left finger which would have to be cut off in order to release her which would not be I heard of someone who did that once though that they they got when they went to see this faith healer called John of God in Brazil, and he moved all their cancer into their little finger tip of the left hand and then they cut it off and then they were cured. So yeah, miracle, but I think bladder is a better place to put these things myself.
Justice Bartlett 39:45
Oh god and like don't even get me started on John Gotti is such a scumbag.
Michaela Light 39:52
Alright, we better get off that tangent. We can talk about it another time. But I think you were talking about how some people got I'm very excited about how you wanted to have an exclusionary group and they accused you of being a turf and it was quite a it was, you know, there was an attack, but there's also like, okay, let's just not be feel lost. I don't think you took it as an attack. Really, they were trying to attack you and shut you up. But you weren't to be shut up?
Justice Bartlett 40:19
No, that doesn't work very well. It doesn't go well, for people who try. No, I was picking on one of my favorite subgroups of a holes being male misogynist relationship teacher.
Michaela Light 40:37
For them talking to men, but they feel that you didn't want to be told as a woman how to behave by them
Justice Bartlett 40:43
now? No, it's one thing for men and to hold space for women to relax into our feminine entity, that that's a beautiful, you know, that's a beautiful dynamic that we can enter into with each other, it's completely different for men to tell us how to do it. They're not the same thing. Specifically, when the instruction is geared towards making us more submissive, making us more infantile and setting us up for predatory relationships that are usually functioning trauma bonds, it's gross. That's what I was addressing. Right. And so, you know, it was, it was fascinating to me that this, it started out with, with someone who it appeared to me as a trans woman, you know, accusing me of being exclusionary, because I was addressing people with out wombs as being unfit to do this. And it you know, if if the shoe fits, if, if you don't, if you if you don't bleed, if you haven't, at some point had some kind of connection with the sort of the way that our biological reproductive reality affects us physically, physiologically, emotionally, hormonally, relationally, insipid dynamically, then yeah, I will stand in my position that you don't have any business teaching women's mysteries you don't. And if you don't relate to those experiences, then that's not necessarily that's not going to be a part of your own psychology and biology and experience. It's not it doesn't necessarily makes it not saying that you can identify as a woman not. But there is the distinction there that is that is hormonal, that is biological, that is emotional, that is psychodynamic, and the way that that process affects us. It is an important distinction that matters. And this was the distinction that I am not allowed to make as a woman addressing women's issues, that there is this, this distinction exists between women and trans women. And it is this standpoint that I refuse to give up, that, according to some people makes me bigoted, and turns me into a tariff.
Michaela Light 43:21
I just, I mean, when you say it's illegal, it just in their minds, it's illegal. It's what the Thought Police are criticizing, you know, it's not actually yet yet illegal. I could imagine a future dystopian society where it was actually illegal. In fact, one thing I did notice is that in Norway, they put out a law saying you weren't even allowed to have such discussions around women, you couldn't criticize that trans women are women, even in your own home with your own family, that was still illegal. And they were kind of encouraging kids to report their parents and stuff. It was quite rare. I'll try and dig up the reference to that for you and the listeners,
Justice Bartlett 44:04
please. Yeah, that's great out of 1984 a,
Michaela Light 44:07
yeah. There's a lot of 1984 s things going on with this gender stuff, but also with many other things, you know, with the whole pandemic thing and maps, you know, the war thing, and I forget what else you only have to look at why are people being deleted from Twitter or Facebook or whatever, for saying various things. And gender is just one of those. Right? And it is a witch hunt, you know, and it's got a very I don't know quite how to put this into words. Maybe you can help me here but the energy is it's not just aggressive, but it's, it's coming from a kind of not good enough or traumatized space that makes it you know, particularly nasty.
Justice Bartlett 44:59
I can Completely agree and kind of feeling into the psychodynamics around that, and the way that my body responds to, you know, having had lots of misogyny level that me over the years and having this energy coming at me from trans women, it feels as if the underlying hurt is the same wound that feels misogyny. And it's, it's so sad and it's so it really, really does make me very sad because you, you know, you have this group of people who has gone through so much in order to identify in order to be included in this group of women. And yet, their next step within that process is to is to say that the distinctions that exist within us that made them want to be like us in the first place don't exist, like, that feels like it comes from a really hurt place, and it lands in me really hurtful.
Michaela Light 46:00
Well, yeah, it's kind of a spiteful the word that comes to my mind. Yeah, yeah, I think so. It's not just aggressive pushing back. It's, it's, I want to hurt you. I want to drag you down. Yeah. And it's not, like I said earlier, most trans people I that I know, don't subscribe to this kind of let's attack women thing. It's some radical extreme ones who get amplified by social media algorithms or new media, mainstream media news picking up on it, because they love to have controversial stuff, right? If it bleeds, it leads, as long as period leading,
Justice Bartlett 46:36
right? Well, I've heard that some of the social justice warriors who have actually kind of spurred this movement on are actually men, they're not even trans women. Exactly. Very, it's very intentional, and it's very hateful. And it's that kind of intentional hate that will pick up on those sort of underlying unresolved wounded places within us. And like, create this sort of unconscious attack that comes out of that place. And
Michaela Light 47:07
workout just came to me as destructive. Yeah, it's not designed to have like, you have this thing where you want to bring out nuances and bring out more consciousness around a topic so that we can, we may not all agree, but at least we might agree to disagree or, you know, whatever, as long
Justice Bartlett 47:26
as he's had a conversation communicate about it, like, I'm all about communication, you know,
Michaela Light 47:33
yeah. This is around shutting down communication. Yes. And that pisses me off, you know. But I'm not going to make up an imaginary term like turf to label these people and dehumanize them.
Justice Bartlett 47:50
Oh, no, I mean, no, no, the distinction that exists, and it's there, part of our humanity is accepting and celebrating our nuances and differences and distinctions to erase those nuances and differences and distinctions is dehumanizing by the very nature of the process.
Michaela Light 48:16
It's also non consensual, I mean, if 100% of the Americans or whatever country or in listening to this wanted to change this fine, or not find by me I'd moved somewhere else. But but that's their conscious decision. But it's not being done consciously. It's like this underhand social engineering thing. And I'd like to move to that topic and discussion. This isn't like a debate we're having in the country, or lets you know how a man wakes up and identifies as a woman, then he should be able to be a woman and have his driver's license changed and go into women's locker rooms, women's bathrooms, women's prisons. I can't think of all safe women's go to womb, whatever, retreats, you know,
Justice Bartlett 48:59
yeah. The way of womb I don't.
Michaela Light 49:03
There's not, there's not in the way of the womb, yes, we'll make sure to get that into the shownotes for people who want to attend. But it's not an open, transparent debate and political process and some kind of vote. And it's like, an underhanded social engineering thing that one day you wake up. I've had this experience and like there's yet another politically correct thing I'm supposed to be following. Whether it's trans, the trans ideology or, or whatever the current thing is. And it's, it's another way of getting political change without having to go through all the, the, you know, the transparent process. Yeah. I'll shut up now. So you can
Justice Bartlett 49:52
well, and I think, you know, you shared an article on my wall about trans people, trans women. Men in women's prisons and the the damage and destruction that that's causing and the inability because legally you're not allowed to make that distinction between a trans woman and a woman that these people who still have penises are putting being put into into women's prisons and our trans women are raping women. But you can't say that it becomes woman on woman violence if you're not allowed to make that distinction. And socially, the the prison systems because this, this distinction has now been erased out of the language, they're not allowed to discriminate against this violence that's happening. Because they, because they can't say that this is happening from they can't say this is a trans woman doing this to a woman. It's just it's woman on woman violence. So that, to me is extremely disturbing. That was one of the most disturbing articles that I've read on the subject material is that women who are already traumatized to a large degree women who wind up in the prison system have come from broken homes have already been raped, abused, battered, and have more or less, you know, been pushed into something criminal why's in order to get their needs met, and just as a victim of their own circumstances, not to say that they're all victims, but then you get the
Michaela Light 51:20
some of them are pretty violent and pass a lot of them are pretty, absolutely, not all of them. But in the same in men's prisons, just to be fair to men, you know, a fair number of men come from broken homes or went through trauma or whatever, before they became criminals and got caught, right? No, that's right. Yeah, it is it is. And I just want to amplify that thing. And I'll share the articles I shared with you in the show notes. It's not just that the trans women are being put in women's prisons, like they share cells, you know, the cell has at least two prisoners in it. So you could easily have a trans woman and a natal woman in the same sleeping quarters, you know. And in addition, the other that distinction,
Justice Bartlett 52:03
you could group them all together, but right here legally not allowed to
Michaela Light 52:07
and they could then they probably end up raping each other like, like natal men do in men's prisons, just to be fair to this whole discussion. Right? And also I so I think it's ridiculous that they put trans women who haven't had the operation to remove their penis and turn into a vagina into women's prisons, I don't think that should be happening. I'm not sure. I mean, it doesn't work when you put them in men's prisons either. Because then the men want to rape the natal men want to rate them. So Right. So I don't know if you build that prison, or you have a separate unit within the women's prison or what? Right. And I also just want to be fair, the stats that I read said, you know, there were like, last year, there were 200 sexual assaults. They called them in women's prisons, of which seven were by trans women, on natal women, and the other ones were Native women on net women. So there's a lot of shit that goes on in all prisons, including women's prisons, and a lot of rape is a power play, and control uncontrol. You know, I hope I never go into prison as a prisoner. It's quite traumatizing enough to visit a prison, you know, without having to live there. But this is the whole thing. This is driven by this social engineering is what to me is ridiculous. And that's why I brought that
Justice Bartlett 53:23
up. Well, it's the erasure of the distinction is why they're not allowed to separate them. Right? out of the hospital. Now they're,
Michaela Light 53:31
I want to say part of this whole thing, you know, with the women's swimming competitions where they were letting you know, trans women compete and then one of them one. They just don't effing care about women. They don't care whether it's fair to Natal women, right? That's not even on the table for discussion, right? We have to be hyper fair to trans women, but fairness towards natal women is irrelevant to them.
Justice Bartlett 53:56
Yes, thank you for saying that. And it's, you know, one of the curious things from a like, from a social standpoint is the movements and I don't actually identify as a feminist, but I'm going to use this anyways, the suffragette movement for women's rights, is the is the movement, it's the grandfather movement that started the, the momentum for all of these other movements for the LGBTQ movement to be able to even get a foothold socially. It was able to do so because this the women's suffragette movement has had so much momentum and so much energy, blood sweat and tears poured into it for the last 100 years. So you know, you're you're taking a it's its own distinct thing, and yet it is still functioning off of this other movement. You're taking a faction that is doing well because of the momentum of this grandfather, this grandfather movement, right. And then small, what seems to be a pretty small percentage As in factions within that movement in itself, are now saying that the distinctions that made the original movement successful are no longer viable. It's like this weird sort of subtly erasing themselves at the same time as they're trying to erase us. And that makes no fucking sense. Pardon?
Michaela Light 55:19
That's okay. I don't mind swearing, I just tried to be polite with my dainty female personality I try not very good at that. Even when I'm writing, I'll put a little asterisk in the middle of that F word just so that it might be some other word. Like, I don't know what it could be. I do want to tie that back there was I and maybe you can help me remember this. There was a women's liberation camp just for women. And then there was an external camp for trans women because they wouldn't let the trans women into the women's camp. Does that ring a bell for you anywhere? No, I think it was in the Northeast somewhere. I'll try and dig it up later. But that's where some of this stuff got kicked off as well that, you know, the trans women wanted to enter this women only space. You know, it was like, one of those summer festival things where you stay a week and have discussion groups and what have you. Gotcha. Yeah. And then, yeah, you know, this whole liberation movement? I'm not sure it started with women's liberation that started around 1870 ish, maybe, or maybe a little earlier, when some states in the US got women got the vote in for state votes or for city votes. And I guess it may have started around 1800 Worse than women writing about women's rights, but well, and before I'm sure throughout the ages, there have been women standing up for women's rights. But it also tied into a lot of other progressive causes around you know, helping the poor out and and I, you know, I can I can emphasize with fairness between humans, between women and men between blacks and whites between, I don't know, I can't think of what other social gays and straights and all those other letters. I've got to slip in a joke here if that's okay with you justice. I had a friend posted this. He said, I read LGBTQ plus plus, and I can't get it straight. But Bumble, sorry, I have to say that.
Justice Bartlett 57:28
Well, without their distinctions, right, like you don't have, you don't have a black person's empowered movement without the fact that you acknowledge that they're black people. You don't have an LGBTQ plus plus movement, whatever it is, without the fact that recognizes that there are all these distinctions within this within this group, right. It's distinctions are so important for our humanity. Otherwise, what do we have?
Michaela Light 58:00
It's like a mosh it's like, a blobs of people who are all the same and are interchangeable units can be killed or reassigned as the powers that be might want. That's what the goal is here, mate. Mate s one of the female equivalent is a British word, mate. Mate means friend. Australian. Yes. So yeah, let's let's elucidate this. Because you had a lot of things to say about the social engineering going on. And you got some great things you said about that, to me before we hit record, and I do want to share them with the audience.
Justice Bartlett 58:37
Well, I just got a shiver of revulsion as you were talking about the sort of like the amalgamation and the ability to sort of mold people into being, you know, just these puppets to be used here or there or whatever. Because I'll just post off or disposed of Yeah, specifically, right. And that just is a tricky word, but like just the concept of there being like an actual underlying transhumanist agenda, which is actually not friendly towards any group of people. The erasure of our humanity and the erasure of our distinctions within that definitely fits with the idea of a transhumanist agenda. Growing babies and
Michaela Light 59:23
let's just define that for listeners because it's transhumanist is totally different from transgender. Yeah, and it means moving beyond trans always means moving beyond I believe or across device but in this case, it means the man machine divide and moving beyond natural humans and putting chips in their brains or genetically tweaking with them or you know, turning him into Superman or Superwoman or super dogs or whatever. And overcoming ultimately death. It's my understanding of that thing. They want to be able to I take a scan of your personality and brain and upload into computer into the metaverse owned by Mr. Zuckerberg. And yeah, very disturbing,
Justice Bartlett 1:00:11
over writing natural human limitation with through the intervention of technology.
Michaela Light 1:00:18
That I mean, I'm all for people modifying themselves, you want to get a tattoo, go for it, knock it, you want to get a chip in your brain fine, but don't force people to do it.
Justice Bartlett 1:00:28
Right. So, you know, where this gets into sort of slippery territory, as it always does, is that there is that the unrestrained potential for capital gain? From kind of potentially social engineering and preying off of people's gender insecurities, is that the pharmaceutical companies who are in the in the surgical companies who actually perform the surgeries and who manufacture the hormones and medications that allow for these processes to occur, there is no limitation on how much money that they can make, and there is no moral. There's nothing morally or ethically standing in the way. And what's actually happening from this sort of larger social engineering is that if you have a moral or ethical What's that? Like? What's the word I'm looking for? morally or ethically, if you're opposed, like say, I specifically am actually opposed to gender reassignment surgery to children, I think it is tantamount of child abuse on the part of the parents because as parents, it is our job to love to protect our children, sometimes even from themselves. It is our job to make sure that they make it to adulthood as safe, sane whole human beings. It's not to say that transitioning is it curves outside of that spectrum. But a person's brain does not develop and women it till about the age of 18, we tend to hit the full maturation of brain development earlier than men and men, it seems it seemed to happen till about age 25. So if you're sort of socially promoting this notion that it's that feeling uncomfortable in your skin and wanting to identify as another sex is a problem that can be remedied through hormonal replacement and surgery, you're essentially promoting an ideology that will physiologically biologically, hormonally psychologically, change a person permanently alter a person before they have reached a age of brain and emotional maturation to be able to cognitively understand the impact of that decision for a parent to not intervene and
Michaela Light 1:02:48
more more.
Justice Bartlett 1:02:51
Please, no, go ahead. Well, I
Michaela Light 1:02:53
just want to make it more clear, it makes people infertile, it makes the women who the girls who, who take the puberty blocking hormones, or the boys that take them, it makes them infertile, they can't have kids later in life. And it does it also may affect how they can have, you know, romantic relationships or other things. And yeah, I think I mean, I'm all for people, adults, modifying their bodies any way they want to, if it's not hurting someone else, I mean, if I want to steal someone that's my neighbor's arm and plug it into I now have three arms, that would be wrong, because it's stealing someone else's body part, right? It's not mine. But if it's my body, and I want to put tattoos on or amputate fingers or change can go for it, you know, yes,
Justice Bartlett 1:03:39
as an
Michaela Light 1:03:40
adult, as an adult,
Justice Bartlett 1:03:42
and supporting your child through that process. If they want to dress that way. They want to identify that way they want to change their name, they want to go to therapy 100% support them, but going changing their physiology at an age before they can actually cognitively understand what that means for them long term. I think it's negligent.
Michaela Light 1:04:09
I would agree, you know, you shouldn't be amputating body parts, you know, whatever. Well, I would personally take this. I mean, it's a bit maybe a bit more radical, but I don't think circumcision should be done until you're over 18. either. I concur for the same reasons. And it destroys some sensitivity in the male organ and has other issues as well. And it doesn't do any of the health things they claim it does. Anyway. So anyway, that's just a little tangent, tangent there. But I mean, here's the other other thing I just want to say which is kind of self harming for male boy type people, whatever we're calling those now. I guess we call them boys showing. If they take puberty blocking drugs and they take female hormones, their genitals don't grow big enough, and they can't actually have it. The operation to turn their penis into a vagina later in life because they'd had enough skin there. So they now have to whip out bits of your intestine to kind of add to the depths of your, your new organ. So yeah, it's not not
Justice Bartlett 1:05:18
a real long term goal that actually prohibits the, the actualization of being able to live that way. It's counterproductive
Michaela Light 1:05:27
in that in the male to female thing, and let's say there was a TV thing, I think her name was jazz, I'll try and dig up her full name, she wrote a book as well, she was a teenage, transitioning, male, female thing, and she wrote quite an insightful book, but she went through quite a lot of trauma. And she did have that exact problem that, you know, because she didn't go through puberty. Penis didn't get that big. And so she couldn't have it flipped around into a vagina big enough. And anyway, think jazz was the name, I'll look it up. I read the book is quite a good book. I've read a lot of transgender books, I'm very fascinated by the subject. Read a lot of books on gender, that aren't transgender, they're more male, female stuff. So
Justice Bartlett 1:06:12
can I ask you a personal question? Do you mind? Of course. Hmm. So you know, it's wonderful. You identify as a woman we use we, she pronoun for you? How old were you? When you
Michaela Light 1:06:29
58? Oh, when I became when I knew for when you knew my earliest memories for whether I had memory, you know whether I was female orientated before that, I don't know. But I just remember dressing up as a woman and wanting to be a woman and wanting to have a vagina and all that stuff. So, but I kept it all covered up, which wasn't very healthy for me.
Justice Bartlett 1:06:50
Sure. Didn't when you're living in a different time, it was far less acceptable than
Michaela Light 1:06:57
Yeah. And it's ironic that these times when there's all this pro transgender stuff, right now, it's so much easier to come out as What do you want to be trans? Or by, you know, non binary or whatever. Right? It's a lot easier to do that now than it was back in the 60s and 70s. I was born in 64. So I have memories in the late 60s. And it was very gendered society in Britain back then. I'm sure the states was the same kind of way, you know, what, what's that? Leave it to Beaver? Is that a TV show? Or a very gendered stereotype stuff. And then in the 70s, we went through a lot of the women's liberation, you know, moving through those decades, things became, eventually the, you know, the LBGT stuff became more acceptable to be game or accepted to be by more acceptable to be trans. So,
Justice Bartlett 1:07:50
I'm gonna just I want to make it clear that like, I'm not like, I don't advocate for a heteronormative way of life as being the only healthy way to move through life that's that's how I personally kind of identify like, I'm I'm, I'm attracted to men I have had babies identify as a woman that that is how I move through the world I'm more or less monogamous when I'm in relationship but I don't I don't a great phrase,
Michaela Light 1:08:21
more or
Justice Bartlett 1:08:22
less monogamous yes, there's, you know, loopholes and that there's always room for nuance and conversation and communication and in my opinion, you know, that's that's why we communicate not to be right or wrong.
Michaela Light 1:08:37
I'm not suggesting you should get married but I just had this vision of marriage vows you know, to love and to hold cherish and more or less be monogamous with you
Justice Bartlett 1:08:51
know when I when I lock on to someone and they have my heart and whole body that's pretty much it for me but I'm there I've had relationship where you know, I've I've had I don't identify as a Brian yet I've been I was bisexual women, but I've been with women. I've had, you know, kind of open sort of navigation and earlier relationships and I'm 100% for living your life in the way that makes sense to you. Identifying recognize in a way that yeah,
Michaela Light 1:09:27
you're hurting someone else. I mean, this difference between conscious non monogamy and cheating, just people listening. I certainly done the polyamory thing, which is a nother name for non monogamous but the whole key here is being conscious and not deliberately going out to hurt other people. And if you're an adult and you want to have three of you living together or whatever the deal is, you know, go for it. If you want to do it where it's not consensual, which sometimes because that kind of thing can be with the, you know, those Mormons get up to some of them do it. What was that TV show on HBO about Big Love? Big Love that was really good because they both showed modern polyamory. And they also had, you know, a more patriarchal with someone called the patriarch that was his effing title. Right. Right. Where it didn't seem quite unlike the the new wives were getting married when they were only young teenagers, they couldn't really be making a good decision that they tried don't feel so.
Justice Bartlett 1:10:34
Right. Well, such a great point is like we have an illegal age of consent for having sex. And if you have
Michaela Light 1:10:45
that, it's 18. The age not the sex 18? Well, I thought he was younger than I thought some states in the union, it's less than 18 to consent to have sex or even get married, I think can get married at 16 in some states? If not,
Justice Bartlett 1:10:58
I think it is. I think there is variation. But um, typically the age of legal adult in the United States is is 18. And you can get voting for parental consent. Yeah. Right. But, you know, if you're, if you can't get married, if you're not supposed to be having a, you're not really I mean, I think kids are sexualities developing. It's always developed younger than people wanted to acknowledge. But the legal age of consenting adult first acts and in most cases is about the age of 18. And it just, it makes sense to me, this is a it's a process that changes you emotionally physically, right. And yet, we don't want to hold the same kind of standard for going through a process that is going to permanently alter you physiologically. To me that says that, that something's off, that feels like something is off, we can agree socially, that this process shouldn't be engaged in until you're at such an age to understand the emotional and physical consequences of it. And yet, you're in this process where you're going to transition your child to becoming a completely different sex has a completely different set of rules and is under far less scrupulous. Kind of, yeah, that that, I can't connect that and
Michaela Light 1:12:22
it's wrong. It's wrong. Let's just be blunt here. It's morally wrong. And it's being pushed as an agenda by certain people who have I don't know if it's transhumanist, or trans something, but they're looking to mold society into something that most Americans don't want. But they can't do it through an open, transparent political discussion and process, they need to do social engineering to get there by shaming people by calling them turfs and all the other council culture, stuff that goes on. And I'm just gonna, you know, it's just wrong. It's evil. It's actually evil. I would say, I don't mean that all the people, the parents and kids doing this are evil. I'm not, don't get me wrong here. They're probably good intentioned. But people who are pushing this agenda and in, you know, in the media and in social media and in schools, because this is the thing in schools, right, that is, you know, there's a lot of controversy over you know, should you let kids transition in schools and should you, you know, hold space for people to be LBP. Cutie I can't even say the fucking sorry. Maybe we should put an F into LGBT Q F.
No, but this is the thing right now. You know, it's controversy, the, you know, what age is it appropriate to even you know, to, to talk about it in schools as opposed to talk about it at home. And I want to get in I saw a great, I don't know if you watch any of Russell brands. Yeah, he's very good on this kind of nuances and consciousness and what have you. And he had a great interview of sticking in the notes. But he was saying, Hey, I'm, I'm happy to talk about sex. My kids. My wife doesn't always agree with me on what we should talk about when with, you know, I don't know how your oldest kids are pretty young, I think. But he says like, how can you come to an agreement in a whole society across the whole of the United States with 350 million or whatever number of population we have about what should be taught in schools to people about this when you can't even agree in your own family, you know, without having a discussion. So that was his view. You know, you want to talk with your kids about it, go knock your socks off, but don't try and force it on everyone through a national thing. You know? Yeah,
Justice Bartlett 1:14:53
I actually concur with that as well. Yeah. Like, you know, they kids go to School for, you know, to be educated within certain subject material that should not be the provenance of school system to determine, you know, what other kinds of social issues get brought into that education. That is the provenance of the parents.
Michaela Light 1:15:21
Yeah. Well, our great leader and President said that, yes, this week, he said, I quote something. I'll quote it in exactly, but it was along the lines of when your kids are on school, they belong to us the government or not you the parents,
Justice Bartlett 1:15:36
our president's child Sniffer, may he go.
Michaela Light 1:15:42
That's Kyle sniffer in chief. Oh, my God. I apologize to all listeners who were fans of this man. But there's some serious issues, unfortunately, and traumas in his family, you know,
Justice Bartlett 1:15:56
and the fact that we, as a society, you know, are so geared towards this patriarchal mindset that we are continuing to elect leaders who clearly exhibit signs of Alzheimer's and are closer to being in a flipping retirement home than they are to, you know, to the majority, how
Michaela Light 1:16:14
old? How old was John F. Kennedy? Kennedy, when he became President, I want to say, at the age of the age of consent to be the president is 35. I want to say and I think that's correct. Yeah. So anyway, let's not go down that tangent. I mean, I don't prefer having JFK as or an equivalent, similar from whatever party is acceptable to people?
Justice Bartlett 1:16:40
Well, I mean, it does speak to the issue at hand that we're talking about that there is a there is a majority rule of opinion that is being dissed, you know, that's being discarded, that's being invalidated. I think the same thing goes with that. It's like, there's this person as a as a leader, you know, who represents this teeny tiny portion of the minority, and yet he is speaking for everybody. And I don't think that's right. And it's the same issue that we're coming up as with these trans, these certain trans women. Within this group, who are
Michaela Light 1:17:18
extreme, it's extreme. And social media. You here's part of the issue, okay. Media and Social Media amplify the extremes in society, you know, when you've got one or two people who are having extreme views on either either side of a question, right? Because there are probably people on the I don't know what you call the other side to opposite trends, the natal Women movement or the way I'm sure I've seen, actually, I have some Facebook, I have one Facebook friend, he's pretty heavyweight Christian. And he's like, there are only men and women and you're not allowed to transition. And, you know, he was quite, you know,
Justice Bartlett 1:17:59
that's the extreme. That is,
Michaela Light 1:18:02
yeah, that's the other side of the extreme. But, and but our media or social media tend to amplify conflict and extremes when really most Americans want to meet in the middle. Get along. And I think that's part of the issue that goes on in this gender issue, and, and in many other issues. And, and that's why I I'm going to my personal view for the vision for the future, as we have much more local governance, where it's possible, where something doesn't have to be decided nationally. You know, why don't we just discard it in our in our little neighborhood? Yeah, I was gonna say town, but I don't even want to say town. It's like, a few blocks that we actually know the people, you know, why don't we just decide stuff there and have community and actually have involvement of people. And you know, that to me makes more sense. And I just want to get in. I don't know if you heard this whole controversy in Loudoun County in Virginia. I heard about this. Well, the school board made all kinds of decisions for the all the tourists big County, it's one of the it's probably either the richest of 3000 counties in the country or second richest. And the public source system has a lot of good features and the school board, I guess they get elected, but I don't know what happened. But a lot of parents were upset about decisions they were making around gender, and around facemask wearing and around racial teaching. Those were the three big issues. And they had a lot of parents come to school board meetings, usually school board meetings are like empty, right? Hardly a few people turn up but because of that, a lot of parents were in the middle were upset. A lot of people came to the scene and then there was a lot of controversy. And to tie it back to this. And the upshot of this by the way, was that the election in Virginia change Democrat to Republican because the candidate decided to run on this issue because it was so upsetting so many people. And I think it changed vote by 15%, which is an enormous switch. There were a lot of people are upset about it. But I want to tie it back to the transit issue that there was a boy who liked to wear skirts. I don't know if he was fully trans, but he kind of, you know, he was playing with or whatever. And he had a girlfriend and she didn't want to have sex, and they were in the girls bathroom and he raped her. That's what occurred, and the father of this girl who was raped. And it was recorded by the school. Yeah, that was rape occurred, the father stood up in the school board meeting and said, Hey, this policy you have that any boy who wants to identify as a girl can go into the girls restrooms is wrong. And they shut him down. And when he complained they had him arrested. Oh, wow. Yeah, because he was, you know, saw some trans activists came into his face, and then he there was a scuffle. And then he got arrested. That's what happened. And I think it's the issues a bit more complex. Now, I'm not going to dig up the whole issue. And there's a journalist called Matt, Matt, Tabby, if I'm saying his name, right, and wrote a whole series of four things on this, and he's an independent journalist, et en substack. He's not in the Washington Post or the New York Times because those papers will censor that kind of article, right? Where someone digs into the truth and looks at nuance. And, hey, there are two sides to this and the word to use. Yeah, these two slides. So, yeah, I won't get to all the sides of that case. But I'm just saying there's a lot of weird stuff going on with this.
Justice Bartlett 1:21:43
And it's super weird. I mean, and that's, that's essentially children behaving in that manner, you know, that, that's definitely I think, it's not something I think about as a woman, like it's not, my brain isn't geared towards that kind of thinking. But it is something I'm going to be taking into consideration as a woman that these people who, who say that they identify in this way, but may not biologically actually be formed in that way, can still function in a way that's violent towards women, I think
Michaela Light 1:22:23
it hurts the schizophrenia is the word that came to my mind that that sometimes their women sometimes are just very confused and fucked up.
Justice Bartlett 1:22:33
You know, they're very much so well, and at one point, do we ask the question, is this whole I mean, I, I'm clearly you. Clearly some people really, truly do identify in that manner. And that's, that's clean and that's wholesome. And then mentally healthfully sound right, but are there instances of extreme mental health that are driving this behavior that do lead towards schizophrenic behaviors? But do you know, actually, does it engender more violence towards women to allow for this to happen? It's so complicated, which is why I get so frustrated that we're not allowed to talk about distinctions because without making these distinctions, we can't have these other really important conversations. We just have to capitulate to the sort of over arching agenda, as we, as we've said, of potential transhumanism, and of sort of this amalgamation of our humanity, and that, to me, is extremely disturbing.
Michaela Light 1:23:40
Yes, well, and I do want to get that book, Abigail Shriner, who wrote a book about teenage girls getting depressed, and it's hard to be a teenage girl from what I've observed as a teenage boy when I was around they don't they don't get treated nice by the boys necessarily or the male figures in their life. And then sometimes the other girls in teenage girls lives don't treat them nice like if you What's that Japanese frayed, the nail that stands up will be hammered down that definitely can apply to teenage girl groups. There's a lot of peer pressure sharing a lot of weird stuff going on. Anyway, there's been a growth in teenage girls wanting to transition take male hormones, testosterone, because it makes you feel good when you take ourselves thrown. You know speaking as someone who's got two little eggs pushing out to wet eggs that's what we say in Spanish waivers. Right means balls in Spanish so I can see why if you're depressed and socially inept or whatever taking some testosterone could be seemed like a magic pills. Take but then later some of these girls decide they don't really want to be man even after they've cut off their breasts and they've grown facial hair and their voice has dropped They don't want to, and now they can't have kids even though they might want to. And she wrote a great book called irreversible damage this woman could have begun to try. And she, she kind of went on the book show circuit, but she was shut down heavy by these trans activists, because you're not allowed to talk about this stuff. You can't even discuss this stuff. And that's what angers me, in particular, that you you can't even speak about the problems occurring because it's off limits. And that's so wrong. Right. So I'll put that book in the show notes. Because yeah, yeah. Good book. Yeah, she interviewed parents and teenage kids on all sides of it. She didn't come in with an agenda. I don't feel she just with young women rehearsing.
Justice Bartlett 1:25:49
One I know a person who, who had a child who identified as male who began the, you know, the process of taking the hormones who went through that process for a number of time, whose mother was trying to get, you know, the, the, get the insurance to cover to have can't even have her daughter's breast cut off. Just clap, my guts really have a visceral response to that. But that was the process. That's the process of transitioning, right? And, and then the
Michaela Light 1:26:26
binding, you start by putting an ace bandage around them squeezing down, that's because I have a lot of trans men friends, you know, I
Justice Bartlett 1:26:34
mean, she did that she did that. And then she went with the hormonal replacement. And then she was looking to have the surgery, and her daughter decided to go back. So she didn't get as far as having her breasts removed, but she will have, you know, the, the repercussions of putting hormones that are not natural to your system and your system lean. Lean consequences. So its consequences. Yeah,
Michaela Light 1:27:01
right. Yeah. Yeah. It basically lowers your voice gives you facial hair, probably makes you infertile in your ovaries, depending on how long you do it, how long you sometimes it is reversible. And similarly on the male, you know, men who, you know, boys who want to transition to women, it's, you know, has consequences as well. So let's make this you know, do it after people are adults or
Justice Bartlett 1:27:26
soberly, like so really in with a sense of maturity and actual cognitive recognition of the process that you're engaging in?
Michaela Light 1:27:37
All right, I think I think I'm talked out even if you're how our audience is dealing with this. I mean, it does relate back. I know, we went really deep into the trans stuff and transhumanism and social engineering, but it does relate back to how women business people are treated and and how intuition and magic are treated in society. I think it does relate. Because the trans humans don't want intuition. They don't want magical abilities. And they want to erase that. Because and the reason is, because if you have those, why do you need to get a chip in your head? If you have instant access to infinite knowledge? And Instant Pot infinite path, you're hard to control? And you don't need to go through that transhuman? Well, unless you feel like it, you know,
Justice Bartlett 1:28:26
right? Absolutely. Absolutely. Well, and it's, you know, it's, I think what it comes back to is, you know, as, as, as a woman entrepreneur, who I rely heavily on my, on the the wisdom on my body, on my cycles, on, you know, everything but from an internal standpoint makes me feel like a woman to to run my business to connect with people to do the work that I do. It is an important distinction. And for me, like my work involves helping people make distinctions make distinctions, about their trauma, about their stories, how to take that ball of confusion that gets wrapped up inside of us from being told, No, you're not allowed to think this way. You're not allowed to feel this way that this is wrong, that you have to show up this way or behave this way. And it's all a part of that issue. For me in my work. Specifically, I help people of all genders unpack that massive ball of confusion. So when I see that ball of confusion being added to and like those distinctions being a race and a collective sense, I'm acutely aware of the impact that that has on all of us internally within our psyche. It's just it does become that thought please it does become sort of a means for us to very often gaslight ourselves out of what we feel and what we think and what we know. And whether you're a woman entrepreneur, you lean how I believe on your intuition to sort of guide and navigate your business, or you're just another human being who wants to function in a more instinctive way. This is not this does not promote living from that place in any way, shape or form.
Michaela Light 1:30:15
Definitely not. I vote for president justice. Not that you're running. No, I mean, it, this adding to this ball of confusion, this impasse, everyone in society, and it also I think, gums up the works of society, you know, society is not running as smoothly as it possibly ran. Previously, not to say society in the past was perfect, it had issues too. But I really think we're getting too close to a point where we've reached the point where society is just falling apart. Things just don't work. And I won't go down that rabbit hole. But I just think this is a symptom of something that's so important that we're destroying or our society is being destroyed by various elements. And we won't have a society left if we don't pay attention to this stuff. So I think it's important. I do want to slip in another sci fi book off, we mentioned 1984, and brave new world. Here's another one that's great on this stuff, which is, it's called first and last men by Olaf Stapleton. He wrote it in the 1930s. And it's about how humans could possibly progress through transhumanism and intuition and all kinds of things. And it's a fascinating novel. He, he's it starts off with time travel back to the first one. There were these like, humans who wanted to study history to understand what it was like to be a soldier in the First World War. And why would people do this terrible thing called War, you know? And then it progressed through various epochs of humanity, where they had computer size brains, and they did genetic engineering and all kinds of other stuff that he dreamed dreamt up in his imagination. Many, you know, nearly 90 years ago I guess when he wrote this, but it does I'm just thinking I actually does speak to these things and the last man in this thing and we're living on Neptune or something because the sun had expanded and got big and made a Thrall a halt. Work I think they were more intuitive and you know, they were the ones doing the time, mental time travel and stuff and wanted to help out these earlier humans. So fascinating. If people want to find you online, Miss justice. Ms. I guess that's a whole other discussion, right? Miss or Ms. Or MCs? I saw another one. MX is a new one that people some people use. And then there's the whole I just have to get this in here. You know how Spanish is a very gendered language, and we have Tino for men, male Latins, and we have Latina with an A for feminine Latins. Yeah, and move us lat x where you get rid of the O or the A and use neck, which is totally anathema to every Latin person I know in turn. So
Justice Bartlett 1:33:27
all those Romance languages are very, like, our gender influence and the A's and all of that. Yeah,
Michaela Light 1:33:35
yeah. And it's what makes it part of a beautiful language, in my view, in fact, okay, I've got to get one more joke in if that's okay. All right. So you go into Google Translate, you put non binary in and ask it to translate in Spanish, right? A non binary means people don't identify for those listening who don't know, means don't identify male or female. I like their gender fluid and they move around. And the translation in Spanish is either something like not no, no binary, yo or no binary. Yeah, it's
Justice Bartlett 1:34:07
funny. That's funny. Yeah, that makes sense, though.
Michaela Light 1:34:12
All right. How do we find you online?
Justice Bartlett 1:34:15
You can visit my websites, bedhead mystic.com. You can find me on social media and most active on Facebook out of all the platforms. I write prolifically for elephant journal. You can find me elephant journal.com. Forward slash justice Bartlett is my profile. And yeah, I welcome engagements, interactions, conversations from anyone from all walks of life.
Michaela Light 1:34:45
Fabulous. Well, thank you so much for agreeing to discuss this nuanced and delicate topic on the show and great catching up with you. Likewise, thank you