You can listen to the podcast and read the show notes here.
In this interview, I spoke with Michael Hrostoski.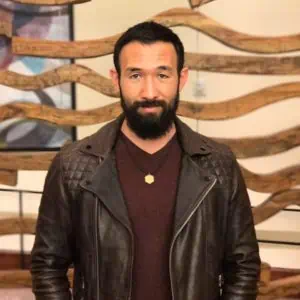 Michael Smith: Hi! Welcome back to the Business Intuition interviews. I'm here with Michael Hrostoski, if I'm saying your name right.
Michael H.: Yup.
Michael Smith: Yeah, it's got a silent 'H' in there, got me confused for a while. We're going to talking about using intuition in your business. I know you have a very interesting story, Michael. You've done a lot of different things in life, worked as big companies, started your own business. How do you use intuition in work and business?
Michael H.: Yeah, I love that you're doing this. I say 'No' to a lot of stuff, and when you sent me this email, I was like, "Oh my gosh! I would love to talk about this," because I really live my life through my intuition. For me, intuition, it's a felt sense in my body. It's like from that place kind of between my heart and my solar plexus. For me, that's my … I have a built-in lie detector that's very well calibrated. I spend most of my time in my body. Where for the first 30 years of my life, I spent most of it in my head, or not even in my body. It's something that I've noticed as I've started to become friends with a lot of top performers, and creators, and artists.
Many of the most aligned, interesting loving people that I know, the people who I love to be around, and who are super energizing, really just live life through their intuition. Depending on beliefs around God and the divine, some people say it's just like living my life according to God's plan, or according to the divine blueprint. For me, I literally do things that I'm drawn towards, or things that feel good, or things that are energizing, which then creates this felt sense of heaven of earth. I feel like I … There's so much that just wants to … I feel like I could just talk for the next 30 minutes straight, because this is … It's such a great topic, and it's something that I feel like a lot of people don't talk about.
Michael Smith: Yeah, I think a lot of entrepreneurs and CEOs use their intuition, but they may be a little shy talking about it. Part of what I want to achieve with this book and movement is that we become open about that we use our intuition in business to make it more successful. I think it's a really important shift that's happening right now.
Michael H.: Yeah, yeah. Absolutely. There's so many … I'll give a couple specific examples. When I walk into a room, when I go to a conference, like an entrepreneurship conference, or a business conference, or when I walk into a dome at Burning Man … When I walk into a room, there's typically like a felt sense of the 3 to 5 people who I'm there to meet. It pretty much happens every time I go to a 3 day event, or a workshop. It's like I walk in, and there's just a felt resonance.
Michael Smith: How do you feel that? Is it you notice it in your body? Do you have a little radar in your body that tells you where to go to? Do you have a knowing? Everyone [crosstalk 00:03:36] their intuition different ways.
Michael H.: Yeah. The way that I experience it … I've done a lot of work. I used to be a yoga teacher. I got my MBA, I worked in human resources, I started a coaching business. I've worked with a lot of the world's best at blank. Like I worked with David Deida around sacred sexuality. I got my life coaching certification from Martha Beck. I worked with [Chevonne Moraine 00:04:07] around the energy medicine piece. I consistently seek out the masters, because for me, learning from a master is just the quickest way to achieve mastery. When I walk into a room .. I've done a lot of work, and I've really expanded my consciousness, and my energetic container. When I walk into a room, the felt sense that I have from the people who I'm … We'll say I have a divine appointment with, which is language that I usually wouldn't say on a interview, but if you're listening to this and you're special like Michael and I.
The felt sensation that I have, it's almost like they have room in their soul for me, or they have room in their heart for me. Or, there's this felt sense that just by being in relationships with them, whether it's just dropping into a conversation, or being friends with them, … I've picked up mentors and teachers like that, where I've walked in and there was just this felt sense of 'Wow, this person is … has a larger energetic container than I do,' or there's just a felt sense of truth that this person has something for me. Every time I show up to these people, I'll often … I live in a space of just filter-less communication from my heart to my mouth. I'm well known for being quote unquote vulnerable, or authentic. For me, it's just a habit that I've picked up. Lying is impossible for me now.
I'll walk up to these people, and I'll just say exactly how I feel. I might walk up and say "Hey, I'm noticing I just feel really, really drawn towards you. Like when I'm around you, I feel my heart just get bigger. You just seem really awesome. Who are you?" Typically, they'll say who they are, and it's really awesome. Then, we go into this super deep conversation on God, or death, or money, or sexuality, or business.
Yeah, and then afterwards, they're always like, "Oh my god, I'm so glad that I met you!"
Then I'm like, "Oh my god, I'm so glad that I met you! Let's do business together," or "Let's be friends," or "Let's blank," and blank is whatever our hearts desire is what that person.
Michael Smith: Right. I think business is doing things … It's friends with value and money benefits. It's a sacred transaction, just like a romantic relationship is.
Michael H.: Yeah, absolutely.
Michael Smith: So wait, it sounds like that's a really useful skill, because instead of being overwhelmed by there being hundreds of people in the conference, you just are drawn to the 3 or 5 people, or however many there that you have a strong connection with, … Instead of having to talk with dozens of people to meet someone who feel a connection with.
Michael H.: Yeah.
Michael Smith: Then just coming back to where you say you now have this lie detector in your intuition. That again, sounds incredibly valuable for business. I'm sure most business leaders, CEOs, would love to have a little flashing red light in their tummy that went off when someone was lying to them.
Michael H.: Yeah. I've always been really into fitness, and health. I used to be a competitive power lifter, and I started teaching yoga. I love to dance. I've always been pretty embodied. I think what really took my intuition to the next level was just telling the truth all the time. There's a couple books that came into my awareness. Brad Blanton has a book, "Radical Honesty." Sam Harris wrote a short book called "Lying." After reading these books, I realized that there was never a good reason to lie. That it was just doing me and the people around me a disservice.
Michael Smith: Can you speak more to that? I think a lot of people in business lie as an expediency.
Michael H.: Yeah. … It's draining their energy. If you need to lie about yourself in order to get a customer … Like I had a friend back home … I'm just trying to figure out how much of this story to share. I had a friend back home who is a realtor. There were parts of his life that he didn't share with clients, but he did that because he's like, "Oh no, if they know this about me, then they're not going to want to work with me." I found just as I look at different businesses, and even for myself, I'm thoroughly convinced that the more authentic you can be in your marketing, and the more that you take a stand for what you believe in, and for who you truly are, yeah, of course there are people who won't want to do business with you.
But the people who do want to do business with you, those are your people. They are your soul family, your raving fans. They are people who will choose you, day in and day out, because you're … I don't know, because you love ecstatic dance, or because you believe in aliens, or because you … I don't know. You play BDSM space, or because you're a digital nomad. Or, because you're happily single, and you don't have kids. Just whatever your thing is. I just kind of made those all up off the top of my head. There is things that people often hide from the world that, if they just fully owned completely without shame and guilt, it would just magnetize the hundreds, thousands, even hundreds of thousands of people that are just like them.
Then what starts to happen, too, that I've noticed, and that my clients have noticed, that when you … Martha Beck calls it a 'integrity cleanse.' I just call it 'telling the truth all the time.' When you start to tell the truth all the time, you just have so much energy, because you're not withholding any secrets, or any emotions. Yeah.
Michael Smith: People just feel that in you, that authenticity in you. Whether they have the same interests that you're authentic about, or not, they feel your authenticity. I don't think that's actually … I think this creates more connection with other people, like being open about who we are in our businesses. Let's take this to another level, because I think often in business, people … They have people work for them in their team, and they don't tell them when they're doing a good job, or a bad job. How does that drain the energy as well?
Michael H.: I think that drains the energy because they're lying, essentially. When we don't tell our employees or our partners that they're doing a good job, through praise, and appreciation, we're holding back a piece of our truth, about how much we love them, or appreciate them. When I work with men, who are fathers, and husbands, and leaders, I'll ask them this question. I'll say, "There's probably at least a dozen times a day when you think about your wife, or you look at her across the kitchen table in the morning, or you see her in the living room, reading a book. There's probably these thoughts that come in your head of 'God, I love her so much.' Or, 'I love it when she cooks my favorite meal.' Or, 'I love how peaceful she looks, just sitting there on the couch.'"
They'll say, "Oh yeah, totally."
Then I ask them, "How often do you actually say some of those thoughts?"
They're like, "Uhh … I guess not enough." One of my mantras is what you appreciate, appreciates. I've been really getting in the habit, and especially recently, I haven't actively … the habit of appreciating the people in my life. Yeah, because what you appreciate, appreciates.
As a business leader, when you praise and appreciate your employees, and specificity is what counts here. When you're really specific about just something that you really appreciate them about, or just something where they did a really good job, it literally reinforces that in their beingness. You'll actually get more of it from them. Nothing but great things happen when we praise and appreciate the people in our life. When we hold back the feedback, and when we hold back the areas of improvement, when they're meeting expectations, and when they're not holding their commitments and agreements as an employee, then we're basically stunting their growth as a human. We're creating this sense of resentment, where we resent our employees, because they're not doing a good job. They don't know, because they're not psychic.
Michael Smith: One day, they will be psychic, though.
Michael H.: Yeah. Yeah, we're all psychic.
Michael Smith: Yeah.
Michael H.: Some of us just haven't tapped into it yet.
Michael Smith: Right, exactly. But right now when people can't read each other's minds, it's helpful to speak the truth.
Michael H.: Yes. Yes, absolutely.
Michael Smith: Partly because then they … Everyone's in the same page. Also, partly because if I've got a resentment about someone who's working for me, and they're not doing what they said they would do, even I don't say it, my energy is just going to leak out all over them, everyone else on the team. That I'm a little ticked off, and they won't know why. They'll make up some story about how it's much worse than it actually is.
Michael H.: Yeah, and any resentment that you have as a leader, that is 100% your responsibility. It's 100% your responsibility as a leader to show up, and to use your words, to help write, manage, and lead, and develop, and support the people that are on your team. It's not as comfortable, but that's why you're in a position of leadership.
Michael Smith: Speak a bit more about as a leader, you're responsible for that. I think that's an interesting viewpoint.
Michael H.: Yeah. I think as a leader, as a CEO, or a founder, you basically gave birth and you created this organization. An organization is really just a shared context of people working together towards a common goal, or a common vision, or mission. Granted, everyone in an organization … Who's responsible for the culture? It's everyone, but at the same time, whoever is steering the ship ultimately … Yeah, it's your responsibility just to really lead, and to be a leader. … To be a leader in everything. It's not like just in numbers. I would go as far to say it'd also be the energetics. What kind of energetics are you bringing to the company? Do you come in every day, all stressed out, and resentful? Are there things at home that are unresolved? Your relationship, your family, or with your parents? You bring that everywhere you go, which is why … I'm such a proponent of personal growth, because … and men tend to do this more than women. It's like they focus on…
In reality, everything goes into that. If you're being super drained, by your volatile marriage, there's just so much energy that's going to that, so much wasted energy that could be going to your health, or to your business, or to your children. The work that I do with men really supports them, and being in right relationship with everything in their life, because that's a possibility for all humans to be in right relationship with money, and women, and men, and work, and their sexuality, and their spirituality. Without being in a right relationship with that, there's just a lot of pain and suffering that really isn't necessary.
Michael Smith: I got this mental image of CEO bringing their baggage to work, or the emotional baggage they had. There's this myth that you can compartmentalize, and you can hide your baggage, and I just don't think that's true anymore.
Michael H.: Yeah, and what's awesome is that what's great for all of us is that people are becoming more and more attuned to energy. People are becoming more psychic. I'm what they call clairsentient. I feel other people's emotions in my body. I'm highly empathic, so when I walk into a room, I just have the felt sense of how the room feels with a coaching client. I have a felt sense of if they're angry, or if they're sad, or where their energetic blocks and constrictions are in their system. That's just very helpful for the human race. More and more of us are just like really fully stepping into our gifts, and really fully stepping into our full … In my world view, infinite potential, as a human being. It's just a fricken great time to be alive. There's so many markers.
I just heard an interview by Peter Diamandes. He wrote "Abundance and Bold." There's so many things that are getting so much better, just around poverty, and infinite mortality, and technology is really allowing us to create some pretty amazing solutions to problems that have been here for decades, or hundreds of thousands of years. It's such an exciting time to be alive. Part of that also includes exploring our inner space, because I've worked with many men who making money, isn't an issue anymore. They're able, because they've created a business that can easily take care of their needs, and what I love about achieving that milestone is that once a human being is able to totally … They don't have to worry about money anymore, there's this felt sense of "Oh, hmm. I have everything I ever wanted, but I'm still not happy. Now what?" Then they go …
Then they start exploring their inner space, their thoughts, and their beliefs, and their emotions, and their relationships to reality, and spirituality. For me, that's the place where I really love to live. I love supporting men, and evolving, and upgrading their internal landscape, which ultimately leads to making more money, or having the best sex of your life, or having just a really joyful experience of being a father, a leader, or a husband.
Michael Smith: I think this term in the tech world of the singularity. I think I want to apply that to this inner space world, but we're living in a time of great change in the inner life. Maybe that hasn't been recognized so far, but I just see this enormous blossoming shift there.
Michael H.: Yeah, and I'm not sure when, so. If you're listening to this interview right now, I'm not sure what the date and time is of where you're at, but right now, it's … The things that are bubbling up to the surface in our collective consciousness, things like racism, and misogyny, and even just violence in general, bullying at schools, the unconscious masculine, which is creating a lot of sexual violence, and just violence in general in the world. These things are bubbling up to the surface so that we can move past them, and let go some of these archaic, more primitive ways of being. Which is great news, and right now as a human race, we're all going through growing pains. It's definitely been a intense time for me, and many of my clients, and many of my friends, because we're truly growing physically, spiritually, psychically, emotionally, at an exponential pace because we're tracking with technology. Which allows us to do things that we just weren't able to do 10 years ago. Even just to have this conversation was a … This is a miracle, twenty years ago. Soon, we'll all be hanging out in virtual reality, and cooler interfaces, and in the near future.
For me, one of the big lessons has been surrender, and just really letting go of everything that was, and allowing new paradigms, and new blueprints, and new ways of being around business, sexuality, spirituality, relationships. It's scary, but evolve or die.
Michael Smith: I want to take this in several directions. I'm excited about this. I've kind of thought for a while that the technology changes are happening so fast now, it's impossible to run a business purely on a logical basis, and rational basis anymore. You've got to use intuition to make fast decisions.
Michael H.: Yeah, yeah.
Michael Smith: The amount of information that comes in and the changes in technology that occurs. But what I'm realizing, talking to you, is that this also … I don't know quite what to call this, but the inner space singularity. There's a shift in how people are relating. That is impacting on business. You can't run business as usual when that shift occurring in the world.
Michael H.: Yeah, and if you try and run business from a very top down linear hierarchical way, hierarchical … I didn't say that right, but your best employees are the most gifted, tapped in, millennials. They're not going to want to work with you, because there will be-
Michael Smith: I'm not sure the older folks want to work with you, either.
Michael H.: Yeah, that's-
Michael Smith: But it may come out in different ways, because the younger folks may speak their truth and just choose not to work in that environment. The older ones may just get backache, or other issues at work, not be bringing their full infinite self to work. You just don't have a … I've seen that in organizations, where just people aren't engaged. They show up, they do the work, but they're only doing 10% of what is possible.
Michael H.: Yeah. I had a six figure salary at a Fortune 50 healthcare company, and I had … I actually felt guilty about how much money I was making to do so little. I had so many gifts, and ideas, and so much to share, but they only wanted me to work on this little project in this one department. I had a conversation with one of my mentors, who was a vice president. I was in a … human resources leadership development program, this high potential program for post MBA grads. S
he said, "Hey, you know, Michael, of all the people who step into my office, and probably hundreds of people a month, you are definitely a 0% on the bullshit meter.
I said, "Oh wow, thank you. I really try and live my life in a really authentic way with a lot of integrity."
She said, "Have you thought about how that might be hurting you?"
Then we got into this deep philosophical conversation about chain of command, and not always speaking up in meetings, and going through your manager. That was a really pivotal conversation for me, because I just knew, in that moment, my days were numbers. I couldn't work for a company where I couldn't just be myself, and share my full gifts. My intentions were so pure. I just wanted to help them make more money, reduce expenses, help more people, but in some of these companies, there's just very little room for ideas, or innovation. They just keep doing things the way that they have done them for … The company I worked for is like 125 year old company. That has worked, but companies that aren't actively innovating, I think I heard something like in 10 years, 40% of Fortune 500 companies will be gone. They'll be ousted by companies that haven't even been built yet. That's just the reality of business today.
Michael Smith: Yeah, there's a lot of disruption occurring in the industries. If you're not innovating in your business, you are dying. Maybe it won't collapse this year, but 10 years out, it's going to be hard to still be hard to still be around if you haven't made shifts and changes to keep up with technology and social changes. This inner work change, which I still don't quite have a good label for, or a name for it, but I get what it is, that everyone's becoming more aware, and they're bringing their authenticity to work, and they're bringing their whole self. They want to be their whole powerful self, and have meaning in their work. If they don't have the opportunity to fulfill that, it's both frustrating and it's a big loss for the organization.
Michael H.: Yeah. I just want to share just a possibility. I live in a world where I only hang out with people who I love. Yeah, it's not even like people who I love. There is no separation of myself, and my business, and my social self, and my personal self. I don't recommend this for everyone, but for me, it was a necessary part of my journey of coming out of a religious cult. For me, I've pretty much shared most of my personal details online, my relationships with alcohol, or pornography, or money, or women. I've really shared a lot of my internal blocks, and fears, and things. Because of that, I have so much trust built with the world. Anyone who's read my blogs, or heard podcast interviews, because I pretty much answer any question that anyone asks. I have just a lot of intimacy with some really amazing people. I look at the people who are my friends now, and I'm just blown away sometimes. Like "Wow, how did I get in this room, or in this peer group?"
Really, it was just me authentically sharing who I really was. Which shockingly, when I would share things that I felt so uncomfortable about sharing, and the thing that I thought would make people run away, or abandon me, the opposite happened. They loved me more, because they were going through the same thing. Most of us are going through the same 3 or 4 core issues of we feel we're not good enough, or we feel we're not worthy of love, or we wish we had more money. When I shared that stuff, there was just … Yeah. So much love, and so much support, and kinship, and love, and connection, that just started coming my way. Yeah, I'm not a millionaire, but I feel like a spiritual and social billionaire. I have this … There's really … I truly have no desires. There's nothing that my heart's really aching for, because it's just so full with love and connection with really, really great people.
The work that I do, I have clients who regularly just send me voicemails, or write me long emails. Like, "Aw, I love you, Michael." It's coming from a really powerful and powered place. They're not trying to get my validation, but it's just this felt sense of "I love you, brother." I just felt like sharing that, because that's … I would have never dreamed that the life that I'm living was possible based on the religion, and the parents, and the city, and everything that I grew up in, but it's super possible. The main 2 things that got me here were just telling the truth all the time, and loving myself. It's actually that simple of just tell the truth, love yourself, tell the truth, love yourself. Then, magic and miracles will start to occur in a almost daily basis.
Michael Smith: We talked a bit about telling the truth in business. Can you talk about self love in business, because I think that's not often talked about.
Michael H.: Yeah, yeah. Self love is the everything. When someone fully loves, and fully accepts themselves, and are able to see themself, and observe themself through the lenses of love and compassion, it just puts them into a abundance state. They come off much less needy. Things just start to magnetically come into their life, whether it's clients, or dates, or whatever they desire. Someone who's not able to love and appreciate themselves, and celebrate their wins, and celebrate the progress they made, and attitude for the … hundreds of amazing things in their life. If you're listening to this interview right now, you're killing it at life. You are. You're living better than the kings of ancient history. You're absolutely crushing it at life.
Without that self love, self acceptance, and gratitude, it doesn't matter. You could have a billion dollars in the bank, and you'd still be miserable. You'd like, "Man, why don't I have 2 billion?"
This mantra, and I got this from Elizabeth DiAlto, is "I am enough. I have enough. I do enough." "I am enough. I have enough. I do enough."
That's my prescription that I regularly give to my clients when they feel like, "Oh man, I'm not doing enough work. I'm not hustling as hard as Gary B."
I'm like, "Well, you're not Gary B., dude."
"I am enough. I have enough. I do enough." That's my prescription for anyone who just is having a hard time loving themselves, because that's actually the reality. You're causing yourself suffering, because you're arguing against reality. The reality is, you are enough. Your beingness, as it is, you are enough. You have enough, because you have what you have, and that's the reality. You do enough, because that's what you do every day. There's always room for more more … You'll just continue to get better and better, and that's just part of the evolutionary drive, and moving through you. Thank goodness we're not perfect, because life would be pretty boring.
I love that there's always more to be. But even though right now, as a leader, and an entrepreneur, and a man, there's still some major developmental gaps for me between who I am today and who I know that I'm … what I'm capable of being. I don't let that make me sad, or make me feel less than. I just know that I'm in the perfect place. Everything is happening in due time, and I regularly celebrate and appreciate everything in life. I get to do this podcast interview. This is such a joy for me to be able to talk about my favorite subjects with Michael. I get to be doing this right now. Yeah, that's a bit about self love. Just recognize all of the amazing things that you've already created, and experienced, and the amazingness that you already are. Then from there, you literally fill up your cup. You're moving through the world with a full cup, instead of being on fumes and being super needy, and needing people's attention, and being attention-seeking, and just sucking the life out of the room.
Michael Smith: I think the ability to bring self love to work is key here, because just think about how that affects everyone else in your business. How it affects all your staff. How it affects any vendors you work with. How it affects clients you have. How it attracts prospects, because how can they love themselves in your business if you don't love yourself?
Michael H.: Yeah, yeah.
Michael Smith: As the leader, you're the role model for this. That you love yourself, you're enough. They then get that it's okay for them to love themselves when they're around you, and hopefully in the rest of their life.
Michael H.: Yeah, and it's okay for them to make mistakes. I don't believe in failure. It's okay for them to …
Michael Smith: You don't believe in failure? Tell us more about that.
Michael H.: Hell yeah. I just don't … Someone who fails is not a failure. Every failure that I've ever had was actually a victory, because I lived to try again. I think the greatest failure is having knowledge, or wisdom, or gifts, or capabilities, and not fully sharing them with the world. You're basically hording your gifts. You're not creating any value in the world, when there's so much potential value in you. Stop it, because we all need your help. Yeah, I really don't believe in failure, because I'm not … I don't do this 100% of the time, but I've been much more aware about it.
When I go into a business, or dating, or a social situation, before I go into it, whether it's a new project or a new creative endeavour, or if I go to some conference, I actively let go of expectations. Yeah, I move into new things without expectations. Then, whatever arises is a win. Whatever arises, I'm surprised by, and it allows me to just see everything with fresh eyes, sort of like through the eyes of a child. I move through the world in a pretty constant state of awe, because I just have no expectations of how things are going to go. It's a really fun way to live my life.
This is something that, it's really taken years and over $100,000 of personal development, it's like I've definitely had my … I've put in my 10,000 hours around many things, a lot of practice, and a lot of spiritual practice. It just keeps getting better and better. That's something I've been saying a lot with my friends lately. We'll just be sitting around having dinner, and I'll say "Wow, isn't it cool that this is the sucky-est version of us? Like this is the worst version that we'll ever be? We're just going to continue to get wiser, and just have more, and more, and more awareness about life, and how cool is that?"
Yeah, those are just some of the ways that I view life, which creates the result of more joy, more happiness, more sales. I make more money as a happy person than a depressed, miserable, resentful person. I certainly wasn't born this way. I've been suicidal many times in my life. I had a lot of depression. I pretty much drank most of my twenties away, because I had used alcohol as a numbing and a coping mechanism. Just feeling my feelings, because I didn't know that you were allowed to just cry as a man.
Michael Smith: Or laugh, for that matter.
Michael H.: Yeah. Cry or laugh, or play. Yeah, I just turned 35 this year, and I have the maturity to … stay true to my commitments and my agreements, but I also have the ability to let myself just totally be a kid. I have so much fun with my friends, and my clients, too. I bring this energetics of play, and laughter, and silliness into my coaching. It helps lighten them up.
One of my friends, Amataeo, said this at his conference. He said, "Enlightenment is the process of lightening up." He was like, "Just laugh. Just give yourself permission to laugh, and play." I think that's a reminder that I definitely need, as a leader, and as someone who really strives to be on the cutting edge of consciousness, and beingness, just to create new healthy models of masculinity, and beingness in the world. I've definitely noticed there are times where I put so much pressure on myself to be this perfect man, but that's not helping anyone.
Then I just stop it, and I just laugh, and look at my scrambled eggs in the morning. Like, "God, wow! I'm eating eggs, and I didn't have to like pluck these." I'll just think about value chains sometimes. When I go to Whole Foods, and I'll think about the amount of labor and work, and love, and technology, and just all the things that it took to have this kombucha in my hand. I'll just blow my mind with just the miracle of life, and how many moving pieces that there are.
Michael Smith: That's true in business, too. If you have a business, just think of all the different people and all the supply chains, all the different pieces of software, the tens of thousands of hours that were spent writing, just so that many could have an easier business to run, through all the tools that you use in your business, and your staff use. It's a miracle, really.
Michael H.: Yeah, truly.
Michael Smith: I just want to loop this back into the innovation, because I think by letting go of expectations, and having a more playful way of being in business, that can let innovation blossom any business. That's a key for surviving in all this change, and thriving in all the change that's going on.
Michael H.: Yeah, absolutely. Something that I love about myself, which might almost sound arrogant to say, but I love myself enough to say this. Something I love about myself is I'm super humble, and I'm super receptive. What I mean by that is I move through the world like everyone has God, and everyone has a message for me, and everyone has something to teach me. Just everywhere I go, whether I'm in the line at Chipotle, or I'm doing grocery shopping, I'm just so receptive to learning from life itself, like learning from nature, learning from children. I have been super into hanging out with kids lately. Some of my friends are having children, and I'll just sit there and be with them, and just have all these insights about business, or relationships.
Michael Smith: What's the last insight you got from your business?
Michael H.: They're just so pure, and angelic. When they're sad, they cry. A child will go from crying to laughing in point one seconds. There's no filter. There's no repression of emotion, or of their truths. Because of that, they're not … They don't have all this baggage in their relationships.
Michael Smith: Yeah, I think if young children … Typically less than 3 years old, in my experience, because after that, they often get a little socialization going and they shut down some of that stuff.
Michael H.: Yup.
Michael Smith: Sometimes people make it into adulthood without shutting that stuff down, but I think often we come into this world with all this spiritual gifts, and intuition, and then we close it all down. Then sometimes later in life, we all go back up again.
Michael H.: Yeah.
Michael Smith: If children had the intellectual understanding to be able to do business, I think they would be better business people than a lot of adults.
Michael H.: I've thought about that. I've actually had that as a business idea. What if my board of directors were a bunch of 5 year olds? I honestly think [crosstalk 00:49:24].
Michael Smith: Well, they could be for your spiritual board of directors. I don't know if you've had this idea that you have got … You can bring a spiritual board of directors, and have guides. You certainly could have children there to give you what's the energy to go for.
Michael H.: Yeah, yeah. I could just show them different products, or services, or packaging, and if they like it, they'll play with it. If not, they'll just cry, or be kind of disgusted by it.
Michael Smith: Right. They wouldn't lie to your face, like some people would.
Michael H.: Yeah.
Michael Smith: Wow, very cool. Well, I've really enjoyed talking with you, Michael. If people wanted to find more about you, how would they find you?
Michael H.: Yeah, you can find me on Facebook. I have a public profile, I'm super active there. It's under my name, Michael Hrostoski. Then, my 2 websites are Hrostoski.com, which is my personal blog. It just has a lot of my journey over the past 5 years. Then, TheSchoolForMen.com, which is my … That's where a majority of my current time and awareness is going to, supporting men and just really growing this global community of men committed to mastering the game of life.
Michael Smith: Fabulous. Well, thanks so much for joining us today.
Michael H.: Yeah, thank you so much. I loved having this conversation, and just for if you're hearing this interview, if something that I said really peaked your interest, if you feel like it'd be a good fit to do some work with me, or explore these topics deeper, I'm super accessible. Just reach out via Facebook, or my website, and we'll talk.
Michael Smith: All right. Thank you, Michael. Okay.