Read the show notes and download the episode here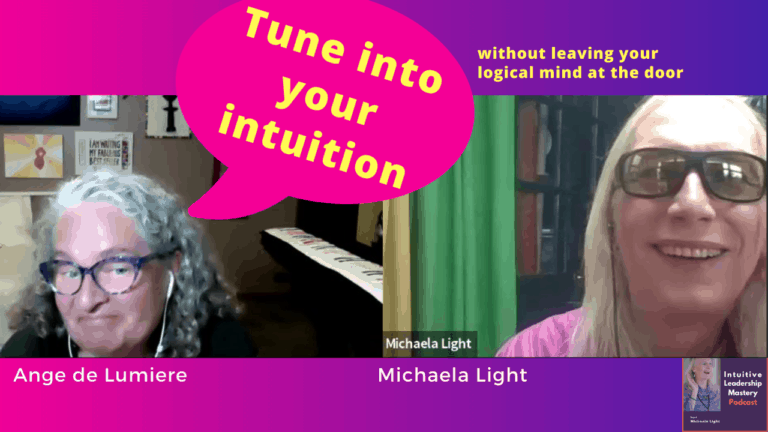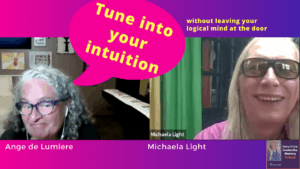 Michaela Light 0:03
Hey, welcome back to the show. I'm here with Auntie de Lumiere. And we're gonna be talking about how you can tune in your, your intuition without leaving your logical mind at the door. And if you don't know, Angie, she's based in the United Kingdom, originally born in France. And she is an author, and also has created some Oracle decks. We'll talk about that. And she used to be an attorney. So real turnaround there go to being a business intuition coach, and Jason Ross on that we'll maybe talk a bit about that as well. And she has her own podcast, the business intuition podcast, and I'll put all the links to that. in the show notes, the episode intuitive leadership mastery.com. Anyway, welcome, Angie. Thank you for having me. Yes. So great to talk with you. So I'm kind of curious, because when I think of lawyers and attorneys, they're not. I mean, I guess they could be intuitive. But that's not not the impression they necessarily give. They're always very logical and organized.
Ange de Lumiere 1:10
Yep. head as well, like you in school. That was my 40. And, yeah, I know. And I fell into low, maybe a little bit by chance, because all the kind of options that I wanted to pursue, I wanted to be an astronomer and lots of different things. Yeah, that's what was my thing that was my jam, like then
Michaela Light 1:37
one,
Ange de Lumiere 1:38
but then I realized it was 10 years studies, and maybe not that many prospects of jobs. And so I did the responsible thing. And so I went to see, you know, like one of those career counselors, on my made me do tons of tests. And she said, you'd be a great lawyer. And I was like, Okay, let's give it a try. And it so happened that it was a double degree translation, and law, and I was quite good at languages. So I took an exam in languages to make sure my level was enough in English and Spanish, and I got in. So that's why that's how I became an international lawyer.
Michaela Light 2:20
Wow, I'm an international lawyer, not just a regular lawyer.
Ange de Lumiere 2:24
No, no, I did merger acquisition. I don't know if you know what that is, like, top. Buying selling companies traveling the world. I've been to all the continents except Australia. Which is kind of funny, because that's the one the only place I wanted to go. But so yeah, and even negotiated in Spanish, Colombia through sheeny. It was fun. It was a lot of fun.
Michaela Light 2:53
Wow. Yeah. And, you know, I'm sure you had to use your intuition to get the I
Ange de Lumiere 2:57
use my intuition a lot. I just didn't know I was, because I never considered myself intuitive. So what would happen is, but I've listening to your podcast has really helped me to grasp some of these aspects that I've been using for years. So my boss would always put me on files that have never been been done before. And they'd say, like, I worked in the telecom industry at the time. It was the Ministry of Telecom. And they were just starting on the contracts with private clients. And they were just starting on networks for companies. And they had nothing. They had just, you know, one of those terms and conditions. And they said, Well, you need to create a contract, because these are companies. So I started doing that. I also worked on this is going to be fun. I worked on, you know, submarine cable maintenance contracts with, you know, worldwide. And satellites, transmissions, all sorts of things. And then there was another phase of what I worked on, which was more like privatizations of telecom operators around the world. So that's when I went to Thailand. I went to many countries of South
Michaela Light 4:17
America, this sounds like the ideal career.
Ange de Lumiere 4:20
Why'd you give us fun? Well, there's, the thing is, like, let me explain. So first, we were saying I was trying to explain to you why I was already using my intuition, even though I didn't know I was. So I would see the solution right away. And then I just put it together. And then I did my research, and it fits what I had seen. And I thought everybody did that. Oh, so I never really mentioned it to anyone. So that's how my intuition worked. I literally, I could write a contract like I remember we went to Washington to negotiate the first mobile network technology. To bring it back to to spread it in Paris. And something I just literally drafted the contract. I've never drifted on my own. I had a sort of a model, but I could write anything because I actually channeled it. So I didn't know I was.
Michaela Light 5:16
So that was fun. But for listeners who don't know what channeling is, what do you mean by channeling?
Ange de Lumiere 5:21
It means that I wasn't thinking about what I was writing was the time it would just come out.
Michaela Light 5:27
Hmm. It's like it came from your intuitive self, your higher self. Yes. Some other guidance. Yeah,
Ange de Lumiere 5:33
it came easily. And you know, for lawyer to write a contract is not usually easy. And that's how I distinguished because. And it's a very detailed thing. And you have to be very precise. And they worry lawyers worry a lot about what could go about what yeah, this
Michaela Light 5:52
kind of calm and confident exactly as the front.
Ange de Lumiere 5:55
I think it's the front. And also they're hired for the capacity to worry and see problems.
Michaela Light 6:01
What an awful thing to be hired for. So you have to worry all the time.
Ange de Lumiere 6:06
I don't know. I just that's just how I see it.
Michaela Light 6:09
Yeah, I make sense to me. But I mean, I don't want to spend my whole day worrying.
Ange de Lumiere 6:15
No, me neither. Me neither. I mean, so I didn't really fit in much because I was really that positive person. And that, you know, let's find a solution for you. So actually, when I worked in, in house, engineers, and commercial people left me because I never said no, I said, Yeah, well, let's find a way to make this work. But I know that I was very, I was the odd one. In
Michaela Light 6:39
Yeah. Yeah. Cuz generally, when lawyers come into the office, they try and kill the obey. Well, they don't try and kill it. But, you know, they worry about things. And they bring up all these concerns. Yeah. Contract now, instead of being three pages or 300 pages. Yeah. Yeah. You know, it's very hard to make it successful from a business point of view. So yeah, so what a loss of legal profession when you left that career,
Ange de Lumiere 7:03
such as the very common and it's actually what's my, most of the people in my team said, when I left, they said, You're crazy. You're just crazy. But I didn't really leave the universe kicked me out of my job. Oh,
Michaela Light 7:18
yeah. How do you mean that, that what when you say the universe kick you out? What do you mean?
Ange de Lumiere 7:22
Well, I, so as I was at the peak of my career, we launched this mobile, international mobile operator on the stock exchange. And my boss who was half Scottish, half French was offered the position of head of legal in this new entity, because I knew it back to front, because I do the, you know, I did the data room, the due diligence, put all the contracts together, it all the transfers to prepare. And then we were a team, but I was like, his his right hand. So he asked me to move to London with him, not in the same apartment, but to be part of his team. And I just wanted to go to London. So I jumped on the occasion. But then, a couple of years after I moved to London, in this new team, I was a knowledge manager by then, which I love to do as well. I love you know, knowledge and making people work together and training and all that sort of thing. They decided to restructure the company and bring everything back to Paris. And by then I was pregnant with my third child from an English man, and I didn't want to go back to Paris. So I fought them a bit because they didn't want to fire me properly with a package. And that's
Michaela Light 8:41
that's how it happened. That's dangerous to try and fire an attorney without giving them a severance package or default. Yeah, yeah. Well, yeah. Like, you know, trying to push the lion out of the cage, giving them a piece of beef, you know,
Ange de Lumiere 8:55
yeah, well, I'm not, I'm not that sort of lawyer. But I did fight for my rights. And I got what I'm yeah. And so I was left with this package, a bit of savings and no idea what I was going to do, because I didn't really want to go back to law. I didn't want to be a solicitor. And I wasn't in London anymore. That's the thing. If I was in London, I probably would have found another job in law. But because I wasn't qualified as an English lawyer, I had to reinvent myself. And I sort of gave myself permission to do all the things I've never given myself permission before. So I, I wanted to be an artist. So I dived into mosaics, and I became you know, I did lots of exhibitions took part in my local art trail. I trained. First I wanted to train in counseling, because that had been something that I was interested in. I realized that had to do three years and then again, the prospects of earning money weren't that very good. So that's not very good English. I had two children already. So you know, I was I had another one on the way, I was a single mom of two with another one on the way. So I decided in the end, I did listening skills, which was brilliant. And which actually helps me a lot with intuition. Because you need to learn to listen, to be able to access your intuition. And I thought I was a good listener, but honestly, I wasn't. When I did the listening skills course, which was a year long, I realized what a bad listener I was.
Michaela Light 10:29
Wow. So how does listening well help access your intuition?
Ange de Lumiere 10:36
What because listening skills is about switching your mind off and being completely in the present moment. Oh, and being able to listen to a person without having you know, that chatter in the mind? What am I going to say? When am I going to have a chance to chip in and say my bit, which is what most people do in a conversation? It's really two dialogues that are trying to pile up on each other. Whereas real listening is, I hear you. And then you hear me? It's completely different.
Michaela Light 11:10
Wow. Yes, maybe they should teach that
Ange de Lumiere 11:14
in schools. They should definitely teach it in school. And they also should teach it to parents. That's my core belief. Yeah. And bosses? Yep. Absolutely. Absolutely. That's when you know, I home educate my youngest two. And that's the things the kind of things I teach them.
Michaela Light 11:34
Oh, how cool. Yeah. are in the best school? I'm sure.
Ange de Lumiere 11:38
Well, I hope so. See? best for them? Hopefully. Yeah,
Michaela Light 11:43
I'm sure it's the best time I think homeschooling generally speaking is a lot better than going to a state school. We say in England or public school, as we say in the US. Because I think, you know, schools are very regimented. Yeah, and he got a graduate.
Ange de Lumiere 12:05
And I happen to have for autistic kids, so it's very hard for them to fit in. Yeah.
Michaela Light 12:11
Wow. Yes. Makes me even more helpful. You know, I think every nearly every kid can do better with homeschooling, and they can in a regular school. So and I think that's,
Ange de Lumiere 12:25
that's also why I'm so glad to be in business to show that it's possible to homeschool and have a thriving business at the same time to open up the possibilities for parents who, who want to homeschool without to have to sacrifice their finances because it's a real reality. For parents. What's the
Michaela Light 12:45
secret to having a thriving business while you homeschool? Is homeschooling almost a full time job in itself?
Ange de Lumiere 12:53
Yeah, yeah, I know that. Well, I have one day dedicated to my business where my my husband looks after the two children and the rest of the time I homeschool part time and he homeschools part time. So we join in jointly. So he's got his classic car business, and I have my business education business.
Michaela Light 13:15
Wow, how wonderful. Yeah, I actually I've said this before on the podcast, I think traditional schools kind of stamp out use of intuition in children. Absolutely. And
Ange de Lumiere 13:29
you know what, I saw that with my elder two, because they were traditionally schools. And when they were little, they were both so intuitive. They taught me everything I needed to know about intuition. And it was literally hammered out of them through schooling. And now they don't want to hear anything about it. It's like, Oh, it's mom saying, you know, she's weird. We love her. But she's motivated me even more. Because I'm on a mission. Mike Allen, I'm on a mission to put intuition on the school curriculum from primary school, all the way to university.
Michaela Light 14:05
Wow. Starting
Ange de Lumiere 14:06
with business schools. That's my mission. I feel really, really passionate because it broke my heart to see my children who were both gifted intellectually, and intuitively ended up only using half of their gifts. Right? Is that the only thing the only gifts that school honed basically,
Michaela Light 14:28
yes, the logical mind beat you know, by the rules. Yeah, use the word command. But don't use your intuition and don't use your creativity too much. Certainly not in class. Yeah. You know, it's it's very interesting. I mean, and when you you know, when you add it to teaching intuition to adults, really a lot of it is on learning all we're absolutely covering up Yeah. Whereas as you say, I think everyone is born with access to their intuition and creativity and playfulness. Yeah. And then the schools unfortunately and society kind of cover it up or rub it out. Make it No, we bury it because we don't want to be Weird, huh? Yes, having been bullied and all that. Yeah. You know, we the word weird in English, I believe literally means kind of having extra. You know, superpass No. supernatural. Nice. So yeah, we've Good thing I think we had is the new normal. I always say when people call me weird, and weird and wonderful. There you go. I love that. So together, yeah. So you you went into the void of not knowing what you're going to do gave yourself permission to play, to play and try new things. Yeah. So that's I trained in clinical hypnotherapy. Oh, my goodness.
Ange de Lumiere 16:08
And that was fascinating, because it's thanks to clinical hypnotherapy, understood how the mind worked. And the first benefits that I never expected to happen was that it cleared me of a writer's block that I had had for 10 years. Oh, my goodness, like in an instant after training. And so I started writing again, but instead of writing in French, I wrote in English.
Michaela Light 16:35
Wow. Yeah, so challenging writing in a foreign language.
Ange de Lumiere 16:40
I find it almost easier to stop moving because in French, I have this sort of censorship in my mind, whereas in English,
Michaela Light 16:48
so your internal mental mental sensor only speaks French.
Ange de Lumiere 16:52
Mostly, yeah, she's she's quite mean as well. Yeah, she's not listening to this. She knows, she knows. So I was writing this book about spirituality because I was fascinated by it. My biggest fascination even when I was a lawyer back in France was about reincarnation. Oh, it's something that I just I remember when I was 15 years old, and I was raised a Catholic, okay, my dad was super. He was not a bigot, he was, he was a very genuine Catholic and very practicing Catholic. And when I was 15 years old, we used to fight a lot with my sister, my older sister. And I remember clearly saying to her one day, look, we've chosen each other. Right, let's get on with it. And she just looked at me. And it's like, Where did that come from? Because it's not a concept from, you know, Christian tradition. And so that's probably the first, you know, the first hint that maybe there was another life, maybe I chosen my path, my chosen my parents, my sister. And when Amazon was created amazon.com, this became my personal library, bookshop, wherever you want to call it, where I ordered all these books like Michael Newton, you know, I think it's, is it destiny of souls, and all those books, and I was just completely into that.
Michaela Light 18:27
Huh? What is fascinating to realize we've had past lives, and we have future lives. And sometimes we are parallel lives as well. And they can all they're important because they can all affect our current life and create blocks or resistance. Yes, that is, you know, I mean, often we think of past lives as causing problems. But you know, often the skills we have if you're good as Attorney, maybe you had a past life, and
Ange de Lumiere 18:54
Amazonia, was the language I've never understood why speak languages, so well. Maybe I've been English in the past life, and that's why I speak English.
Michaela Light 19:03
Yes, it's entirely possible. So it's a fascinating thing to look at. And it's a great way to heal stuff in your business or, you know, in your life or relationships. What is the name of that book again, Destiny, something or
Ange de Lumiere 19:20
destiny of souls by Michael Newton. He's got two books, they're really famous. I'm trying looking on my library. And they're really, he was basically a psychiatrist, and his patients sort of regressed into past life spontaneously when he was working on them or whatever. And they describe to him what happened between lives and how souls are a triage, so to speak in the spirit world, and how, what, three hours are, like, oh, here's the new soul, where do they go in heaven? It's really, really interesting. I mean, I read it 30 years ago, so I wouldn't be able to tell you what was in it, but that was what fascinated me back then. And then what happened is when I had my first born son, when he was about three years old, he told his dad who was a lawyer and who didn't believe in any of that stuff about his past life and how he died in a sword battle in the desert. Oh my god. So my husband's comes into the kitchen, and my aunt tells me I don't understand this stuff. And I'm like, Ah, so excited. My son remembered his past life. And what was the most fascinating aspect of this is that I know my first my All My Children chose their names. I didn't they communicated their names to me when I was pregnant. And my firstborn son's name, and I'm not going to say the real name because I prefer I want to protect protect his privacy. But it actually meant army man.
Michaela Light 20:49
Oh, and
Ange de Lumiere 20:52
his entire childhood, he was obsessed with swords. Like, to the point where it was, it was just, yeah, surreal. So it's sort of confirmed to me that he was telling the truth.
Michaela Light 21:06
Well, I've read accounts of past life, you know, young and often young children, and to remember this stuff, and then, ya know, the toll is make believe, and they shouldn't talk about it, and then they forget it. But, you know, there have been researchers have interviewed people, you know, someone who was a fighter pilot in World War Two, when they, they then research what the little, you know, three or four year old child had said about exactly, you know, they had all the details, you know, they knew the colors of all the instruments and everything. And, and they found the person they were before, and it all checked out. And there's no way this child has researched this themselves. So, and the same I've read a lot of civil American Civil War, reincarnations, because a lot of people in the United States get reincarnated from people who are in those battles. You know, again, the details, you know, check out so it's quite amazing.
Ange de Lumiere 22:03
So it's sort of was like this one little steps, you know, how you go is this almost like steps that lead you to through the next step. And then my second child, also talked about his past life, to me, actually wasn't it was to me first, and then in school, and primary school teacher called me in because she was a little bit surprised. Basically what it was.
Michaela Light 22:29
But the thing is, there's bugs I miss, I had a past life.
Ange de Lumiere 22:34
I'll tell you exactly what happened. It was just so good. So he was sat in assembly, and they were doing show and tell or whatever. And then they had the drill for the fire alarm. And so the teacher said, what we need to move in and then when they came back into the, into the school room, my son said, You know what, I miss I died in in the fire. Well, I wasn't a fire. He didn't say died. I was in the fire. So the teacher said, we look good, you've recovered? Well, you know, you're really good. I'm happy that you know, you're okay. And he looked at her exasperated and he said, when I was a man, oh, and so she died. At the end of the day, she called me in to say, your son told me something a bit strange, that we just can't talk about it. But we ended up having this wonderful conversation because she had a nephew and she was towards the end of her career. So she had seen lots of kids. But apparently she'd never come across one that was it was so clear. But then she told me about this nephew of her that had said grandpa's dead in like a family gathering. And they received the call to say that that he was dead five minutes after the kid had said it. And so she was sort of open to the idea. So we ended up having an interesting conversation about this, but I knew from the detail that my son described how he died in the fire. He was only three or four years old. Or maybe Yeah, something like that. Maybe five, it was impossible. First I don't watch horrible you know, documentaries about people who are in fires and who end up in the hospital with you know, skin. Would you say that when you have to graft is a skin graft, stuff like that. But he was so precise about what happened and how and I'm not even going to tell you because it kind of broke my heart. It was awful to hear. But that was that was when they nailed it for me. Like there was no turning back. Then the past lives became real for me. And I have this desire to find out about my past lives. And that's why I trained as a clinical hypnotherapist. But what's really funny is the moment I trained as a clinical hypnotherapist, I realized that I didn't want to regress people into their past lives. It didn't feel right to me. My intuition told me it wasn't like Nevertheless, it, it had all these, you know, benefits of me learning about the mind learning the difference between the creative mind and the reptile brain, all that sort of thing. So that was really, really good for me.
Michaela Light 25:14
It is amazing. And, you know, for anyone listening who hasn't investigated this, you can work with someone who will help you do a regression to find your past life. So you can just, I sometimes work with NGOs, she just works on healing. You know, if I have an issue, in my business, maybe I have some, you know, resistance around money or whatever the thing is we're hiring, then she will clear that not only in my current life, but also in past lives. And then the issue just goes away. It's like, amazing.
Ange de Lumiere 25:47
And I suppose it's really good. We're talking about this because my main modality is business akashic records.
Michaela Light 25:54
Now, that's going to be a phrase, not everyone's heard of what is an Akashic Record. For those who don't know,
Ange de Lumiere 25:59
the other word for it is called the book of life. And it's mentioned on most in most spiritual traditions and religions, as the container for souls journey through lifetimes. It's the sum of everything that's happened to you. Like, your past lives, your current lives, your future lives, everything is in that Akashic Record. But I specialize in business ones, because I have been shown that businesses have souls. And so I can read the blueprint of a business and how it connects to their owner.
Michaela Light 26:38
Wow. So it's sort of like, all their subconscious and past lives, everything all recorded, I mean, in this spiritual Akashic Record, but it's pure energy. Yeah. And it's, but it's sort of like they like had a video camera running through all their lifetimes to see what went on. And then can you tweak around with that the heel thing for? Oh, absolutely.
Ange de Lumiere 27:08
In the records, you can do healings and past lives, current slides future lives? I never really know what happens in the records when I get in there. But we do what we have to do. Wow. Wow. Is it shows me the highest potential for someone's business?
Michaela Light 27:28
Oh, well, that's something a lot of people who are entrepreneurs could do with getting too frustrated, because their business won't grow. They can never seem to hire the right people, or their clients are a pain in the rear end or, you know, and maybe that is something that could just easily be healed like that. If they change those energy patterns.
Ange de Lumiere 27:53
I did once Not, not long ago, this year, a session with a yoga teacher who could not stand straight, her shoulders were always hunched. And it it actually impacted her success, because she felt there was something wrong with her. And yes, she was keeping herself small, because she felt she was a fraud, because as a yoga teacher, she didn't have the right posture. And when we went into her records, I'm not going to share the details, again, for confidentiality reasons. But we cleared all that. And she said, literally, when we were done, her shoulders had completely moved straight back. And and then and it never went back to what it was.
Michaela Light 28:33
No, of course, no, it's permanent. It's unlike, you know, if you get a massage, they might relax a bit. If you do healing at a deep spiritual level, it just shifts it completely. They don't need the shoulders no longer need to be for whatever reason her shoulders were hunched, whether it was protecting our heart or dealing with a burden on our back or whatever the thing was spiritually speaking, you didn't need and the same thing in business, you know, if you heal someone who has difficulty generating enough income, suddenly they get all these great clients, you know, it's amazing,
Ange de Lumiere 29:07
I can see the blocks in the records, I can see what's causing something. Wow.
Michaela Light 29:17
That is amazing. So, and you wrote a book about this, didn't you? Or,
Ange de Lumiere 29:22
well, I did write a memoir, which is not published yet. But you can get the first three chapters called The Reluctant business Akashic reader. And in this story, Yes, that's me. It's how I went from being a lawyer to being a business Akashic reader.
Michaela Light 29:39
Where can people get these three chapters they can
Ange de Lumiere 29:43
find? Oh, that's a really good question. I'm not sure that it's not on my website yet. Oh, I'm gonna have to update that. For sure. Yeah. Yeah. All the time. Yeah, let me let me take. I'm going to write this down to create a page for that.
Michaela Light 29:59
Yeah. While you take a note, I'll mention her website is the intuition revolution.co.uk. again at the end, and we'll stick it in the show notes, along with social media links. So I'm definitely going to create that. Absolutely, to make sure that are buried and creative life so far, I just wonder what you're going to create in the next 100 years, you know, I'm not sure. I'm not sure. But it's fun. I never know what's coming next. Can you read your own Akashic Record and see what can
Ange de Lumiere 30:37
I can? Oh, I know that my my mission, as we mentioned earlier, is to put intuition on the curriculum, for sure.
Michaela Light 30:48
So that was shown those MPs in Parliament retrained to use their intuition.
Ange de Lumiere 30:55
I am, I am. But you're joking. But I was shown, and I'm going to share this. Because in in October 2017, I decided to invest 1000s of pounds in my intuition, with a psychic who specializes in business. And it was scary to invest that much money in my intuition, because that's not really what people tell you, you should invest when you're in business, okay. And right after I paid for the course, I went out to had a shower, and I was shown a limousine coming to take me to the headquarters of a CEO. Oh, really famous CEO. And so I was shown that I was supposed to work with the CEOs and, and high end politicians not happened yet. To transform the way they look at things so that they bring more spirituality into what they do. And intuition as well. Obviously, it was fun. I don't know, I had no idea. I was like, what, what the heck is this? I have no idea. But
Michaela Light 32:00
does that mean you You also can help clients who aren't sure what their mission is for their life?
Ange de Lumiere 32:06
Absolutely. I've seen that. I also seen people's niches, you know, you know how difficult it is to niche when you have an online business?
Michaela Light 32:14
Yeah. There's also the blogs, or blogs, they worry if they pick the right niche, or should they even pick a niche? Maybe they should sell to everyone? Yeah, like a scarcity mindset.
Ange de Lumiere 32:25
So and I can see the niche that's going to work for them. For you. Yeah, I've seen valuable. Yeah. I've also been shown in the Akashic records, that's why I call them business akashic records. Because I've come across the Akashic Record readers who were really far out, you know, like to, almost to around the soul, and not enough about what it is to be on earth and what we're here to do on this planet. We're all into celestial beings, and all that sort of stuff. And I have nothing against that. But we're in business, we wanted something that we can apply. And I've even been shown with one lady that the exact funnel, she was supposed to create the three videos and what they should be and how that should pan out.
Michaela Light 33:12
It was fun. Yeah, he should have paid you millions. To say, Look, just pay me 10% of what you make on this nation funnel.
Ange de Lumiere 33:20
And actually, my next clients probably going to be on a percentage basis. Yeah.
Michaela Light 33:24
Yeah, no money up front. That way, there's no risk. Yeah. Just the crazy idea.
Ange de Lumiere 33:35
But it ties with our conversation about past lives, because it was already my interest, but I just didn't know. That's where I was going to end if that makes any sense, right. And I didn't know. Until I did that course. Actually, no, that's not true. I came across a really good book about akashic records. And when I read it, I realized I'd been doing doing that my entire life. Oh, it dawned on me because I realized, I remember that instance, when I was eight years old. People would come to me for comfort, and I would say things. I didn't feel that they match the age. I was right. I kept on thinking to myself, this is this is not this is not right. For my age, it doesn't compute
Michaela Light 34:25
because you were channeling it from Yeah, so for past life or something.
Ange de Lumiere 34:32
And so I realized I channeled my entire life which can be a little bit different from usual psychics who see I never saw imaginary friends or anything. Just words came out of my mouth.
Michaela Light 34:43
Well, I think everyone has a different way of accessing their intuitive information. You know, some people hear stuff. Some people get visions in their mind. Some people have dreams, you know? Yeah, some people do automatic writing where it just gets you know, the pen almost moves itself. I mean, Um, so, you know, I don't think we need to judge how the intuition comes in anyone or give give ourself pressure that Oh, I can't do that thing. And she does. Well, that's okay. You maybe you get your intuition a different way.
Ange de Lumiere 35:16
And for the longest of years, I thought I was a fraud. In the 15 years, I did tarot readings, because I wasn't clairvoyant and clairaudient. And I was surrounded by them. Yeah, so I really like what you just said is very important.
Michaela Light 35:31
Yeah, there are so many Claire's I think was five or six I forget. Yeah. For clairvoyant is when you see things clear. When you hear things. Yeah. But I'm forgetting what all the clever But
Ange de Lumiere 35:46
well, this care sanctions this cat,
Michaela Light 35:48
yeah. When you feel it in your body, like I've heard the best of George Soros, when he's in a big billion dollar position, when he gets back pain he knows he needs to sell right now. That's his clear sense. Yeah.
Ange de Lumiere 36:03
But you can have tastes, you can have smells, oh, it can be touched as well. I've experienced three
Michaela Light 36:08
of them. Clear. So that would be taste clear.
Ange de Lumiere 36:13
I've got the names, I have a presentation about it, because that's what I teach, but I can't be bothered with with complicated words.
Michaela Light 36:21
Anyway, though, the point for people listening is you know, you can get your intuition different ways. And on the other thing, my own experience, you can, you know, if you, if you're strong in one area, you can train one of the other areas if you work on it, if you want to, you know, we don't have to, but, you know, it's
Ange de Lumiere 36:39
I think it's about keeping an open mind. And I what I love is also signs I think signs are great for people who are starting on the journey and don't feel that they're getting anything and might be doubting themselves, then science can be really powerful.
Michaela Light 36:58
Well, I'm a great believer in animal finds, you know, if I see a weird, unusual bird, or snake or some other animal or a group of animals, or they're doing something weird, I always pay attention and I'll look it up in I use a book called animal speaks usually by Ted Andrews that has great insight into that. And often there is a message like the other day I was climbing in the hills outside Cusco, and I saw this dragon fly. Well, I've never seen the 10 years I've been here. I've never ever seen a dragon fly there, you know, we're 11,000 feet or 3500 meters close or metric. I've just never seen one. You know, he's a bit too high for them, you know. And dragonflies. One of the messages is this transformation which, you know, spoke to me at the time. So, yeah, there are many ways coincidences are is another way messengers comes
Ange de Lumiere 37:56
synchronicities. I love synchronicities. Yeah.
Michaela Light 37:58
Or you just think of a friend and then they phone you, you know? Or, like, when you were writing contracts, when you're an attorney, you just knew what the contract needed to be. Yeah, without having to logically think through things. So. And I think that's true in all professions. I mean, I run a software company too. And, you know, I can just, you know, if I'm trying to fix a bug in some program, I can sort of feel where it is and what to try. If I just stopped my mind chatter.
Ange de Lumiere 38:29
Yep. And, you know, imagine a world where every professional would have this combination of intuition and intellect will be wonderful. We'd be so much more effective and powerful in our businesses.
Michaela Light 38:44
And, you know, more flowing in our life. So fun. Yeah, let's, let's worry and stress, it would be more playful. It'd be like little, you know, young toddler kids playing, you know, instead of it making it into a big deal. And, you know, I was talking to a friend of mine the other day, and she was just burned out with her business, you know, she didn't have any joy in any of the tasks that she did, you know, because I asked her on a scale of zero to 10 how joyful is this task, or, you know, what number would you put on that task, and she was having difficulty getting above five out of 10. And it's like, if nothing in your business is a 10 out of 10 joyful was something not quite right. Absolutely. I gave us some help. Hopefully, she'll get to a 10 out of 10. You have no idea. Yeah, cuz I think I mean, I've I forget what the subtitle to one of my books was, but I'm sure it had profit and joy in it. Yes, yes. Yes. I have it somewhere. Not next to me. Yeah. All right. You know, because I, I truly believe that in all businesses if you only focus on the money, or don't focus on the joy as well. You're not going to The results will be much less. And in the end, even if you make millions of dollars, you're not going to be happy. You know, so nothing wrong with making millions of dollars, you know, but generally, it's more important to enjoy it and have your staff and clients enjoy it and to do something meaningful for you and them in the world.
Ange de Lumiere 40:24
And to me, there's nothing wrong with having both the millions and the joy
Michaela Light 40:30
of it all. Anyway, money is just energy. So you know, it's a form of energy exchange, in my view, but that doesn't mean it's not important. You know, you got to put it in the contract, you've got to be clear what you're expecting, I think. Yeah. I mean, I don't know if you did this as an attorney, Angie, but I always think you save a lot of lawsuits and headache just by being super clear up from whatever, salutely
Ange de Lumiere 40:58
that's why people need contracts. Absolutely. Because in writing you are, you formulate things in much clearer way. Hmm. And it's, it's, it's a service to both you and your clients, because you know, your boundaries, the boundaries are clear. And, and this becomes a really beautiful container for the relationship. Hmm. You have a doubt. And it means that you've discussed enough the relationship that you're clear on all the aspects. And that's relaxing, isn't it?
Michaela Light 41:29
Absolutely. Yeah. provides a container for the work to go well, yeah. You know, I didn't mention this book earlier, because I couldn't remember the title but but just to pop back to the reincarnation, there's a great book I read, the boy who knew too much by Kathy bird, and she had a child, and he was a genius at baseball. And he was reincarnation of a famous baseball period playoffs in the 1940s, Lou Gehrig, and he knew everything about Lou Gehrig's life, not because he read it in books, because he lived it. And again, it was the same thing as the story you were telling when they research what he said, they discovered, oh, well, that wasn't in his autobiography. But you know, it actually did happen.
Ange de Lumiere 42:16
I love that. And yet, with all these books, with all that research that's available, why is this knowledge not mainstream? Why is it still? For people who are curious and open minded? I don't know it.
Michaela Light 42:32
Oh, I can tell you why it's not mainstream. Yeah. Would you like to hear my view? Yes, absolutely. Because those in charge of our society would find it incredibly inconvenient if billions of people had access to their intuition, and could heal themselves and didn't have to pay lots of money to hospitals. And could you know, I mean, think how a lot of our world works, there's a lot of control to keep people in line, and not have them be too naughty, you know, too creative? And how could you keep the people in line, if they were all accessing their own intuition knew that what you were telling them to do was a bunch of bullshit.
Ange de Lumiere 43:16
It's so many challenges, the lies the cover up the fronts? And yeah, it got me into a lot of trouble as a child because I had a real lie detector.
Unknown Speaker 43:31
I just knew.
Ange de Lumiere 43:34
And I looked at people straight on. And yeah, he got me into a lot of trouble, especially with my mum. Hmm.
Michaela Light 43:44
Well, you know, that's one of the ways it's trained out of children, to not speak to your intuition and not say the truth. Yes, it's dangerous. And I think we've come to a point in humanity, as we, you know, are all ascending in our own ways that people need to access their intuition and speak their truth and use their creativity, and not just a bay, you know, on thinking Li what people tell them to do. You know, we're not robots, we're human beings. I mean, and I think we're coming back to that point about what schools do I think they train people to be effectively little robots, you know?
Ange de Lumiere 44:27
Well, I looked into schooling and of course, because of homeschooling and everything, and initially it was to produce workers for the industry.
Michaela Light 44:36
You know, there's new soldiers for the concert military, too.
Ange de Lumiere 44:40
Yeah. So it was to produce people who are compliant, not people who are creative, and it's not changed that much.
Michaela Light 44:48
Know. In 115 years we'll have a long since Bismarck in Germany created schools to make sure because the problem Bismarck had he was a German president. In the 1870s, and they created a conscript army, you know, the other countries, France, whatever had conscript army. And the problem was that conscripts couldn't read and write, and they wouldn't obey orders. Can't have soldiers like that. Right? They have to have some basic, you know, ability to follow orders and write stuff, what have you. And, and, and also, that time the military was changing, it was becoming more known. There were more machines, you couldn't, you just didn't use your brute strength with a sword in a battle. Now you have to understand how did the firearms work? How did all the other machinery work? So they had to train them up? And I know that sounds a little cynical, but the reason they had to have schools is so they can have a better military. And then the other point is, you said the industrialists needed people who, again, could follow orders. And who, you know, could read procedures? procedures. Yeah. So we were like little robots. I mean, I know that's a little naughty to say that, you know, but
Ange de Lumiere 46:05
Well, there's a lot of conditioning that happens in school that we were not even aware of, because we're like, the fish in the water.
Michaela Light 46:14
Yes. Just think back to school. I don't your school did this. But my school, every time the lesson was going to end a bell rang throughout the whole school. Right? And then you you knew you had to get up from that classroom, go to another classroom, even if you were enjoying learning about geography, or math or French, or whatever the topic was, now you have to stop because, you know, everyone has to change. Well, how Pavlovian right ringing a bell, and now you have to do something.
Ange de Lumiere 46:44
I agree. I agree. And that's the beauty of homeschooling. That's why I feel very privileged that I literally follow the learning of my children, I allow them to lead me. And if they want to spend seven days doing only geography, which they don't know, or something else, then they do that. And then schools or whatever they
Michaela Light 47:03
are into, you know that it sounds like you're more dueling doing unschooling, rather than homeschooling as well, it sounds to me like, yeah, yeah, the difference being homeschooling, there's like, a curriculum, and you're kind of following the unschooling, the child says, they've got an interest in, maybe they want to write a novel, maybe they want to start a small online business or whatever. And like, Okay, well, you want to start small online, you're gonna have to learn some stuff about computers, you're gonna have to learn some accounting or whatever, let's learn that. So you can build the best business or you know, and then they're motivated to learn it. Instead of what happens in school. It's like, Well, here's how you do accounting, or here's how you do arithmetic, or whatever it is, and this is boring for most kids. If they don't see the point, you know, why am I learning this stuff? What am I going to do with it? Oh, yeah. So what an interesting conversation. Absolutely. Now, I just want to tell people, and she has her own business article deck that she's gonna wave in front of us right now, for those
Ange de Lumiere 48:12
that are gonna be on the podcast. But yes, I've created my own deck about a year ago.
Michaela Light 48:17
And it's called, and she's fabulous business Oracle deck. And where can people get that?
Ange de Lumiere 48:21
Actually, they can't. Not yet. Oh, I can't get it. I know. I know. That's awful. But no, it's not completely true. My VIPs get a deck as a bonus, when they sign up with me, and I will definitely do, you know, like a pre order at some point this year, I think small batches for people when they're interested. So well. Yeah, yeah. Well, they'll know. Yeah, I know, it was so much fun creating this deck. Like, look, this one's called industry. So you see this big, you know, chiming in
Michaela Light 49:00
saying what?
Ange de Lumiere 49:02
I was just about to read it, it says you are here to shake up your industry.
Michaela Light 49:07
You are here to shake up your industry. Wow. So you have a business problem when you pull from cards, and it gives you insight from your intuition. Yeah. As to what approach to take what a great idea.
Ange de Lumiere 49:20
So the way I usually use them is that I ask what I mean, I could pull one for you right now just to have a bit of fun. Ask,
Michaela Light 49:29
I'm already open. So what does like my Kayla's like, what is their mistake? Well, the question is before you pull a card, no, there's no question I asked you to focus on right now. Now let's stop right there. Because that's a really I want to do it right. But yeah, people listening may have missed something. You said, What does your business want you to do? not want your business and that's treating your business as a separate virtual entity that's alive. He wants to grow in a certain way. And you either facilitate that and your business grows effortlessly or you resist it. And then you have all kinds of struggles.
Ange de Lumiere 50:09
Yeah. So I always ask people's businesses, what they want their owner or their facilitator to focus on. Let's ask you a business.
Michaela Light 50:21
Yes.
Ange de Lumiere 50:22
Does it want you to focus on right now? It's always fun. What does your business want you to focus on right now? I'll tell you why I like Oracle cards. I'll explain to you a little bit. Big Vision is you
Michaela Light 50:41
say at the bottom, you're not thinking big enough. Does that resonate for you? Yeah. resonates for me. More importantly, it resonates for my business. Yeah. Yeah. Cuz I can feel that when I, I need to talk to my business more, you know, and yeah, I do that sometimes. Right? We need to remember to do that. I wrote about a my book on intuitive
Ange de Lumiere 51:06
I know, I know, and then saying, you know, in our routine, we forget.
Michaela Light 51:13
I know, yeah, I need to have a little, maybe I can make a little like list of things I haven't used recently, and just use one, you know, pick one for the week and play with that. Something like that. So I rotate through and remember to use them. So, you know, I'll share the, I don't think I shared this on the podcast, he shared this before. This is a Whoo, I can keep this still. This is a deck called the Divine Feminine Oracle, by Lizbeth. Cheetah easemon. And the great thing about this deck is that it's all women. And they're all powerful spiritual women. And I pulled this card. And it was about the first wife of the Prophet Muhammad, who I never even knew who she was. But she was a single mom, a successful businessman. And then she she was a businesswoman. Yes, sorry. Thank you. It's okay. And it's raining here. So I hear a lot of rain on my roof. So that's kind of getting in my brain. So just go from yet another tangent. When I hear rain, I think of every drop of rain as being a drop of love from God falling into my body. So Oh, wow. I love your app. Yeah, yeah, it makes me feel a lot better about rain. Instead of being irritated by it. You know, this is perfect, but I'm dry inside Listen, you can walk outside to Anyway, she was a single mom, she was the successful businessman, woman, she had an import export business in Arabia. And she had this vision that she was supposed to marry this new employee who was like 10 or 20 years younger than her. And so she did. And she supported him in his, you know, he was the first person to hear his, what do you call that revelation from the angel IPA exam? I've got a great Islam, whatever. I haven't studied it. No, me neither. Anyway, he had a vision. She was the first person to hear his vision. She's, she, like, had an intuition, she needs Maryam. And she's the most important one woman Islam. And she kept coming back to what you said about being a business, a spiritual business person, that you both access the spiritual gifts, and you're good at the stuff in the third dimension with money and contracts and what have you. She was like that, right? She had this, she continued to have a business. And she had this great spiritual side. So you know, you can have it all. So I like to hear that. And I think I need to hear that as well. I think so. And her name. And this was like 1400 years ago, or it was a long time ago. So my name was I'm going to probably mispronounce it, but I'll put the name in the show notes. I'm going to say it as CAD caddy. Ha. I think that's how you say it. Probably there's more, you know, guttural sounds because it's our Arabic. And then the other woman, I just want to slip into the episode because it's fascinating to me, with Mary Magdalene, you know, the what some people say with the wife of Jesus and tell us the you're writing about her now, I think, right.
Ange de Lumiere 54:25
Well, I wrote a novel and it's a film script about her. It's not exactly her. It's more because I live next to Glastonbury and I discovered her through visiting, live next at Glastonbury with all those tags and pyramid things, and oh, well, about an hour and 10 minutes, which is close, isn't it? Yeah. Not like right there. But I discovered less than being when I was a lawyer, actually, because my company sponsored the musical festival back then. Oh, and immediately, I thought there was some Thing special about the word. And I was still living in London then. But when I moved to Bristol, that's the first place I went to visit. And I discovered that it's literally this sanctuary for Mary Magdalene. And there was even
Michaela Light 55:16
after the crucifixion or something, she went to France. And then she went to Glastonbury, or Well, yeah,
Ange de Lumiere 55:20
I think she did both. And so I went on this research about her because I just found her fascinating. And I ended up writing a novel, which is not about her. It's about a lawyer, who faints every time she enters the church, which is a problem for her because she's getting married. And so she has to solve that problem. And she goes to clinical hypnotherapist, and you can see that my entire life has prepared me to write this novel, because I have an insider knowledge about what it's like to be a lawyer, a clinical hypnotherapist and everything else. So it's been a lot of fun writing that book. And in her first session, even though she says to the clinical hypnotherapist that there is no way she's getting into that woowoo stuff of past lives, she spontaneously regresses into the life of Mary Magdalene, and she's about to get be married to Jesus. So it's the is the claim and seen think of the word in English the noster cannot. And you know, the wedding of Cana. Except she's there and she's marrying Jesus, then the Yeah, the wedding of Cana is Jesus wedding. Basically, in my book.
Wow. And so it takes us well, I'm looking for an agent, so Oh, well, if anyone listening knows.
It's It's so much fun that story though. But it's for me, it's it's a way to bring. It's a very important story, the story of Jesus and Mary Magdalene, in the sense that I feel that in the Christian world, it's it's an all male, sort of spiritual. I mean, there's, there's the Mary, I mean, but it's weird. Mother marriage is the mother, there's no wife, and, and, you know, being a Catholic, you know, priests are celibate, and all that sort of stuff. And it's very interested
Michaela Light 57:09
back when Jesus was around. Or all and I say all the rabbis were married, exactly. would not be a rabbi and not be married, they would think very weird thoughts about you? Yes, that's true. And he was a rabbi. Yep. Right. He was a preacher. He was a bit of a weird rabbi, according to the other rabbis around, right, because they didn't like him. He was a bit too radical for them. But he obviously would have been married. Yeah. But I mean, you know, I, my view is that the church, and Christianity got manipulated, you know, around between 104 100 ad, and they cut out all that female. And if you've read the apostle of Mary Magdalene, which you can find online, or you can buy it as a collection of books, I've got a book called The other Bible that has all the books that got thrown out in the Council of Nicosia around 400 ad. And Hearst, one of them, she's very into the intuitive rescue approach to spirituality that you receive messages, what have you, well, if you want to be in control of people, right, you can't have a religion where people get their own spiritual messages, they have to get their spiritual stuff through the priest through the bishop through the Pope. Yeah, right. Yeah. And also, if you want to have a patriarchy, which is a hierarchy, right, which is much easier to control, right? If you have a hierarchy, where you've got, you know, the boss at the top, and then you've got managers and so on. And in the case of the church, it's the Pope and bishops and priests, wherever they are, I don't know the terms of the Catholic Church, but it's a hierarchy, right? Yep. If you can corrupt the people at the top, you control the whole organization. And so if you want to control humanity, which I think is what is what's happened, then you want hierarchies. Whereas the often the feminine approach to things is have more of a circle that has more equality, and there's more cooperation. And then you can't just crop one or two people and control the whole organization.
Ange de Lumiere 59:17
Yeah. And it's funny you came to that, because I'm actually trained as a circle holder. Oh, and I think that should definitely be something brought into the business world. Yeah, business side of things.
Michaela Light 59:30
Yeah. A lot of value and a lot of value for the individuals, a lot of value to the business. A lot of untapped potential in most businesses. So
Ange de Lumiere 59:44
we'll see. We'll get intuition in first and then maybe we'll push the circles on one second.
Michaela Light 59:51
There you go. So let's wrap this up. I've got a couple of questions. I asked all my guests and then we'll tell people about where to find you. If they're interested in your books, or your upcoming podcast or upcoming,
Ange de Lumiere 1:00:05
but we didn't we didn't mention, did we mention the business intuition Academy? I don't think so.
Michaela Light 1:00:09
Oh, what's that?
Ange de Lumiere 1:00:11
Um, it's an academy I started this year. And it's it's a blend of business and intuition and how to help, but it's mostly online, female entrepreneurs, use their intuition to niche to message to market to plan and all that sort of thing. It's a lot of fun.
Michaela Light 1:00:32
Well, they can find that on your website, I imagine. Absolutely. You have so many skills and so many things you're doing. It's amazing. So and what a great mission, you have to bring business intuition into learning at different levels. So but don't we have the same mission? On some level? Very similar? My Yeah, mine is to get people busy entrepreneurs to open up to using their intuition as well as their logical mind. So very similar. I'm not so much the curriculum part. I think that's more your
Ange de Lumiere 1:01:09
Yeah. And I have no idea how it's gonna happen. At this stage. I just know that. That's what I'm supposed to go. Oh,
Michaela Light 1:01:16
yeah. Anyway, the first question is, why are you proud to use your business intuition, because so many people hide their intuitive skills when they're in business?
Ange de Lumiere 1:01:28
It's taken me a long time to be proud of it. I hate it for years. But now, I'm proud because I know that intuitive intelligence is a higher form of intelligence, the combination of the two and you tap into something bigger. I have business intuition guides, sorry, business spirit guides that I work with, and I absolutely love. And these were people who have bought this, I have my main business guide, who when he was running his business valued intuition, highly. It's no coincidence is that? No,
Michaela Light 1:02:05
I mean, that's a great way to look at it. And that's a tool I've written about news have a spiritual advisory board, you have a regular board of directors, but you can have a spiritual Bible. And the great thing about that is, you can pick anyone, right alive, dead imaginary. You know, you could put Superman on it if you wanted to, if you thought Superman was going to be good at doing mergers and acquisitions, for some reason, no.
Ange de Lumiere 1:02:32
Well, I thought, I'll give you some examples of some guys that have come in. So but at the same time, at one point, there was too many guides, and I got confused. So I actually appointed my main business guide as the general manager of my, my board. And I do it's funny, because I never read your book before I did that. But I do have a meditation where I go into my boardroom. And so I have my general manager, and he brings in whoever is appropriate for the job. So Chanel does come at some point. Well, I've had, Einstein likes to come quite a lot Mozart as well. I know they'd all famous and I'm not like name dropping, but it's a lot of fun because they bring the skills that and I don't it doesn't always make sense to me. But I trust it.
Michaela Light 1:03:15
Yeah. No, it's a great way to get business advice and get other insights. And you can like you say, you can bring in particular guides, you know, if you have a sales question with a big client, maybe you bring in someone who's got that ability or marketing, you bring in different people or whatever, so great.
Ange de Lumiere 1:03:32
My grandfather's come in as well. He was in a bank, and he's actually become one of my clients main business Guide, which was really fun, completely out, you know, like from left field, I never saw it coming. And but it made more and more sense when I realized, and I know my clients and what she stands for, and, and it made sense, complete sense. In a crazy way, but wonderful. Yeah,
Michaela Light 1:04:00
I get it. How beautiful and beautiful for your grandfather's spirit to.
Ange de Lumiere 1:04:05
Yeah, because people might not understand that when people die. They don't die. But that's another topic for another podcast almost. But they're still interested in the same things as they were interested when they were on Earth. So all the businessmen of this world who have died are still interested in business, and they have a much bigger perspective than we do. They see the bigger picture so they can be our helpers in a much better way. Then, then, even when they were on Earth, that makes sense.
Michaela Light 1:04:37
Yeah, and they have less ego involved. Exactly. So and also you don't have to pay him. Yeah, as well. I mean, other than gratitude and appreciation. But so second question is What would it take to make business intuition more openly used this year.
Ange de Lumiere 1:04:59
I My podcast hopefully will help with that. I know yours definitely has something really fun happened today actually, I was talking to another lawyer. And I realized that my memoir is probably gonna be overload of interest for lawyers. And I never, it never even crossed my mind until I talked to her. And she said, Oh, my God, I really want to read your memoir. So all it takes, I think, is to take the first step and let the energy guide you and take you wherever it wants to take you. I'm definitely up to doing that. And I think it kind of if I can invite anybody listening to this podcast and listening to your to you as well, to just follow the energy follow the where it goes is it can be so much fun. I see the patient has water that flows, and it goes around the boulders, it just takes you where you need to go. You might not think it's the way you would have been if you had thought with your intellect, you know. But it always will take you where you you're supposed to be.
Michaela Light 1:06:07
I have great advice. If people want to find you online. what's your website? Angie,
Ange de Lumiere 1:06:14
it's intuition. revolution.co.uk.
Michaela Light 1:06:18
All right. And I'll put the links for your Facebook page, we've got a Facebook group for female entrepreneurs who want to improve their intuition. And along with your YouTube channel and clubhouse, Twitter, you're on everything.
Ange de Lumiere 1:06:34
I am not active on all of them. At the same time, I suppose Facebook is really my jam. I've been on there for a long time. And I feel comfortable there I go live regularly. But I have really enjoyed clubhouse. I don't know if you're on there. I love the audio only. And of course as podcasters we do, but we also do video. And most of my podcasts have been recorded with video. But when you're just on the voice, I feel I go so much deeper. I have my club is called the nutrition hour. And so I invite people to come and just ask me anything they want. So I have on the Wednesday and it's probably not gonna be very friendly for you. In in us time at 730 in the morning. I have an hour where people just can come in
Michaela Light 1:07:23
at 730 UK time. Yeah, that's like in the middle of the night.
Ange de Lumiere 1:07:28
Yeah, but it's fun. And who knows? I might add some more us friendly times at some point. But at the moment it's Yeah,
Michaela Light 1:07:35
it's that that might be okay for people in Pacific time.
Ange de Lumiere 1:07:39
Yeah. I have actually all night owls. Quite a lot of night owls who come in? Yeah, pop in. And I find that not having the visual helps me to connect to my intuition better. I don't know if that's something that you've experienced as well. But on the clubhouse. I love it. For that reason. distraction. Yeah, exactly.
Michaela Light 1:08:02
Cool. Well, it's been fabulous talking with you. I wish you great success with your mission to bring intuition to people throughout the world through their schooling and through their businesses. So and I'm looking forward to your new cards and books coming out. Thank you so much for having me. It's been a pleasure talking to you.
Transcribed by https://otter.ai