Read the show notes and download the episode here.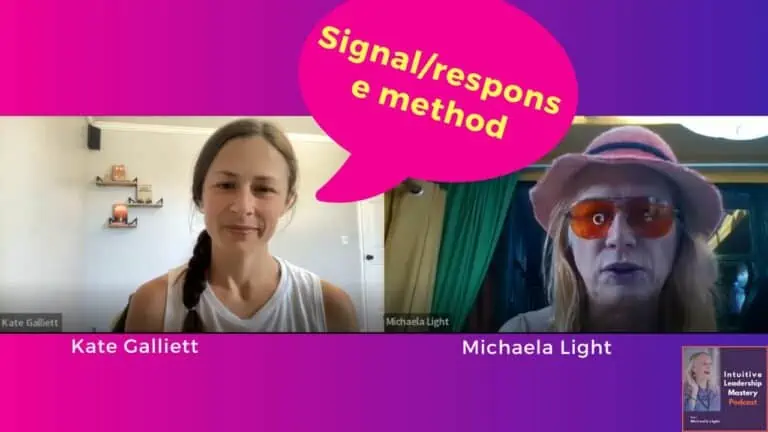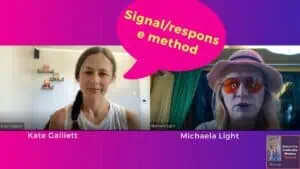 Michaela Light 0:02
Welcome back to the show. I'm here with Kate galette from selling galley yet, see if I can not make mincemeat out of your name. This is her second time on the show, she was here before talking about the healing benefits of climbing mountains and boulders. But today we're gonna be talking about a new healing method she's developed called signal response. And we'll talk about why that's important. But you can apply it to your body, your business, your relationships, your whole reality. There's a lot of cool things and it makes life easier and less stressful. So I know a lot of listeners would love to get that. And it works well with that. What would it take method that I have written about, and she has a new book out as well, which we'll talk about later. So welcome, Kate, thank you so much. It's such a pleasure to be with you again. It's great to be with you too. And she runs a business called fit for real life. And she's been doing that for gosh, 14 years, I think.
And she's been working on improving and healing a body for more than 20 years. I can't believe you have a bachelor's degree in Exercise Science from from Valparaiso University, which I thought was in Chile, but actually Indiana. So and she has two books that she's written, one is unbreakable, how to build a body that you love to live in. And then she's got her new book, what's the title of your new book,
Kate Galliett 1:31
that companion journal and that goes with becoming unbreakable is called How to be unbreakable field journal. It's like a workbook to help you, oh, become unbreakable.
Michaela Light 1:40
There you go perfect. Well, I will put those in the show notes along with her website and social media things. But maybe we should just start out for people listening like a signal response was like, Why should I even care? Why? You know, I'm a busy entrepreneur, I don't have a lot of time. Why should I care about this? How?
Kate Galliett 2:02
I think that's a good starting place. Because it if you don't care, why would you listen, so let's make sure people care. The signal response principle, when you adopt it into your life in which it's already there, it just is kind of waiting for you to adopt it. Whether it's for your body, your business, your relationship, your place in the world, your personal growth, when you adopt it, it makes everything easier, it actually simplifies the entire process of figuring out how to succeed, whatever succeeding is to you, for your body, it might be getting rid of the low back pain you've had for 10 years. For your business, it might be how to make the business fun to actually work in and profitable, or whatever you're going for it for a relationship, it could be how do I make peace in this relationship, those problems, we can sit and just sit in the conundrum of that forever. Anyone who's ever tried to journal their way out of a problem journaling is great. But there's times where you sit there and you're like I am, I don't know which way to turn. So and So says to do this, this other expert says to do this, I can't really hear what my self is telling me to do. Or I have competing things within me saying go this way, go that way. Plus all the other fears and worries that we live with, with the things that we don't like in our life, when you adopt the signal response principle, which I'll tell you what it is in just a second. You clear the noise. You also become the center of the deciding process, which I can personally attest, I have both in body and business allowed myself to not be the center of the decision making process, which ended up leading me down a path to a point where I looked up and went, this isn't where I wanted to end up. How did I get here. And so I if I if anyone can learn from my lessons and what I've developed through the signal response process, they're gonna find that it makes life a lot simpler.
Michaela Light 3:55
That's it sounds like a talking head song. How did I get here? I forget the name of the song. But you know, the one I mean, right? Yeah, yeah. Yes. I'll look it up later. But it's so easy in modern Western life to get pushed by other people, by teachers, by consumerism, by all the I don't know what you want to call them, but the polar polar polarizing things people argue about, you know, in the current narrative, you know, whether that's COVID or Ukraine war or abortion or who's buying Twitter this week, or you know, it seems like this has got to me this is go worse over the last year it used to be you'd have a thing and it would last six months or whatever and it was what people were upset about on one side or the other. And that's not a good thing either but this year it's like you know, I feel like I'm I can't explain it but it's like it was whirlwinds of narrative, you know, upset and one Everyone's upset about this. And now they're upset about that. And, you know, it's hard, hard to stay centered in my business in my life. So having a technique to do that is particularly important right now, because I do believe the whole of the earth is going through a consciousness shift or upgrade, and humans becoming more loving, more consciousness more aware, and more open to making choices. So having some tools to make those choices with is important. I think because often in the past, you know, women didn't have so many choices, right? You know, in the 1940s, or 50s, many women were, they are in a marriage, and they've got kids and they're not having a, you know, very few had entrepreneurial things. And there were less things they could side now, you know, we can have it all and have our own business and have a family or not have a family and kids who don't have kids or be a kid ourselves. So there's so many things it can get overwhelming.
Kate Galliett 6:05
Yeah, and I agree with you on that. I mean, that social media space thrives on that, because there is, the whole point now on social media is to tell people what you think the right way to do something is or how you're doing it. And that's the best way to do it. And that might be the best way for that person. But that is a lot of noise coming into the individual, whether it's about business, health, relationships, or otherwise. And it, it makes it harder to hear your own expertise and your body. And the signal response principle helps you return to that. And learn how to actually use the information you're getting that's more valuable than someone's social media post, to actually make the right choice for you. So I think this would be a good place to tell people what the signal response principle is, what do you think?
Michaela Light 6:54
I think that's an excellent idea. And yes, what is it?
Kate Galliett 6:58
So the signal response principle is something I developed in my years of healing my own body, and helping other people to heal their bodies, I help people fix their aches and pains and their low back pain and get strong for the life they want, break through all the barriers that they thought they were stuck with. And I needed a way to teach people that there is a biological process that is always happening within your body. But there's also energetic processes and chemical processes and other things. But we'll start with just the biology. Our bodies are always responding to the signals they receive, always, every day, until you die. The wrinkles on my face are a response to the smiles squints, focus points, son, you know, gazing that I've been doing. That is a response to the actions that I took my back being the strength that it is and not having back pain anymore, is a response to the actions that I took. If I get knee pain, and I wasn't doing anything, you know, I didn't get hit by a car or something. Even the car is a signal, whatever I was doing or not doing is a signal to my body, my body will respond. And this is the most empowering thing you can realize when it comes to your body and your life. If your body is always responding at a cellular level, biologically, but as I said, also, hormonally, chemically, energetically, psychologically, if that's always happening, and it is because when it stops happening, you're dead. So that's the, that's the endpoint of the signal response principle. If that's always happening, that means you are the most powerful person who has ever existed in your lifetime for yourself. Because by changing what you do, or what you don't do, by changing who you engage with, by changing who you don't engage with, or what you read, or don't read, if you don't watch horror movies, or if you do watch horror movies that will change your psyche, your mental well being your overall happiness, all of these things can change you. And when people are stuck and frustrated with their body or their business, it feels very stuck. It feels like well, I don't know what way to turn I don't know who to listen to, I probably should listen to this person because they sound like an expert. When in reality, you're the expert, and you're the one who should be deciding what signals you you send to yourself. When you actually adopt that and really adopt that principle into your life. You start realizing if I don't like what I've got right now, all I have to do is start doing something different, or start changing something or add something or delete something or just change how I look at something and see it in a new light. So the signal response principle which says your body is always responding to the signals it receives is going on every day till we die and I think if more people adopt it in all aspects of their life, life is gonna get a lot easier for them.
Michaela Light 9:57
I think that's a great empowering way to Look around, we're going to expand it from beyond body, though bodies are pretty effing important if you want to have a successful business in life, very hard to enjoy your business if you're suffering in pain every day, and it's hard to motivate clients and prospects and vendors and staff if you're suffering with physical issues, because a you may not have the energy and be it kind of color's your emotional mood,
Kate Galliett 10:24
yeah, you may not present yourself as well, you may be a little more presumptive or short, or just not as creative.
Michaela Light 10:32
I mean, like 90% of Americans were sleep deprived. Yeah,
Kate Galliett 10:37
I mean, we've got these things, like impeding our ability to succeed. And so yeah, we are gonna completely expand. But I think that if you improve your business, you're gonna improve other areas of your life. If you improve your health, you're going to improve other as your life, this whole thing is intertwined. And I think as business owners, we, especially people who listen to you, Michaela, we know that we need the whole thing to be moving in the direction because if the person is not going in the direction that businesses are, the business is pulling you in a direction the person doesn't want to go, you're gonna feel that mishmash and that kind of tension in your business.
Michaela Light 11:11
Yes, I think the word there is alignment that some people use to say that that you, you know, when your business is aligned, all goes easily, you know, your body feels good, and you're not stressed and what have you. And I've seen that that can go even to serendipity. You know, I've had like, I just like, oh, you know, I want to improve my, the amount of traffic we get to website and then some other DC air in this group, we both in the Dynamite Circle, says I'm laying off an SEO expert in the Philippines, does anyone want to hire him and I ended up hiring it was when I didn't have to place a job ad, I didn't have to interview other people. I just like I looked into my own inner knowing, yeah, this guy looks like a good fit, I can afford him, I think you'll work well with the team. I mean, I did go through an interview thing. And the team talked to him too. But the point I'm trying to say is when you're aligned, like you're talking about and listening to these signals, and your your own response in your body or in your business, things can just flow. And I'm spacing out in the name of the guests. You talked about flow, but ease and Flow are definitely things I believe in. I have no like, I used to struggle in my business and make things hard. And I don't do that anymore. I don't need to,
Kate Galliett 12:33
you know, I know. It takes practice to get to that though. So if anyone is like, Man, I wish I was like that, you can be like that you just need to start practicing with, what would it take with the signal response principle with the two of them together. And magical things can actually start to happen for you and your business when you do that. And that's not to say it'll be easy, you're still going to face challenges. But you can face them better when you know, I can tune into what's going on here and use what I'm hearing and sensing and seeing and feeling to shift. I can do that.
Michaela Light 13:08
Yes. And it can be done in the moment. You know, when a challenge turns up. I mean, to me a challenge is more of a learning opportunity or an opportunity for growth. Very rarely is i That's a reframe right, it's thinking, Okay, this this quote, bad thing, bad being a label, you know, our judgment, putting meaning on it, when it really is just the thing that happened and, okay, here's how I can react. And I can choose my response, both internally, what are my emotions on this and my thoughts on it, and also what my what actions, if any, I'm going to take on it. And the other thing, I just want to look back on this idea that, you know, illnesses in the body or problems in the business or, you know, their signals from that system. And it's a chance for us to grow and learn. It's an empowering way to look at life instead of like you were saying, it's like, Oh, my goodness, I got this problem and that problem. And now I have to consult doctors and experts, business coaches, and nothing wrong with doctors, experts, business coaches, they might be helpful, but like, let's start with the inner, you know, knowledge, and we'll get to how to do that. But what I want to say this idea that we in fact, create our reality. That's a very old idea. And certainly if you go back to the turn of the previous century, the 1900s there was this whole new thought movement and I don't know if you've studied or read of that, but a particular exponent more recently of that was Louise Hale wrote the book, you can heal your life. Yeah. And that book is not just about healing your body. It's also about changing your thought process. And she actually she had, I think it was uterine cancer, ovary cancer. I forget some cancer that croaks you off pretty quick, and she managed to heal it by shifting her beliefs and hearing what the message was she needed to hear and heal trauma and her younger life. Yeah, related to that. So it's I definitely resonate
Kate Galliett 15:13
there. Remember, too, that there are, there's lots that we know about bodies and businesses and the world and technology we know lots today compared to 200 years ago. However, we still don't know everything about how our body works. For example, they still are finding new parts of the body being like, Whoa, there's a direct connection between the gut and the brain, or the lungs and the brain or whatever. Like, there's all these interesting new things, we're still finding about bodies. And so, you know, the pragmatist might say, well, she probably just got lucky and her cancer went away. You'll never know because she's not going to go redo her life and go, Well, let me just do nothing and see what happens. But she took action. And we know that thoughts, change, our focus
Michaela Light 15:56
will do an A B split tests there, you know,
Kate Galliett 15:59
yeah, right. Like we're not thoughts change our thinking. We know, we rewire our brain by focusing on different things. We know that cells change from the words we speak, the foods we eat, the things we drink, the toxins we take in the movements we do. And then we also know that the whole system is responding to in the system of us is responding to an environment. So if you change your environment, it is almost endless the amount of things that can change. And could that all come together to heal cancer? I don't know how you can say no, for sure. That's not possible, because you don't know what's possible with the body yet. And in my world with fitness. Oh,
Michaela Light 16:36
you know? Oh, sorry. Go ahead. Yeah, I think we've got a slight time delay. No, no worries. I mean, for those who haven't studied health stuff, I for most cancers, 30% of them undergo natural remission. That's fancy doctor speak for they have no effing idea why it healed it healed itself. Yeah. Maybe they, you know, did something different with that diet, or and I had a partner, a life partner who died of cancer. And I've studied this quite a lot. And I think spiritually speaking, cancer is a major wake up call for many people, and the ones who survive it typically take it as a spiritual message, oh, I need to radically change my life, I haven't been listening to the signals is often what's going on. And now I need to, like, have time for me, instead of stretching myself out for other people, or I need to change my diet or cut out from whatever it is,
Kate Galliett 17:35
well, and to that end, you have a choice of either saying, I'm going to just let this go and do nothing, take no action, or I'm going to be proactive. And I think most humans, I can't speak for all, but a lot of humans, I think want to feel empowered by taking action in their life, they come to me because they're like, I don't want my knees to keep me from hiking anymore. I don't want my back to keep me from playing golf with my girlfriends, because I love hanging out with them once a week. Like people do want to take action. But with bodies or businesses or relationships, it can get very confusing very quickly. Because you don't feel like you're an expert. You don't know how to listen to the things your body's telling you. And you don't know what to do about those things. Like you said, nothing wrong with doctors are experts. But if that doctor expert is being positioned, as I know better than you what's right for you. That's an area for cautious, you know, moving forward because
Michaela Light 18:32
No, I look, I look at doctors experts or whatever the other one might that they're there to, you know, they may have more experience more knowledge. But at the end of the day, they're there. I'm paying them through whatever the system is, whether it's direct or indirect, and they're there to advise and help me up. I'm the one ultimately responsible for my life might have particularly my body. That my body is my concern, not anyone else's in my view. I'm a I'm 100% Absolute body sovereigntist to misquote Elon Musk know that he's into health and whatever. But he he made a similar statement. Uh huh. Yeah. Because I'm over 18. And if it's not hurting someone else's body, you know, obviously the set, you know, my sovereignty ends where my fist hits someone else's nose, that's, you know, now their body. Right, but if I'm just eating ice cream or not smoking or going to bed early, because I want to or whatever, that's my concern.
Kate Galliett 19:35
Yeah, exactly. And it's, I think we get more empowered, the better we get at that, but we have to start somewhere by practicing this. And so like, if you want to start with your body or your business, the first thing to do is to say okay, the responses I'm noticing, here are the things I'm picking up on. The first question you have to ask yourself is, what is that all about? Oh, you don't even have to say what does this mean? What is the one thing this is telling me just what is this about? And allow almost like when you do journal kind of just free write whatever comes to mind? Let things come to mind, because at first, you're if you come from a very kind of pragmatic, establishment way of thinking for a body, you might say, Oh, I probably have damaged, that's where I have pain. Well, that's not exactly true. But it's the first thing you thought of what you have to do is keep thinking and allowing risk, like thoughts to come up based on that response that say, well, maybe there's damage. But what else can be going on? Well, I've been more stressed lately. Well, I'm not sleeping so great. Well, is it my diet, I don't know if it's my diet. And most of those could be not the thing you proceed with. But you need to kind of farm up some answers here and go, what are all the things that could be contributing to this, I will tell you that most people don't spend that much time thinking about their body, they assume I have pain, there must be damage, or I'm having a problem in business, I must suck at business. If you give yourself a chance to kind of bring up some ideas of all the things that could be, you will actually have thought more about your business or your body than the majority of people who just write it off as well. I'll take some Advil and get on with my day.
Michaela Light 21:18
Yeah, or actively distract from it either by watching movies or eating, you know, cookies, or drinking alcohol or taking drugs or blaming other people. Blame Yes, blame, blame. People's very popular activity, particularly on social media. complaining, complaining in general doesn't even have to blame someone else just whine about it, you know, but that isn't actually empowering. So yeah, society is full of distractions and addictions. shoppings another one, I'll go shop when I want to avoid thinking about someone. Online usually these days, but yeah. There are many things, you know, some people use YouTube for it's very addictive, right? Or social media itself, you know, another addiction, even research.
Kate Galliett 22:07
I mean, people all the time were like, let me just keep looking for answers to my problem. Instead of actually finding one answer and going, let me try that and see what happens. Because remember, the single response principle is all about going. I'm noticing these responses that are not what I want, or that I want more of the next part of that is, what signals Am I sending to get more of what I want or to change what I don't want, you have to take action, you have to say, I think going for a walk is going to increase my business bottom line by $100,000. This year, okay, I'm just picking something random. You don't know if that's going to work until you try it. And people say, well, but I wanted to make sure I try the right thing. I want the give me the answer now. And I'm here to tell you that in all of these challenges you're facing, the way you get to the right answer is by making choices, you have to start with whatever your first idea is. And when you try that, and it doesn't work the way you wanted it to to give you the response in your body or your business that you wanted. You're now one step closer, you know, oh, well, going for a walk really felt good. But it didn't. It'll only make $50,000 This year extra on top what I want it so how do I make 100? Okay, the next thing I'm going to try is whatever and the example of going walking, so you might seem silly, but like that's how wide open your options are for figuring out what signal can you spend, send to get the response you want. And I just want more people to take action and start sending signals to their body to their business to their relationship to the world around them.
Michaela Light 23:50
I was thinking and typing furiously into the show notes there while you were talking because I want to share these things with our listeners and readers. I think one of the I think it's a great thing not to get focused on you must find the perfect solution. A lot of people get hung up on perfection. What have you. And the the analogy I'd give them when a plane flies from, you know, Los Angeles to Hawaii. If you've ever studied how navigation works on planes, they're basically off course 99% of the time and they're constantly making little teeny course corrections, you know. And the same thing with this you can spire it, you know, you can do something, take some action and do an experiment. I love the word experiment, or I love the word draft because they imply it doesn't have to be perfect. Just play play is another great word to use with these things. I'm just going to play with things and you pick things that are not going to be you know, terminal and fatal if they don't work, you know, maybe, maybe, you know, maybe jumping off a cliff might solve your income problem, but more likely you're going to splat on the ground so maybe If you think jumping is the answer, maybe jump up and down on a mini trampoline first and see how that performs. Before you go to the cliff. Yeah, how to navigate to the cliff.
Kate Galliett 25:09
Yeah, that would be Yeah, but exactly like you. Well, I think part of why we talked about this before we started today, I'm gonna bring this word up. Part of why people want to get the right answer right now, which is why they farm their autonomy out to some expert who knows better than them, which they don't, is because they aren't giving themselves grace. I understand that the problem has been a problem for long enough that now you're ready to do something about it, you just can't take it anymore. You're so sick of it, you just want it to change. You just need the money because you got to pay your bills, you just need your body to work right? Because you're you're just dying from pain. We need to offer ourselves more grace or compassion, what I call it with my my method that I teach is using curious compassion. And so going from instead of an exasperated move to a curious Hmm, that's interesting. Okay, that didn't work the way I want to do the jumping on the trampoline didn't work. The Walking didn't quite work the way I wanted it to. Now what I'm, what might I do from that? What did I learn from that. But if we can give ourselves more compassion, and grace, we will. By not doing that is putting another hurdle in your path. So if we didn't give ourselves more compassion and grace and saying, it's going to take the time it takes, but I will get there sooner or later, because that's what I'm on this planet to do. Then you can enjoy the process quite a bit more of saying, Okay, what if I send this signal? What does that do for my body? Or my business? What if I try this other signal? What if I say go back to that one I did before, but do it a bit longer, and see what comes of that? That allows you I love play that so good, that allows you to play with the whole experience of your body, your business are relationships, and see how all of this ecosystem that you're living in is working together to get you to where you want to go?
Michaela Light 26:57
Yeah, I think I love that word career curiosity, because it opens me up to like, observe and notice and not be attached to like, is this the right one? Is this the correct answer? Am I being a good girl or boy, you know, so. And I think there's a lot of wisdom to be learned from very young children like less than three years old before they've been programmed fully by their parents and haven't been programmed by schools or having a job. Because a lot of these issues, I think a lot of this is definitely for the intuition stuff I teach. I wrote a whole chapter in my book about this, it's unlearning bad beliefs and habits we picked up from either our parents or friends or movies or whatever the thing is, and unfortunately, most humans in the West, this is not true. If you go to like somewhere, you know, in the developing world is less true. Yeah, particularly for the poor or end of the spectrum, right? The rich people who went to Western schools, they also get effed up. But a lot of people in quotes, developing countries, and I put it in quotes, because I think often they have more wisdom, they're more inclined to try different solutions. I mean, maybe their backs against the wall a bit more. And they they've got to repair this bicycle or not just buy a new bicycle or whatever the thing is. But they're more open. And I think a bit of childlike playful, be playful, be curious. Giggle laughter, releases tension. And then add in that grace, self love patience.
Kate Galliett 28:33
Yeah, I think you're spot spot on there. Because I am constantly amazed by what our ancestors, both recent paths and ancient paths have figured out because I mean, almost every day, I'm like, Who is the first person to invent butter, and then I go, like, look it up. And how'd they figure out butter, how they figured out preservation, how they figured out this other thing, how they set bones back in the day, people figured things out, because we have an inner wisdom. But that inner wisdom has been squelched by all the external voices telling you what you should do, telling you Oh, you don't you don't fix that you just buy a new one, you go make some money and buy a new one, you switch your job, if you are feeling dissatisfied in your job. And in reality, in the real reality, your inner knowing is in there waiting for you to start tuning in. Like I said, when we first start on you, the single response principle is always happening. Your business is giving giving you responses that you need to pay attention to that it's telling you like, hello, this is not working, or you need to do this differently, or the way you're approaching this is not working great for you and me and the whole thing. Your body's doing the same thing, but you have to get on board with going oh, it's like you have to jump back in there. I think the rivers flowing.
Michaela Light 29:49
I think the extra layer has just occurred to me is there's an enormous industry of experts and doctors. I mean, just to come to the body in medicine. You know, it's a multi billion dollar industry the what they call the healthcare industry really, it's like, how is more a sick care industry? How can we keep this patient coming back and back to take more pills and, you know, get more, you know, Western treatments that may not really work too. And, and actually, they have a monetary motivation to keep you coming back and stay in that victim mode, not solve things yourself. No,
Kate Galliett 30:25
there's, there's yeah, there's lots of overarching desires from people who want to keep you needing them.
Michaela Light 30:37
And that's whatever example.
Kate Galliett 30:39
Yeah, it's but like, gosh, Your opportunity is to reclaim the wisdom that your body, your business, your relationships, you already have the wisdom. Sure, you might talk to an expert, this is where I run into trouble all the time. Because as a coach, you know, I am a, I've learned a lot, I am an expert in body stuff. But I'm not an expert in you. I can teach you some things. And my goal is like when we have professors in school, you don't still have the professor, you had your first year of college, they taught you things. And then you moved on, because you learn things from them. That's my goal as a coach, and my industry in the fitness world is rife with people who are like, we'd like to keep you sticking around all the time. And I'm like, stick around, if you're having fun, but all my goal is to teach you things, a blueprint that you can then fill in with all the customizations that are just right for you. Because you will always know better than me, I may make some suggestions about some good things that you could consider. But it's up to you to decide, is that really good for me? Is that really going to work for me? And so I think that's where i i do differ a little bit from some of my, my peers in the fitness industry.
Michaela Light 31:46
Yeah, there are good coaches, bad coaches, you know, I mean, I live in Peru right now. And we have we do people do plant medicine here. And that's a traditional indigenous healing technique that's used in the jungle communities to heal trauma and to, you know, understand what your, what your life calling might be, and all kinds of things but, and some shamans are really good, they can hold space, they can keep evil spirits out of the circle, or within the circle, because often my experience is when people take plant medicine, they open up their energy field, and suddenly all the entities that are attached to them now hop over and play pass the pass or with the next person along, which also happens when you go to nightclubs and bars. For anyone listening who's thinking that doesn't really apply to me. Or any stressful situation, you know, when your energy gets opened up, sex is another. You know, when people have orgasms, their energy opens up. So yeah, if you're having sex with people who have bad things going on, you may pick up some of the entities or bad energy. But what does it say? Is there good shamans and bad shamans and they're in there are mediocre shamans. And the same thing with coaches or doctors or, or any of these are politicians or medical experts who work at the CDC? You know, I'm sure there are good people who work at the CDC, and there are mediocre people, and they're really evil people. And, you know, it's good to be able to distinguish. You know those things, but I don't want to go off on that tangent. No, but
Kate Galliett 33:16
that's a release of a personal story about my own body. And then my business too. That was the first lesson I got in the signal response principle was at the
Michaela Light 33:24
how do you? This is how you created it.
Kate Galliett 33:27
Yeah, at the age of 20. I was really realizing that the only answer I was getting from kind of traditional mainstream doctors about all of the sickness and unwellness that I had, was, here's a pill, this is the way you are. And I was like, what I didn't even understand the single response principle yet I just the discord of that was palpable in my body. And that set me on this trajectory to go sick and disease is not just how I am like that's impossible. And so that led me to start saying, Well, okay, I'm sick, diseased, symptomatic all these different problems that I had. Why is it happening? Like, what? What is going on? I am not just genetically cursed here. Something is going on to maybe make my genes act a certain way or make my body respond with symptoms to tell me something's wrong. That led me down this huge path of realizing that literally everything I was experiencing was because of the diet. I was eating trauma, I'd experienced coping mechanisms I use that were radically unhealthy relationships I had in my life, like, it was all these things, and I could influence all of those things. And I went on this years long journey, and saw that my body was responding to the things I was doing. And that's when the light bulb really turned its full brightness. I went, Wait a minute. My body's improving from things I'm doing thing, they told me, this is just the way I am. That must mean I'm incredibly powerful because a doctor, an expert, told me that this is just how I am. And I'm proving them wrong. Wow, that's amazing. What else could I do that I realized when my I was already a fitness trainer at that time, but my clients would be like, What are you doing? And I'd be like, well, it's the same thing I do with you. And it just came out of my mouth. I didn't even I didn't even think of it at a time. Well, that's what I'm doing with you. I'm giving you these exercises to do, you're doing them, your back is getting stronger, it's hurting less, you're feeling confident, you're feeling more empowered, you're feeling capable, that that's that's what's happening signal response. That's what's happening all the time. And that's when I went, Oh, I should encapsulate this and really explain in simple terms, what is the signal response thing? And here we are, our bodies are always responding to the signals they receive. Now, I thought, like any good person does, oh, I've learned the lesson. I don't have to learn that again.
Michaela Light 36:00
Oh, you may if you've let it all go, that can be true. If there's another level of understanding, maybe it might come back. Often that happens in business, you know, you had a bad employee let you fired them. But then someone else comes out, maybe they're not quite as bad. But now you're like, am I going to communicate clearly about what I need them to do? And what I'd want them not to do? Or am I going to be a people pleaser or not speak up,
Kate Galliett 36:24
or you find that concept of kind of spiraling up, we're always on the spiral, we're in this the same problem, but just a new level of it. And then you come around again, and that's what so yes,
Michaela Light 36:35
can go the other way around. And it can spiral down and often held in body issues. I mean, it's a great metaphor out of that you can heal your life booklet. First, your body will like tap you on the shoulder, I've got a little ache in my back. And then it'll be like, if you don't listen to the signal, and take a response, then you get really bad, whatever backache and then next time your body comes along with a two by four and kind of wax you wake up, Kate wake up, time to take a different response. Yeah, and maybe you're laid up for several days. And you know, you're taking muscle relaxers and you're like, really, you know, it's not good. And around the fourth, fourth or fifth time, that spiral, downward spiral happens, bodies and your soul is like, Okay, time to hit the reset button. Obviously, she hasn't quite got it yet in this incarnation. In other words, you fucking die. And some people are okay, you know that personally, I don't choose to accept the planner on that method. Now, I've seen that in people that they just don't want to pay attention to their body or their business or their relationship. And it gets worse. Yeah. And they have another opportunity. And they, they keep getting freewill choice. It's all an opportunity. But some people I do, I do believe in soul contracts that sometimes people come to have certain experiences. And although from the outside looking in, it looks like a terrible decision in their relationship or with their health. Maybe that's what they came here to experience. We're okay with that on a soul level, not on an ego, mental. Right. No one wants to be sick.
Kate Galliett 38:13
Now saying we can't possibly what anyone's mission is when they're when they're arriving on this planet. But you touched on the important part there you have this free will to make a choice. And we get so every Yeah, well. And so that's where the problem came with business. I told you before we talk that the single response principle is applying to business. And I've come through that myself. Because and I will not kid myself and say, Oh, I'm never gonna go through it again. But this was a great experience, because I'm literally just exiting this eight year process of healing my business and myself from not listening to myself as the expert of my business. So I did what a lot of people do when I was getting in the online space. I went, I don't know how to do this, let me hire an expert. And I didn't realize as it was happening, that I was farming out my autonomy once again, and I was allowing someone to tell me, this is who you are, this is how you are, this is how you will do it. And I just went Oh, okay, okay, this is how I will do it. That created a downward spiral of problems that I spend the next decade almost healing from and fixing and learning from and seeing them as opportunities to grow. And I would not have the wisdom I have today if it wasn't for that. But that experience of firming up my autonomy and not just sure it's tempting to hire an expert when you have no idea what you're doing. But you need to keep yourself as the expert you need to keep yourself as the center of the situation when you're hiring an expert and really be tuned into does this actually resonate and align with me? Or is this starting to feel a bit controlling or just a bat like a bad relationship? You can tell when you're being used or you can tell when you're you know, some was not kind of on that level with you, you can get tuned into that stuff. I hadn't done that with this starting point of my online business all these years ago. And it led me so far down a path of being disconnected from what my true passion for my business was. And what my true mission on this planet that I know it is in my business and who I want to be talking to, and how I want to be doing it, it led me so far off path, that it took me this long to circle back around to start I had because you have to, it's like if you don't listen to your body, things get so bad that then you have to do a lot just to get back to baseline, and then start growing into positive territory, right? I had to do so much to come back from that. But gosh, do I feel such gratitude now? That I'm like, oh, yeah, the business I wanted to do. That's the one I get to do. Now, I am not hindered by someone else's opinion. And I can still learn, I can still hear you talk about things that are working for you. I can apply them to my life. But never, ever again, will I not be at the center of my decision making process. My autonomy is above all else, always in all things.
Michaela Light 41:19
Hell yes. I did say before we got on the recording that you I interviewed you three or four years ago, and I said you look more centered. Now, Kate, and not that you weren't together before, right? But you just have this, like I'm grounded, I'm centered, I know who I am. And I'm open to listen to experts, or books or podcasts or whatever. And you know, this is my business, my body. And I'm going to make my decisions around it.
Kate Galliett 41:51
Well, and thank you for that. And can I tell you, like we talked about, like the energy as part of signal response to like, however much you believe in energy, it's real, and it's happening. And if you are sick or in pain, you will probably have a worse engagement with your client that you're trying to sign for contract you would like to do for them. That's important. And you can sense energy in a room and you can sense energy within yourself. I think one of the impeding factors we deal with in business and in bodies is resentment. I resented my business because I could feel how far off path I had gotten by listening to someone who wasn't me and saying, oh, okay, I guess that's who I guess this is just how you do it. So I will do it this way. Even though it doesn't feel good to me, I came to resent my business. And that bleeds through in everything you do, even if you try to hide it, it's gonna come through on some level, and absolutely for our bodies to have people resent their bodies all the time. And if you Oh, my goodness, if you want to have a hard time with your body, start resenting it because your body is then going to just dig the heels in and be like, everything will be harder, the efforts you make won't grow as well, it all gets worse. And so by learning to use the signal response principle and put yourself in the driver's seat as the expert, you can remove the resentment because the only person you haven't presented yourself if you make bad choices, and my goal is for you to go, don't resent yourself, use it as an opportunity to go, oh, you know, going for the walk didn't give me the extra 100,000 that I wanted. Okay, I can learn from that I have curious compassion for myself, I'm not going to resent myself for that. I'm going to just use it, learn and go forward from it. Now in my business, I don't feel resentful anymore. I don't feel like I have to do things that I don't like to do. I don't feel like I have to be someone that I'm not, which are all things that probably people looking from the outside didn't really like, really, you dealt with that. And I can say you weren't on the inside and the strife I felt trying to do something that wasn't me.
Michaela Light 43:57
I think it's great to remove resentment both towards your business, but also and also towards your staff. If you have staff, your clients, your vendors, because it comes out and then I'd expand that beyond resentment, you know, any traumatic remnant of emotion. Resentment is an echo of an earlier upset where things weren't cleaned up, whether it was anger or whatever. And I think there's value to clearing trauma from all passwords versa. And I was talking to I have an assistant and she before she worked for me, she worked for someone else and she had what I call boss trauma. And she would come up with great new ideas for improving the work and the boss is normal response was a two letter word no. Didn't matter whether it was a good idea or mediocre it and didn't want to discuss it, you know, just no, we're not doing that. No. And she got traumatized. She had trauma about now she has she's working on overcoming this and I'm helping her but you know it's hard for her suggest ideas because she's afraid they're just gonna get shot down. And that's just one example of business trauma people have, you know, they any bad for entrepreneurs, they often have hiring trauma because they've tried hiring positions, and they didn't work out. And it was total disaster and stressful and whatever. And now they're shy of hiring again. And that's hiring trauma, it's good to clear all that stuff. And I, I also, you talked about this to the body, but I think it applies to the business. And my personal belief is our businesses have a spirit, you know, just like we have a soul, so does our business and our business, you know, we incarnate into our bodies and all our organs and cells and chakras and whatever, help us embody as a human, right, can't do be human easily without having trillions of cells, including all the bacterias and other things that are in the body that aren't even human cells, but helping us out, you know, there's more bacteria in a human body, as I'm sure you know, than there are human cells. It's kind of mind blowing, and then people take antibiotics and kill all the bacteria.
Kate Galliett 46:06
Yeah, it's a very backwards, I know, it's funny, there's time and place for all things. But boy, do we overuse a lot, I think, well, because we're symptom focus, when we're trying to say, I don't like the pain instead of what's his pain, trying to tell me or with business. A classic when I think of is, you said hiring trauma can occur. I think people, a lot of people, especially small business entrepreneurs, or anyone launching a new product really is the trauma or disruption or disagreeableness, that a person develops when they've launched several times. And it's been hard and their anxiety comes up and their fear of failure comes up. And maybe it's not quite how they wanted it to go. They wanted that perfect, amazing launch that they see other people do. And then it starts to make you scared to do it in the future. And you start trying to mold yourself to other people and how you see them doing it, instead of getting quiet and going inward and saying how would this best go for me? What would it take to have a great launch? Well, if I answered that question right now, a great launch would be, I felt like I was myself. And I shared my business with pride, because I'm so proud of what it is. And I love the soul of the business. And I think more people would love that. So then, okay, what would it take to do that? And so you can, you can reverse engineer by putting our two things together. But you know, when people have a bad launch, bad, it's just data, like you said, it's just,
Michaela Light 47:33
I just want to stay when we look at other people's quotes, perfect launches, you know, Russell Brunson comes to mind. He has the perfect webinar launch method, or whatever he is. He admits in his books, and he talks about it, you know, it's not hidden. He had to, like, launch badly hundreds of times before he got it to where it is now. Yeah. And the same with books. You know, you've written a couple of books, I've written some books, I look at other people's books, like, Oh, my goodness is so wonderful. But if you went to the inside process of that author, they went through a really crappy draft. And then they had chapters they had to throw away because they didn't fit. And the editor came in and put red ink all over it. And you know, and maybe after you've done your 20th book, it becomes easier. Maybe it doesn't. But yeah, looking at just, you know, judging myself against other people's in business authors or bodies is not, you know, you don't know what their process was.
Kate Galliett 48:33
No, and it's a distracting noise. Again, like the social media of seeing your out your fellow peers succeed, or your fellow business competitors succeed. It's a way to distract yourself. We talked about distractions earlier, too. If you keep envying other people and thinking you should try to emulate other people, and worrying why you're not as good as other people. You're not actually doing the work of sending new signals, trying something different. journaling about what you might be able to do better really sitting with yourself because this is the other thing. The responses our body and business and relationships make can sometimes be that two by four, you know, but the first ones, what did you say? They're subtle, right? There are a whisper Hey, this
Michaela Light 49:14
is a subtle whisper. It's a subtle tap, a slight ache in your back or your past,
Kate Galliett 49:19
or you're gonna hear that if you're too busy paying attention to other people, you need to be able to go like when you go into a forest or a park for some nature time to just be there. And then the longer you there, you hear the different birds chirping, you hear the little rustle, you pick up on stuff that is quiet because you're quiet and you're allowing it to show up. If you're busy paying attention to Russell Brunson and all the other people that are out there, like you're not quiet enough to hear the whisper of what your business is asking you to do or what your relationship is asking you to do or what your body is asking you to do. And that goes back to him and
Michaela Light 49:58
to be be clear here. well as hearing signals, you know, whether it's, Hey, this is a squeaky wheel employee or customers a little awkward or whatever the quiet message before they turn into a disaster zone and an enormous, terrible lawsuit. Is I've lost my train of thought here. Yeah, well, I'll say so I forget where I was going with that. But I will say Americans are very focused on doing and being is just as important. And it gives you that space here, those that maybe that's what I was gonna say earlier that here those subtle things, you've got to have quiet time, a lot of business people and executives take meditation time, because it helps you hear these things. Even smarter ones get extra sleep, you know, they're not trying to, like squash their sleep into some, you know, five hours or six hours or some crazy thing. You know, personally, I, I aim to have at least eight hours and possibly more, and I don't have an alarm clock, I set things up. So I'm not, you know, I have plenty of time to wake up. And if I need to have some extra dreams, or sometimes I meditate and put crystals on my body and meditate, what have you. You know, it's pretty good. And I do want to get the Frank Sinatra song in here, that's very important for this, he sang a song called dooby dooby doo. And you'll notice that has do and be masked up together.
Kate Galliett 51:22
I never noticed that. Yeah,
Michaela Light 51:25
I don't think that's what he actually meant at the time. But it's good, you can take it that way that you've got to do and you've got to be successful, it helps to do and it helps to be Yeah, and think that you can't, you can't do that kind of Oh, I'm just gonna be this new age entrepreneur. And I'm just gonna manifest everything and not do anything that doesn't work. And it doesn't work to be like, frantically 18 hours a day busy doing everything. But never having time to hear the messages, neither one works as well as the combination,
Kate Galliett 51:52
I think you need that that's so perfect, I'm gonna have to expand on that sometime with you like the harmony of doing and being because I meet clients. Who are, they're trying everything. And part of my job is to, we're going to do less, because you are sending way too many signals for your body and your body's like spinning because it doesn't know which way the signals are coming from to fix your back pain. For example, businesses are the same way people are like, I'm doing this free training with this person, I'm building my list with this person, I'm setting up a launch with this person, I'm doing a YouTube, I'm doing the Facebook I'm doing, they're everywhere, and you're like, take a breath, come back into your body, come back into the spirit of this business, and just pare it down. Because nothing can respond to a cacophony of signals nothing can. So by doing and being in harmony with each other, I think you find your own natural dance between those two things, seasons of doing more seasons of being more even within your day, a time where you're just being. And then a time when you're doing especially if you can hook them up to your natural rhythms of, for me doing is a great thing to do from nine to noon, from noon to one being is a great thing to do from one to two, a little more doing two to three little more being. So you can even figure out your own rhythms in your day for your business that helps you to understand that, notice the responses that you're noticing, and then shift the signal subtly along the way. And I think you get a lot like you said with the plane. It's going like this, but it's going like this forward. Because yeah,
Michaela Light 53:26
it's called is correcting course, as you go on the journey. Yeah. I mean, I will say I'm spacing out on who I interviewed about seasons of work. But someone did talk about that. And I, I've started taking like every quarter I take off a week. And the goal there is to unplug from the business and digital stuff and, you know, go to the seaside or go to the mountains or whatever the thing is. And you know, often good ideas come from that, and I certainly reduce my stress level. And then another way that some people fit this into their business is they follow some astrology and if you've ever looked at, I'm not talking about those magazine things where they say Aquarius is this I'm talking about, you know, possibly your personal astrology or whatever, but I follow this thing called Polaris business astrology. And she has, you know, she kind of takes all the planets and all the other stuff that she puts it into a kind of color coded thing for communication and signing contracts and, you know, getting started on new projects and is this and she has a traffic light system is it red, yellow or green, green being is good time for that for communication or for doing stuff. And naturally the way that astrology works is you get days where things are really good and you get other days where it's bad and you have other days where it's actually going backwards, you sign a contract on one of those days without paying attention and it's going to never come to anything or it's going to go cause you, you know blow up in your face. Now having said that my post Some view of astrology is kind of like the weather forecast, if the weather forecast says it's going to be a thunderstorm, either I'm going to stay at home and relax. But option one, or if I really, really, really want to go out, I'll put, I'll bring some rain gear or whatever with me, you know. And the same thing with astrology. If the astrology says, Don't sign a contract, I may, you know, arrange things. So I don't sign on that day, and I started on Wednesday. But if I really want to sign it, I'll do lots of extra intent and energy to clear that global energy. So I can have success in my case.
Kate Galliett 55:35
Yeah, I mean, you're highlighting exactly what we've been talking about with, you're keeping in tune with yourself, you're keeping aware of the actions you're taking, instead of being blindsided, like, Oh, I didn't know I shouldn't sign the contract today, you got some guidance from astrology. And then you're like, Well, we still have to sign it today. Or like, what can I do to help this along, and our bodies and business are no different. We have to be paying attention, we have to be paying attention to what's going on and what our role is, in this process. Because you have the main you are the star of the show, when it comes to your business and your body. That means you need to be playing the role, because it's yours. And you are made for this role, and you are capable of this role. But you got to do all the things we've been talking about, about keeping yourself in the center of the mix and not farming your autonomy out and learning to use curious compassion. And using your intuition. I'm thinking about what would it take to make this go the way I needed to go. It's a really, it's a more human way of doing bodies and business, in my opinion, because you're in your body and mind and spirit and heart and psychology. As you're doing body stuff, or business stuff or relationships or whatever you're doing. Too many of us are asleep at the wheel. And I want us to be awake at the wheel going. I'm nowhere I'm going.
Michaela Light 57:00
Sorry, I'm just having visual images while these Americans asleep at the wheel. And it's like, how are they not having a car crash? Oh, you're having a call?
Kate Galliett 57:09
Oh, everybody, everybody's having car crashes, they just may not know it yet. And eventually, they're gonna get a sideboard, the car, the two by four wasn't enough, the car crash is here. And then it'll be a car crash plus a two by four. In all things, I think we do better when we're alert and awake and in tune.
Michaela Light 57:27
Well, I that made me think of something I used to talk about many years ago, which is consciousness equals awareness plus choice, consciousness equals awareness plus choice. So to be more conscious, you need to be aware of what's going on the signals in your languaging. Right, and then you make a choice, you come up with a response, or, you know, whatever the the thing is. And that's how we grow our business grow our body, because a healthy body is a conscious body. A healthy business is a conscious business, whether that's conscious in you as the entrepreneur, or conscious because you're using, you know, you've helped your staff pick up consciousness. So they themselves get the signals and the response. And it doesn't all have to feed through you. Yeah. So. And I also want to add in one thought, I don't know if you agree with this, but the response can be an action and often is it also can be a reframe, or what's my internal way of looking at this thing. You know, I'm thinking of the book Man's Search for Meaning. I don't know if you've read that by the man that I forgetting isn't what's his name? Frankl. That's right, Viktor Frankl, he was in a concentration camp in World War Two, it was terrible. People were dying, left, right and center, but he decided I am going to survive and live. And he chose his responses in his mind. Then he wrote about how he managed to keep a positive mindset in this terrible situation. And if he could do that, in that awful situation, don't you think, listeners that with your body issues or your business issues? I mean, you know, maybe some people listening having terrible, whatever. But you know, most people don't have life. They don't have the the other entrepreneurs their left being executed. They're carrying on their business. Well,
Kate Galliett 59:16
yeah, exactly. And that's, that's what I always say, even in a catastrophic situation. Your choice is, what do I do next? What's the next signal response? I'm gonna get involved in here. There are horrible things that you never asked for that came on your doorstep. And now you have to deal with it. Whether it's, you know, going out of business, your industry being made obsolete, your body having a catastrophic illness or injury. These things do happen to people in the world. And still, you can respond by doing something different next, even if you're, I mean, God forbid, if your legs don't work anymore. You can still have a life. You can still go do something with what you have at your ready like your body can still do things Your mind can do things you can pivot the direction of your life. And
Michaela Light 1:00:03
absolutely, and here's one other thing that you kind of touched on, when you go to a doctor when you were 20. And you went to the doctor, and I don't know what sickness you have, and I don't need to know. But I'm imagining the doctor gave a name or a label to the disease you have, you've got so and so's syndrome, or you've got depression, or you've got an amputated leg, or whatever the thing is. And what I want to say is it generally though, it can be helpful to have a diagnosis on your business or your body, because it may give you more information. It also is a great risk that you start identifying as the disease. Yes, I am, I am is a very powerful phrase. And if you say quotes, I'm not gonna take this on myself, I am a diabetic, suddenly, you've got all that heaviness of all the beliefs about what that means and how you might be losing toes or, you know, dying early or whatever, and you can't eat cheesecake anymore, and blah, blah, blah. And first of all, diagnosis, ZZ aren't always right. And secondly, everyone is different than individual. And so, you know, I just avoid putting labels on things and and definitely avoid identifying with whatever the thing is, because that's a way to lock in the victimhood.
Kate Galliett 1:01:19
Yeah, I'm right there with you. I have a chapter about this in my book, like, imaging, like for MRIs, and things like that can be very touchy. Because just because we see something on an image, like a meniscus tear and your knee doesn't mean, that's the reason your knee hurts, you can have a meniscus tear and not have knee pain. So when we start to identify with the disease or with someone say, well, your business doesn't work, because you're not on Instagram, tick tock, whatever. That's that person's thought about your situation. And it's your choice to say, I'm going to either use that as data to inform what I'm doing. Or I'm going to say thank you for that information that doesn't, that's not useful for what I'm doing. I'm going to carry on this other direction. We have to remember that diagnoses or I am statements I always ask is I am a true statement is what you're saying I am true. A lot of people think it's true, but it's really not. They've just created a reality where they've made it seem true for them. But if we just start pulling at the threads of saying, Well, what if you do something a little different? What if you look at this in a new way, what if you shift your energy a little bit, all of a sudden, it's not true anymore. And I I'll be the first to admit that I always have areas of opportunity, especially with seeing optimism in things I am realist, borderline pessimist sometimes. And optimism is more of a thing I have to work for and be intentional about with what I'm trying to do. But in the healing my business and my body, I found it's a lot easier to be optimistic and curious. And like, let me just try that, for example. I'm making these lotion bars now. They're incredible. They're like a, it's like a high bar. But if you just rub it in your hands, and the lotion comes off, and you can you know, massage your hands. I never wanted to do this before I just got into it for fun. But then I was like, Wait a minute. This totally aligns with my business. Like it's about having holistic stuff that you use, you know, to make your body fit, but also what you put on your body as a part of what goes in your body. And it meets my business goals. Because it's another thing people can be like, Oh, I love that, that she does that. That's super cool. And so in doing this work of listening to signals and responses and keeping myself as the expert, and questioning is this really true about me, I am able to embark on new adventures in my business. And if it doesn't work out, who cares? I'm having a good time.
Michaela Light 1:03:44
I think having a good time is very important. And one of the things I've written about is look focusing both on profit and joy. And, you know, we have a very developed system for tracking profits and losses balance sheets, but we don't really do the same for joy, fun an energy vampires and energy drains in our businesses and being able to do something like you're saying how a new product is because it's fun to do, and you want to do it and hey, if it takes off great if it doesn't, I have a good time. Yeah. And I think there needs to be room for that in everyone's business. I mean, ideally, your whole business is a blast and fun for you and your staff and your clients. You know, I strongly believe in making the experience fun for everyone. You know, we do my my other company does custom software and that can be quite stressful involves a lot of money. And you know, it's possibly critical for the business. But, you know, let's have some fun while we're doing these things. Yeah, let's not stress out.
Kate Galliett 1:04:48
Life is serious enough. Let's have a nice time in our business. And if you're hearing that right now and you're like, must be nice to have fun in your business. I can't have fun in my business. We can barely pay our bills. Every month, use that response that you're noticing to go wait a minute, what signals are causing that? What am I doing or not doing right now that makes me feel like, I can't have fun in my business. It's too serious right now. And then start changing the signals start with something as simple as how could I make it more fun? What's something I do now that I don't like to do that I could not do? Or that I like to do, but I don't do a lot of it. And I could do more of it. That could be the simplest starting point to having more fun. Yeah,
Michaela Light 1:05:29
what can I stop doing that doesn't need to be done? How could I delegate stuff that does need to be done that I don't personally enjoy? What could it what would it take for this particular thing? I'm choosing to do myself and make it more fun, you know, you know, could I wear a silly hat? Could I read some jokes in the middle of it? You know, could I play some fun music? Could I dance? You know, could I use a standing desk? You know, many ways to make. I mean, that's like that Huckleberry Finn thing where he quotes Oh, it's he's got the punishment to paint the fence or whatever the story is, but then he gets all these other kids to help him because he's made it into a fun adventure. And I think that's always possible, even with the dreariest of tasks can be made more fun. And, you know, if you're the owner of the business, or the entrepreneur, or founder or whatever, you usually can delegate stuff out, or you can make a choice, hey, I'm going to refinish my business. So we don't even have to deal with this thing. are many ways to run a business. And you don't have to do it the what, you know, the whatever the quotes, correct way,
Kate Galliett 1:06:37
you just have to start paying attention to the responses and then start changing the signals, you are the expert of this thing.
Michaela Light 1:06:43
Yeah. And you know, the bigger picture level, I do believe we create our reality. And our business is a great playground for learning how to create your reality and learning all the traumas you have that need healing. I really see business as potentially a spiritual growth activity on the accelerated track as our relationships as our health challenges. And I totally
Kate Galliett 1:07:08
agree. Yeah.
Michaela Light 1:07:10
So anyway, I think we're running out of time and energy for this session, we probably could talk until midnight on this but I have a massage appointment and you have an important appointment to get to very important self love appointment. That's not actually body work is a great way to get in contact with your body if you have difficulty. I know I have had some people I used to be one of them where my body ended at my chin because it was all in my head and I just didn't really notice you know, I'd have tension in my back or wherever. And getting bodywork of whatever format, whether it's MasterCard or acupuncture or one of those other techniques or Alexander Technique is interesting one
Kate Galliett 1:07:52
it's really great to be able to touch tells your brain that it's there. So if I just go all of a sudden my brains like oh, there's a cheek right there. And I actually in part of
Michaela Light 1:08:01
the cheek.
Kate Galliett 1:08:02
Yeah, that's the cheek. Oh, yeah, exactly. So bodywork is a lump
Michaela Light 1:08:06
of cheese with
Kate Galliett 1:08:08
people all the time who are so focused on their pain, that they don't feel the rest of their body. They don't know that they have an upper body because their low back hurts so bad or the knees hurt so bad.
Michaela Light 1:08:17
They actually what's the word? I can't numb it out. Yeah, there's a there's a pain. If you've started you've probably studied this. But for those at home who haven't, you know the body will have an irritation and a pain and extreme and then there's the brain has a clever system where it will just turn off the pain signals and numb it out. And you actually saw in some healing methods I've done you you have to kind of remove the numbing so you can feel the pain and then the signal.
Kate Galliett 1:08:44
Yeah, so baffling. So I think massage is great. A great part of a whole holistic program of making your body and your mind and your heart feel the best that it possibly can.
Michaela Light 1:08:58
Now what's the equivalent for the business for bodywork? I'm just wondering out loud.
Kate Galliett 1:09:03
That's a great question
I would have to say I mean in my first the first thing that comes to mind is what we were talking about earlier about the being I think if you are with like being with your business, all the different arenas of it on a regular basis and not not a lot of time, five minutes of being with your emails that your company sends out and like reading them and seeing how they make you feel five minutes of watching your team do what they do and seeing how that feels for you. I think that's the first thing I think of what would the equivalent be for your business I by being you can you can sense it. You know, you can go something about that doesn't feel quite right. We got to I don't know what the answer is yet, but we got to something's not right there. We got to work on that. That's my first thought. What's yours?
Michaela Light 1:09:54
I did a SWOT analysis which is quite a traditional business. Exercise stands for strengths, weaknesses. opportunities and threats. And I did it on a zoom call with my marketing team. And we all we played some nice meditative music. You know, we explained what the concept was. And then we, in a shared Google Doc, we all wrote out all the marketing areas, you know, content, marketing, SEO, whatever. And we all contributed to all the areas, whether you were the the SEO guy, or you were the writer, or you were whatever. We all were, you know, able to read and comment on yourself. And it produced a great sense of consciousness about Well, I didn't even know that went on in the marketing teams. And then oh, yeah, that's an opportunity or a threat or a weakness or strength. I love that. So that was as a way to achieve that. I mean, I think sharing these kinds of techniques with staff so they can do it and, and often I have a friend who she does creativity, consulting, her name's Michelle James, and she does kind of retreats for companies to help them get in touch with what's going on, you know, what the problems are and brainstorm around solutions without it being judgmental. But in a kind of improv, you know, if you've ever done improv, improv is a great way for, for people to get out of their heads into their bodies. And get out of that judgmental space. And into, you know, one of the key rules of improv is you say yes, and not know, but Right, someone has an idea and you build on it, you know, why don't we send out more emails, yes. And we could make them in the color blue, or whatever. The suggestion is, and it kind of helps people open up into that co creative space. So that that's something that also comes to me,
Kate Galliett 1:11:44
I love that. I think that's really great. I think it's interesting that we're already proficient at this sort of thing in some areas of our life, like, I know, people who are great at improv, and I think, are they as great at essentially improving on their body and their business and their relationships? Maybe not. So I think if you can also remember, and maybe look for the place in your life, where you're already good at this, you already are living as the expert of your body relationships, parenting choices you make in your life, and then extrapolate that over to areas where you're less proficient, you can I think, kind of take that skill and just
Michaela Light 1:12:23
pivot transfer, I think everyone has an area of their life they have that goes better than another one. I hope that it's the case it will be I think disaster zone if every area of your life. And there's the tool I've used, you know, the wheel of life, or where you kind of grade from zero to 10, how good it is. And then you draw it on a wheel and you see is the wheel ride smooth or bumpy. And the point I want to make is you can transfer stuff, if you're really good at health and your body is healthy, and you maybe have habits that you use. Okay, how could you apply something like that? Could you get inspiration from that area of life and apply it to your relationships that suck or your business? You know, sales has difficulty, you know, what do you do in your health area where you're real healthy, that? You know, maybe you work out everyday? Maybe what you know, you're careful what you intuitively eat, or whatever the things is, and how could you apply similar analogous things into that other area?
Kate Galliett 1:13:16
I love that. I hope that opens people's minds, because the intuitive eating is a perfect one. If you can intuitively eat and you do it well, and it makes you satisfied and happy with yourself. That means you can be intuitive in your business.
Michaela Light 1:13:29
Absolutely. Yeah. Well, if people want to find you online, Kate, what are the best ways to do that?
Kate Galliett 1:13:38
If you are into the social media thing, you can come to Instagram and find me I'm Kate Galia on Instagram. And then I have two websites where I write up the unbreakable body, which is where you can look at my book and look at my program teaches you how to do all the things I teach, to make your body feel unbreakable. But I also do personal writing and kind of more life embodied stuff at a website called Fit For real life.com. Because I like people to be fit for their real life. And that's way more than just bodies. That's everything we talked about today. So I'll probably catalog this interview or on that website. So that's fit for real life.
Michaela Light 1:14:12
Oh, fabulous. And I did put in the original thing. I forgot to mention that during the interview, but you did a Facebook post where you showed a before and after photo when you worked on your face to remove using this stimulus response method. And it was like an energetic facelift. It was
Kate Galliett 1:14:27
quite Oh, thank you. Yeah, it was a subtle side effect. I wasn't trying to change how I look. I just was trying to improve because of I didn't like some of the signal response that was going on in my head in my throat face some symptoms and things like that. And so I was like, Okay, let me send some new signals to this area to see if I can get a new response. And I did the function is better in this area now. But also the shape change too, which is kind of neat.
Michaela Light 1:14:57
It's amazing. I mean, it's definitely true. Through that, we can change anything in our reality that we choose to including our face, or skin or, you know, business income or whatever it is. So very inspiring. So I put pasted that into the middle and gave the link to that for people who want to read it. Well, thank you so much for coming on the show. Kate. It's been very invigorating to talk to you and I got lots of inspirations. I hope listeners did too. And you as well.
Kate Galliett 1:15:29
I'm sure that you always just light my brain up with things to think about and ponder and put to use in my own life. So I greatly appreciate you.
Michaela Light 1:15:38
Thanks. All right.