You can listen to the podcast and read the show notes here.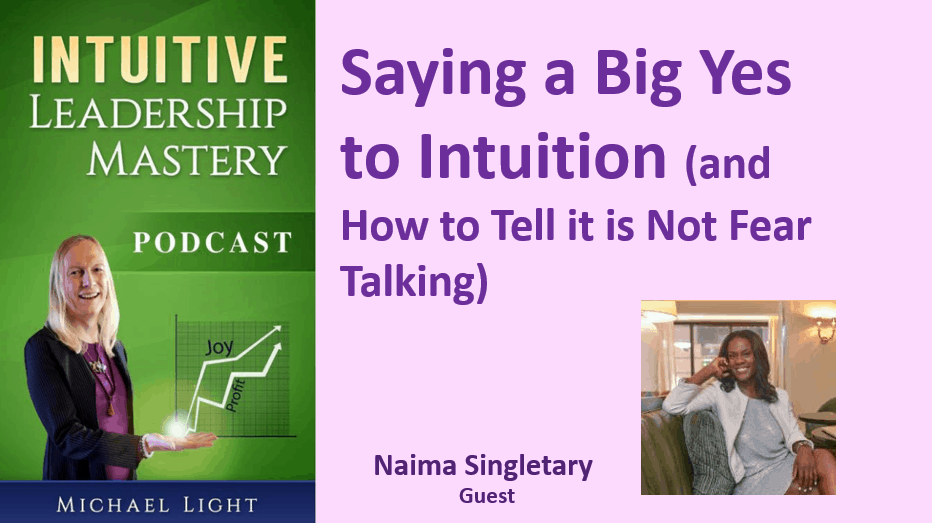 Michael:          Welcome back to the show. I'm here with Naima Singletary, and we're going to be talking about how she said a big yes to intuition, and how she was able to tell it was not fear talking to her. So, we'll look at how you can say yes to your intuition when it's making a very big ask of you. And also, look at how she tells the difference between her intuition, and fear. And just in case you don't know Naima, she is a wealth and freedom mentor, helps people get six figures and above, and she is organizing a mega event called 'More Than Enough Money' in London real soon for mission driven entrepreneurs. So, welcome Naima.
Naima:            Thank you so much for having me Michael. Hello everyone!
Michael:          Yeah, so what I mean you know sometimes, we hear small requests from our intuitions, or small suggestions. But like sometimes, it's like a really big one.
Naima:            yeah
Michael:          So, how do you deal with that when your intuition is telling you to do something and maybe your ego is like, I don't know if we can do that?
Naima:            Yes, yes see this is relevant because the topic of intuition is something that has been with me, and a lot of people. And it's easy when my experience is pretty easy to follow intuition when it's asking you to do something. This is the little bit abnormal for you. A little bit on your conversation. But for people in my world, who are looking to live a bigger, more interesting life. You know international speaking, helping more people, working at a global level, scaling their company, being more deeply embodied, and living that on the outside. These people are making big requests.
Like they want big things. They want beautiful office spaces, and they want to be able to work in this country for three months, and work in that country for three months. And they want to help five million people. And they want to be sexually empowered, and they want to just do these big things, have retreats centers in different tropical places etcetera. So, when you're living at this level, you're going to get intuitive hits to do things to match the frequency of the bigness of the thing that you want to do. So in my case, it was like I'm spearheading the opening of a chateau that's supposed to be in France.
It might be in the U.K., it might be in France. Intuition was telling me go to France, go to France, go to France, go to France. And at the time, that felt like a huge ask because I had just come from living in Italy for over a year, and I was in California. And it was just like, 'what?' It felt … you know it just felt indulgent, it felt like, 'are you sure?' It just felt … The mind was doing that, but my intuition was clear. Go to Italy. I mean go to France, move to France specifically Paris; go, go, go. And so, because it felt like such a big ask of me is what had me freaking about it because I had never felt asked of by spirit intuition, my higher self at that level. Energetically, I had never felt that before.
Michael:          And how did that feel for you?
Naima:            It felt … I'm telling you I rumbled and tumbled with that thing for like two weeks. I'm telling you. I was just like, "Are you sure?" And it's like I was looking for something to come from the intuitive hit that I had already gotten. And was just like… and I would go for walks, and I would go for drives, and I was just like aha-aa. And then finally, I had would maybe like make the decision. And I just this is so beautiful, I want everyone to get this. I had read about this other coach who wanted to stay somewhere for an extended period of time, and she gave herself permission to do that.
And something about that spoke to me. So, I made the decision, now you already know, we stopped the drama. It was like stop the drama, go. So, I made the decision. And this is the really awesome part about responding to the big yes'. I made the decision that I was moving to Paris within a week maybe even sooner. But no more than a week later, I got a six figure client within a week of making that decision. Now, I'm already multiple five figures per month. Like that right so, the money part like just so it's not like, "Oh my God! I've never made this much money before."
It's the fact that it came so quickly, so unexpectedly on a level, and I could feel how much it was resonant with this big yes that I had just said yes to. I could feel the alignment of it all. And I'm certain that that would not happened, that would not have happened had I not said yes to that big intuitive hit to go to Paris. This is what's possible for us when we have the audacity to listen not just to the little intuitive hits which are important no doubt. But to the big things that cost so much more from within us.
Michael:          That sounds amazing. So, have you moved to Paris already, or about to?
Naima:            I moved, that was December. So I moved to Paris December of last year. I was there for seven months now, I'm in London because my next intuitive hit said, "Go to London." That's why I'm like [inaudible] [06:04] going to be in the U.K., or is it going to be in France? You know what I'm saying? So yeah, I'm in the U.K. now.
Michael:          Great! So, when you were in Paris, did you subsequently find reasons that you've being guided to go there in retrospect or?
Naima:            Some things that happened that made sense. So, one of the things that I know is going to be expected of me, and is expected of everybody watching this who is going to be leading things, and is going to be responsible for making big decisions, choosing team members, etcetera. And following intuition, and listening to what you just give feelings about. So, I met this guy on New Year's Day as a matter of fact. Because I moved to Paris on I think like December 14th, or something like that; around there – December 14th. And actually not first, I went to Italy for a week.
So, went to Italy for a week, then went from Italy to Paris December 22nd. Because I remember I wanted to be in Paris for Christmas. So December 22nd, I went officially moved to Paris. And on New Year's Day, I met this guy and there was like all the ding, ding, ding, ding, ding. Like all the bells was going off, right. And that so much about that relationship as far as who's going to be on the team, who I can trust, how to pay attention to subtle things. Like I could see so much about that relationship that helped to strengthen my leadership, and who I choose to be in my world; romantically, business wise. And I've had other relations with other men too that taught me other things. This one taught me at a whole new level of maturity. So I could see how that relationship with that guy in Paris.
The way it all happened, the synchronicity of it all, what happened in the relationship with him being a Frenchman etcetera. That felt very aligned with the decision to say yes. And then also, me being I imagine that there are people watching right now who are breaking the normalcy in their family pattern. Meaning maybe they're the first one in their family to break a financial normalcy for the family bloodline. Like that's me. I have broken a lot of what's normal financially in my bloodline as far back as I know, right. And so, my sister came and spent three weeks in Paris, and had I not been living there, that would not have happened. And so, that experience helped to feed this understanding, and feed my position as a leader; if you will. Something about that word just kind of like …
Because I see myself as something a bit further than a leader. But the 'yes' set me up to be in Paris for my sister to come to be a part of the future of the family, and the future will surpass in our bloodline. And I'm sure if I were to dig into some more. So for people watching this who are saying yes to big things, this is an example of how it's so much bigger than us individually. It's affecting literally our lineage. And for those of us who have children, or plan to give birth to children. We're literally rewiring things in priming our children, or soon to be children for something greater versus maintaining whatever is the status quo for your particular bloodline. Does that make sense?
Michael:          Mm-hmm, it make sense to me. Let's talk about that a bit more for people listening who may be curious about.
Naima:            sure
Michael:          So, you talking about a family pattern…
Naima:            yes
Michael:          … around money where members of your family had limiting beliefs about how much money they could make, or what they were allowed to do in life; things like that. Which I'm sure a lot of people can identify with when you have the first one in that family that's an entrepreneur, or taking a leadership role in a business.
Naima:            Or whatever is normal for that family. Like if you come from a family of farmers, right. But … and there's nothing wrong with farming. Don't get me wrong, right. Let's say you just don't see that for your future. What if you see yourself having a retreat center in Costa Rica, or you see yourself having something else? And you're creating a whole total shift from last three generations that you're aware of in your bloodline. You've got to say yes to that because there's obviously something there that wants to be created, and you are the person to have it move through you, and to birth it. So, this is another reason why saying yes to those big intuitive hits are so important, are so much bigger than us.
Michael:          That is a great inspiration there. Did you consciously do work on clearing bloodline patterns to help you grow this far?
Naima:            Very, very I have been. I have just … Like I'm literally in a co-working space where I was speaking to a group of women about the long game of money, and the level of work and transformation, and commitment to the long game that's required. Because you are rewiring things that are so normal because it's been normal in your family. We're born into it. You cannot help that you're born into whatever situation you're born into. So then right, you get all the stuff that comes to you through blood, and then you get all the stuff that comes to you by simply being raised in that family; whichever family were raised in. So then when you become of age to make your own decisions, your own money, etcetera.
And what has been normal for your existing family, your immediate family, their parents, and you look in your like that is not me, right. [Laughing] [12:15] is a real commitment to breaking that because there are for some people feel like a level of betrayal, a level of abandoning the family unit, the family normalcy. And so, it really takes one a commitment to your own growth, commitment to your own freedom, even commit to a path of that nature. And then what you do, is big yeses showing up at your door. So, answer is yes. This is something that I committed to some years ago. And we need community for this, Michel because it's when you are I mean I still get into little fights with my mom about new realities I'm creating for myself.
Michael:          Like can you share any of those?
Naima:            Totally, totally so, I'm happy to share it all. So when I first made this decision to really like a just bigger decision. Like I'm going to be who I am. I don't care who says anything particularly my mother because that's what I was most worried about. Because I started writing on a blog in a very unfiltered way, and my mother went crazy. I mean I was writing about blowjobs, and getting fucked on my floor, and boyfriends, and self-hate, and sexual trauma, and abuse. Like unfiltered Michael, totally unfiltered.
Michael:          yeah
Naima:            And so, my mother went crazy. She found it, and that was my biggest fear about her mother was going to find it, and she found it, and she just went bad shit crazy.
Michael:          oh!
Naima:            And this was in 2014, okay. We're talking three years ago. So I'm like okay, she knows who I am. And we've had little disagreements, and like getting off the phone. I'll talk to you later kind of things. And so, I'm thinking alright yeah, good she knows who I am. I am constantly whenever we're talking about things that etcetera. It's kind of like reaffirming to her this is what it is, this is who I am. And so recently, I wrote a blog post that was very graphic, very sexual. She found it, and she went crazy again. I was like mum, what is going on? Like nothing is new here, okay. Like I showed this part of myself to you years ago. And she's, "why do you have to? Oh, oh!" So, most people don't want to endure that with their parents.
Michael:          yes
Naima:            And so, one thing that helps a person to stay committed to their own freedom is to be in community with other people who have made the commitment to their freedom. And that's why I say we got to have community because man, when those blood lines, and fear of not being loved, fear of being rejected from the family, fear of not belonging, kicks in; that's enough to kick most of us back into conformity.
Michael:          Yeah, well that's why it exists, right? Keep everyone in line.
Naima:            Hence, the depression, and suicide. And I'm just not willing to play that game.
Michael:          Right, but good for you. And maybe that what I would call that is the community we have around us that supports us in our goals is our family of choice.
Naima:            Yes, very true.
Michael:          And we can choose how much time we spend with family of blood, and how much with family of choice.
Naima:            Exactly, like my sister and I we're already talking about this coming Christmas. And like what we're going to do, and everything. And we're like okay, so we can have one dinner with mommy, just one; you know?
Michael:          I know.
Naima:            You just know when you just get honest about who you can be around, and how long like you said.
Michael:          right
Naima:            Right, boom! You can make plans like that. So, [laughing] [16:08].
Michael:          Our mothers can be wonderful spiritual people.
Naima:            yes
Michael:          Incarnated in a body, and we given them the label mother.
Naima:            yeah
Michael:          They're still spiritual beings having their own little journey.
Naima:            yes
Michael:          Like we are. But that doesn't mean I have to choose to spend a whole bunch of time with them.
Naima:            Exactly or tolerate.
Michael:          Or any time depending on exactly what the relationship is.
Naima:            It's true, or tolerate their words, any words that are abusive, or hurtful. Like we don't have to tolerate, I don't have to tolerate that just because you're my mother.
Michael:          Right, absolutely. Big growing point there, so let's just move on. Maybe people listening of heard things from their intuition, maybe they've heard big things from their intuition. But they're not sure how to tell the difference between that, and their own fear. So, tell us a bit about that. Because I'm sure folks would love to know.
Naima:            yeah
Michael:          How you dealt with that.
Naima:            For me, is simply is this; and I don't think this is anything new because I've heard other people say this. I'm reiterating words in my experience universally true. And that is fear feels like tension, and tightness, and constriction. Intuition; if you can relax enough. Okay, and feels right, you just know. In my experience, that's how I've been able to decipher between fear and intuition. Like even the Paris example. When it came to me, I knew. There was no tension.
The head went into this whole thing. But underneath it all, I just knew. It just feels like yes, precisely exactly, I know. I know that I know, that I know; that's how intuition felt. Fear feels like. I don't know. It feels tight in the body when you think about it. It feels tight in the chest even if you can't quite put your finger on it. There's something about it says no. Like that's the difference between intuition and fear.
Michael:          Yeah and I think also the intuition is often a quiet voice. It's not jumping up and down, trying to get attention whereas the fear often is a loud frail kind of the sound of a toddler having a tantrum kind of voice.
Naima:            Thank you, that's a very good point too. It's so calm, to whisper.
Michael:          Yeah and it's not attached to whether you pay attention. You want to take this advice great. You don't look out, something awful come around again in the future.
Naima:            It'll leave you and go on to the next one.
Michael:          Yeah, whereas the fear doesn't have that attitude. It's like you've got to pay attention. You've got to follow me, and listen now. You will be missing out.
Naima:            I like that. I like that I've never heard that before, Michael. I like that.
Michael:          Well, I'm inspired. I'm probably channeling this from someone or another.
Naima:            very good
Michael:          And I suddenly thought you know, I had a big intuition a few years back. My intuition said, "Go to the Andes." And I'm like well, I don't … My ego was like I don't know anyone there. I don't know what I do there. Is it even safe there?
Naima:            yeah
Michael:          And I mentioned that I told a lot of friends that I had this intuition and I found a friend in Bolivia. She helped me find an apartment there. But when I was getting on the plane to fly to La paz in Bolivia, I'm like, "Oh! Why am I doing this?" Was this all the trick to do something? It's like fearful, but as soon as I arrived, it just felt so good. I knew I'd made a good choice.
Naima:            See, that's the thing. Like the even as you're telling a story, I can hear the mind was doing its thing.
Michael:          yeah
Naima:            And then, in the intuition, it's the stream then is unmoved, and then just you know and it carries you. Like you had your friend help you find the apartment, and there's like that and then the live in fear is doing all this other thing on top trying to seduce you with immediate see and an urgent, false urgency, and that kind of thing.
Michael:          And the fear of missing out. That's one of fears little tricks right; fomo.
Naima:            And it works, that's why people use it so much in the marketing. I mean oftentimes, it works with this certain group of people, it works. But we are I imagine people who are listening to this who are really about intuition, it doesn't work with them.
Michael:          Yeah well, we've been trained by listening to those hundreds of thousands of marketing messages to listen to that fearful voice. Right anyone hear what gets appetizing, or watches T.V. or reads newspapers. Any of those ways that those fear filled voices. We're trained to listen to that fearful voice.
Naima:            yeah
Michael:          And we get less training in modern society to listen to the quiet inner knowing.
Naima:            Yeah and you know yeah, that's a whole other conversation because I think in my world, and I imagine in your world, it's like that world, and this world. There's a separation is like, so that's not really. It's like I see, it it's nothing. It means nothing to me now. I see it and it's like, "Doesn't work here, sorry."
Michael:          Well, that's because you are an advanced being you know.
Naima:            yes
Michael:          A lot of us are still working to get to that level of advancement. How do you manage to ignore all those fear filled voices [inaudible] [21:55]?
Naima:            How did I get here? I think a lot of mistakes. I think a problem … I'm trying to think of a time, good example to share when I listened to the fear, and it didn't work out.
Michael:          Well, I'm thinking more of like how to not listen to all the media, news. I mean it's hard these days to not see the news, it's everywhere. You go in an elevator, they have like little T.V. news in the elevator just in case you get like 30 seconds without T.V..
Naima:            Or at the California, they have gas stations with the news too.
Michael:          No way! Really? [Inaudible]
Naima:            While you're pumping your gas, the T.V. is right there. That is so funny Michael, you're right.
Michael:          You use to be you went to get your nails done, and you can have peace, and quiet, and tranquility. Now, they put a T.V. in there.
Naima:            Jesus, so how do I not watch it? First of all, it brings me pain to watch the news. So it's easy to not watch it. And I stopped watching the news years ago because it was… I got introduced to the personal development space of my early '20s. And they challenged us to do a no T.V., and to turn our cars into they call them mobile universities I think, or something.
Michael:          oh, yeah
Naima:            And so, back then is when there I really started to cut out T.V. and I don't watch T.V. I don't even own a T.V. now.
Michael:          me neither
Naima:            So, it's easy for me to not watch T.V. Yeah and then as far as the news them stuff, Facebook feeds me that. So there's something I really need to know. Enough people will talk about it. Like when Hurricane Harvey was coming, or happened, boom! There it is on Facebook. Irma, boom! Facebook. North Korea, something with Trump right, boom! It's all there so.
Michael:          Yeah, we find out about things.
Naima:            Yeah, so it's easy to not watch it for me.
Michael:          And I love that mobile university. I mean and that's audio courses, or podcasts.
Naima:            Exactly, stuff that nourishes.
Michael:          So, cool. So, I know are your … You've got something else you're going to soon so.
Naima:            I have five minutes.
Michael:          Yes well, let's tell people how they can find you online if they want to find out more about what you do; helping people with money, and surrendering to the sexual enjoyment.
Naima:            yeah
Michael:          Which are deeply related. Maybe we'll talk about that briefly after you tell people where to find you.
Naima:            I would love… Like talk about love, I would love that. So, the event that's happening in London which is September 28th. They can find out more about that. And if they're not in London, and don't plan to come to the event, they can go to the same page, and give us their name, and email so they can be notified of events, they can get videos, and blogs, and other contents around building a thriving business, being the truth of who you are So, the website for them to go to is morethanenoughmoneytour.com. Again, morethanenoughmoneytour.com. And they can read about this event, send us their e-mail, or come check out, hang out on Facebook under Naima Singletary.
Michael:          Alright well, we'll put those links into the show notes which you can find on intuitiveleadershipmastery.com. And just in the last few minutes we have, tell us about the connection between money, and sex because not everyone gets that.
Naima:            oh!
Michael:          Why does opening yourself up sexually help you open yourself to receiving money?
Naima:            Oh, that's a great way to fit in Michael. So simply put, and I want everyone to know, listening to my voice right now that this is the most basic explanation, and that this goes much beyond especially on experiential level. But one of those that I'm about to say, so just know that. But just speak a touch on it. There's a lot of … for many people, there's a lot of discomfort, and tension as it relates to creating large amounts of money. And for many people, any money in their coaching business, or service based business.
And what happens in the sexuality around, and learning how to receive; particularly as a woman, and learning how to be present and pay attention if you're a man because that's where the magic happens. For a woman, it's her ability to receive, and to express her desire. For a man, it's his ability to pay attention, and to hold a woman.
Obviously, we're talking about a heterosexual relationship. And so, when she is able to do this, there's a softening that occurs. When he is able to do this, there's a level of power that has nothing to do with the stoic level of power that most men are trained to be. And when this happens from a female perspective for a woman, it transfers in the realm of business of being able to be this woman who both receives, and asks; which is necessary in business.
Receiving money, and asking for whatever it is that you're asking for: help, new clients, anything at boundaries, right. It all plays out in business. And what happens in the sexuality realm is because it's such a potent channel. It's just to me the bedrock of becoming a really well felt, and deeply embodied power for entrepreneur that's operating from a deeper place versus this head spread sheet, planning, strategic doing kind of way. So, that's the beginning…
Michael:          wow!
Naima:            … of the beginning.
Michael:          Yes, sounds like I'd love to hear more about that another time. But thanks so much for joining us today, and talking about your intuition. And how you differentiate it from fear, and also how … The importance of open sexuality in being abundant.
Naima:            Yeah, thank you so much Michael. My heart is … I feel a contorting. There's a … it's almost feels a little pain as if like space is being made. So, thank you for being a part of that.