Naima Singletary talks about "Saying a Big Yes to Intuition (and How to Tell it is Not Fear Talking)" in this episode of the Intuitive Leadership Mastery Podcast, with host Michael Smith.
"one of the things that I know is going to be expected of me, and is expected of everybody watching this who is going to be leading things and is going to be responsible for making big decisions, choosing team members, etcetera. And following intuition, and listening to what you just give feelings about." – Naima Singletary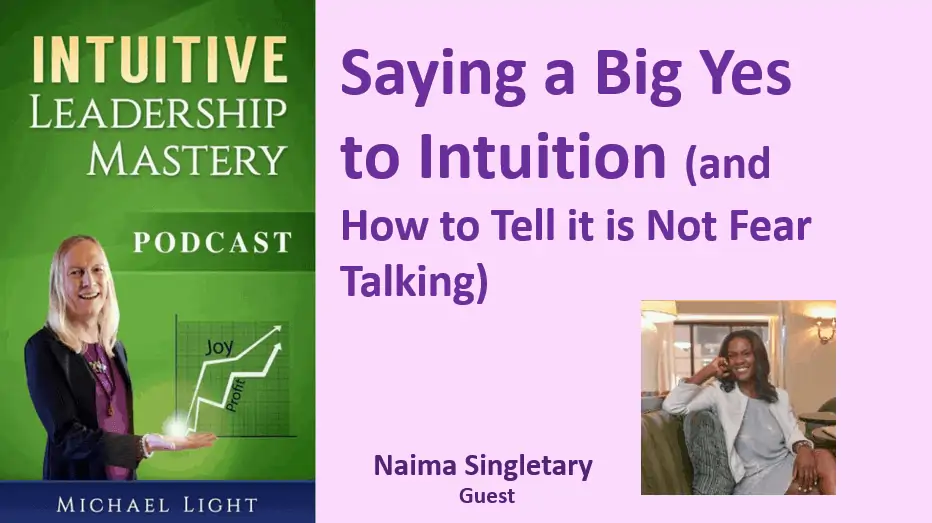 Here are some of the topics discussed in the podcast:
How to say to intuition when it is telling you a big action to take?

Be my big self vs playing small

Big goals → big intuitive suggestions

How it led to a 6-figure client

Breaking family bloodline patterns around money

Overcoming feelings of betrayal

How her mother went batshit crazy over her blog

Family of choice

Stepping into your big leadership

How to tell the difference between my intuition and fear?

Fear = tension, tightness, constriction

Worries, doubt,

Listen to me, shrill voice

FOMO

Intuition = feels right, openness, expansion

A deep knowing

A quiet voice, ok if

Fear voices from media

No TV challenge

Car = mobil university (podcasts and audio

Why opening yourself sexually opens you to receiving money

Discomfort creating large amounts of money

Receiving and attention

Softening and inner power

Receiving and Asking

New clients and boundaries
If you want to double your profits and half your stress, check out the Biz Intuition Profit Doubler. It is a free course for you to use intuition in your business.
Mentioned in this episode
Podcast: Play in new window | Download (Duration: 29:32 — 27.0MB) | Embed
Subscribe: RSS
Bio
Naima is a multiple 6-figure Wealth & Freedom Mentor who went from $7 to her name to a multiple 6-figure coaching business online in under three years.
Countless entrepreneurs around the world have said that Naima helped them transform their relationship with money, and many of her private clients now experience consistent 5-figure months, and live the life of their dreams.
Naima is spearheading the 2020 opening of a world-class Chateau where women and men will learn to become their own centers of gravity so they can have, do, and be whatever they truly desire.
Naima continues to coach and speak to groups globally about freedom and power through the acquisition of money and surrendering to deep sex.
She's leading an event for men and women entrepreneurs called More Than Enough Money Sept 28th in London for mission-driven entrepreneurs looking to step into bigger money, global influence, and deep personal power in their business.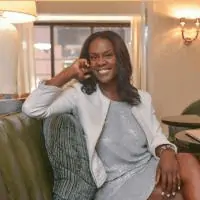 Interview Transcript:
Michael:          Welcome back to the show. I'm here with Naima Singletary, and we're going to be talking about how she said a big yes to intuition, and how she was able to tell it was not fear talking to her. So, we'll look at how you can say yes to your intuition when it's making a very big ask of you. And also, look at how she tells the difference between her intuition, and fear. And just in case you don't know Naima, she is a wealth and freedom mentor, helps people get six figures and above, and she is organizing a mega event called 'More Than Enough Money' in London real soon for mission driven entrepreneurs. So, welcome Naima.
Naima:            Thank you so much for having me Michael. Hello everyone!
Michael:          Yeah, so what I mean you know sometimes, we hear small requests from our intuitions, or small suggestions. But like sometimes, it's like a really big one.
Naima:            yeah
Michael:          So, how do you deal with that when your intuition is telling you to do something and maybe your ego is like, I don't know if we can do that?