You can listen to the podcast and read the show notes here.
In this episode, I spoke with Anna Wickham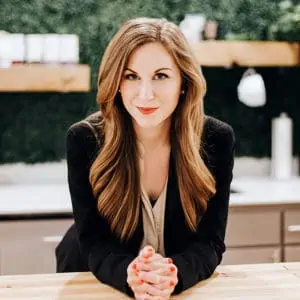 Michael Light: Hi, welcome back to the show, I'm here with Anna Wickham who is a content marketing expert but who had an incredible experience in the last year, and she went from not using her intuition at all and probably wondering why people even had intuition in their businesses to now she uses it all the time. So, very interesting story and she's going to reveal some rock bottom moments that she's had in her business and life that led her to this change, and also she has some very interesting insight about how not to cover up pain that you have in your business or life and how to also have consciousness about all this stuff.
So, welcome Anna.
Anna Wickham: Thank you Michael, I'm so excited to be here.
Michael Light: So, I am excited too, and I know now you used to do other people's content marketing but now you actually teach other business owners how to market online and how to be an influencer, so quite an amazing transformation there as well.
Anna Wickham: Yes, that's a big part of the story I hopefully get to tell today for sure, because that was part of a transformation.
Michael Light: So, when I first met you it was probably about three years ago at the DCBKK conference in Bangkok, and I know we had a conversation with a group of other entrepreneurs about mindfulness, consciousness, intuition, but tell us how you felt about that conversation at the time.
Anna Wickham: You know, Michael, it's funny, because I don't even know, looking back, why I was there. Why I was at … Why did I go to that meetup? I think it was because I wanted to go to a meetup during that time-slot. Like, lunch I think, and it was poolside and I thought, well this will be a good place to meet people and I have this time-slot available, that must have been the only reason I was there because that meetup was a small gathering of some very intuitive minded entrepreneurs including you, Michael, and a few other several coaches and non-coaches. I don't think I knew what intuitive meant. It was one of my first business conferences ever, so looking back I feel that that was maybe intentional by the universe to bring it all full circle, but that's where I met you, Michael, and everyone was talking about intuition and mindfulness in business and it, I had no idea what you all were talking about, I was just there to meet people, I think.
Michael Light: Well, you certainly met some people. So you didn't use intuition in your business at all and you weren't in touch with your spirituality in any way, is that where you were?
Anna Wickham: Yes, I was all 100% logic, I thought I was so superior, I was applying only logic, never feelings, data, or at least that's the way I thought I was doing what I felt was best but I was ignoring my intuition, I did not know how to follow it or to even hear it, and I would follow what I thought would work. I'd often look at what other people were doing. I was just starting out, of course, and so, I think just starting out you specifically for beginning entrepreneurs, you are not tending to listen to your intuition because you feel that everybody knows better than you, when really your intuition will always guide you.
Michael Light: So how did using your logic and not listening to your intuition at all, how did that work out for your business? Did it make you successful? Did it make you happy?
Anna Wickham: I definitely did okay with my business for the first couple of years without using any of my intuition. Who knows how much I missed out on during that time, you know, not using my intuition, not knowing how to follow that, but I was constantly working very very hard, I felt that I was going, it was like swimming upstream, but everyone told me that owning a business was really difficult and I had never done it before so I just assumed that oh, well, the reason this is hard, the reason I feel like I'm constantly swimming up stream, constantly working so hard, is because that just must be what it's like to have a business. Everyone says it's hard and this must be what they're talking about.
Little did I know it was not supposed to be that hard, and I definitely got to the point of burnout. When things wouldn't work, I would just try to work harder, when really that was the universe's way of saying "I have a better plan for you. I have, there's something better for you that you're better suited for and that's how you're going to change the world." But I didn't want to do it that way, I wanted to do it my way, and all with the best intention, I mean, all with the best … I thought I was doing the best that, I was doing the best that I could, I thought I was doing the right thing but it all kind of came crashing down over the last year or so and I'm very glad it did because it was only through all of that crashing down that I was able to rebuild and rebuild something that I know I'm meant to build and something that I know is going to change peoples' lives.
Michael Light: So, you know, it's almost like you were driving a car with a GPS in it telling you "Turn left, Anna. Turn left." But you'd worked out a logical plan and you were copying what the other drivers were doing and you were just piling in to a terrible traffic jam and struggling and instead of turning down the rock music you had playing to keep you distracted so you didn't have to hear that inner voice GPS, you just kept on driving harder and getting burned out.
Anna Wickham: Such a perfect metaphor, that's exactly right. My GPS was telling me which way to go but I wasn't, I had my own plan and I didn't think that my intuition knew what it was talking about, I didn't think I knew what I was talking about and I was going to do it my way and so that's what happened and it ended up being, like I said, just feel like you're driving in a traffic jam or swimming upstream, however you want to call it, when really, you know … Having a business is a challenge, but it's not, it's not so hard, it's not as hard as I was making it, and I was, to the point of physical exhaustion most of the time and I just thought that was what was required but little did I know that we're not meant to do that to ourselves, it's not, if it's that hard you're probably not where you're supposed to be.
Michael Light: So, that was the before you started listening to your intuition and your business, what's the after like? Just to compare.
Anna Wickham: Oh, well, my life is so much more peaceful and more balanced now, for one, so just talking about, not even talking about business success but talking about my own life experience it's just so much better day to day. I have things that I never knew I could have, and business-wise it's just so much easier, so much more peaceful, so much less work, I accept the gifts that are in my life even if they were unexpected. For example, if I get some unexpected advice or an unexpected advice or an unexpected mentor, in the past I would've just thought of that as a distraction from my plan. But now I see that as the universe bringing resources into my life that is going to save me time and take me down the right path, so it's night and day, and when you're doing the work that is in your zone of genius, you're doing the work that you're meant to do, then it just happens very naturally.
Michael Light: So, do you find that you make more success in your business now? Are you happier, or both?
Anna Wickham: Absolutely both. My work is not only more profitable, but more fulfilling. Absolutely more fulfilling for me, and it's more … Before, I didn't believe in, I wasn't in to personal development, I wasn't in to intuition, so I wasn't there to change lives. I was there to make money and that was my primary goal because I thought that's what business was about and of course, as we know, business is about making money but the abundance will naturally come when you're living in your purpose, when you're following your intuition and now I've found that my purpose in life is so much greater than making a business profit. That's part of it, too, but I'm much happier, my business is more successful, I'm working less and making more, working less, and having more time for myself and happier. So all around, I'm just very grateful that I got to this place from where I was.
Michael Light: And it sounds like you're healthier as well.
Anna Wickham: Yes. I was constantly, before, cutting corners with myself in order to give more time to the business but it was never enough. So I would constantly say, oh, well I don't have time to go to the gym this week or I don't have time to, I'll just grab a quick meal out, some fast food or something, I don't have time, I'm just so busy, but now, I'm … Gym time, my yoga time, my meditation practice, my health, is non-negotiable. And somehow that multiplies my time and I always have more than enough time to get everything done for the business that I need to get done and then have some left over.
Michael Light: So although you got some burnout and you had some sickness occur, you managed to avoid a complete burnout or a heart attack or something that, you know, many of these things happen to entrepreneurs after they've been burning the candle at both ends and struggling away for a long time, so that's great that you avoided a serious health challenge.
Anna Wickham: Yes, you could say that, although I did experience quite a bit of, you know, anxiety as I was going through my … The process of growth, there was a lot of pain involved in confronting all the things that I hadn't confronted, so no, besides, you know, getting sick and burning myself out from never sleeping because I was working so much and not taking care of myself, there were consequences, but yeah I feel very fortunate.
Michael Light: So, you mentioned that you had at least two rock bottom moments, or two you're going to share with us. One of them, you involved alcohol. Can you tell us about that rock bottom moment?
Anna Wickham: Yes, I wrote a blog post about this and we can link to it so others can find it and read the whole story but I was living the digital nomad life. I'm not really nomadic very much anymore, but at the time I was living in Saigon, Vietnam, which is a great party scene and I was working and partying. Those are … And sleeping, when I was too exhausted to do either one, so those were basically the three things I was doing. If I wasn't working, I was partying. And I was drinking increasing, a lot, drinking increasingly and partying a lot and one night, it was a Sunday night, I went out, actually I went out on Sunday afternoon, like 4 PM, and then I didn't come home until 5 AM on Monday morning and I couldn't believe it. It was on Sunday night, I woke up on Monday morning and I couldn't work all day Monday.
My team was chatting with me, they were working away on the business but I was too hungover, and I was so, so, so ashamed. I don't know that I've ever felt shame like I did that day, and I realize that I really needed to make a serious change because my life wasn't looking the way that I wanted it to look and I didn't decide I was an alcoholic, I didn't decide that I needed to quit drinking forever and ever and never have another drop, but I did decide that I needed to quit drinking for the time being until I figured out how I could live a more balanced life.
I wanted to feel that I was in control, at the time I felt the alcohol was really in control. And it was.
Michael Light: And this wasn't like, an isolated occurrence I'm guessing? I mean, maybe that was the rock bottom part, but you'd had more to drink than maybe was wise and had hangovers that affected your health and energy and maybe affected your work before?
Anna Wickham: Yes, for sure, I managed to not … I was working so much on weekdays that I didn't even have time to drink. I mostly confined it to the weekends, but I was becoming more and more passionate about my work and about entrepreneurship and I wanted to explore side projects and read business books and personal development books on the weekends, and I would try, or go to yoga, even or just go for a run. There were just so many things I wanted to do with my free time and I realized that even if I went out Friday night, I'd say, oh, I'll just go, I'll read, I'll do running on Saturday. As long as there was alcohol involved, nothing, nothing else got done.
Michael Light: So, you decided to just stop drinking for the moment. How long did that last, that not drinking phase?
Anna Wickham: I'm still not drinking. It's been, that was, the day I decided to quit drinking was December, I think, eighth or ninth, 2015, wait, sorry. Anyway, a year and … thirteen months ago. What year is this? '17. So it would've been '15, 2015, and so, the very end of 2015, so I haven't had a drink since then and I don't have any intention of starting to drink again although I don't know if it will last my whole life or not, that's really not important, I think that false dichotomy of "Are you an alcoholic? Are you not an alcoholic? Are you going to quit drinking for the rest of your life? Or are you not?" You don't have to choose those things, you don't have to go so far, you know, for me, it was just right now it's not serving me, I don't see it serving me any time in my near future and I'll figure out the rest of my life later. Right now, I'm happy.
Michael Light: So, after you stopped drinking did everything become happy and successful the next day or how did things unroll?
Anna Wickham: Well, it was certainly an improvement. I had lots of time to read all the things I wanted to do, read, go to yoga, run, start side projects, writing. That was great, but it wasn't what I expected and I quickly filled that void with work because I wasn't aware that I was using alcohol to fill a void, I was using more the traditional, like I said, the dichotomy, the traditional view of oh, so, you're obviously someone who can't drink alcohol, the problem is with alcohol, the problem was not with alcohol and that's what I wish more people understood.
The problem was using something, and my choice was alcohol, to not experience feelings that I didn't want to experience and so because I didn't realize what was going on I quickly filled that void that alcohol was filing, so the alcohol was gone, so quickly filled that with work. And so, over the next few months I was working a lot. You know, I made sure that I had tons of work on my plate, lots of projects and deadlines that I needed to meet, lots of speaking, lots of presentation preparations, just give myself lots of stuff so the work never ran out. And I'd work until 10 or 11 o'clock at night, sleep five, six hours and then do it all again the next day, all in the name of "oh, well, I'm super busy and I have a lot of things going on." But what was really going on was that there were some things I didn't want to face and now I didn't have alcohol to numb those things.
Michael Light: So, could, would you be okay sharing some of the things you didn't want to face?
Anna Wickham: Yeah, sure. I guess I always thought that there was something, and this is a very common human experience, of an innate flaw. And yeah, I felt a deep shame about who I was and there was something, there were things wrong with me that were innate flaws, and I'm so grateful that I had all this experience because now I know that not only do I have no innate flaws but no one does, and so it's a huge mindset shift and it's definitely helped me encourage what I do now as I lead and inspire and coach business owners and many people might feel [inaudible 00:18:04] about themselves or they're business, oh, this is flawed, I must just not know what I'm doing, I must just not, there's something wrong with me, there's not anything wrong with any of us. And that's what I learned, and that's what I was trying to block the shame of.
Michael Light: So you had great feelings of pain around feeling that you weren't good enough and you'd been covering it up with alcohol and then you covered it up with work and then you finally got to the realization that you didn't need to cover this up because it wasn't true.
Anna Wickham: Yes, eventually. But it took me a long time to get there. First I had to confront the pain because it was interfering with, of course, it was interfering with my life with alcohol but I finally came to the point … Some stuff was going on with my agency, I had a content marketing agency at the time, so this was about six months later, so it was December 2015 I quit drinking. All through the winter and spring of 2016 I was just work work work all the time and then, around the summer, some abrupt stuff happened with work. I basically realized that my agency was not going anyway, I would get more clients, but then I'd have more expenses. Get more clients, more expenses. It was a never-ending circle, and I realize that it wasn't going to work for me.
And so I just laid on the floor, I've told this story a few times now, I just laid on my living room floor and, because I didn't have anything to work on at that point, I had realized that what I was working on wasn't going to work so I needed to think of something else and it was at that time when I, I wasn't drinking, I wasn't working, and so I was just laying there trying to figure out what I was going to do and that was the point at which I couldn't ignore the pain any longer and so I started, I kind of, it was my second low point that you were talking about, so the first rock bottom moment was having to confront, okay, drinking is something that is interfering with my life and I have to make a decision to salvage my life here or this is just going to get worse and the second rock bottom was realizing, okay, there's something I'm missing here because nothing in my life is working, clearly there's some deep pain and I need to find a healthy way to deal with it because the only other way I know how to deal with it is to bury myself in work and drink a lot of alcohol and I didn't want to do those things, so I thought …
So that's when I started searching for … I said there must be a healthy way to handle this, and so I started reading every book I could get my hands on. I got a therapist, I got a life coach, and through those different modes I started being very intentional and serious about my meditation practice and over time that's when I started dealing with the pain and realizing that it was … That the flaw was all an illusion, and it is for all of us.
Michael Light: So, those are great things for other entrepreneurs to realize, that we can ask for help whether it's through coaching or friends or a mastermind, something where people are going to help us, and then the other key thing that I heard that you did was that you created time and space in your life to be able to, you know, hear what was going on and experience and move through the pain to the other side.
Anna Wickham: Yes. I prioritized my support through my coach and my therapist and my meditation and I made the time for enough sleep for the first time. Yeah, I took care of myself and I had to make space in my life, in fact, it took several months of, I wasn't working that much at all. Fortunately, I had built my business through systems in such a way that my, I didn't have to stay so busy working ten hours a day with work, I was able to carve out time to heal myself and it was a big time commitment, Michael. I mean, it wasn't, for several months it was my primary, it's still my primary focus and always will be but I mean, when when you haven't done any healing in your entire life there is a lot of stuff to heal and when you haven't done any personal development, any intuitive work, there's a lot of stuff to go through. And for several months, work was kind of on the back burner because I knew that in order to remain an entrepreneur and in order to be happy that I needed to take this healing time and I'm so glad I did.
Michael Light: So, were there any books you found particularly useful in this healing time?
Anna Wickham: Oh, so many. Absolutely. So I didn't read that many books about alcohol, I didn't find it that difficult to quit alcohol actually. So I didn't read a lot of books specifically for, and I think deep down I didn't feel that I had that kind of problem with alcohol. You know what I mean?
And then, so yeah, I read Louise Hay You Can Heal Your Life was phenomenal and life-changing for me. Recently I read The Big Leap and that was incredible in uncovering that, the innate flaw scenario he talks a lot about that I'd highly recommend The Big Leap, that's Gay Hendricks is the author there. Incredible book on spirituality for those just exploring it. Michael Singer's The Untethered Soul, is that what it's called?
Michael Light: Yeah. That's it.
Anna Wickham: The Untethered Soul. Yeah, several more that I can't probably think of off the top of my head, but … Oh, and then I read a lot of Brittany Brown. She writes about vulnerability and shame, which goes down to that deep shame, that deep pain, I read so many books in the last six or eight months, I mean, I just could not get enough of it.
Michael Light: And how did you decide which books were going to work for you?
Anna Wickham: Intuition, really. I would just go with whatever was really speaking to me and one book opens to the door and opens your mind and teaches you something, and then you know something you didn't know before. Then you pursue those things. For example, self-sabotage. I didn't know self-sabotage existed and I would read one book and it would introduce me to that concept and then I would know "Oh, that's great, I want to read more about that." So I would just follow a rabbit trail, I'm still following a rabbit trail of books. I'd read one author and they'd recommend someone else, and I'd read that one, and I'll never run out in my whole life, I'm sure.
Michael Light: So, you worked through your alcohol, you worked through your workaholicism or whatever the phrase is, using work to cover up pain. Are there other things that other entrepreneurs might be addicted to but not realize it, that they use to cover up their pain?
Anna Wickham: Oh, absolutely. Anything can be used and it just depends on your personality and your, the things you prefer. For me, alcohol was great, I liked everything about it. A lot of people, yeah, so food is one that I think is used a lot in the US because it's socially acceptable and it's abundant. What other things, a lot of, some people say that using your phone, being on your phone, being on social media, mindlessly on our phones all the time is one of the most common ways to avoid feeling anything, so I'm conscious of my phone use and my computer use, reading the news mindlessly, reading stocks, trading stocks, reading stock news, whatever it is, everyone has a different way. Video games. Sleep. A lot of people just, when they feel things they don't want to feel, they just go to sleep.
That is not something I could do, it's not my disposition, but I've heard it a lot. So it's not an … Michael, you said this when we were chatting before and it's so true, it's not, there's nothing wrong innately, and I said this in my blog post as well, there's nothing wrong innately with eating. Of course. There's nothing wrong, I don't believe, innately, with drinking alcohol. I don't believe there's anything innately wrong with video games or being on our phones. You have to ask yourself your motive, and what is it that causes you to pick up your phone, what is it that causes you to pick up a drink? What is it that causes you to take mid-day naps? Nothing wrong with that. It's all about your motivation.
Michael Light: So how do you figure out what your motivation is before you reach for that beer or reach for that video game or turn on the TV to some mindless programming just to take the pain away?
Anna Wickham: Yeah, the key is mindfulness and consciousness. You know as you I'm sure well know, it's … And the key for mindfulness, for me at least, is the whole aspect of non-judgemental observation and took often we are so hard, and actually this was a huge part of my own recovery, I was so hard on myself and expected myself to be perfect that I was unable to consciously witness when I was doing something that I didn't approve of. And so it took a lot of work in the area of self-compassion for me to be able to observe things about myself that I wanted to change or that I noticed, for example, you know, I see you're picking up your phone right now, is there something that you're not dealing with that you know you need to deal with? And you can't have that conversation with yourself if you're too hard on yourself. If you're too judgemental with yourself. You will just choose not to see it.
And so the first step is to admit that we all have things we need to work on, none of us is perfect, it's okay. And only when you experience that self-love and compassion can you honestly come to yourself and say, oh look, you're picking up that drink or you're picking up that serving of food when you know you're already full. So, you can't say that, you can't be mean to yourself in that moment, then you'll feel that rush of shame and you'll avoid it in the future. You have to come to yourself with compassion.
Michael Light: I think that's very wise advice and I'm imagining we have some listeners who are thinking, yeah, that works for Anna, but how can I be more self-loving or self-compassionate?
Anna Wickham: Oh, I'm so glad you asked that Michael because I am the post … I did not know what compassion was. Of course, if you're not compassionate with yourself you're just as hard on others and vice versa. And I was very, probably difficult to work with. I had no self-compassion. I am the poster child of before and after, so if anyone knows what it's like, I … I didn't know you were supposed to love yourself. Remember, I wasn't sleeping, I wasn't taking care of myself, I didn't know you were supposed to do that. And so, it's so key for all of us and I had to deliberately cultivate it, it was not easy or natural for me. Not at all. I read a book. Kristin Neff, that's another one you can include. Hopefully we can write all these books in the show notes here.
Michael Light: Yes, we will add them in.
Anna Wickham: Kristin Neff wrote a book called Self-Compassion.
Awesome.
Yeah, there's a whole book about self-compassion and I highly recommend it, by Kristin Neff, and she has meditations, self-compassion meditations, that I use all the time, so, no, it did not come naturally to me. Not only that, I didn't even know it existed, so I understand completely, feeling that self-compassion is contrary to how you naturally are but take it from me it can be cultivated from nothing. Because I did it.
Michael Light: And do you think self-compassion is not just important in your life but is actually a key to having a successful and happy business?
Anna Wickham: Oh, absolutely. Anyone who's harsh on others is just as harsh or harsher on themselves, so as harsh as I was on myself I was also harsh on others. I was, I expected perfection from myself and therefore I expected perfection from others. That included my team, my clients, and it probably deterred, probably meant missing out on business opportunities because I expected perfection of other people, because if you believe … If you can't see your flaws because you can't stand to look at them, then you will think you're perfect and therefore you will expect other people to be perfect and so absolutely, being kinder to myself and more compassionate with myself has allowed me to be more compassionate with everyone in my life and it has made my business thrive more and my personal relationships thrive more as well. It's been the key to opening a huge door to abundance and contentment.
Michael Light: Well, I think that would be a great takeaway from this episode, you know, look at self-compassion, look at mindfulness. Are there any other things you think are important in developing your intuitive abilities in your business?
Anna Wickham: I know there's so much more, I just, you know … Michael I just started doing this in let's say July, June July, of 2016 so not even a year have I been steeped in this kind of work and mindfulness and everything so it's still so new to me and I know there's so much more to go. But just follow your own intuition as you journey through your healing and your spiritual journey because it will take you to the next level every time. I think that's a great start for anyone who's just getting started or even those who do already have a spiritual journey and a spiritual practice. So, those are my main takeaways for sure, is to just love yourself and take care of yourself and be kind to yourself and everything else kind of falls into place.
Michael Light: And I think that's a great piece of advice, it would be kind of useful advice if you could, if we could record that and send it to your younger self and have her listen to it, maybe she would've avoided some of this pain, but maybe some of the people listening can avoid some of the depths of pain that you went to by trying out some of these things.
Anna Wickham: I absolutely hope so. You know, if anyone's listening and they feel like they relate to, particularly, covering up pain in any way whether it be with alcohol or food or work or your phone or any of the number of ways, there's a moment of fear in-
Michael Light: There's a myriad of ways people cover up, and as you said earlier, it's not what you're doing it's why you're doing it. Are you watching TV or having that drink to cover up some pain or to avoid something you don't want to feel? I mean, people are addicted even to exercise, you know, they turn into workout addicts, or they're addicted to sex, or they're addicted to drama in relationships, or drama in daytime TV, you know.
Anna Wickham: Yes! Yes.
Michael Light: Or reading books addictively. I mean, generally readings books is fairly, is pretty healthy, but sometimes people do it to avoid feeling. They go in to the romance novel or the murder-mystery or whatever because it avoids having to think about their own stuff.
Anna Wickham: Yes, yes, exactly. It's all about just looking at your motivation and if you see something or this interview has made you think, oh, there might be something in my life, just know that it's extremely normal, we all do it in whatever way is unique to our personality and no pain, no shame, no experience is too great that it can't be healed. You might think, oh, well, you don't understand what's been in my life. Nothing is too great. None of us is perfect and so it's safe to feel those feelings and begin the healing process.
Michael Light: And I think, you know, one of the things here is, when I don't feel an emotional feeling it tends to just become worse under the scenes and kind of pop up in other ways. At least, that's my experience. And if I just sit down, even for five minutes, and feel the emotion, often it will just transform all by itself, just by deeply experiencing it. I mean, they're called emotions for a reason, because they're energy in motion, and if we let them move, just move on through, we get the whatever message we need to get from them, and then we don't have to feel them. Whereas if we try to numb them out or ignore them, they just kind of build up and get worse and worse.
Anna Wickham: Yeah, we think that if we ignore them enough they'll go away and we also think that we can't handle the pain or the emotion. If we were to really sit down and feel it, we're afraid and our ego is afraid that we'll be destroyed and it doesn't matter how big that pain is or the shame or whatever emotion it is, even grief, you know, horrible things like grief, from the death of a loved one or something very extreme like that, nothing is so great that it will destroy you. We are so resilient and strong and none of us is flawed in such a way … None of us is flawed, at all. So, it's safe to feel those things, you know, we don't have to be afraid.
Michael Light: I mean, that reminds me of that Mary Ann Williamson quote, that our deepest fear is not that we're inadequate, our deepest fear is that we're powerful beyond measure and it's our light and not our darkness that most frightens us, and perhaps, turning to alcohol or work or food or whatever is because we're afraid of how powerful and how light we are. And don't want to find out that we could just heal whatever this pain is in ourselves in minutes. If we chose to.
Anna Wickham: That is such a central quote in my life and one of the things that has come up so I could not agree more. We all have a purpose on this Earth, we all lives we're meant to change and an impact we're meant to make and yeah, that is a scary powerful feeling and often we choose to preoccupy ourselves with things that can be healed in order to avoid that. But I believe that we're all just so full of potential so I, yeah, thank you for bringing that quote up.
Michael Light: The other thing I'm curious about, you know, every person accesses their intuition in a different way, some people hear it, some people know it, some people see it, you know, some people get messages in their dreams. I'm kind of curious what ways you access your intuition?
Anna Wickham: Oh, good question. Well, this is a new thing for me, I feel sort of like a toddler in accessing my intuition so I'm still learning, but one thing that's been helpful for me is to hear out those ideas and thoughts that I would've written off before. So any of those things that you come up with and you think "Oh, that would be really cool." Whether it be in your business or your life, and then you have the ego come in and say "That will never work, surely so many people have already done that." In the case of like, a business idea. Or, "Oh, that's going to be way too difficult. What makes you think you can pull that off?" And so just, my advice would be to hear those ideas you would normally write off but instead just like, write them down really quickly and take a few moments to consider them and think well, what if this did work, let's pretend like this is going to work. Then, what would happen in that case.
So I'm trying to think of another example of how I feel that I access my intuition. It's also just a thing I feel like I'm supposed to do, regardless of whether or not I want to do it, so for example a coach I'm working with right now, I, when I was compelled to call her and set up a discovery call with her and I did not have any intention of hiring a coach, I did not want to do it and then I had a call with her and I felt as if I did not have a choice but to hire her. I didn't want to do it, I was like, I can think of so many things in my business I could do with that monthly revenue, and then I thought, you know what, I don't have a choice.
So that has helped, some times my intuition is very strong like that. But I'm curious to know, Michael, how it, how that is with you? How do you access your intuition?
Michael Light: So, I get thoughts in my head, you know, I hear words in my head. Thoughts come to me. If I ask, I mean, the question I often use is "What would it take to solve a certain business problem?" You know, "What would it take to add an extra thousand dollars a week in income to my business with ease and joy?" Would be an example of that. And then, thoughts just pop into my head. Right now, they pop in pretty immediately but when I first started this journey, maybe it would take half a day and then something would come to me and I'd have to ask the question repeatedly. And I also do get messages in dreams, I get intuitive messages from animals, you know, some times an animal, like the other … The other day I saw like, eight butterflies in a row and usually I might see you know, one butterfly every few days but this was like, you know, a bunch of London buses turning up all at once. One of the meanings of butterfly is transformation, so that was one of the messages I got from that.
And I mean, I will ask guides and angels to help out on a particular business issue. You know and I'll get informational help from them. Some times intuition shows up as the right person turning up in my life, you know, maybe I'm asking for help, "What would it take to hire the ideal person for a particular role?" And then, you know, someone comes into my life who introduces me to the perfect person. So there are many different ways that intuition can come in, sometimes it's a body feeling. Sometimes, there's, I'll get a pain in a certain part of my body or a funny feeling in a part of my body and then I'll talk to that body part and say "Hey, you trying to tell me something?" And often they have some message for me.
You can get messages from different parts of your business. If there's part of your business that seems to be kind of wanting attention, then that might be a way to get information. I mean, I could look down a list of, if I made a list of all my parts of my business or all the people involved in it, all the clients or all the staff or all the vendors, I could see of them on that list on the computer screen, do any of them kind of stand out that there's something I'm supposed to be doing there. I could look at a list of prospects, does one of them stand out? Yeah, I'm supposed to be talking to them this week. So, lots of ways, and I think the key is, you know, the thing you said earlier about personal growth and running a business is don't be hard on yourself, don't be self-judgemental, don't be a perfectionist and that applies to hearing intuitive messages.
You know, don't try and make your intuition perfect, you know, give it space, give it compassion, it may not have, you know, it may have been trying to tell you things for many years and you haven't listened so it may take a little while for it to get its voice back. You know it's almost like our intuition is like a little child talking to us, though it's a very wise little child, and for the last 20 years you've been pouring alcohol on it, or covering it up with work or closing your ears like one of those monkeys in the "Hear no evil, See no evil, Speak no evil" and you've been kind of covering it up and throwing it in the basement of your life so you don't have to listen to it. It may take a little while for it to be able to, you know, say things to you in a way you can hear. Or give you the knowing in your head or whatever it is. And it may take you a little while, having tuned out those messages, it may take you a while to be able to hear them.
Anna Wickham: Yes. I think that's absolutely right. That's why I'm, yeah, I feel that I'm training myself to listen to my intuition after so long of ignoring it and I'm sure my intuition, too, is also working that out. So, yeah, thank you for sharing those ways that your intuition has spoken to you, I think that's a great idea to put out maybe all the areas of your business or your prospects or a list of suppliers anything in order to see who or what might need your attention the most. I think that's a great idea.
Michael Light: Yeah. And you can always ask yourself you know, what would it take to double my intuition this week? And then see what intuitive ideas … Ask your intuition itself what can you do to improve your business intuition, and then see what ideas come to you because I and Anna can give ideas to our listeners and at the end of the day it's your individual intuition and you may have your own ways that work for you, so ask yourself, "What would it take to double my intuition this week?" And then you may have to ask that question several times and just see what comes to you.
Anna Wickham: Yeah, I think I'm going to do that myself this week, Michael. Thanks for the advice, I will ask my intuition "What would it take to double my intuition?" This week because I think that's so, so essential.
Michael Light: Great! Well, it's been wonderful talking with you Anna. If people want to find you, you're AnnaWickham.com and we will put that in the show notes. Is there anything else you want to share before we go?
Anna Wickham: Just really quick, I also founded a membership community for business owners who want to learn how to market their business online and this was the intuitive idea that came to me and it was absolutely the center of my purpose and where I'm supposed to be and if anyone's interested in checking that out you can find that at Influence-School.com, Influence School, Influence-School.com.
Michael Light: Well, we'll put that in the show notes too and may you have a wonderfully intuitive, happy and profitable week in your business.
Anna Wickham: Thank you Michael, thanks so much for having me.