You can listen to the podcast and read the show notes here.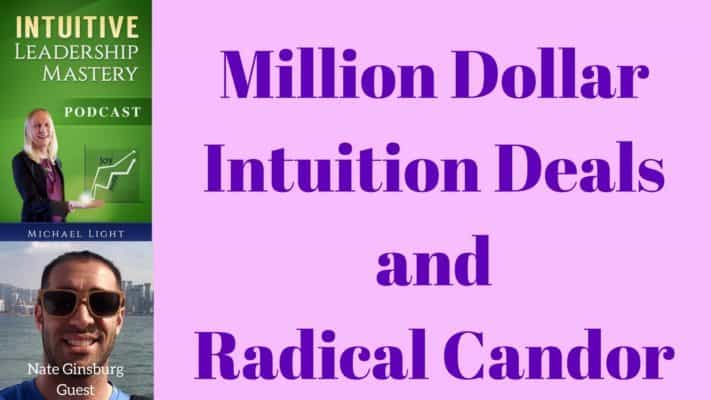 Michael:          Welcome back to the show. We're going to be talking about a million dollar intuition deal with Nate Ginsburg and we'll be looking at how his intuition helped him from quitting his first business five years ago and also why now he absolutely has to follow his intuition no matter what. And how he deals with the doubt that still comes up when he gets these intuitive messages. And we'll look at how his intuition helped with selling one of his businesses and how he uses radical Kanda. And we'll explain what that is in the episode. When he was having to do some stuff cut backs and also dealing with under-performing team members other tough situations in his business. And if we have time, we'll talk about transparency and how applies businesses and how he homes his business intuition. So welcome Nate.
Nate:               Thank you Michael.
Michael:          So you were in your first business five years ago, and you were thinking of quitting. But your intuition said, "No, don't do it, keep going." Tell us about that.
Nate:               Yeah, so it was about five years ago exactly now. And yeah, this is my first business, my first real full-fledged jump into entrepreneurship. And at this point, it wasn't going so great. I basically had to spend all my money. I was living in Chicago at the time savings you know, spent. And I was faced with some tough decisions namely; do I look for a job, do I get a job, or do I keep on pursuing my business dreams? And at this time, I tried to get advice from as anyone that I could to help you know guide me towards what decision to make. And thankfully, I was able to chat with a lot of smart people and got some good advice.
And while that was useful and while it's great to be able to get ideas and bounce ideas from smart people. You know that this time, as I was working through this decision, the you know, really what became the most dominant player in what was going to dictate what I did was really this feeling inside that I knew that deep down I wanted, and needed to keep on pursuing this dream that I had. I didn't feel that I was done yet and not that getting a job would have been done yet.
But yeah, but I had this feeling and I knew and there came a point where I was talking to people, getting their advice. But after a certain point, I stronger than any of the words that I heard was the feeling inside telling me that yeah, like you can keep going, you've got more. So I listened to that voice and moved back home, cut my expenses to keep on working on the business. And once I did that honestly, that was kind of the bottom. And then once I made that move and followed what I knew I had to do was when things started to come together. And those that by following my intuition and listening to what I knew I had to do, that then lead me on this path that fast forward, and here I am today.
Michael:          Wow! So maybe your intuition knew what was coming.
Nate:               Yeah, I think so it seems in my life and a lot of the big decisions or the things that come up where I really need to dig deep to decide what to do. I've learned to truly listen to that voice inside, and that gut instinct. And this being one example of when I do that, and I listen to that voice. And when I take that first step out in that direction, it seems the universe just listens and responds, and then helps conspire to keep pushing me towards that direction that I knew to be true. And I know that has to be because it's what I know I have to do. And the universe is aware, and supports the following that. And so when I do that and take that first step, other things seem to fall into place.
Michael:          What's the recent example where that's happened for you? The universe helped made things happen that made you realize that yeah, your intuition was right.
Nate:               Well, with selling my business recently was the biggest business decision, events that has happened to me in my career. And it was you know, it wasn't an easy or straightforward as these things go. Mine was very much a… It was a negotiation. I was meeting with the potential buyer, and we were going back and forth trying to see if we could work something out. And during this process, I again was getting a lots of ideas and feedback and listening to other people's opinions on what they thought I should do. And so, were in these negotiations, were meeting, and having these meetings, and talking. And deep down, I knew that this was the right move in my business, for my career, at this time. It felt right.
But at first, I listened more to some of the voices and opinions that we're saying to hold out for more, you can get more you get more from this deal, don't take the first offer. And so, it's first that's what I did you know we were negotiating there was an offer on the table. And I thought it was a good deal. It's felt good, but I turned it away. And I remember like leaving that office, and the cab ride back to the hotel, and that night. I was literally a mess. I couldn't sleep, I couldn't think. I thought that I made the biggest, or was making the biggest mistake of my career. And it was eating me up inside. I felt I heard that voice telling me what I should do. But in this instance, I went against it, and it didn't feel good.
Thankfully, a couple days later, we resume talks. And then I was able to then presented with a situation to continue following that instinct, and accept the deal which I ended up doing. And doing that, accepting that like all those feelings, the doubt, the fear, or the… all that that like negative energy and feeling that I had when you know going against what I what. I knew I could and should do you know, vanished and fast forward. Now that's been the most positive and biggest event in my career. And I almost didn't follow the intuition, almost messed it all up. Thankfully, was able to come back and had a chance to do what I knew I should do, and that's it's worked out great.
Michael:          So if you had this to do over, and you were hearing that voice from your intuition and you had doubts, what would you sell your younger self?
Nate:               I would tell myself to be confident in following that voice. Because in my life all every time that I have felt that inner voice, or that inner poll, that gut instinct. Every time that I've felt that and followed it, it's worked out well. You know me recognizing that and taking that first step. Like I said the universe conspires to push me forward in that direction. And I literally can't think of a single time that I followed that instinct and it didn't work out well. I almost messed it up with that business deal. You know went against what I thought I should do. I went against that feeling. Thankfully, it was able to work itself out. And so yeah, I would tell myself to trust what I know or what I feel I should do and have confidence to move forward in that direction knowing that's what I should do, and that the universe and other circumstances will fall into place around that.
Michael:          And after you said yes to that particular deal, did the universe give you information that you've made a good decision?
Nate:               Well, once that… So selling that part of the business was like I said the biggest event at the time in my career. And what I want in my life and career is growth, and progress, and moving forward, more opportunities, better opportunities, better people. And selling that part of the business honestly and then it propelled me to another level, and another stage in my life and career. And since then, it's forced me in a lot of ways to consider some really important questions that are not easy to answer. But also I want growth and progress are very important stuff. Whaat do I value? What should I do? What am I best at? Where I want to go? Who do I want to be with? What's important to me?
And with my goal of progress and more opportunities and connecting with more people, better people. When I was able to take that step up by selling the part of the business, it then opened me up to these new opportunities that I'm now able to pursue now and could be more excited about. And so, that's knowing or feeling that right now, my life and career and business opportunities now versus when I was selling the business now that it is six months ago or five months ago is crazy. I feel like my… the opportunities in the direction of progress has no continues to level up. And that seems like a good indication that I made the right decision. It feels good now, and seems to be continuing to move in the direction that I want which is validating.
Michael:          So it sounds like you've got like an energy G.P.S. in your gut. You feel good or bad depending on if you're going towards or away where your intuition is pointing.
Nate:               Yeah, definitely and it's something that I've realized.
Michael:          So, you're in a G.P.S. How do you feel that is for you?
Nate:               Yeah, so I've learned to… You know really it's become so important and powerful to tune in and listen to that inner voice. And one thing that has really allowed me to do that more is the practice of yoga, and meditation. So I've been practicing yoga now for almost four years. And yoga is a way that it allows me to kind of center myself, and ground myself, and quiet my mind to allow space for that intuition to come through. I have a lot of ideas and there's a lot going on in my head which at times can be great and useful.
But for me, I've learned and realize that I need to be able to calm that down to make space for the gut feeling, for the instinct, for the intuition to come through. And that's why yoga, one of the reasons why yoga is so important to me. I practice yoga three, four, five, six times a week no matter what. Whether I'm in the Philippines, or Thailand, or America, or Hungary, or China. I always find yoga and it's a non-negotiable for me because I've learned that I need that to be able to quiet the inner chatter to make space for the intuition to come through. So that I'm able to hear it, and act on it.
Michael:          Well, I definitely support doing yoga, or something like that. Could be tightg some other exercise or meditation. And I do yoga every day. I've done that for about… well since 2003ish. So, quite a while. But I'm curious. Maybe people listening would like to do it, but they find trouble doing it because they're busy in their business, or maybe they travel. I mean how do you do it when you have a busy day?
Nate:               Yeah, so with yoga for me, it's… Honestly, on days that I want to practice yoga, it's a priority. So today for example, I had a few calls or meeting scheduled. And I also last night, I'm looking at the yoga schedules to see what… how I can fit yoga in with these other things. Do I go first thing in the morning, do I go lunch, do I go at night? And today, it so happened that the 12:30 to 1:30, that fit. I had 11:00 meeting. 12:30 to 1:30 yoga, 2:00 call, 3:00 call, 4:00 call.
And you know yoga fit right there in the middle and it's not a quick… This wasn't a question I… Today I was going to practice yoga. I had these other things going on, but I knew that was something I was going to do today. And so I found the class and found a schedule that would allow me to do that despite my other obligations, and it's always like that. Wherever I am even if I've got a busy day, I can… you can still find an hour, hour and a half to fit in yoga.
Michael:          And how do you think that adds to your business joy and profits in some way that you make this yoga a priority?
Nate:               I mean definitely yoga helps give me so much clarity with decisions as well as just my own head. I try to be mindful, I try to be present, and I work at being mindful and present. But yeah, I think like a lot of people I still… my mind runs away. I get anxious, I get worried. And it's through the practice of yoga or you know one of the things through practicing yoga. Like I said it allows me to you know calm my mind down, reset, recenter, recalibrate. And I've also noticed that a lot of times, it's once… Like in the middle of yoga practice which I know you're not supposed to be thinking.
But it's in the middle of practice when in the flow and feeling great and my mind is calm. Then all the sudden I have these spark of business insight. So it happens like often, I'll be in yoga, I'll be in a middle of practice, I'll get these ideas. And then after yoga, I'm like sending his voice messages to my team about oh, here's how we should do this, do this, do that. And so yeah, yoga helps not just… It makes me feel better, it makes my mind feel better, and it also it becomes like a catalyst by calming down. It allows space for the connections and the intuition to really come through. That has led to some great insight and great business moves and decisions.
Michael:          I always carry a note pad with me so I can write down the ideas that come to me when I'm doing yoga or dance, or whatever the activity is. Just like you, sometimes I get really amazing inspirations. And I don't see any problem myself with just jotting down a brief idea during the middle of a class. Because it gets out of my head and then I don't have to think, "Will I forget it?" But I'm curious when you're talking about your mind that has all these worries and anxieties when it gets a little carried away. It's almost like you're not your mind. Is that how you see things Nate?
Nate:               Yeah, I definitely and I would like to. It's not always not always easy to remember that. But an analogy that a friend was talking about to me that I really like is; our mind, our consciousness, our mind, our being it's like a microscope looking at a petri dish, and we get caught up. When we get caught up, we think that we're the petri dish that's being observed. But really, we're the microscope. And so all the worry, the anxiety, that's all in the petri dish. And in my better moments what I'm able to stay mindful of this. I remember that like these worries, that I'm not the petri dish. I'm the microscope; the observer, and it put some distance in there. And yeah, helps me to realize and understand whatever's going on in my head it's that's not me. And a lot of these worries, anxieties are totally unfounded. It's just… were just thoughts. And so, recognizing the space is powerful.
Michael:          I mean for me, sometimes those kind of anxious or worrysome thoughts aren't even my own thoughts. They're thoughts I borrowed from someone else. I don't know if that happens for you.
Nate:               Yeah, well one thing that I notice a lot in my more worried moments is this phenomenon or concept called the 'Upper Limit problem'. And this is something that consistently comes up for me. And the basic idea is that we are… We become accustomed through our evolution, and our family, and our upbringing, and everything to a certain level of happiness, and abundance and success, wealth, love. And when good things happen in our life to push us beyond that realm that we're comfortable with, beyond our upper limit, then it makes us feel uncomfortable and we're not… Our body and mind like fights back when we're pushing that upper limit.
There are symptoms of our body and our mind pushing back to try to bring us down into that level of comfort. And so for me, and if it manifests in different people, in different ways. And for me, my big one is worry and anxiety. Some people get angry, some people get sick. For me, I'll worry and I'll catch myself sometimes, or I try to catch myself when… One example, when I sold my business. The biggest bests event in my career. I should have been static, excited, happy. Only this was the most significant, positive events that I've ever you had in my business. And I remember that day, some my employees were kind of fighting a little bit about this.
I had some calls with them they're trying to wetter some issue. And I remember like through that day, I kind of had just like this like nagging, worry about my team, and my employees. And oh, and now this deal but oh what about now there's a transition and what do we have to do for this. And it was just running and running and running and I was worried. And it wasn't until later that day I was practicing yoga to kind of calm myself down, get centered. It wasn't until midway through the practice that it hit me that these worries like they're not… that's not the problem. They're a symptom. The problem is the upper limit problem. This amazing, positive event just happened to me.
And like I'm sitting here worrying about this. I'm up here. I should be up here. But like I'm worrying about stuff down here. And, so through yoga, getting more grounded, becoming more mindful, what I'm able to recognize that. And when you recognize that as your upper limit problem, the correct course of actions notice it, dismiss it, and contemplate the positive event or things that's now pushing you up past your limit. And when you do that, notice it. Notice the worry, or whatever the symptoms; notice it, dismiss it, contemplate the positive. It just… it like rushes over you. Is like a wave of positive energy and like warmth. And I was unable to experience that which again through yoga helping me to kind of calm down, take a step back; distanced me from some of those worry thoughts.
And yeah, this is a problem in problem it's something that I noticed it comes up. You know frequently when good things are happening and good things are happening and it's trying to push me up here. But sometimes I still feel being pulled down a little somebodies worry thoughts negative thoughts and yet it's a process and trying to continue to be more aware, more present, more mindful of these things so that you can notice them for what they are as opposed to feeling that they're a part of you.
Michael:          That totally makes sense, and I think everyone has an upper limit problem somewhere business, and that's why you see businesses plateau. They grow the sudden a point and then they get a certain size, and they have trouble growing beyond that. And part of that's just organizational. Maybe that they're missing some structural some key people they don't have on the team. But it's also something energetic that the founder just isn't ready to expand beyond that level. And I believe it's possible to directly change that energetically, and shift your thermostat your upper limit. It's like you've got a thermostat of how much money you're comfortable making, or how big a company you're comfortable having. You can go directly tweak with that thermostat energetically. So you don't have all the worry, or health challenges, or all crises that people sometimes have.
Nate:               Yeah, that reminds me a lot of the book that I was reading recently and came up a few times or a lot when I was recently in Bali. It's this book called 'Power vs Force' and it talks about how different emotional states have different like energy vibrations. And they did these scientific tests to test people at different emotional states at the bottom; at the top to bliss or mana and these different emotional states from negative to positive have different charges or vibrations and they test these things. And the point that the book makes is if you want some positive outcomes, instead of trying to force things this way or push them that way, really where the power comes from of raising your vibration to that higher energy state. And when you do that, it attracts naturally will attract other things that are at that positive level seems similar to what you were getting at.
Michael:          Yeah, that scale is called The Hawkins scale by the guy was one name for it. The guy who wrote the book – Mr. Hawkins. And definitely a powerful thing to be conscious of what… where you are on that scale. So what one reason it just lets you be aware if you having a bad day you know here's where I am on a scale here's what's going on. But also just so you can bump yourself up.
Nate:               Yeah, absolutely.
Michael:          What would it take to go to the next level up on the scale? Using whatever techniques you want to use to get there. Lots of ways to go on a scale. And I think the book 'Ask and it is Given' by Abraham Hicks has a similar kind of thing. They have like a list of 22 tools you can use to bump your vibration up of different levels. Meditation works any level, doesn't matter how depressed or suicidal you are.
Meditation is always one way to make that better. But other things like gratitude lifts so many work when you're at a certain level. If you're really depressed writing doesn't really bump up your vibration. But when you are at a kind of a higher level, it will get you to any higher vibration. So very interesting. So you've had some tough times where you have to make staff cut backs, or talk with members of staff who are under-performing. Tell us about how you use radical candor in your business.
Nate:               yes
Michael:          In those situations. And what exactly is radical candor for the people who have no idea what we're talking about here.
Nate:               So radical candor is my favorite. I think the most effective mode of communication. And so, if you think about a graph; x-axis, y-axis. On one axis is how much you care. And on the other axis is how direct you are. And so, radical candor is operating in that top right quadrant where you both care a lot, and are direct. And it's when we communicate in this in area. You care a lot and are direct that is going to be honest, and affective with what you're trying to communicate versus as an example, if you care a lot but you're not direct, that's called ruinous empathy. You can get it… get a sense by the name of how effective that is. And that's something that I have you know, it's been a challenge for me. I am a people person. I like to think that I'm a nice guy. I don't like… You know I try to please people, or I have try to please people.
And so a lot of times in communications with my team, it comes out as kind of sugarcoating things and you're not as direct as you should be which can cause problems. So when I sold my business I sold the part of my business where most of the money was coming from we still had the E.U. side which at the time was not was not making very much money. And I had this big team that was supporting the previously both sides of the business. And yeah, I was forced with some difficult decisions of what to do. And this is a time that I was… I really leaned on both my intuition and radical candor in order to effectively navigate the situation. And so, there were a few people on my team that could go either way. They were they were good, they're doing a good job, I like them, and I really wasn't sure what to do. First, I wasn't sure; do I fire anyone, do I keep them?
It's the hardest decisions and within all the instances, anyone that I was sort of on the fence with. I had to look in and feel what was the right move there and with them. My gut was telling me that I had to let them go. And in doing so, and in having these conversations, it's important to approach them with radical candor. I was honest. I was direct, and I cared. They know that I care. I've always cared. And part of that caring is doing what's best for them and the business. And in this situation, it wasn't holding on to them in the business was not going to be best for anyone. If they were going to be a part of a long term business plans, then any additional time spent in a business where they couldn't pursue what could be better for their long term was a detriment to them as well as a detriment to the business. And so fast forward, I went forward with the cuts.
I cut at the time about a third of my team, really condensed. I was honest. I used radical candor and that moment really became a catalyst, and the business has since rebounded in a huge way; really come together. The team has… the remaining team has really bonded together. We've all this amazing positive company culture. Sales are up, business is growing and it wasn't until making these top decisions, listening to my gut of what I knew I had to do. And following through, approaching it using radical candor, being honest, being direct, caring that has allowed my business to from them continue to grow, continue to prosper to get to where we are today.
Michael:          Well that sounds great. Can you share it without naming someone's name. What exactly would you say? You know how would you say hey, tell someone that they're gonna lose their job, but do it in a direct, and caring way?
Nate:               So actually I mean I put thought, I wrote some thoughts down and kind of bugging some of these people. Like hey, you're on the top today, you're on the top layer today. Like let's connect and some of these people. I didn't talk to that often and so like you know, okay, yeah. Like hope everything's okay? Like I'm a little bit nervous you know, ha, ha, ha, ha. And in my head I'm like great.
Michael:          They already knew at some level.
Nate:               Something yeah, but so I started it immediately, it's like, hey, this isn't going to be an easy conversation. So I'm just going to go out and say it. You know we sold a big part of the business. I was making the money, we need to make some cuts and this is a decision that I've made that that the business needs to move forward. We're going to be moving forward in this business without you. You'll have one month transition time and plus additional severance pay. And just like laying it out. Here's a situation, this was my decision. Do you have any questions? And opening it up to them to allow them some space, and that was that.
Overwhelmingly, they were received positively. Oh, thank you for the opportunity. I appreciate that, appreciate the communication and honesty. It wasn't easy for some. They… it's their job, they depend on this. But approaching it from this way, being honest, being direct. It's like I still have a good relationship with these people. Some of them I've helped find other jobs. Some of them I've helped with other things since in the business like we're still friends. And we're able to keep that relationship because I was honest, because I cared, because I was direct. And that has enabled us to continue to have a positive relationship.
Michael:          That is fabulous! And it's a great modeling for anyone who has a difficult conversation whether it's firing, or giving someone feedback on how they need to improve in order to keep their job. And I think people value directness and honesty if it's done in a caring way. So, I'm kind of curious. I actually drew out in the show notes a little 4-way grid for the four sides of this quadrant, and I'm wondering what names we can come up with for the other two parts of the quadrant. You said you got radical candor and ruinous empathy on the caring side of that. And what was the uncaring side of? So someone's direct and uncaring, what do you call that?
Nate:               You could call it being an asshole. But actually is more effective than you know, is better for everyone involved than ruinous empathy. Yeah, you might be kind of a dick about it, but at least you're communicating honestly.
Michael:          So, we'll call that honest ass hole.
Nate:               There you go.
Michael:          Until we have a better name for it.
Nate:               yeah
Michael:          Maybe our listeners can suggest some other names that can be used there. And then what about the final part of the quadrant. That's where you're not direct and you don't care.
Nate:               I don't know; apathetic, nothing good.
Michael:          Yeah, apathetic [inaudible] [36:59].
Nate:               There you go.
Michael:          Yeah, apathetic lair maybe. No, I don't think apathetic really comes into it actually. It's lying – duplicitous maybe. It just came into my head. Duplicitous, what goes that…? I don't know. Well, I'll come up with after we've finished the episode.
Nate:               We want to stay away from that.
Michael:          I am curious. Well I know but it's good to be able to identify it in other people, right? Or in ourselves. You know there are business people who are, they do lie. They don't… maybe they just withhold the truth, maybe they don't see it as lying, but they're not honest, and they're really not caring. They don't demonstrate caring towards the people they work with. Plenty of entrepreneurs like that. I've met some of them. So, I think it's useful to have a…
Nate:               framework
Michael:          Framework, I was going to say a dichotomy, but it's a quartchotomy, right.
Nate:               There you go.
Michael:          Very interesting what… I've learned something new already several times in this interview. So, I think radical candor naturally leads us to a discussion of transparency because I know you did a fair amount about being transparent in your business, and sharing plans with your team members; the business numbers, the profit, and loss. Tell us about why you did that, and continue to do it.
Nate:               Yeah, so with my team and my business it's really like I'm not… I'm trying to lead and not… I'm trying to lead people, show them the vision, get everyone on board with the vision, so that they can… so that everybody can move forward in that direction. And you're not able to do that unless you share the vision unless you share what's going on. And so that's been for the last maybe because I started maybe a year and a half ago integrated into the business. Like transparency, our sales numbers, our sales, our profit every week. The whole team works on a weekly report that shows all the numbers. Are we making money, are we losing money, how much are we making? You know where's the money coming from?
Additionally is something that I've been doing in my business now for maybe the last year and a half. And one of my favorite things in the business is Wednesday weekly updates. So every Wednesday, I record a video kind of talking through. I share a principle, go into updates about the business, what I'm thinking, what's going good, what's going bad different parts of the business. And yeah, like I've gotten amazing positive feedback from my team about how this allows them to feel clued into everything that's going on.
They don't I… my team always consistently they push for, where do you see this business going, what's the direction, what's your vision? And I get it. These people like they've signed up for this. They've signed up for me. They're supporting me, and I've got great people. And they want to know what they've signed up for, where they're going, where I'm taking them. And if I want to keep them, I need to share that with them. I need to show them where this is going, so that they can… one you know, make sure we're on the same page that they're on board. And not just know, but then you know these are smart people, these are amazing people that work with me.
And by sharing the vision, by getting in sync with the vision, it allows them then to operate under that to push things forward in their own way. They don't need me… when I share the view, and when we're consistent and in sync on the vision, then they know in their right how their role fits in, how the different. You know they don't need to come to me and ask for what to do every time because they know what direction we're going in. And so the tasks and projects underneath that they're able to push those forward and they know what to do to get us to where we want to go because they know where we're going, and they know where we want to go.
Michael:          I think that's very powerful. Do you share any of this material outside your business to motivate future employees or?
Nate:               So I haven't, and I've been thinking about this a lot though honestly. And this quarter my… one of my one things is sharing more and teaching more for my team. And what the idea of like I… feels good for me to create content. I love extroverting my intuition, sharing ideas, sharing what I've learned, sharing things that I'm excited about. And yeah, part of the thinking is if I can, if it's good for my team, if they like it, these are things that also could help other people. And yeah, I mean if… I'll be honest I'm a little shy to share sometimes. But yeah, I mean I want to and that's the direction I want to continue moving in. And if I knew people were interested I would be happy.
Michael:          What's your intuition say about sharing this in a wider way?
Nate:               It's telling me that that's what I need to do.
Michael:          Okay, think you've got your arms there. So, do you share all the business numbers; the profit and loss, balance sheets, sales this week.
Nate:               Yeah, I mean profit and loss, sales. Yeah, everyone is transparent to that. Not everyone pays attention to be honest. Like people that aren't… that don't own the business aren't… they don't care as much about the numbers. I've found some people do.
Michael:          They may not understand them either, and most people are not trained to be able to read a profit and loss statement unless you spend time to explain how to read it.
Nate:               Yeah, so some care or pay more attention than others. Some get really excited about it.
Michael:          yeah
Nate:               What went when the numbers are good?
Michael:          I mean when I've done that in the past, I had to do a fair amount of education as to what it was, and people were interested. You know why are we spending this much on a phone system, why are we spending this on advertising? And sometimes they you know, sometimes I can explain why, but other times it was like well maybe we need to change that.
Nate:               Yeah, it's good to get a second set of eyes I think a lot…
Michael:          Yeah, and then do you share salaries as well within the team or outside?
Nate:               Don't generally share salaries. There are some people no, some are still together salaries. And I don't know I mean to be honest, I'm not really sure about that one. I think my team is paid fairly. There's no like no one's getting paid so much more or less. They're pretty clumped together. But yeah, I wonder what if that would help or what benefit that would be. I don't know. It's something that we don't… it's currently not public. But yeah, I mean I'm open to the idea of it. I'm just not I guess at this point I don't see. I don't know. Yeah, I'm not sure.
Michael:          I mean some businesses like government organizations that's just public record; what people salaries are. Other businesses like buffer is an example of this. The social media saying that they have open salaries. And it's clear what the criteria is to make a different amount. So, it's an interesting idea. So, I know recently you were in Bali and… Tell us why you went there and what you learned, and why you had to leave suddenly.
Nate:               Well, yes so I was in… I've been to Bali a number of times and was there for about a month in January with my family, and it was amazing. Like that was the longest State that I had stayed in Ubud in Bali. And yeah…
Michael:          Yoga capital of the world. We must say.
Nate:               Yoga, spirituality, I mean amazing food, amazing people. And I was there and it felt good there. And when I left, honestly, I kept thinking about coming back. And it wasn't until I guess about a month ago in September that I then had the opportunity to go back there, and being there was amazing. I feel like it really hit me at the right time. And just like the overwhelming message that you get being in Bali is just encouraged and push forward to just be your authentic self. There's all these different ecstatic dancing, contact dance, and authentic relating workshops, and these things. And every week, there's all these things that just encourage you and everyone else to be yourself.
Be your authentic self, what do you care more about, what feels good for you or what other people think. And this message really, really hit me at the right time as of right now in my life. What I feel driven to do is to put myself out there more authentically, have conversations like this to just be honest with who I am and share my honest thoughts, and values, and opinions with the goal of putting my authentic self out there into the universe. And seeing who that resonates with, seeing what that attracts. And so going to Bali, having this message reinforced was exactly what I needed at that time. And has pushed me, continue to push me forward in this direction. Unfortunately, the trip was cut a bit short by the spending volcano eruption, but the plan is to is to return to Bali. Whenever is prudent.
Michael:          Well; that is good and I appreciate how honest you've been during this interview. And I have an honest question to ask you; if you're prepared for it.
Nate:               all right
Michael:          So, I want to scale of zero to ten where zero would be completely lying, and ten is totally honest and transparent, how honest are you being right now?
Nate:               nine inch, I mean.
Michael:          nine, yeah
Nate:               yeah
Michael:          So, what would it take for you to get to a ten right now in this moment with our audience?
Nate:               Well, I think I'm close. I've really been… It's been like I'm on this mission right now to be my authentic self and be consistent with who I am. And in this interview for example. I have… every answer like there's there isn't that inconsistency. I'm just… I'm being honest and I'm sharing my experience, my thoughts. And in doing that, I notice it if feels good versus the other side if you kind of go against your inner feeling, intuition, authentic self, you feel it. It doesn't feel right. And so yeah, I think that I've more and more continue to and been striving to act only as my authentic self to get to that full ten. Just abandon the doubts, lean in fully excepts, and that's it; just commit fully. I mean I'm almost… I'm getting there, and to get that final last step is just so total yeah just fully committing myself to that accepting, and we're working on it.
Michael:          Yeah, well I'm here to support you that's why I asked the question.
Nate:               thank you
Michael:          What came into my mind when you were talking is if you have a considered doing interview while taking psychedelics.
Nate:               Yes, I mean depends on how… You know I guess the strength of the psychedelics. But yeah, I'm up for up for experiences. Maybe you can schedule a round two.
Michael:          yes
Nate:               Experiment with some different states of consciousness.
Michael:          Right, it might be interesting. I mean I've certainly tried. I was [inaudible] [50:50], but that gave me lots of intuitive messages. But I don't think I'd like to an interview while I was on [inaudible] because it both lot of vomiting and diarrhea so might not be.
Nate:               Yeah, I'm not sure I'll be able to respond to anything.
Michael:          Right, but I have experimented with micro dosing on Sampedro is another cactus you can get in that in America, it's legal there. And it is legal in some US states depending on countries. And I've tried micro dosing with that's nad that's been an interesting experience.
Nate:               Maybe next time.
Michael:          Perhaps the answer not to go for the full psychedelic thing. But just yeah, there you go. Well look out for that. Well I really appreciate you coming on the show Nate and looking forward to seeing you at D.C.P.K. K next week.
Nate:               Yeah, thank you. Thank you for having me. It's been a really…
Michael:          So, if folks want to be able to find you online well.
Nate:               Yeah thank you, thank you for having me.
Michael:          And if people want to find you online, what's the best way to do that?
Nate:               So like I was saying right now, I feel driven and compelled to put myself out there authentically, share my thoughts, my experiences. And yeah, if any of this resonates, if any of this you agree, that you like or don't like, please, yeah reach out. I'm trying to put myself out there to make more connections and see what sort of abundance and opportunities we can pursue together. My team we're looking to grow our team, are looking for a partner with investing. If you like yoga, these are all… I'm happy to chat. I want to know you. So you can check out my website nateginsburg.com. Get in touch, would love to meet you. If you like yoga and travel pictures, you can check out my Instagram at Nate Ginsberg. And yeah, looking forward to connecting, and thanks again Michael for having me.