You can listen to the podcast and read the show notes here.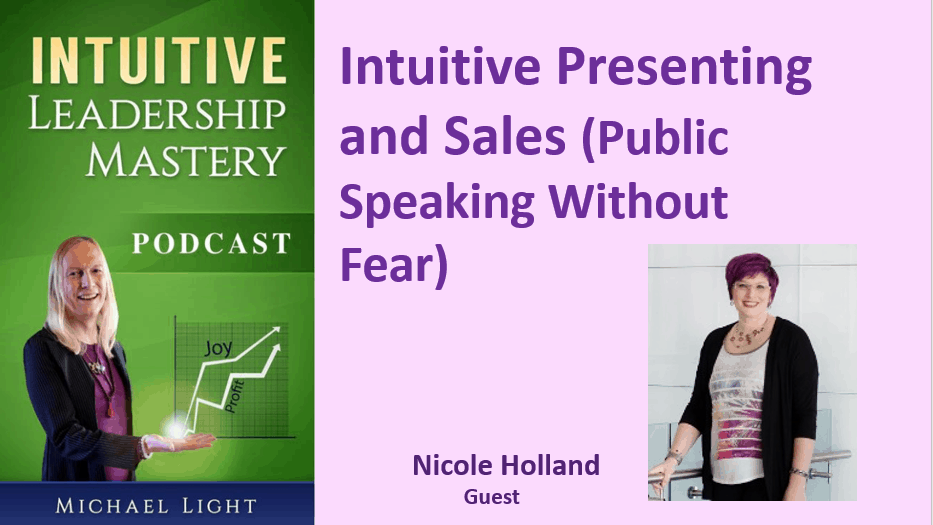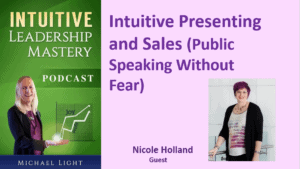 Michael:          Welcome back to the show. I'm here with Nicole Holland, and she's going to talk about how she uses intuition in her multiple podcasts that she hosts. And how she uses it in public speaking, and in sales calls, and also in hiring. So, a lot of places you use it in your business, Nicole. So and just in case you haven't met her, she is the host of the 'Business Building Rockstar's Show' and 'Get a Guest Ready' and she is an expert at helping people be their best selves when they do interviews on podcasts. And so, they can spread their influence, and impact throughout the world. So, welcome Nicole.
Nicole:            Thank you Michel super excited to be here with you.
Michael:          Yes and so, you do a lot of podcasting and you help other people be good at podcasting. Tell us about how you use your intuition in your podcasts.
Nicole:            Yeah so when I got into podcasting, I learned to like how to structure. I learned is to have a good structure. And I tried that on for a while, and what I was finding was if for me, I felt like I was not allowing my intuition to come in as much. And so, the conversations were more… I would have questions or an outline and so, I'll go to the questions. And so I felt like things were just disjointed for me when I really just wanted to talk with people. I love connecting. I love really getting to know people deeply. And so, after, I don't know there's probably a few months. We probably had already recorded like 18 to 20. Well you know probably about 18, 20. When I started podcasting, I was doing three interviews a day.
Michael:          Oh, my God!
Nicole:            Oh sorry, not a day. I was releasing three interviews a week.
Michael:          Oh okay
Nicole:            So yeah, but I would record up to nine a day. But so it was a lot of content and I felt like, what if I just could just talk with these people a bit longer? And so, after a few months, I started less loosening up my structure and now I really just have conversations; just conversations with people. I don't know where it's going to go. Also, when I say yes to guests now. I used to say yes with the different criteria. Now, I'm really intentional about is this going to feel good, or we going to have a great conversation, is it going to be a great fit? And so, just allowing myself to bring in more intuition into all aspects of who is on my show, what we talk about, and the experience overall. I'm really feeling into what my audience wants to know as well. That's how I have adjusted to do a podcast interviews.
Michael:          Well, that's great ideas there for people who maybe do podcasts, or maybe they have all the ways the few people who people that listen to your intuition which kind of brings up the question of, how do you get your intuition? Do you hear it, or it comes through as a knowing? Well because everyone seems to have a different way.
Nicole:            Yeah, I love that you're asking that because it's something that I… It means always being there. I think any of us who consider ourselves intuitives.  We've always had it. And when I was young, I would have like as far as I could remember childhood. I would have this knowing, and I couldn't believe it. I would always think you know, well that doesn't make any sense. I can't know that. And if I talked about it, my father would say something like, "Oh you saw that on television or something." I'll go really okay like and he would say, "You're talking. You're bringing into your life these things that happen on T.V. I think you just you're confused. I'm like really okay, and it was an experience I had. I still had the feeling, I still had the knowing.
Like… and sometimes it was like it was always normal. It was always this normal stuff and but sometimes those kind of morbid just because that was my life. My little brother had cancer. He got diagnosed when I was almost 12. And so, we spent a lot of time involved with an organization called 'Special Love' incorporated out of Winchester Virginia where they support children, and families that are going through childhood cancer. And they have… nowadays they actually have HIV, and other things as well that they support as well. I think diabetes. But it was always originally as a cancer camp. I made this great friend there. I made a lot of friends that passed. But I had this wonderful friend Brandon who actually I had known years before as a child. We went to summer camp together, and I saw him, I'm like fantastic, and he lost a leg so.
Michael:          wow!
Nicole:            Yeah we lived in Columbia Maryland, so we were … we're right down the street. So once we were reconnected, we would play, and we would hang out. I mean I guess at that point in my life, we weren't playing so much. I was in middle school. But we became really, really great friends again. And it was right… it was the summer before tenth grade. I hadn't talked to him in a couple weeks maybe, and I called him because… well no I had a dream. I had a knowing, right. I woke up and I went, "Oh, my gosh!" This isn't real, this isn't possible.
Brandon was fine as far as I knew and I just I woke up knowing Brandon was had passed. And I was like that's just logically doesn't make any sense, it's not possible. So I called his house and his mother answered and I asked to speak to him, and it was like a very you know. She told me he's not here, he's died. I'm like what, that's not possible! And I really argued that and because I knew it. I knew it. But then I'm like, how did I know it? And that was a time where I decided to turn it off, and it was many, many, many, many years probably 20, 25 years that I absolutely refused any time I had and knowing to trust it, to believe it, to acknowledge it even.
I mean things like you know driving. You're driving and it's like oh don't go that way, and I would go that way just because I'm like, why would I think that of that way? Yeah so it's been you know it's been… Was in the early '2000s they started acknowledging that I knew things that I couldn't explain. But then also kind of shut it off for a few years again. And now, just in the past few years, I've really been embracing it, and acknowledging, and going away with it. Oh, I do know things. And it's not me, it's something higher, and it's intuition. And so yeah, there's my story about that.
Michael:          Wow! Why oh it was so powerful, and I think so many of us you, if we go back to our childhoods, we were more intuitive and then often for various reasons, we shut down. Either because teachers or parents dismissed it; like your father did, or you have this incredible experience where you knew someone had died before you'd been told the news. And I'm almost wondering, do you think you thought you caused his death, and therefore intuition was dangerous or
Nicole:            No, not at all. I just… I would… I guess one way I could describe it is I see things before they happen. But they're not… it's not that I'm like seeing a picture of them. It is that knowing. It's not hearing. I don't have the auditory sensory…
Michael:          Pre-cognizance I think is the technical word, right.
Nicole:            Okay, yeah and I've always had that; even if I didn't pay attention to it.
Michael:          yeah
Nicole:            And now, it's really cool because this is one of the things that my clients love working with me. My coaching clients like they… I can't like sell this in a way that I know things. That's not what people come to me. It's because of the marking, or it's because of the business building that they're looking to take their business to the next level. But when they work with me one on one, even in a small group setting, that's one thing my clients are always like, wait what because I just… I'll hear them, I know what they're going to say, and I know what the situation, what would be the best in the situation sometimes.
So even in work when we're working on which shows to get on, and how to get the attention of a really big host that's like their dream. I just know what to tell them. I know what to tell them to put into the e-mail. I know what for them to say in order to make a connection and then I give that to them, and then they do it and they're like, "Oh my gosh!" So, it's so much fun playing with intuition in this way where I can serve, and support my clients. And you mentioned we're going to talk about how I'm using intuition to bring those clients in.
I've got really clear on I only want people who totally love, and adore me, and appreciate all of my gifts holistically, appreciate that I have that intuition. Not coming to me because of it, but they're allowing me to be completely me without restriction, and they can't get enough of it. And I'm only attracting people who I absolutely adore, and I'm so behind what they're doing, and believe in them so much, and I can tap in to their higher power, to where it's just magical. So that's been a lot of fun too. Once I actually realized this is a gift, and not only is it something I have to just say it's a gift I can accept. It's like really it's a gift I can play with. This is super fun.
Michael:          Yes, it sounds like a secret path to be a better entrepreneur to me.
Nicole:            I think so. I mean I think it's definitely like a seeker power because it's… what I try and tell my clients too; the ones who you know, any gifts. We all have gifts, everybody has a gift. And it's like even though you may have a hook, or an anchor, or something that you're doing that people have a preconceived notion about. For example: I do a full service booking for podcast guests. So people think they know what it is I do, but they have no idea.
Like it's just something that they can wrap their head around, but once we work together, then they get the magic. And I think we all… No, I think I know we all have that so it's when you can identify it like what brings people in, what's that thing that you're excellent at. In layman's terms, once you actually get working with people like really allow yourself to flow, allow yourself to be yourself rather than sticking to something that other people tell you should do. And I think that's where the magic happens.
Michael:          Yeah, well speaking of flow, you do public speaking, and you're about to fly off to give a speech somewhere.
Nicole:            [Inaudible] [11:28]
Michael:          But you said you used to be afraid of public speaking, but you aren't anymore. Tell us… and I know a lot of people listening have fear of public speaking. How do you overcome that using flow, and intuition?
Nicole:            So I just wanted to just to find something a little bit because I'm not afraid of public speaking. I've never been afraid of public speaking, and I've always been a leader I guess. And so, when I was younger, I just spoke whatever, and it felt good, and people inspired and that was great. As I have started my business now this iteration, so I was a correctional officer for a number of years. I quit my job, and I went into business for myself. Well now, I have purple hair and I were t-shirts and jeans. And years ago, I wore suits, and I just carried myself in a different way. It wasn't inauthentic, it was just different.
Well now, as I came out of corrections, I wasn't in the business arena for ten years. And I don't look the part anymore; if you will. So, I had anxiety around now, I'm going, and you know if I can speak in you know people ask me to come speak and I think oh well what do they want, what do they want? Because I don't even know and so, that's where that came from. It was not necessarily fear, but it was like I would have find myself feeling really anxious about, am I going to say the right thing.
And it was just me forgetting that people are asking me to be a speaker because of who I am rather than what I can teach them, or in what format. And so I would spend hours and hours and hours creating Power Points and just be completely overwhelmed. And it would just turn me off to speaking, and I would say no even webinars feels so much anxiety around. I have to prepare, prepare, and follow the script. And I had a client actually say something to me you know, there's been a few things that have happened.
One I was at a conference in 2016 called 'Podcast Movement" and Kevin Smith the writer, director, podcaster you know, Kevin Smith. He did the kino. He did one Kino some [inaudible] [13:47] and I was in there, and he just showed up, and flowed. He just talked. He just showed up on the stage. This huge event with like 1500 attendees there to listen to him. He showed up in his hockey jersey as he always does. He just talked, he talked his language, he swore. Some people didn't like that oh well, he just completely shot of this him and I was like that was for me. It wasn't necessarily what he was saying. It was how he was saying, and that he was saying that really inspired me. And I went maybe it doesn't have to be so difficult, maybe I can just show up, and be me.
But then, the other side of me I get that conflict with but wait a minute, if somebody is asking me like what are their expectations, I don't want to let them down, and so on. So it's been you know for about a year, I went back and forth about that and I have an amazing client and she said she's part of a very big networking group that has the founders of big companies, and they always are having to have regular speakers come in, and kind of workshop things, talk about things. She said, "You have to come." It's a very challenging process to get approved to come and speak to our group. But we have chapters all over the U.S. There's also chapters in Canada and you would be perfect. People need to know about podcast guesting, and the way you teach it is so dynamic, and we need you.
And I went, "Oh my goodness like, what does that mean? I looked into this organization. I was like wait a minute, these are the founders of like really big companies. I'm imagining in my mind like walking into a boardroom feeling really small. Like no, I can't do that. And she said, "No, no it's not like that, and you're perfect." I want you. I want you to do this, and so I will think you appreciate it. With all due respect, I'm certainly not feeling confident right now, so I'm going to just sleep on this if you don't mind. And so she said, "Of course take time, but it's not a big deal." And I was like me on my head it was still a big deal. So I did. I sat with that, and I kind of…I've done some internal work, and then I went back trying. I said, "Well, you know if the offer's still on the table, I'd be honored.
I don't really still know what this entails. I will tell you I'm intimidated. But what I do know is if I can just show up and be me, it's fine. But if I have to prepare a Power Point and stick to the point." So she's like, "Oh my gosh! The people who are… power point six points there's – stop worrying. We all own big companies, we don't… we show up in jeans, comfy clothes, and we're just real people. And so we don't want to be talked to like we're in a board meeting. We want that fun energy that you bring. And I was like, "Okay, cool." So now, just get another recognition acknowledgment that it's okay to do it my way. This event that I'm going to speak at, I'm flying out just in a little bit or…
Michael:          23 minutes.
Nicole:            An hour and 23
Michael:          Oh okay, you allow the gap between [laughing] [17:14] that's wise.
Nicole:            I figure food and just double checking the cats or [inaudible]. But I was speaking with the organizer, and I hadn't gotten anything from him. And I said, "Listen, I need to know what you want me to present because I want to know, so I don't have a talk." So, I could talk on it is things, but I'd like to be prepared. He said, "Nicole, I asked you to do this because I know you're the right person." He said, "Listen, I run… for six years, I run like however many of these and other life events, and I'll tell you I know my stuff. And so when I… I don't prepare. I show up I feel the energy of the room, I look at who is there.
I look at my list of attendees, what their businesses are, what their needs are. And then the night before, I really sit down, and do an outline. So each day of the event it's the night before that I'm like, what are these people need, what do they want? And I allow my intuition to just flow, and serve me. And it's been serving me for years, so don't worry." And I was like, "Are you kidding me?" This is what everything's been pointing to. So I'm just like I feel so fortunate, so blessed that he had invited me to be a part of his program, and that this is how he runs his business, and he does events all the time. And I just feel like, wow! What a gift.
Michael:          That is a gift. And so for people who are listening who maybe haven't felt the energy of a room using their intuition, how would you… How could they do that? How do you feel the energy of a room?
Nicole:            Well, I am still learning. When I've gone to things in the past as an attendee, and I've not felt secure. I'm like you know, what I'm doing here? I just I go I'm very much an introvert and so…
Michael:          No, really? Me too
Nicole:            So I pick up a lot of like I get the noise and lots of things going on and I get overwhelmed easily, or I have been historically right. So that's something I worked on. It's different I think when you're speaking. It's kind of like when I was young, I was a bartender. And so I never really enjoyed going out to nightclubs. I never enjoyed being in the crowds, but I loved being behind the parks. I had like my space, and I was there to entertain and serve, and like I had a blast. I loved working. It was so much fun, but going out as like somebody just going to a pub. I hated that. It was never my thing. I think it's the same…
Michael:          I think people who tend bar don't always get respect and really there's a… you've got to like pick up on people's subtle cues when you do that job.
Nicole:            yeah.
Michael:          You can have people are drinking, they can get violent, they can get dramatic. You need to pick up on stuff and guide the situation you know, or be aware.
Nicole:            Yes, definitely I loved working at night clubs. I love dancing. I love like bring in the party, and helping people have fun. For me, like life I think is all about helping people be happy, and it's manifested not way. It's manifested in what I do now. And so, I think you know, this is a really interesting conversation because I've never really thought about it like this before. But yeah, so it's just different now. I go in and recognizing I'm part of the program, I'm part of the… I have the opportunity to bring people into a higher awareness of what I know that can serve them that can support them. And so, it's still new for me actually being able to not go in thinking I have to hit these talking points. But to go in and say, I'm going to listen really intently.
And what's fun with this one is I'm speaking on day three. So, it's a three day event. I'm on… I'm in the middle of the last day. So, I'm really excited about that opportunity because I'll get to go in, and get a feel for the people, and what their desires are, what their needs are. And then, I can really… I like being workshopy opposed to speaking out people and so. Actually, even a couple weeks ago I was a podcast movement for this year 2017. And I was asked to introduce a couple of the speakers to the stage, and I just went with the flow.
Like the first one I did there was nobody in the room. So I was like oh no hold on a second. And so I went out into the hallway. I'm like hey, and I just started pulling people in. And so, the energy when I got in there was so big and all these people were coming in because I connected. And so as I walked in, and closed the door, I was just walking down the aisle up to the stage talking to them because I had already connected with them, and just brought the energy. Honestly, I didn't even know the people that were speaking. I had you know canned bio. I didn't… I don't like reading those anyhow.
Michael:          no
Nicole:            So I was like…
Michael:          I like to make them up myself.
Nicole:            Yeah, make it up as you go. Yeah and then the second guy also is like 9 a.m. on the last day where I've been up to like 4 a.m. the night before just connecting with people. And so, I went up there with the Starbucks and just start shooting shit with the people in the audience. And God, I'm feeling comfortable, and connected them with the speaker, and then sat down. So yeah, I guess thank you for allowing me to process this live on the air. I think the flow is just being true to who you are, and not getting in your head, and worrying.
At least for me, not getting in my head and worrying about what are people going to think, what do they want from me? And remembering that I've already made the decision with clients for example not to take on people who have something they want from me, but rather to take on people, and to attract people who just love me up no matter what. And so, going into a room feeling that same way, I can repel without knowing the people who don't care for me.
Michael:          Oh! That's a great secret path you have there. Repelling the ones who don't want to get the message. And that brings us to how you do intuitive sales because the ability to attract ideal clients is a great skill to have. So, tell us about how you do that, Nicole.
Nicole:            It's all intuitive, it's all energetic, and it happens way before I even connect with people. Just the more I practice focusing on what I want, and who I want. Like the qualities, and characteristics of the people that I want; not what I don't want. And so, I work with a lot of clients who'll say well you know I don't like this, and I don't like that. I don't want this, and I don't want that. And it's like okay, great! So what do you want? So let's focus on what you do want, and bring more of that in. And then they'll say things like okay, well that's great. I get what I want. But then this is going to happen. I know it because it's always happened. It's like okay cool, so that's happened historically, and be ready for it to not happen anymore. Let's focus on what could happen instead. What do you want? What do you want? What do you want?
And it's a process. I do it to myself, and before we hit record I told you like I've just gone through this with even with hiring. I went wait a minute, why am I not doing this? I'm still internally going, but I know this is what's going to happen. You know I'm like no Nicole, self-talk. It's not going to happen that way. It doesn't have to happen that way you know this, so why you keep expecting the bottom to fall out. So when it comes to sales, I've always… I always were saying like I'm not a good salesperson. I'm a great marketer. I'm a great relationship person. I'm not a good salesperson, and what I've come to realize because I've [inaudible] [25:15] coaching. And you know I've got all those scripts and all the tactics and what I find is.
So far, none of that works for me. And I feel inauthentic when I use any sales strategies. But what I recognized is if I'm only talking to people who love me, and can't wait to work with me, it doesn't matter what I say. It doesn't… nothing matters. The money doesn't matter what's… whether I say the right thing, or the wrong thing, it's all the right thing if it's the right person. In fact, it just we're recording in September and I'm producing my annual summit, and traveling, and just a lot of things are on my plate. I'm in a big growth in transition period, and it's… I'm enjoying the journey.
There's a lot of challenges though in terms of giving other people what they want because I have to focus. I have to focus and there are so many opportunities, and I love this part of the journey. At the same time, I recognized that one of the things that I had to say no to and this was at the end of July, beginning of August. I can't take on any more clients, I just can't. And it's… I will be able to once I have my infrastructure in place, and I have my things handled. But when I work with… When I say clients, I mean booking clients. When I work with people, I go above and beyond to treat their business like it was my own. And so, I knew I can't spread myself any thinner and so I had met with a business owner back in June; maybe. May, June, and they were preparing for their live event, then they had a lot on the go, they were writing a book; all this stuff right.
And they said, "Okay, we want to work with you, but not until we're done. Okay, no problem. But my like life goes on too, right. And so, I got an email about a week ago from her saying, "Okay, our live event is done, we're like coming down, we're excited, we can't wait to work with you, let's get this booked on podcasts. What are the dates, what are pa, pa, pa, pa for operating?" I said, "Well, thank you. I am so glad your things went well. I'm so glad you're ready to go. My calendar right now, the soonest that I can get you in for onboarding is beginning of December." Now again, we're recording right now in September. So this was like beginning of September she wrote me. And I thought you know okay, well that's that. Well she just wrote back actually yesterday.
I haven't even read the full email. I just saw it like you know, the beginning of it come through my inbox. And it said, "Actually that's perfect. That will work out great for us." I'm like great. And with that, like I'm not attached to… when I have these calls with people, I'm not attached the outcome. I don't think like, oh I want the sale you know, I want this sell. No, it's like here's what I have to offer, and if they're the right person, they're going to work to get me work for them.
And I think if I would have heard that before, I probably would have found that to sound a bit arrogant. But where I'm coming from is I don't believe a place of arrogance. I believe it's coming from a place of knowing that I serve myself best and I serve my clients best and I serve my community best by really focusing only on perfect fits. And so, this is just one way of seeing these people. They're not like well, we need somebody now, so we're going to go with anybody. It's like okay, that's cool. Like we'll wait until that's just a lot of fun.
Michael:          And how do you tell if someone is an ideal client? You said you… It sounds like you made a list of what qualities you want them to have. But do you also, do you go down the checklist, or you kind of getting intuitive feel, or yeah this is a good fit.
Nicole:            Yeah, it's definitely an intuitive feel, and just having conversations with them. It's that gut check. It's that intuitive feel. Like I met with somebody. And that was somebody just a few days ago who had been trying to get in touch with me for a long time. And I like I was telling you I have canceled a lot of appointments because of just a lot of stuff going on in my own world. They didn't cancel this appointment. And I said, "Alright, well let's see." And they have this company that is building, and it's really exciting. But I recognized in the call. Like it's just not… it's not a fit. They're wonderful people, and I think what they're doing is really neat. But I just got this knowing again, right. Just being aware of, and acknowledging that intuitive message. I just had this knowing as we were talking that they are going to be exhausting. And that is one of the things I don't want.
I want people who are going to be easy, and fun to work with, and are going to allow me to do my brilliance. And they're going to come along for the ride without pulling me down into chaos. Like I have no interest in chaos. So like you know great people and I was able to give them some resources to help them and even happy to refer to them. But they're like literally the conversation you know I had to go. It was time was up, but also I had Amazon at the door. (No not Amazon.) I had some light worker to do something at the door, or at an appointment. And I said, "I got to go, I got to go." But they wouldn't let me get off the line without telling them like okay, but how can we work with you? We want to hire you, we want to hire you, we want to hire you.
And I'm like I don't like and I thank you and it's just it's not the right time. I'd say it's not a great fit. Here's what I can support you with. You know if you wanted to have me come in and do consult with you guys, and help you get this organized, that's cool. But I… you're not the right client for me, and that was hard to say. I gave them a lot of resources and then a couple hours later, he checked out those resources.
And he's like, "Okay, I understand what you're saying. I do think we will be ready. I understand, and I thank you, and I appreciate it, and we'll be back in touch." I'm like hey, that's awesome. And maybe there will be a time where it is a good fit, but it's not right now. And I think years ago and I think what a lot of people go through as well is like I don't mean it was a big potential contract. And I think a lot of people would go, "Ehen well, I'll do it anyway even this can mean more work because of the money, and I have like no interest in that.
Michael:          Why is that? I think that's a smart thing. I just wanted to dig into why you choose your joy over your money.
Nicole:            Well, just because I mean the one thing we don't have more of is time, and I don't have any interest in living a difficult life. I mean people say you have to work hard. And I mean I'm up, I am a hustler, I work hard. But it's not hard work. It's stuff that lights me up. I'm exhausted sometimes when I'm in production mode. Again, there's that growth and yes I try and always look at it like, is it fun? Because if it's not fun, why am I doing it? So, I do spread myself then and it's something I'm working on and in 2018, my plan is not to be like this again. But this is the stuff. I mean like right now, I'm a bit pressed for time, right? But this is …
Michael:          No! We have plenty of time. We have at least seven minutes now.
Nicole:            But this is something…
Michael:          And we're just going to a little magic here to stretch that seven minutes to be a perfect amount of time.
Nicole:            So, what I mean is that I have many things going on my life. And I chose not to cancel this appointment because I just made that choice. I knew it will be fun. So, here we are having a conversation that's never been had before, and will never be had again, and it's just perfect. And so, I really love to sit in that perfection, and if I don't feel like something's going to be perfect or is perfect, I put an end to it. It's something that's been a process. I actually told somebody the other day. We were on a call, and I was like for an interview. And I said, "You know what? Let's reschedule this. This is… and I've done that a few times now.
And people are like, what? And I'm like it's just isn't a fit. It's nothing personal, and it can send you love and you can love me, or hate me; whatever you need to do; that's none of my business. But if this isn't working right now. And it's something that I don't know you know, lots of people say well, it comes with age; maybe. You know maybe, but I think more than anything, it comes with aware, comes from awareness, and embracing my intuition. And so the more in touch with, and comfortable with, and appreciative I am of my gifts, of intuition, of connectedness, the more I am able to say, "Yeah, this is something I want to write this wave". And then something to say, "No, I'm ready to walk back to the beach."
Michael:          So you mentioned earlier that when you're hiring you recently cleared a pattern. You had a belief that you expected something would go wrong with the hire. Tell us a bit about how that was getting in your way, and what it's been like since you cleared that.
Nicole:            Yeah, so as I was saying before like to really attract the people that I want. What I recognized was I was doing part of that for hiring, right. And so, it has people that seem great when they go through the interview, and they go through the process, and I train them, and then something that always happens and…
Michael:          And you know notice that?
Nicole:            I noticed and so it actually was in my master mind and I was like you know this has been going on for a long time. So obviously, I am attracting, I'm doing something. One of my mastermind partners after my hot seat, he leans over, he put his hand on my shoulder, and goes, "Listen Nicole, I just have something to tell you. It's not you." And I was like has to be me because I am the only variable that's the same here. He goes, "Listen, I've been doing this for a long time." He's considerably older than me, and has been running business for a very long time. He said, "You are hiring people who don't have jobs." And I was like, "Oh my gosh! You're so right." So it could be part… I mean it has to be part me. But he was so right, and that like just blew my mind where I'm like so it's not… I don't have to take the burden on of thinking it's all me because it's true.
I'm hiring people who don't already have jobs. It's not like they're already working, and the people love them, and I'm trying to steal them away. I'm getting people to apply who can't for whatever reason don't have a job. So, I was like okay, well that is very clarifying. And that was a step I think to take some of the burden off myself, and then… But I was like okay. So that got better about who I wanted to attract, and lessening the load that I put on myself. But I was still… I was hiring people and I was optimistic. So here's the thing that I see with clients a lot too; that they're optimistic, but that's bullshit. I was optimistic about okay, here's this great theming person. I'm really optimistic. But being optimistic means that I believe internally that something is going to go wrong, that I'm optimistic because it's like hopefully this time. And so, when I recognize, I'll be like, "Oh my gosh! "
The optimism is the problem. I need to have a knowing. And so, I sat with that for a couple of days. I just really felt into it. I got very clear that being optimistic was the problem. And what did I want instead? How am I attracting my perfect clients? Because there's no optimism there. There's a faith, there's a knowing, there's a… an asked from the universe where it's like please, just allow the people who are not going to love me up just to fall off. We can have these conversations about working together. But I'm not going to follow up with them, or even if I do like please, let them just disappear. They can just go find something else. And that's been what's happening. And so, when I shifted to that with this, I wrote a new job posting.
I had a number of people applied, and I was interviewing, or I was setting up interviews. And there were a number that seemed good, but they disappear… they just things happened whatever, and it's like perfect. I hired one person. She within 24 hours had applied of me posting it. I brought her on part time for a trial. She just is the right person. And so, I just took that leap of faith like and I keep having to check myself even still well thank God I hope this works [making funny noise] [38:55]
No, I know and I just have to really appreciate her every day and not from a place of yes, I appreciate her, but. And that's what I have a tendency, that's what I've practiced for so many years doing. So now, just recognizing when I have that experience, and I thank myself okay good. That's fear; that's something that I have practiced for a long time. But it's not going to be that way this time, and I just I'm excited. And I'm going to allow her to have more responsibility. And I'm going to allow her to wow me. And I'm going to just… I'm not going to keep expecting something to go wrong.
Michael:          Well, and I think expectations are so powerful. I mean I'm spacing out on the name of the movie. But it was a movie set in Los Angeles where there was a Maths teacher, and he was in the poorest part of Los Angeles where people, the students had the most crap Maths scores. But he believed in them, and then they A's all the tests, and the state went in, and inspected it because they couldn't believe that all these poor kids could have got A's. But because he set that expectation, and that was the intention he had. And he was enthusiastic, and he helped them.
Nicole:            Yeah, I think it's easier for us to… at least for me. It's always… because I used to work with troubled youth, and I was a foster parent, and so I understand that. And even with the client, it was always easier for me to do that for other people, and hold that expectation for other people's success than it is for my own. And so, even though I can… I have always been able to do that. I love that you touch on that, and I think that really is what it is. We have to hold the expectation for ourselves that it's going to work.
Michael:          Google helped me find the name of the movie. It's 'Stand and Deliver'. I'll put that on the show notes.
Nicole:            That Sydney Poitier?
Michael:          No, I don't see his name. But I'll put it in the show notes for people who are curious. It was a great movie. I do remember watching it. Anyway we've come to your point where you need to check on the cats, and fly to your wonderful conference. So, if people wanted to learn more about you, what's the best way for them to do that?
Nicole:            I think the best way for them to do that would be going to businessbuildingrockstars.com that will take you to my private Facebook community, and I interact with people a lot there. It's a great community of business builders. You have to actually answer three questions to get in because again, I'm only attracting my people. Like I don't want to bring in people who are not a fit. So, this is not like a… this isn't a promotional thing. It not… you know, I'm not going to ask you to hire me, or anything like that. It's just community that I'm creating for business builders who are like minded, who are positive, who are excited and looking for different kinds of support. And so again, it's businessbuildingrockstars.com.
Michael:          Fabulous! Well, we'll put that in the show notes so it's easy for people to find, and I really appreciate this conversation, and how you've shared your intuitive journey here.
Nicole:            Thank you, I really appreciate the opportunity to be here with you, Michael. I've enjoyed speaking with you in the past, and excited to be here on the show, and speaking with your listeners as well.