You can listen to the podcast and read the show notes here.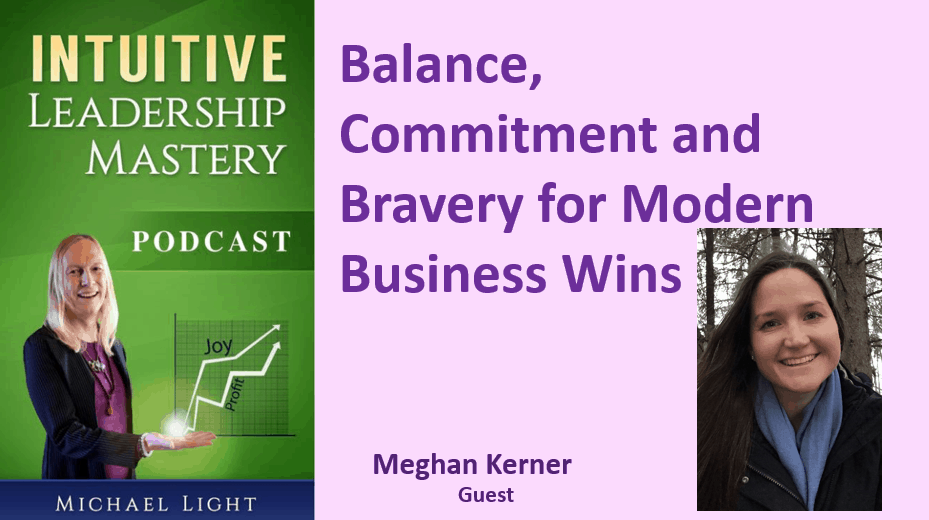 Michael:          Welcome back to the show, I'm here Meghan Kerner. Gosh! I'll see if I can say the name right off the back there. And we are going to be talking about balance, commitment, and bravery for modern business wins. And in today's episode, we'll look at how you can balance your inner male and female for way more business, joy, and balance. Why self-commitment to your intuition is key for modern business success. Why smart entrepreneurs are constantly being intuitively guided. And we'll examine the courage of intuition versus the courage of your ego. So welcome, Meghan.
Meghan:          Thank you so much for having me. It's a real pleasure to be here.
Michael:          Yes, I'm so glad you are joining us here. And just for those who don't know, Meghan is a feminine business coach. And she helps mentor people who want to deepen their practice of listening to their hearts, soul, inner wisdom, whatever you want to call it; as they build their businesses and journey through life. So, when you say feminine business coach, what exactly is that mean? I've never heard that term before, so and maybe the audience haven't either.
Meghan:          Okay, [Crosstalk] [01:09]. You know when I started my journey as an entrepreneur, the common, wisdom out there was kind of like do whatever it takes. And what I saw in my own life and in the lives of many people around me taken honest really dominant masculine paradigm is that the different [inaudible] [01:32], you have health challenges, you may gain weight. For me, it was infertility for several years, and I was chronically fatigued. I think almost everyone in our culture who works really hard experiences adrenal fatigue at one point or another. And for me, it lead to a burn out, a deep, burn out after that first business. At the same time, I had become a mother.
I finally conceived only when I started to slow down, and listen to my body, and listen to my intuition, and have a balance other than being, and doing sort of business. And I just see people who get so burnt out that they almost have to check out for a year or maybe more. You know just the burn out is so rampart in our society. And I think that the traditional business coaching will do whatever it takes. It doesn't really work for a lot of women.
And so, I want to introduce this new business model which is more about tuning into what feels right for you, tuning into what you actually enjoy doing versus blindly following. Somebody tells you oh, just because you are in business, you need to have all of this social media accounts, you need to be active, you need to have email list, and follow up. And it doesn't have to be that difficult, you can have a really simple business model, and find success. But it's all about defining what does success mean to you, what does it look like?
Michael:          I'm not convinced that doing model works for men either.
Meghan:          I totally agree. I don't think it works for any gender here. But it is the dominant, clear dominant culture, and I was just watching a video by Jordan Peterson, who is a professor at the University of Canada. Where he was saying, that it is interesting that his [inaudible] [03:14], is that some men may be biologically, or temperamentally driven to really work 80 to 100 hours a week, and they still achieve a great success. And in some ways, that makes that the bar, or culture for our world culture. And what's the [inaudible] [03:31] for that.
So unfortunately, we are all running on this tread mill trying to keep up with media hand full of people who are truly able to manage that without breaking down mentally, or emotionally, or breaking in relationships, or having that health breakdown. So I just find that very interesting and I heard that others, it seems to be true, very few people can't keep up with that pace, that phonetic pace.
Michael:          Well, I don't think anyone really can. I mean people can do it for a limited amount of time, and that limited amount of time is different for different people. For some people, it might be a month, for others, it might be a year, or ten years. I mean why do you think so many male entrepreneurs killed over from strokes, and heart attacks in their '50s, you know? Because they've being, go, go, go.
Meghan:          right
Michael:          Really, they could have another 50 years of productivity, and joy.
Meghan:          right
Michael:          And they didn't… they burn down.
Meghan:          So exactly what you are saying, I think it's so important to take a look at, what do you value as an individual? And for some people, well it could be that its safety and security that they think that money will bring them, is what they are driving for. But for many people, you know relationships are most important. Really, truly relationships or maybe, it's just the simple pleasures of life or, maybe it's having a family, or contributing in some way that maybe isn't going to make you a worldwide household name. But you are reaching the people that you want to reach, that you're meant to reach. So, I just really encourage everyone to tune into, what do you really value? And building your business around that. First is what someone else defines as successful.
Michael:          I think that's a great point, what is important to you? And to find that out, you can't be around other people, or other influences. For me, I have to be having time alone to figure out what's important to me. Otherwise, I just get other people's idea of what should be important for me.
Meghan:          Right, right! And with social media and with the way the world works today, everyone is shouting. Everyone is shouting, you're thinking there's going to be people that you love, admire, respect, or entertained by. It's very easy to take their point of view; especially when people are arguing their point with their great writers. It's really easy to think, I should be doing what that person says to do. And if you are not in tune with your inner wisdom, if you are not in tune with your own values, if you are not in tune with your own perspective on the world, your innate perspective, you will be stayed off here, off course, to really easy be swayed in this world. Which brings up the importance of having some sort of practice to come back to yourself, what does that look like?
Michael:          What does that look like for you?
Meghan:          So for me, what I have found, who trying everything is that it's different every single day. I wish that I could say that that is some sort of routine and even started six months ago, nine months ago, trying to outline some sort of, choose your own pleasure, connection which will in the morning, where I will outline. These are all the options; you could dance, you could journal, you could meditate, you could do yoga, you could go for a run outside, you could sit on the ground. And what it came down to and I thought in my mind, just take it every day your gratitude, sort of ritual. What I came down to is that, the rituality of it took away the magic, and that was hard for me to come to terms with. That it truly relied on me slowing down.
It just relies on me, slowing down, noticing, am I connected with to myself right now? And then listening to, what do you think I should do? It's almost like talking through intuition before you are connected to your intuition. And I usually get it here, you know if you walk to a park, or walk down the street with your coffee, and just see what that takes you, or this morning you should ride, or this morning you should dance outside [laughing] [07:57] But that's never the same and there's a part of my ego mind that has a lot of trouble with that, because I was really hoping for like the magic bullet that I think we are all [inaudible] [08:25]. Every situation, we are all want a magic bullet from marketing, a magic bullet from copywriting, and a magic bullet for the perfect business man.
When I think it was new paradigm of business that is coming up for a lot of people right now who are entrepreneurs, and business owners. It's about really listening to yourself across the board. So where you might yes, reach out to someone to coach or mentor you, you might take a course in copywriting. At the end of the day, everything is coming back to yourself asking, is this right for me? And so, it is challenging for my ego mind to think like, there's no magic bullet, I can just meditate for twenty minutes do that, really work that guy that I follow. He seems so happy. But for me personally, it's a tuning in everyday and multiple times a day, yeah.
Michael:          That's a great insight there. While all those practices you mentioned are good things, I can't imagine any of them really being harmful to you, or connected to your intuition. They may never be the thing that's going to connect you the fastest today. So, and I have a question for the audience, they can ask themselves here. Which is what would it take for me to be connected with my intuition right now?
Meghan:          Right, that's a beautiful question.
Michael:          Because that, the what would it take helps you access your intuitive mind. And that's something you could ask yourself in the morning, or at any point during the day.
Meghan:          Right, this can be the simplest answer, you know that [inaudible] [09:49]
Michael:          Yes, it doesn't require any doing necessarily.
Meghan:          Right, it might be taking a nap.
Michael:          Could be take a nap, or blow some bubble gum, or call an old friend, or take a deep breath, or stretch, or could be any number of things.
Meghan:          right
Michael:          So, you talked a little bit about getting into a path of joy and ease, and that's just the antithesis of the hustle, stay-busy, struggle kind of entrepreneur journey that so many business leaders are on. Why do you think that it's important now for entrepreneurs to be doing, focusing on their joy and ease?
Meghan:          Well, I feel like I can speak to it because I was in the hustle mode for so many years. The rhetoric was in a traditional purpose setting, where I would always raise my hand like, oh, you just fired someone? Well, I'll just take on their work, I'll do double work, no problem you know. That's sort of go, go, go, hustle, hustle, hustle, I'll get all done. Or in my first business, I felt the same way. I felt if I had to work 100 hours a week as an entrepreneur because you never know where your paycheck is coming from. You're constantly networking, and meeting with people, and learning new things. And it burns you out, it just burns you out and looking back because hindsight is always 20/20.
I can see that there are a lot of instances where, it would have been more productive for me to just take a break. You know, it would have been more productive for me to ask, what would it take to connect with myself? And because you know this was starting in 2009 with that business, I wasn't in the same place in my relationships to myself, I don't even think I knew that was an option back then. So for me personally, it took that experience to be able to see it and say, you know I don't want to do that again and in fact, I'm looking for a new model for myself, where I have balance. I feel good. I'm enjoying this business to the point where I will continue on no matter what happens. I believe, I evolve this business no matter what happens because it feels good, it feels on purpose, it's a match for my values, and it's a match for what I want to bring into the world.
Michael:          So you have to social media marketing business?
Meghan:          There's mostly search engine optimization, keyword research, website optimization, which anyone who works in that field knows it's dead. So, it's all about paid advertising in social now. But at the time, it was a great business model, but it didn't bring me the joy that I needed. When I asked myself the question, 'what's the most compelling thing I can do?' I thought really called to be pregnant with my daughter who was two years old at the time.
And I didn't feel compelled to rebuild the business with a new [inaudible] [12:58] service offering a new team. And so, that's why I decided to close it. And I think also, it was the burn out. It was that feeling like I needed to constantly be working. The entire business model just wasn't set up for a harmonious existence. You know in relationships as a parent, as a woman. I just didn't have the time I needed for my own self-sanity.
Michael:          So how did you know you were burnt out, or burning out?
Meghan:          You know I think that it's interesting when you look back and it's hard to say if it was all just the business. I think that for years of acting, and doing in a way that wasn't a match for my I'll say constitution of where I am, then I would get sick all the time. For instance, I remember one of the recent sickness, I was sick for I think six to nine months and I…
Michael:          Wow!
Meghan:          I actually have an idea that just coughing, constantly coughing, and sneezing, just that feeling. And I remember the timeline because a friend who had a baby and I felt like I could have seen that baby for that six or nine months, because I was constantly having this cough attacks, and it's just a symptom. It's an expression of health that something was up. And I love the idea of the term health expression, always have an expression of health. And this comes from a friend Dr. Sarah. She's a chiropractor in Australia. Sometime, the expression is healthy, and vibrant, and ready and sometimes, it's the flu. Where your body is shutting you down, it means you have to rest, you don't have to do any work. And in my case, there have been so many times in my life where these health expression that were pointing in the direction of this is not working.
Michael:          And for other people listening that might be their health, or it might be something else in their life that the burnout shows up and…
Meghan:          yeah
Michael:          … perhaps their relationships are not going well, or maybe that business is not doing financially well, or maybe they just feel disconnected from spirits, and depressed, you know there are many ways that could come out.
Meghan:          absolutely
Michael:          You mentioned adrenal burnout earlier, just the people who don't know; what exactly is an adrenal?
Meghan:          Adrenal! Adrenal is a tiny gland, I think on top of your pancreas, do you know?
Michael:          Top of the both kidneys.
Meghan:          Both kidneys, thank you.
Michael:          yeah
Meghan:          But what it does is it's related to stress hormones. And so, when you're constantly in a fight or flight mode, you're constantly firing this cortisol.
Michael:          Ah! So that's where the adrenaline, hence adrenal gland comes from?
Meghan:          right
Michael:          Or the cortisol which is the opposite of adrenaline.
Meghan:          Oh, got it. So you see [inaudible] [16:03] of health coach. For me, when I think of adrenal burnout, I think of it in terms of being in that state of high stress. Some people call, say that stress can be good for you. But constantly feeling like I needed to reform to revalue is really I mean to put it in a very esoteric and maybe even in a very deep way. And so, I was constantly driven by wanting some sort of outside success to validate me, and that kept me running. It just kept me trying to have a bigger business, have more impact, have more clients, make more money, then I'll finally be ready in my business.
I'll be ready in my life. And I think a lot of people who are running, running, running in their lives trying to impress those around them; who them, I mean their friends, their husband; well nobody. And I guess I just wanted to get through with that. You don't need to do that. And now you can slow down and that everything will still be okay; everything will work out. And oftentimes, a simpler lifestyle and enjoying the simple pleasures of life brings you actually more satisfaction than say a pair of designer shoes, or fancy car, or you know [inaudible] [17:15].
Michael:          I sometimes think those designer shoes or whatever other little rewards we give ourselves, they're almost like a band aid to cover up the pain in our soul from more money, more clients, more fame really doesn't satisfy our souls.
Meghan:          Right, yeah that just take a minute for everyone just to given at, looking for, it's so true. Everyone wakes up to that at a different point.
Michael:          Yeah, or they don't wake up and they die, and reincarnate; it's all okay. But for people listening who would like to have a healthier, happier business and life, maybe taking some time right now today to recognize what simple pleasures do they have available to them now that they could enjoy it more. Because it's so easy where I find a simple pleasures. Just if I'm in a busy go, go, go mode, I don't even notice them.
Meghan:          Right, right, and it's because you almost can't. The thing about simple pleasures is like I feel like you need to be present, and you need to be slow, you need to be mindful. And for instance, if you're driving from your house to Starbucks to get a double latte and a Scorn and that's your simple pleasure. Your speaking by let's say, the bird tweaking in a tree, or the flowers that just bloomed and try to appreciate that when you're just rushing from one location to the next, one destination to the next. It requires a slowing down. But let's say you can even be on a highway but if their mind is slow, you'll be able to appreciate the things that are coming up for you and just simple pleasures.
Michael:          Well, I don't drive as much these days because I sold my car a while ago. Gosh! More than five years now. But when I do rent a car, because I'm in a country that you just take a train, or whatever to get somewhere. If I'm doing well, if I have to take it to my intuition, or done whatever practice came to me, I can just be pretty meditate if on the highway and if someone cuts in front of me. It's like I don't get a wound up. If it was in the past follows: rush, rush, rush, I'd be all excited and upset, and probably pumping adrenaline around those adrenal glands.
Meghan:          Yes. Yes, exactly. So that's a possible little thing. You can be driving 80 miles an hour but if you're present, if your mind [inaudible] [20:01]. It's almost as if, there's a force field around you that just picks. Does that makes sense?
Michael:          Yeah, absolutely. I sometimes visualize that when I'm driving. And just to switch gears a bit. I think that can be true in the military when a soldier is in battle. For ones who are successful of being soldiers actually, are very in the moment, and present. And they just know to duck, and they don't know why they're ducking. but then, the bullet comes by or the bomb drops or whatever and then they realize afterwards, why they have…Yeah, I mean that's very common in military situations, in battle.
Not in the military where they're all regimented and what have you, but when they're actually in the chaos of battle, being able to hear your intuition is key to surviving. So the same thing I don't want to say business is a battle because I don't think it is. But there is a chaotic thing to modern business, and it's getting more chaotic, and more technology, and social and political change is happening right now and that's why the old ways of just using your ego, and rational mind don't work as well.
Meghan:          right, right
Michael:          And I'm not saying I think ego and rational mind of fun tools to use as well.
Meghan:          Right, right! I mean you have to make friends with them. They are never going away.
Michael:          But intuition, and guidance is another tool of fallible in business, and now is the time to if you want to do well in your business, in traditional measures but also in joy and happiness. I think is key.
Meghan:          I think it's key too.
Michael:          So, the other thing I just want to say about adrenal burnout. I used to drink a lot of coffee, and that would be my way to kind of cover up my adrenals being burned out. I wouldn't have enough energy and I'd be down, but I drink a stimulant and then I could go, go, go for a bit more.
Meghan:          right
Michael:          And I'm imagining some of the people listening do something like that. And then at the end of the day, I'd be, guess what? I'd be like overstimulate so that I drink a bunch of alcohol to calm down. And I'm not sure what the point I'm trying to make here is. Like if you're doing that, you might want to contemplate, trying cutting it down on just doing without because it's much easier to hear the intuition, and not be damaging your body, and to be able to hear the messages from your body. Because, I honestly believe when we get sick, it's a message from our body.
Meghan:          I completely agree.
Michael:          So, maybe we can talk about that. So let's do it. You've made a commitment to your intuition, and you think that's important for modern business success. So, tell us about your commitment to your intuition. And we'll talk more about how you may hear messages from it or not.
Meghan:          Sure, so what I've noticed; really just recently to be honest, is now, I can clearly know when I'm connected. And what I mean by that is, everything just seems to unfold really easily, and magically. You know when you say, what would it take for this to feel, safe and wonderful and easy? That's how I feel when I'm connected to my intuition, to my innermost down. It's all almost like the solutions just pop into my hands, and I didn't have any ego mind involved in many fashioning out solution. And then, I can also very easily tell now when I'm disconnected. And when I was talking about wanting to have some sort routine that would make me connected, I would sometimes believe in the facts that I was.
But still things don't felt like a fight. I was second guessing myself. And I think I second guess myself in those moments because my ego was giving me solutions that my intuition knew were not the right solution. So it becomes very subtle [laughing] [24:10] and this cultivate issue in a relationship between you and [unclear] [24:17] And so now, I mean … of three states you're connected, just connected or in the process of reconnecting; getting back to that place that feels so good, and it's a daily dance. Because you know I have this spark of wisdom inside me but I'm also human. I have to eat; I have to the bathroom, I have to you know take out the trash and [inaudible] [24:38].
It's a story that was in ego mode, I should know how to take out the trash. But you know, it's just kind of a funny little game we have here [laughing] [25:49]. We have this opportunity to live in a way that feels so wonderful, and so guided and we also have the reality of these bodies, and I think the nature was to nature our egos. So it's a dance, it's a dance.
Michael:          So, I'll list those three things connected, disconnected, or reconnecting in the show notes, you can find on the website for this episode. But I love how you're noticing throughout your day, am I connected, or disconnected, or am I in the process of reconnecting? Because I'm just guessing when you start off this process maybe most of the day you're disconnected.
Meghan:          Absolutely, absolutely! And you know one thing that's interesting is, there are days that I choose to be disconnected. And by that I mean, you know there are days that we've stories running there and it's just like that person did something to me or you know I'm a victim, you know our ego loves to make up the stories to take away our power, and it can be really enticing. It can be very seductive to one of your power list in terms to feel like you can't make changes if you are not in charge of your own, in your world at least. And it's been interesting to notice those days, where it's like I was feeling cranky this morning and it's three o'clock and I'm still feeling.
And I have chosen to not reconnect with inner ways and to not reconnect maybe does emotion. It's not really emotions, it's like I'm already reconnected with myself. And you know, I just say that because it does it's a very humbling experience to be human and to form a relationship between our inner wisdom, and these brain, these mind that I'm also want to run a show. You know so for me, it's taken a conscious effort to really love this ego mind that tries to tell me that I'm powerless and that I have to do what other people tell me to do, right, that's the only way to be successful. My definition of success is it real. So it's, a funny thing.
Michael:          It is a funny thing. And I know for me, it helps to take my consciousness out of my head. So if I imagine my conscious in a little elevator and it goes down my head, down my throat, hops all the way to my hips. I have a great different experience, and even out of my body, I could have my conscience good. You know, if you do astral travel or whatever, you can have it go way out of your body. But even just a few feet out of my body, it feels very different, and then it's easy to be less identified with my ego mind. And almost think of it as like if I had some young toddler saying, 'mummy, mummy give me peanut butter now, or give me fame now.' Or whatever it is that the ego mind wants. Just I mean, I wouldn't get … If I was in a peaceful state, a toddler saying what they wanted, would not … It's like yes dear, I love you and let me contemplate that, and meanwhile I'm going to do some other things.
Meghan:          I love that. I love what you say about grounding down. Like going down into your body makes it so much easier to reconnect, that's why all those processes are down [inaudible] [28:33] or the physicality, sometimes it'll bring you back to yourself.
Michael:          It definitely could be it, and there are days where it's just better to like say screw. I'm not doing in a good mood. I'm not going to do more harm to my business and good. I should just take off.
Meghan:          Right! Right!
Michael:          And call in sick, even though I'm not physically sick. I'm having a mental health day.
Meghan           Yeah, and I think that more and more people are finding either if they don't give themselves permission to take a break; to rest, to take a step back, then they're forced to and that's always tough to deal with. When you do have a day off and then you have to lie in bed because you have pretty like symptoms, that's no fun. So it's always a lesson maybe I should just take [laughing] [29:26]
Michael:          Take the time off proactively. It doesn't even have to be … If I take an hour off proactively, I don't have to spend a day being sick in bed.
Meghan:          right, right
Michael:          And it's funny when I'm in the flow. If I like schedule too many podcast and miss few meetings in a day, people just end up rescheduling and it's like…
Meghan:          Fascinating, isn't it?
Michael:          Yes and then I talk to them later and they said, "Oh yeah, so what a blessing it was that we didn't do that meeting that day because I was slammed with stuff so."
Meghan:          I love that and I find so fascinating when you are in flow in your intuition. Oh, the obstacles just kind of disappeared.
Michael:          Well, and I think there's an unwritten assumption of the hustle entrepreneur mindset that the more you do, the more gets done. The more is achieved, and it's just not true. It's quite possible to achieve a lot in your business without hustling. I mean I'm not saying, sometimes working, action is important. But it doesn't have to be struggle.
Meghan:          Right, right, and you've got to take into account the 80-20 rule and also now, there's this concept of deep work that's coming up, which I think is really important thing for people to think about. The ability to focus and get your key tasks done; those things that were the 20 percent of your work that brings in 80 percent of the income. You know, how can you focus on that versus just quote-unquote just hustling which I think, it's mostly that I'm going to work 80 percent more, and bring in maybe 20 percent of income of really hustle. Like does that bring you joy, does that acceptable good? Are you taking care of yourself? I think that's really like if people can take a moment and step back and just really look at, what are the income generating tasks in business? And then let go of the things that you feel like you should be doing you know that someone else told you, you have to do to hustle.
Michael:          Well and I think actually goes negative. There are those 20 percent of toss that brings us 80 percent of our income and then, there's a different 20 percent that bring us 80 percent of our joy, so you know?
Meghan:          That's a really, I never heard that, but I love that.
Michael:          Yes, so you know, you may need to do more than one 80-20 to get you want, if you want profit, and joy.
Meghan:          yeah
Michael:          But you know and then, you do that other you know if you're hustling, you do that other 80 percent of the 40 hours in the week, that produce another 20 percent which is really not that great. But then people carry on, and they work another 20 hours, or another 40 hours and at some point, it actually can become negative. They can end up so tired, they make mistakes, and they have to redo the work, or they have a bad conversation with potential client, and it screws up the deal. Whereas if they've been relaxed, they could have had you know an engaging connect-full conversation and close the sale. So, I think there's actually, (I don't know what the percentage is). But it's quite possible there could be some of our work actually has a negative impact.
Meghan:          Yeah, and you look at people in different industries who would do get tired or make a mistake, because they are there overworked, or they're just pushing, pushing, pushing too much. If you look at our medical paradigm right now, doctors who are working … I think resident sometimes have 36 hours on, I mean that it's hard to not make a mistake if you have to stay awake, and be saving lives actively for those hours.
Michael:          There probably is a reason why doctors are one of the professions who are most use addictive drugs to deal with stress; partly because they have access but also because it's stressful.
Meghan:          very stressful
Michael:          So and it's a little silly really. I mean it's great to have that muscle there to be able to do 36 hours straight if you have to. Because if it's like a terrible accident in the hospitals in a day where people are great, you can do it. But don't be doing it all the time. It's just not good for you, not good for your clients, not good for your health, bad for your relationships, indeed. So, tell us a bit about speaking of relationships, tell us about your relationship to your intuition. Do you have a relationship with your intuition?
Meghan:          I do
Michael:          Does your husband know?
Meghan:          He supports it. I also have embraced my intuition, and truly in being who I am. Sometimes I think it can be hard to put a stake in the ground for intuition in the world that really values logic, and double blind scientific studies, and that's the truth. A lot of people value say scientific papers as the truth; the only truth out there. And intuition cannot be studied, it cannot be justified in a lot of ways. So for me, it took a lot of years to trust myself, and to trust my intuition. And to let's say, honor it above the double blind scientific study that tell me this is the way that I would be successful. So, I do have a very strong connecting to myself now, and to my intuition.
And a lot guide me in our decisions from what I want to eat, to what I want to wear, to what to do with my business for the day. And it doesn't have to be a formalized question, but it's truly just one of those stakes. It's like am I in flow? Then the answer just kind of come to me, and I trust them. And it can even be as simple as a lot of people have read the book by Marie Kondo – 'The Magic Art of tidying up: The Japanese Art of Tidying Up'. You pick up one thing, you're like does this bring me joy? And you feel like, does it? Okay, I'll keep that. When I'm in flow, the answer is always yes, yes, yes; this feels good. And when I'm out of flow, when I'm disconnected, things just don't feel as easy and so, that's why I've learn to cultivate this relationship with my inner wisdom. Because I prefer for it to feel good; to be honest.
I prefer for it to feel good. And also, when I'm in a state, if something doesn't feel good because we live in a small village where there's tragedies, and there's trauma, and there's ailments in so many ways and sickness. And when I'm flow, I can more easily access my emotions and then, I feel safe to feel angry, or to feel sad, or to feel grieved. Because I can see, well then, I have the courage and the confidence to know that the feelings isn't going to take me out of the game for six months. Whereas I think in the past, I didn't want to feel the feelings and so then, I would feel low-grade dominant sort of depression, because I wasn't allowing myself to really feel emotions, and process them. So again, in touch with my inner wisdom. I'm not afraid of feeling the whole range of human experience which is a real get for me personally.
Michael:          Yeah, because emotions are just energy in emotion, if we let them be in motion. If we suppress them, they turn into illnesses, or pieces of our business that don't work well.
Meghan:          right
Michael:          That book, 'The Japanese Art of Tidying Up' and I'll put the thing in our show notes on that. And she was applying that to like your house or rooms but [crosstalk] [37:18] yeah right. But I want to take it deeper than that because we can apply it to our businesses. We can say, okay, here are all the different areas of our business. Here's the marketing department, the sales department even if I'm the one wearing those hats.
Meghan:          sure
Michael:          Maybe I put on my little marketing hat, or my sales hat. We still have those areas in our business no matter what size they are. The accounting department, IT department, and taking that and examining not just the physical things. But like is the system I'm using here, do I love it or should it …? Does it need throwing out, and need another one.
Meghan:          Right, great.
Michael:          So and then, the same with all the people I work with go through my entire client list. Okay, this client, do they need throwing out or [crosstalk] [38:03] and the same for all the staff on vendors I work with. Examining each of those, are they bringing me joy?
Meghan:          Right, right!
Michael:          So, there's a lot of deeper wisdom there than just clutter clearing your home.
Meghan:          Absolutely, absolutely and I think the beautiful thing about being in relationship with that question, is it will change over time, you know it always does for us. A book that was so important to me five years ago, is one that I could in some cases could easily give away now, you know because you are in a different phase in your life. And so that's why I think it's important to keep asking that question.
Michael:          Yeah, I had a collection of three thousand books. When I sold my house, I gave 80 percent of them away.
Meghan:          wow!
Michael:          So because I got what I needed from them.
Meghan:          yeah
Michael:          Though I must admit I did take a digital photo of the bookshelf, so I had the spines of all the books, just in case I wanted to get one of them back. Not from where I'd give them to. I'll buy it back on Amazon.
Meghan:          yeah
Michael:          But I only did that, you know I think I did that like three times in five years.
Meghan:          wow!
Michael:          So really I was pretty okay with what I let go. So, what about people who are listening who are like have this belief that you either have intuition, or you don't have it?
Meghan:          Well, and that's an interesting question. As someone who believes everyone has intuition. I guess that my advice, and my point of view would be that I feel like the only way you can hear your intuition, is when you're slow and quiet. And for me, the first time I ever heard my inner voice, was when I watched a labyrinth. And this is back when I was in college; I'm not even 20, or 21. And I had never quieted my mind before my whole life. I think this was probably before the bored, about meditation. But when I watched silently into the center of this prayer labyrinth that was set up for a week, in the center is where I finally heard my inner voice for the first time. In front of it, coming to tears with it because I'd never heard that before, and it was such a sweet-laden voice.
So I think that sometimes, we have so many critical voices in our minds, these other parts of ourselves that telling you, you are not good enough or driving you forward. I think that it sometimes, it takes that 15 minutes' walk to quiet point and there are I think, they're called prayer labyrinths, or meditative labyrinths all over the world. And so, if you're somebody who doesn't believe you have intuition or inner voice, that gentle, and loving and wants the best for you, you know might be a way to access it for the first time. And the other thing that helped me to hear my inner voice was [inaudible] [41:04] yoga meditation. And I don't know if you've ever practiced that but…
Michael:          I have.
Meghan:          Okay, so you know?
Michael:          Yeah, every day for the past eight years.
Meghan:          [Laughing] [41:13]
Michael:          Something you didn't know about me
Meghan:          You know that's amazing and so me, it was such a great proof to not just sit still, but instead when I had close with my hand, or sometimes I was moving my hands, and my body. Sometimes, I was rocking, there was a mantra that teacher would play a music, you know song with a mantra and with all that emotions and things to do, that [unclear] [41:43] mind and that's when my intuition was able to come forward. So I think sometimes it's a misconception that you need to be perfectly still and not moving and that your mind would fire. For me personally, I found it's much easier to access my intuition when I'm dancing,, when I'm writing, when I'm walking…
Michael:          I always take a journal with me when I go to one of the ecstatic dance things.
Meghan:          yeah
Michael:          Pretty often, I'll come up with these amazing business, and creative ideas during the dance. So I just kind of sneak to the corner, write them down, and then go back to dancing so I can get him out of my mind.
Meghan:          I feel the same way and I love excited dancing. It's been such another healing, modality for me. And again, when I'm in my body, that's when my intuition speaks to me. So for me, it's a lot about getting out of my head, this spinning, spinning, spinning. This stories in our minds, getting into the body, and letting that wisdom arise from within. So if you don't believe that well, those are my thoughts.
Michael:          And just a suggestion for people who are thinking of doing a labyrinth tour, or maybe just if you don't have a labyrinth near for you, maybe you just go for a wander in a local park, or a wood or whatever, don't take your cell phone with you.
Meghan:          Yeah, that is really help.
Michael:          Because if you are constantly connecting with messages and vibrations or whatever, how can you get that fifteen minutes of peace in order to get to connect with your intuition?
Meghan:          right, right
Michael:          And I think that comes back to the go, go, go being busy all the time. You know part of the thing, if we're always busy how can we hear our intuition? It's hard.
Meghan:          Right and that the go, go, go also, I want to add on to it, is the taking in information. Pursing information whether it's scrolling through Twitter or Facebook, or Instagram, or just constantly being…
Michael:          Fear of missing out, right?
Meghan:          Not the fear of missing out, it's the radio coming at you, it's the TV coming at you from every bar and restaurants, and airports. You know it's hard to find a moment where you're not being bombarded with information, not taking in information which is the opposite of letting wisdom come up from like in you.
Michael:          I mean the conspiracy theorist in me might almost believe that certain elements in the society are afraid that if people were in contact with their intuition, they wouldn't be able to control the she-pull and so better have TV's in the elevators and in the beauty salons, in the bars, in the cars, and everywhere.
Meghan:          Right, it's almost as if people are … and maybe some people are afraid of what their inner wisdom is going to tell them to. You're in the wrong job, you're in the wrong relationship. It is time to move, it's time to live on purpose in your live. That can be really scary thing. And if you're unfamiliar with your intuition and you don't know that you only get one step at a time, it can be extremely scary for your ego mind who is used to projecting 50 years in the future. What am I going to do in the time and how am I save enough money to survive 50 years? If you are in a huge shift in learning to trust yourself and trust that you have this part of you that knows how your journey will go, and wants the best higher is good for you, and for everyone around you. And learning how to trust it in small simple ways might be an access point, an entry point, where you can start to trust yourself with the big decisions too.
Michael:          So if smart entrepreneurs are constantly guided by their intuition, how would that play out? I mean do you get a big message from your intuition when you're being guided, or you get smaller messages, or how's that for you?
Meghan:          I think for me, I always get a very simple, clear, loving next step. And sometimes, it doesn't have anything to do with business which is really interesting. It could be just the guidance to rest. It could be the guidance to not work with something yet. It could be the guidance to take a break. I feel like in your wisdom is usually very gentle, and it's also in alignment with let's say, the speed of nature. And as we all know, the speed nature is mostly pretty slow thinking of grass growing, and its turning in. And yes sometimes, there are explosive, powerful things like, a volcano erupting, or a tornado. But that's not the constant. In most of nature, things are unfolding are really cyclical, it is so manner. So for me, learning to trust the small download saying, why don't you take a break and not move forward on that we're not yet.
The next time I tune in with my intuition, I may be okay, now it's time to write an article, let's write about this. The next thing might be oh, it's time to send out a message to, you know your email list. And then, by learning to trust those steps when I get the download, let's say it's time to close your business, we're just hard for people to accept, or it's time to retire that program, and service you're offering. You can trust that knowing your intuition is going to bring you the solution and set you on your next course of action. Again a very gentle loving way. But it's not like lightning strikes, it's more like a whisper comes up from me personally.
Michael:          And that's if you're hearing the guidance regularly.
Meghan:          right
Michael:          If people are not hearing the guidance, I think it can be a lightning strike or a two by four hitting us round the head.
Meghan:          That's true. That's so I think cultivating a relationship with your intuition is one of the greatest gifts you can give yourself. If you can set aside time every day to do nothing, truly if you just give yourself time to unscheduled, and see what arises: do I want to go for a walk, do I want to sit and have a cup of tea, do I feel like pulling that book off the shelf that I've ever read that I bought five years ago? When you give yourself that unstructured time, that's when the intuition can come up.
Michael:          Scheduling unstructured time that sounds contradictory, doesn't it?
Meghan:          It's so contradictory, but in this world of go, go, go, that's kind of the easiest step you could take, you know? And that doesn't mean go to the gym, and see what podcast comes up for you. Because, but you know that's the opposite and maybe in your unstructured time, you would want to work out. But maybe you want to I feel like having that openness, creating openness, creating small months of openness. And it doesn't have to even 50 minutes, it can just be asking yourself throughout the day, what would it take to me for my step?
Michael:          Yeah and not scheduling your day back to back with meetings, or tasks. And like I'm saying earlier pick the 20 percent of the task that will give you 80 percent of the payoff and make sure you get those done but don't fret over the other 80 percent.
Meghan:          Right and it might be for you asking yourself, what marketing task can I like go off right now? As a marketer, I've worked with so many businesses ad where we need to get our Twitter following up to 1000 people this month. We need to get Facebook followers up, and we better get on Snapchat. My point of view is like what's the point and we do have some sort of [inaudible] [49:22] to take you're just running on a treadmill. And I think if people can ask themselves like what is actually bringing in the results, and what do I enjoy, and what can I let go off right now? You can always come back to those accounts on purpose. But to just keep running for no reason also, is the detriment that you don't have that time to disconnect with yourself in unstructured way.
Michael:          So let's talk about a 'C' word; courage. So courage of intuition versus the courage of ego.
Meghan:          So this is something that just came up for me today. And it came up because I see so many people who are acting courageously, speaking out about what's important to them in the world right now. And sometimes as a small business owner, I think it can be scary to kind of put your stakes in the ground and say, like I stand love, I stand for tolerance, I stand for equality, I stand for whatever is important to you in your life. And in other ways, you can be about taking a leap in your life not because you want to some sort of well, [inaudible] [50:34]. It was like you're bigger than this, you can do it, you should make a million dollars! And I've been to those, and it's very motivating. Underneath below, start a business, and quit my job.
But coming from a place of trusting that you're on track, and that it's safe for you to be who you are. And then, the courage intuition is about coming into alignment with you are, and it's about self-actualization. Whereas the courage of ego is usually, at least in life, it was about how can I make more money? How can I be famous? How can I have an impact on the world, and in it bigger than what I am now? It was a very different feel and honestly, one is motivated by fear for me. The courage of ego is motivated by fear that I'm not enough if I don't make much money. I'm not enough if I don't make this many clients.
Whereas the courage of my intuition is all about love. It's about how can I make people know that I support them? How can I help people to know how that it's okay to be who they are? How can I let people know that whatever has been happening so far does work for me, and I want to just create a different world? So, it is almost like coming from love than coming from fear.
Michael:          Yeah, and if people listening are not sure whether they're coming from love, or fear in this moment, in this business task they are doing or whatever, just notice if you feel contracted is your posture kind of hunched over? And you've got tension in your tummy, or whatever occurs for you when you have fear. Or you open and expansive so and that's a good first step to being able to recognize whether you're coming from love, or fear in the moment. And that relates back to being in that flow of joy and ease because when I come from a space of love, I typically am in joy, and ease.
Meghan:          right
Michael:          Where I'm certainly more open to it.
Meghan:          Right, I mean we all want to take action, and solve problems out in the world. I mean I think almost everyone has a point of view that they want to bring to light. But coming from a place of anger or fear, I feel like it doesn't support the promise much as if I can come back into myself, access my inner wisdom, access my unconditional love and take action from that place. So it's a very subtle, very energetic shift. But I really feel like it makes the difference.
Michael:          Yeah, I mean all these wars on this stat and the other governments put out really,                           it's like having a war on for peace. It's silly you know.
Meghan:          Yeah, it doesn't make sense.
Michael:          Yeah, it's going to be a more kind of Gandhi's shift. He wanted the British to leave India, but he didn't fight them.
Meghan:          right
Michael:          And that was a genius move on his part. And actually, he was more powerful, and it was impossible to defeat by traditional military means. They tried machine gunning hundreds of Indians, and doing various other nasty things. And they lost because he had a more powerful higher level approach.
Meghan:          right
Michael:          It is interesting. Well, I'm certainly on a mission to help all entrepreneurs, or business leaders to openly use their intuition and I just think that's going to bring the more joy and profits and less stress like we talked about in this episode. But I also think that if we're all making decisions in our businesses from our intuition as well as our egos, we're going to make less stupid decisions.
Meghan:          That's a very important point, yeah.
Michael:          Yeah and by stupid decisions, I mean ones that hurt other people, or hurt the planet.
Meghan:          right
Michael:          So because a lot of businesses do things that hurt other people, or they hurt the planet. And I'm not saying we wouldn't do any of those, but I think we'd make a down side less of them.
Meghan:          Yeah, I agree.
Michael:          So, what would it take for us to do that, to openly use our intuition in all our businesses? That's a question for you listener.
Meghan:          I was going to say it seems like one we should have all ask ourselves, what would it take?
Michael:          Yeah, so if people wanted to find you online Meghan, what would be good ways to do that?
Meghan:          You can visit my website; feminineintuition.com. You could find me on Facebook at Facebook/Meghan.Kerner. And it is MEGHAN KERNER. And I also have Facebook group for feminine intuition, so you can find me at Facebook.com/groups/feminineintuition. It's a private group. So you have to ask to be admitted and if you could do that, I'll be happy to add you. Yeah, that's one way to find … see what I'm doing on my website? When I get inspired to make it your own intuition. You can watch me stumble through it. I make it look easy, though I give people permission to fail and to look awkward, and still find the other joy in life.
Michael:          Wow, that's great! Well, thanks so much for being on the podcast today, Meghan. And great success, joy, and ease with your Feminine Intuition Project.
Meghan:          Thank you. You know, thank you so much for having me on it. It was such a pleasure to connect and just to be in a space of possibility, and encouragement for people, so thank you.