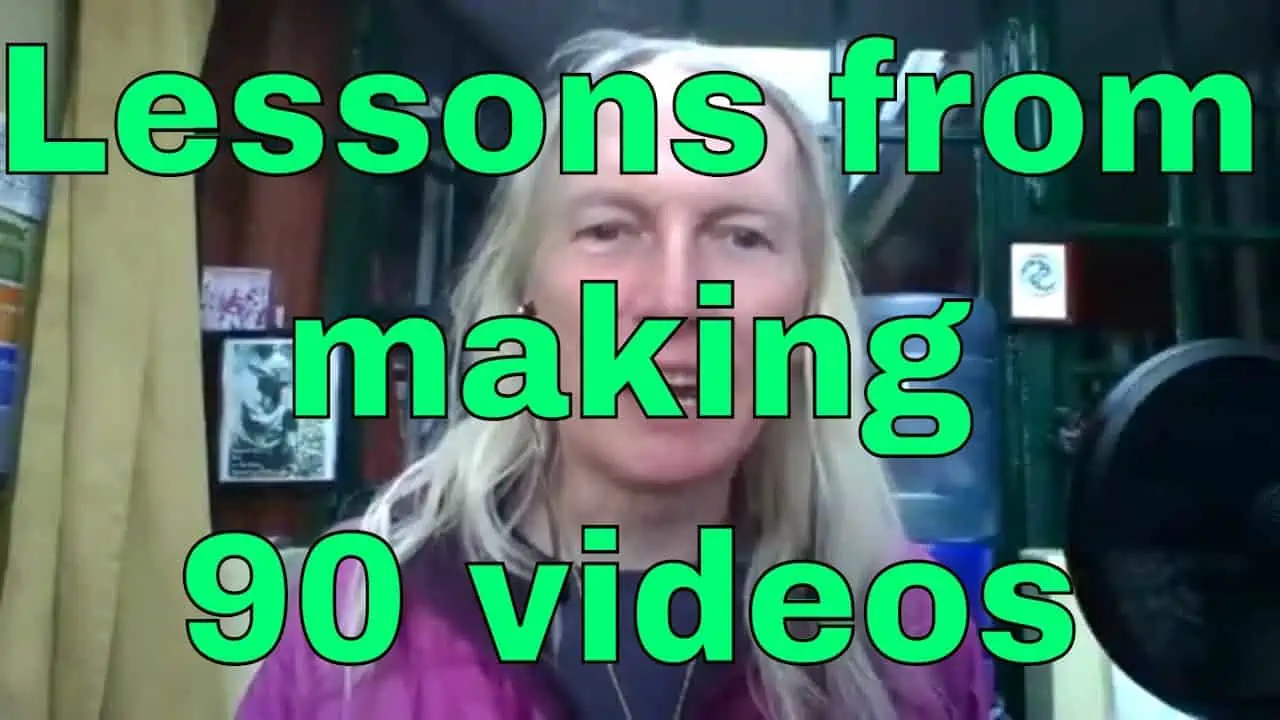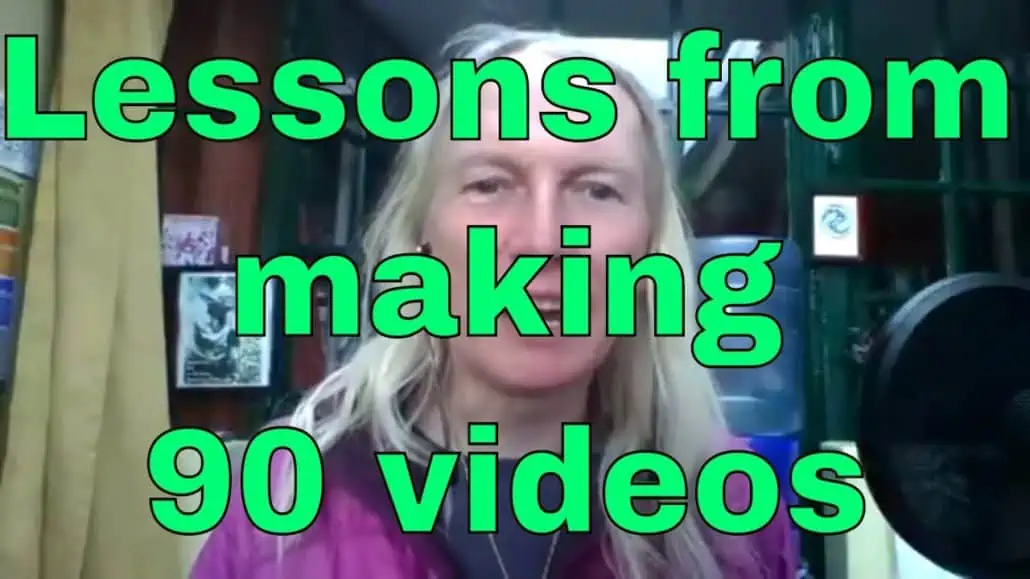 I just finished the 90th video in my 90 days video challenge. I have published a video every single day for nearly the last three months. I started off a bit anxious about it. I don't know if you remember my first video; I was so frightened about being live on camera, I had to take a walk while I made the video, in order to calm down. Which is a good tactic, by the way, if you ever want to make videos.
I made a conscious choice that most of my videos would be done through Facebook Live, so they are live videos, no editing, no retouching. I have published a few videos where I recorded it as a video and then did some mild editing, but that takes so much more time. I'm so glad I went live.
I had fears about doing live video and recorded video, so, about what other people would think of me, or what if I made a mistake, or what if I didn't know what to say, and all kinds of other wacky stuff going on in my brain. Which, I'm glad to say, most of that is now out of my brain, and I hope I … I mean, my belief is, I have got better at doing video, both in the, you know, how to connect with the audience and the presentation, but also in the technical side of things and different tools you can use.
Things I Learned
Some of the other things I learned is to say um and er less. I don't know if I'm not saying them at all, but I'm using them way less. I will pause for breath instead of using one of those filler sounds, so that's a tip.
Another thing I did, on my laptop, I have a webcam on the laptop, as probably you all do, and I just got a silver marker pen and circled the webcam, because before that, it was hard for me to see where it was and I wasn't looking in the eye of the camera, which meant I wasn't looking in your eyes when you're watching the video, which is kind of not so connect. So I did that on my cell phone so I can see, you know, remember where the heck the lens is. So that's another little practical thing I did.
The major things I did were just overcoming my nervousness about what other people would think, or having to be perfect or, you know, I must have my hair done right, or if I'm wearing makeup, it has to be right. What about what gender I'm trying to portray? None of that matters. It's just important to share things that people care about and are interested in and to connect with the people watching the video. And have good sound. That's another important thing.
Tools and Programs I Used
New Phone – I got myself a better phone because my other phone just would die after a few minutes recording video because its battery or software wasn't happy. We're not quite sure what happened with that. But the new one lasts for a long time. I haven't ever maxed out the amount of time recording video for the battery. I think it could record quite a few hours of video, no problem, which is great, even if it's live streaming. So it's a ZenFone 4.
Facebook Streaming – I also experimented with BeLive.tv, I think, is the website, that lets you live stream into Facebook and also have guests on a Facebook Live, so I'm looking to play with that more. I learned the value of a good microphone, that's probably the number one key thing for good video, and also the importance of adding captions into YouTube videos, or like a title card or whatever they call it. The thing at the beginning that says what it's about in big letters that are colorful, that attracts people to your videos.
For videos I did edit, I used a program called Director something or another. I'll have to look the name of that thing up, but it's a phone app that lets you edit your videos, and I did learn to put animated text into my videos to subtitle them. I also learned a tool that would let me subtitle longer videos in a more automated way, so lots of cool things.
Microphone – People will suffer through bad quality visuals on a video if the sound quality is good. The opposite is not true. I use a microphone that is ATR2100. I think they call it a shotgun mic, I'm not 100% sure, but it's directional. That's the important thing, so it doesn't pick up background sound.
I will continue to make videos, probably not one every day, to be honest, because that is a commitment. There have been some days where I really didn't want to make a video but I made it anyway. I also had some backup recorded videos that I'd edited that I could upload if I was traveling or just wasn't feeling good. So that's another tip if you do one of these challenges, have some backup content.
I highly recommend doing a 90-day content challenge, whether you publish a video every day, or you publish a blog post or some other content. Maybe you're an artist and do drawings or paintings, I don't know. But the more you practice, the better you get, and I got over having to do perfect videos. That is probably one of the keys things I learned from this.
If you want to double your profits and half your stress, check out the Biz Intuition Profit Doubler. It is a free course for you to use intuition in your business.