Kate Galliett talks about "How Mountain Climbing Helped My Intuition Soar" in this episode of the Intuitive Leadership Mastery Podcast, with host Michaela Light.
"Everything within me reshuffles when I'm out in nature, or on a mountain. And it's that reshuffling that is one of my favorite parts of being on a mountain because I can't logic my way into that reshuffling when I'm in the modern world. But if I'm just sitting there staring at the beauty of the mountain, or looking at the pine tree that's next to the rock we're going to climb, all of a sudden, the reshuffling happens." – Kate Galliett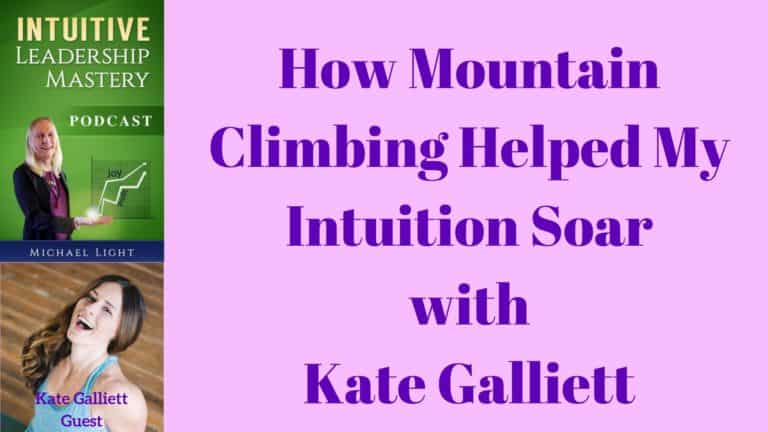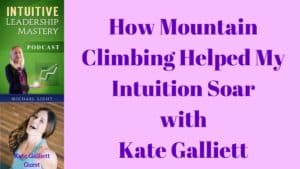 Here are some of the topics discussed in the podcast:
Why she climbs mountains?

Her intuition said to move out West near mountains, leaving a lovely home and thriving business but not satisfied

Giving away fake security for trust in my intuition

10x the peace

10x alive

How she got into mountain climbing

The Feeling and process of how the intuition arrives/shifts/shows me the "answers" I've been looking for…puzzle pieces re-shape and the picture becomes clearer

Not of me, though me

Ask the WWIT question then let it just sit

Amping up the speed of her intuition by climbing

Weekly habit to go to mountains and nature

What if I am not near mountains or nature?

Take lots of photos there and flip those photos on my phone later and meditate into that mountain space

Walk around the neighborhood, especial on grass. Noticing all the detail of nature. Seeing the lifeforce at work. Experiencing seasons. Compassion.

Plants on desk

Intuition and empowering staff.

Mountain → Peacing and grounding. Drop your ego. Get into

Ego – constricts, less flow, more foolish decision making

Is this truth or my ego desire?

How 5 deer saved her on the mountain

Mountain spirits and apus

Sending gratitude to the mountains, receiving back answers

Talking with computers, phones and other tech

Talking with our body parts and cells

My body town hall meeting

For each part – What do you need and what do you want/agenda

Aligned body

What is pain?

A conversation from our body to pay attention

dis-ease

Picking climbing partners or employees and clients – vetting for intuition and fit, co-creation flow, ownership, attention

Trial task for hiring – great fit vs good fit on paper

Initial engagement with clients, intake

Ancestor connections

"We are all creative, thoughtful and intuitive beings and the modern world squashes that"

How the modern world blocks our intuition, a meditation app is great, but not greater than sitting by a river just staring into it and experiencing all of its sensations

Types of focus

Diffuse focus

Laser/narrow focus

Start a movement practice to

Why are you proud to use your business intuition?

WWIT to make business intuition more openly used this year?

Share the behind the scenes process in your work with others – inspire, humanizes you
If you want to double your profits and half your stress, check out the Biz Intuition Profit Doubler. It is a free course for you to use intuition in your business.
Mentioned in this episode
When you have the deer as a spirit animal, you are highly sensitive and have a strong intuition. By affinity with this animal, you have the power to deal with challenges with grace. You master the art of being both determined and gentle in your approach.

Hexagonal Questioner cards – these are called

Inquiry Cards

but any sort of item that poses a question to you, I find, makes an excellent journaling tool for opening to more intuition

What do I really want?

WWIT To get what do I really want?

If you have the owl as totem or power animal, you're likely to have the ability to see what's usually hidden to most. When the spirit of this animal guides you, you can see the true reality, beyond illusion and deceit.

Programming crystals video

(one of ML 90 day videos)

Hank the spirit elf who lives on my phone (a bit of a trickster)  message to slow down
Podcast: Play in new window | Download (Duration: 1:10:07 — 64.2MB) | Embed
Subscribe: RSS
Kate Galliett is the creator of the site, Fit for Real Life, where she brings together body, mind, and movement to help people become highly-charged and fit for real life. She owned a gym in Chicago before deciding to move west to the mountains. She now coaches clients in-person, online, and through her foundational strength & mobility program, The Unbreakable Body. She holds a BS in Exercise Science and has worked as a fitness professional for 16 years.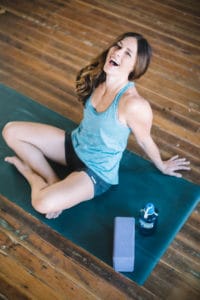 Learn more about Kate Galliett at:
Interview transcript:
Michaela:        Welcome back to the show. I'm here with Kate Galliett, and she is a mountain climbing extraordinary. I saw a video of her where she was just hanging by her fingernails from this rock. It was very inspiring. But the reason we're talking about this is because it helps her intuition to soar. And we'll look at her process and how she feels when she's doing that, and how she gets on sister business challenges while she's climbing, and how climbing is amped up the speed of her intuition. And how the modern world that many of us inhabits in front of our computers maybe squashing our intuition. So and what you can do if you don't have to have a mountain next door that you can go and climb. So welcome Kate.
Kate:               Thank you so much. It's such a pleasure to chat with you.
Michaela:        Yeah! Great to have you on the show. And in case you don't know Kate, she is a champion for people getting into their bodies and getting fit, and realizing it doesn't matter how old you are. You can always have a happy and healthy body.