You can listen to the podcast and read the show notes here.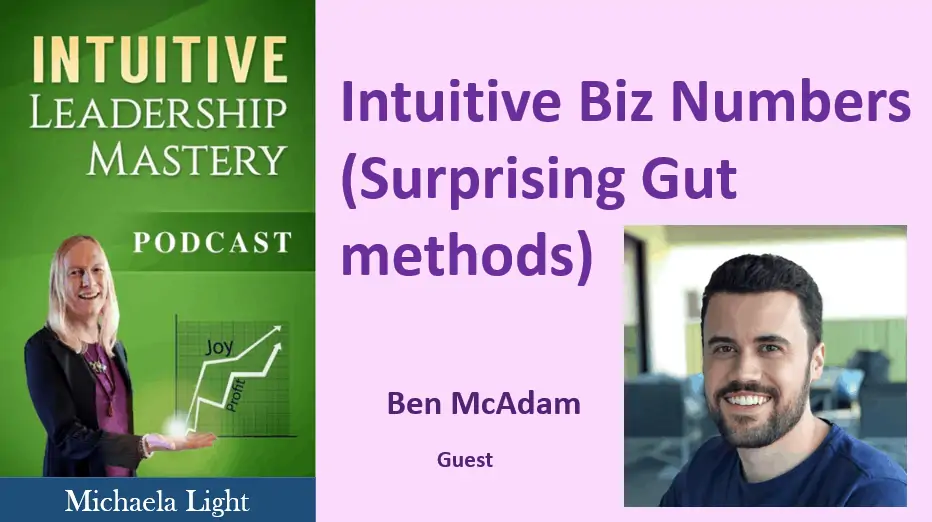 Michaela: Welcome back to the show. Today, we're gonna look at intuitive biz numbers surprising gut methods you can do with your accounting with Ben McAdam. And we'll look at how he uses his gut when he's doing accounting and bookkeeping to help his clients even more and save time. And we'll also look at the really amazing way he and his business partner decided to split and sell their business without having lots of arguments. And how he waits for the right time to move ahead with the business decision now. And we'll also look at how he uses his gut in hiring. So welcome Ben.
Ben: Thanks for having me.
Michaela: So when people think of bookkeeping or accounting or financials, I don't think intuition is the first thing that comes into their mind. It's very left brain, logical, spreadsheets, rows of numbers. And yet you've found a way to incorporate your intuition into that so it's less work and you give better advice to clients. Can you tell us more about that?
Ben: Yeah absolutely. I will admit bookkeeping is pretty boring, logical. You imagine a guy in a gray suit just kind of plugging along with lots of paperwork. That's definitely not me. I didn't really like doing that sort of thing earlier in my career and have worked myself into what I do now which I can use my intuition a bit more. There's a bit more creativity, a bit more passion, and positive things that I can add to people's lives. And when you're doing a bit more than just the data entry aspect of bookkeeping and even then, there is a lot of benefit that people can actually get from using their intuition and I use a lot in the work I do with my clients.
Michaela: So tell us more about how your intuition helps you.
Ben: So a lot of what to do with my clients is I help them understand their numbers. So I've got profit loss for an income statement in front of me. For those of you who don't know like all your income lines or expense lines and hopefully, profit totaled on the bottom. And I'll be looking through that comparing it to previous months and just waiting for my intuitions throbber red flag that there's something here that we need to dig into a bit more. It might be that there is a number that's sticking out that's different to the others or my gut's telling me that it should be a different number. Or maybe it's something really positive that I wanna make sure is in the book keeping error and is definitely something to call out and bring attention to. Or maybe it's a number that's…
I don't know why my intuition is telling me to dig into it a bit more. But I'll look into it and there's a bookkeeping error or something's going wrong there in the business and no one's noticed it yet. It's that initial red flag that gets thrown up that tells me, 'Okay, this is way need to engage your logical analysis brain. Try and find out what's going on here." So it's interesting that sometimes is the smallest things or even something I later can't point to about why on earth I thought that was worth looking into. But it's definitely very valuable when I'm trying to help a client improve their business.
Michaela: Now if you're looking down a long list of numbers in a spreadsheet or you know PNL report. [Inaudible] [04:05] actually you or do they seem more you know… Can you tell us, help us understand more how in your case your intuition is communicating with you. You know do you hear things, do you see things, do you get a sense in your guts when you're looking at that number?
Ben: That's a good question. It's a sense of wrongness. Like that feeling of like a record skipping or movie that you're watching there's a skip in it. And it's barely perceptible, but you just get that feeling that something's not right. Yeah usually, it's a vaguely unpleasant sensation as well. Like you've swallowed something bad or you've eaten something that has of these weird aftertaste that comes through. That's usually how it feels for me.
Michaela: So you were kind of gesturing at your throat just then. Do you feel a contraction in your throat as well or?
Ben: Sometimes, mostly, it's that after taste sensation. They have just been swallowed something that's not quite right.
Michaela: Yeah, like it's not the truth. The other numbers were true, but the one isn't.
Ben: Yeah or it's… yeah wrong. Like a wrong note in the symphony. It's like it sounds alright, but it's just… yeah. It's like an itch in my brain sometimes. It's just one wanting to fix it.
Michaela: And put it into the phraseology of Star Wars. It's like you felt up perturbation in the force.
Ben: Yes, yes that works for me. I'm a bit of a geek. But I love that.
Michaela: Yeah, why can't you be a get ICFO?
Ben: I'll think about that for my next rebranding.
Michaela: Yeah, so something somewhere in a report doesn't feel right or and then you dig down to see if you can figure out logically why it wasn't right. How often does that turn up something?
Ben: Every time.
Michaela: What? Really every time.
Ben: Every time, yeah. Sometimes it's just the bookkeepers put a transaction in a different category than normal or if it is first time I look at a client, it's a different category than I would have put it in which is okay. I'm flexible. But yeah, always turned up something. I wasn't always the case. I think I've been training my intuition for… How many years I've been doing this now? Over a decade I think. In the beginning there was no intuition and just one of those things that develops you see enough numbers. You start to get a feel for it intuitively
Michaela: You said you trained your intuition. How exactly did you do that? Was it looking at a lot of numbers, a lot of reports, and digging down into them? Or do you do anything else to train your intuition?
Ben: Yeah, it's been a fairly passive learning experience. Like one of the things I enjoy doing is learning languages even though I may not have any reason to speak them. Just like the intellectual challenge. And they talk in that about active things that you know. Like you've got your active vocabulary and you're passive vocabulary. The active vocabulary is the words that you know really well and you can use them if you wanna assemble a sentence. Whereas a passive vocabulary are the words that you don't know that you know until somebody says them or you read them and then you know what they are. And the passive vocabulary, that's all subconscious learning or things that you haven't put dedicated effort into trying to memorize or that you haven't memorized enough.
And so some of my intuition for the numbers has just purely been a volume approach of… I've seen a lot of numbers and so in my subconscious, my intuition in the background is putting together all sorts of rules and has a lot of data points to draw from. But I did the bookkeeping business that we're gonna talk about a little bit later. When a client would first start, I would go through and I would look at their income statement and profit and loss and use that to train my intuition. I'd look through and say, "Okay, do any of these numbers not look right?" And just kind of see whether I have a reaction to it or not. And then I would actually go in and have a look and see if there's anything wrong with it. So I took that opportunity to make that an intensive learning experience and see if I could train my intuition or not. And I think it helped.
Michaela: So you would do this in a low risk environment where you could just listen to your intuition, check it out, repeat it, and just help it learn where when you're getting that right nudge something's not right with the numbers.
Ben: Absolutely yes and spot on with the low risk part of that because it wasn't live with the client who are or potential client on trying to impress. This was on my own time. So it was easier to listen to my intuition and not have something else be clouding that. Like my desire to find something so I can impress my new clients. Could cloud what is actually my intuition and what's just my desire to please or something like that.
Michaela: So [inaudible] [11:03] in your accounting [inaudible] and you were wearing sacred robes and like meditating before you got to look at the report or.
Ben: No, no, not any particular external aspects to it. But there was definitely… I would do it when I was relaxed. There wasn't a deadline. I would often do it later at night when my conscious Brain was a bit quiet, a bit worn out from the day. So not times pretty good for that. But generally, that sense of I have all the time in the world. I'm doing this just for fun just as an interest to take that pressure off. And I mean that that's good for any kind of learning really. But I figure it was even more important to make sure I was really listening to my intuition as well.
Michaela: Now is this common among CFO and accountants to… do they use their intuition or?
Ben: No, definitely not. You're right. At the beginning, it's definitely very analytical and logical. They might have rules of thumb like Charlie Munger's famous investing rules. People have their own mental frameworks that they run through. It's very much a conscious thing. A framework that they've assembled logically or they've learned from somebody else.
Michaela: But there are things like they have ratios they look at. I don't know what Charlie Munger's investing rules are. But I feel he looks at certain ratios or whether the revenue…
Ben: yeah, yeah
Michaela: You know?
Ben: So yeah other CFOs it would be a lot more heavier on the analysis, Maths statistics, ratios; that sort of thing. Where is a lot of what I do is helping with mindset issues as well with my clients. It's not just here's what your numbers mean. Because I could give them the information, but if they're just going nuts with self-sabotage and money mindset issues then my advice isn't really gonna make a positive change in their life. So because there is also that interpersonal element which a lot of CFOs don't necessarily focus on. Because there's an inter-personal element then the intuition becomes even more important as it does in any other social situation.
Michaela: Now by mindset, you mean the beliefs they have about their business and financials and money.
Ben: yeah
Michaela: Is there a particular mindset that you come across a lot in entrepreneurs that gets in the way?
Ben: Yes usually, it's when they're growing their business. There is a ceiling; a certain amount of success, amount of revenue, certain amount of profit, certain team size, certain public notoriety… not notoriety, but how well they're known. They'll hit a ceiling of what they're comfortable with or what they feel they deserve or what… the people around them whether that's their family or their close friends. The level that they get out or the level that those people question and feel as appropriate. Usually, it's hitting that ceiling for any one of those reasons. Self-sabotage has a tendency to keep them below that ceiling. So then by it be something that might be a piece of advice that I give them all you know they've come to me saying, "I've tried X, Y, and Z. I don't seem to be getting any further ahead."
That there's a self-sabotage even if they manage to get one project to go well, they'll sabotage in a different area of their business or their own personal productivity or personal life even to offset that and stop them from getting past that ceiling. So that's the most common one. Other ones would be related to money. I mean there's so many mindset issues around money that people have and they shop in business. I mean if you would have positively reframed this challenge, it would be that businesses like the best self-development exercise you could ever invest in. Because all sorts of your own limitations that limiting beliefs come up and it's like a chance to work on them. And when they come out, when they're in the lives, it's a lot easier to make some changes.
Michaela: Well and you know assuming your business has more than just you in it. You know [inaudible] [16:37] staff in it, has vendors, has clients. You may also be operating with their mindset as well.
Ben: yeah
Michaela: So not only are you doing your own self-development, but effectively, you're helping other people self-improve as well.
Ben: That's a good way to look at it. I like that.
Michaela: So well its' fine do things yourself too. Nothing wrong with self-love. I'm just saying it. I mean changing your own mindset is a big enough challenge. But you often have to change other people's mindsets or fire them and replace them with someone who has a better mindset.
Ben: yeah
Michaela: I mean you know we think we fire employees because they weren't performing well or they had a bad attitude. And that may well be true. But maybe underneath that, they had a mindset if you didn't let them before mile long or maybe they were being part of your self-sabotage.
Ben: Yeah, yeah. I've had to talk to a few clients recently about their team members that don't really performing very well or that aren't a good fit. That's like the C-class in play. They kind of ticking along, they're doing just enough not to get fired. But in a small business, every person counts. So you need somebody that is much better if it brings better energy to the business and to the business or not because these are the people that you interact most often in your life. So we'll have a big impact on your energy. As well as just the pure hard-nosed business evaluation of who's being most productive or not.
Michaela: Well it is… you know I think that could be hard-nosed. It could also be what's described as tough love.
Ben: Yes, yes that's true.
Michaela: And what's best for the business and everyone else on the team and what's really best in the long run for them.
Ben: Yes, if somebody is not performing well in your business, there's a lot of reasons why. And it may not be the best job for them and you frame them up to find something that better suits what they're looking for and enables them to achieve really good results. Be fulfilled; that sort of thing.
Michaela: So makes me ask when you're hiring, do you use your intuition there or is it a bit of a crapshoot or?
Ben: Definitely intuition. I've had a few different experiences of hiring actually. As part of the bookkeeping business when we're hiring the bookkeepers, there was like a two stage interview process. I would have the second interview with them. But even before that, I would look at their resume that they submitted, their cover letter of the email that they sent it with, and the intuition would come into play then. It would be not just looking for technical red flags. Like how many jobs is this person had in the last three years, is there a reason why I can't stick with one long term. Or someone who changes jobs frequently. Is that a good fit for us right now and that sometimes it was. We didn't need someone long term on occasion.
So as well as evaluating for those sort of things, we'd look at does this feel like the right fit for our business. Because we you know even just to get the culture right, but also that we wanted to work with people that felt like they'd be the right fit as well. So there was that initial stage and then the first interview was with my now ex business partner who would do like the culture fit questions. And then the second interview was me and I would ask them all the technical bookkeeping and tax questions that we needed them to be familiar with. So I would go through that and as they're answering the questions, it's not just did they get the answer right. It's how they answer the question.
And if my intuition throws up a red flag on anything, I would like back with the numbers. I would ask a question and right at the end of the interview I would also do… I had written in the checklist; gut check. Right at the end there just to make sure I didn't forget. Just to see whether I felt this person was the right person to work with before we then say… Make them an offer. So it was definitely part of the hiring process. And I recommend everyone do the same thing. Your intuition knows things that you don't and how it's things that you should pay attention to. And hiring definitely an important point to do that.
Michaela: Now when you know we're doing the gut check on a hiring, how are you getting that information in your intuition? Was it the same as when you deal with numbers or are they different way or?
Ben: It was different. I mean with the numbers like are saying you know there's a bit of like a bad taste in the mouth. For the hiring things, it was more like I would sit and feel. How did I feel after speaking to this person for half an hour, an hour? Was I feeling excited about working with them further? Was I feeling light and happy? Or was there some element of like discomforts usually in the body? Some sort of discomfort or was I low on energy and slumped in my seat feeling exhausted.
I'm an introvert so if I talk to people for… you know too much talking and I get drained of energy and need to give recharge. But this was something different. Like I could tell the difference between when I'm introverted exhausted from talking too much in general and when this person has drained my energy. And I you know… Obviously don't wanna have any energy vampires or people that are draining. Dealing with the clients, dealing with the team and then me having to manage them. So that was a pretty important thing to check in.
Michaela: Yeah, I mean energy vampires literally do train our energy and they connect cords to us in order to do that. So it's very interesting and very common in offices that happen. So great that you managed to avoid that at the beginning. I'm kind of wondering if you could have applied the same methods you used with the number. If you just looked at a list of the candidates whether some of them would stand out to look at further without having to go through all the technical check and other interviews. Sounds like you spent between you and Meryl who was your ex-partner. You probably spent quite a few hours doing stuff before you came to gut check. And I am just wondering if there were some way to get a gut check upfront and just eliminate some of those people.
Ben: Yeah, we did in the beginning we weren't sure what kind of caliber of person we'd get interested in a remote bookkeeping job because it's not all that many of them. So we went through the whole experience and put in the hours. But after a while, we would get the resumes and Marilyn I would I want to call it go through the batch that we'd received that wake and just say if it's a yes or an hour to give them an interview. And part of that would be a gut check; both of us doing a gut check. And we would listen to the way the other person talked about that particular resume and sort of call each other out if we were noticing that our gut was trying to tell us something. But we weren't paying attention and would hear it in the voice and say, "Okay maybe not that person."
Michaela: That sounds really cool method there to save a lot of time. Did you haven't a gut [inaudible] [25:55] that if either one of you felt there was something off you just didn't proceed?
Ben: Yes, yeah, we did. In the beginning, it was… I forget his idea it was. But I've had it in so many different places that in business a lot of what you do in the beginning is say yes to everything. Yes to all sorts of opportunities see how they turn out because they might take you places you didn't think of. Or you never know where things can late. But then over time, you start saying no a bit more. And so in the beginning, it had to be both of us saying no first and not give a person an interview. We would… if we were on the fence we would spend the time anyway because at the very least, we would get practice interviewing people.
And that we felt was a good investment. It would yeah, I mean practice interviewing people from both a technical standpoint as well as training or intuition. Not that we went into that much detail about it. But if anybody's listening is thinking of doing the same thing, well it's a good practice. And at the beginning, we weren't absolutely swamped with clients so we had enough [27:25] time to invest in that kind of learning. But over time, we changed it. If one person said no and it was a no. That we just didn't go for that.
Michaela: Well I think that's a great method and you know I've seen people extend that to their teams that if they've done interview and then maybe later on, the team members they work with do like a group interview. If anyone's got there the or something for a novice
Ben: Well yeah, yeah I mean so long as you've got the right people on your team and they're not just saying no because they feel threatened that this person is gonna replace that job or there's some other negative issues that they're putting on this new person.
Michaela: Well does that really matter? Because if they are putting things on that new person or they're insecure, they're not gonna work with them anyway. Well you know about it.
Ben: I would rather that the insecurity was… you know, came up on the weekly or fortnightly call; one and one call that I have with them. I'd rather that came up and I was able to deal with it rather than it potentially veto a good potential team member. Yeah, I like the idea of the team having the interview. My first thought when I learned about it like 16 years ago whenever it was was that, "Oh what if you get somebody who is saying no for the wrong reasons?" But then if you've got the right kind of people on your team to begin with that don't project their own insecurities on negativities on someone then a team interview was a great idea to make sure the person fits.
Michaela: So you mentioned you started a business with a partner; business partner and then you decided to split and I guess you did a sale of your part of the business. Now that's quite a… you know it's a bit like getting divorced you know. It was just a business partnership. But like you know you had to deal with money. And how both of you felt about it, was it fair or… And also, it probably didn't happen in afternoon I'm guessing probably quite a amount of time. So tell us about that. How did the both of you… you know how long were you in business first of all?
Ben: Yeah, so it was July… actually that was June 2015 day until December 2016. So 18 months. And actually when deciding to work together, it was like green lights all the way from my intuition to decide to work with Meryl. And I still agree with that. My system assessment was spot on like the way Meryl and I worked together. I mean it wasn't a perfect fit. We decided to split mostly because of goals and timelines as opposed to one person is ripping off the business or doing something else negative.
It was more just the goals and timelines thing. So my initial intuition with Meryl that she would be a good person to go into business with was yeah spot on. And I mean she's been great to deal with her when we were drawing out that initial partnership agreement to handling the split. She was the one that brought it up and she did it in a really good. And how we've dealt with each other since. It's been really good. Not like business split horror stories. You know a lot of [inaudible] [31:43].
Michaela: I've heard about a few people who've had horror stories with business splits. I mean there was one guy who gave a talk at the C.B. K.K. I think he went into business with a brother and they had a terrible split and I think they ended up not talking to each other.
Ben: Yeah, I think I remember that one. We didn't want that to happen to our business. So like I mentioned we had a partnership agreement in the beginning. And in that partnership agreement, we wrote out what we would do if one of us wanted to leave the business or if we wanted to split up. Even down to putting the formula how we would calculate how much the surviving partner would have to pay the exiting partner. I wouldn't go into details about what I was exactly. But the final way… we ended up negotiating a little bit because some parts of the business had changed and we'd done things that we hadn't foreseen in the beginning. But again that was it was a pretty amicable thing; process.
Michaela: I think that's a really smart thing that you had a written partnership agreement and it didn't just say, "Oh we own this business. You know this percentage versus that percentage." But is said, "Here is how we're gonna operate it or here's how formula how we're going to do the split if it doesn't end up working."
Ben: yeah
Michaela: And just that you with a business partner who is able to discuss that rationally before you get into business together is a good clue they're probably gonna be… You know there's something good about working with them.
Ben: Yes, yeah, absolutely and…
Michaela: So… yeah, go ahead.
Ben: No, I was trying to [laughing] [33:47].
Michaela: So would you advice other people who are gonna take on a co-founder or a business partner that they have a detailed partnership agreement including how they're gonna split up if that happens?
Ben: Yes, absolutely yeah. Don't go into a partnership without an agreement especially an agreement that says what happens when you don't want to work together anymore. I mean if you care at all about your business, your clients, your team. You put in that work and initially to make sure there's no or horrible split at the end. Because that can kill a business even just from distracting the partners and so they stop their focus on the business and then the will stop falling off or the momentum slice down as well as like a legal phase. If you really want to fight it out tooth and nail. I mean that takes time, that takes money.
So definitely absolutely put a partnership agreement together. You don't have to pay a lawyer hundreds of dollars an hour to draw one up from scratch if money's the thing you're worried about. There's plenty of free templates online that you can start with. There's all sorts of really cheap templates online that lawyers have put together and you can just kind of insert your own names into those. It's probably better to go with one that a lawyer has prepared rather than just your favorite business blogger. On life they scratch together. Meryl and I had a little bit of legal training as part of our long and involved process of qualifying.
That's the university and degree extra things we did afterwards. And as part of our work, we had a look at a lot of legal agreements like especially debt collection months. So we knew the things that we wanted to include in there. I wouldn't recommend that to many people. It worked for Marilyn. But I would say use a template rather than writing your own or the very least use a template and then add your own tweaks to it.
Michaela: Cool! So how [inaudible] [36:28] been doing since you did the split?
Ben: Pretty well. It was interesting actually as the split was happening, one of the things that was going through my mind is, "Do I want [inaudible] just to do better or worse after I leave?" If it does worse after I leave for obviously it's because I was awesome and now I'm gone. And if it does better after I leave that mean that I was like the ball and chain stopping things from going well. But yeah, it's going well.
Meryl's got an investor in to help take Been in just the next level of growth. She's been doing great things with like winning bookkeeping awards and speaking on stage and really getting the word out there. And I think it's yeah, it got a good future and I'm grateful actually to kind of leave my baby in the hands of somebody competent to manage it. And every now and then, I'll ask her like how's the business going and just make sure it's ticking along well and somebody I invested a lot of time and energy into is still doing well.
Michaela: Well and maybe you weren't the ball and chain. Maybe you were just going in different directions from her and had different goals so…
Ben: yeah, yeah
Michaela: … now the business has clearer direction.
Ben: Yeah, I wouldn't discourage people from a partnership in business. I still think it was a good experience and I think the fact that the two of us specifically were working together helped make… helped been and just take off so quickly. I think it's more just… If you are in a business partnership, have that agreement at first and then pull the ripcord earlier than most other people do so you don't get to the point where you're tearing at each other's throats. Like checking with one another, checking with your gut about whether this is the right time to leave the business or whether you're still wanting to continue working together. I think that's pretty important for anyone who's in a business partnership or considering one.
Michaela: Did you have like a formal gut check? You know like an annual retreat or some time where you look to the business' goal together or?
Ben: Yeah Meryl lives in the next state away from me on the Gold Coast in Queensland Australia. I'm down in Sydney. And every two or three months, I would fly up there for a week and we would work on some projects for the business and we'd check in with goals. It was a lot easier to get projects moving if we were in the same place and it was a lot easier to talk about nebulous sensitive topics. Like goals, keeping on the same page or that sort of thing if you're in the same room. You've got like body language and even the energy is not quite the same through a vehicle as when you're actually sitting in the same room as somebody. So for those kind of crucial sensitive topics, it can be useful to do those in person.
Michaela: Now you did a lot of practical things to make the split go well by having a written agreement and sounds like you and she worked out a fair way to do the split and how you would transition out of business. But what about the energy side of it? Did you know any energy work to help the split go well?
Ben: When we were hammering out the split agreements, we would talk through the terms. And in the discussions, you know discuss back and forth and we come to some… not quite an agreement. It was a bit more tentative like wait say this sounds good and then we'd actually sit with it for a couple of days and say how that felt. See you know if the intuitional the gut check threw up anything that maybe… You know this didn't quite feel right or I didn't quite feel fair to the other person as well as just yourself.
And then if there was something that will come back and say actually I wanna talk about this again. This doesn't feel right. And yeah, we ended up pretty happy with the agreement. I mean you know in a negotiation, you've got to meet half way which means a certain amount of unhappiness you got to compromise. But I think we got pretty close to not perfect, but harmonious agreement. And part of it was that process of giving it a couple of days, let it sit, see how that felt.
Michaela: Was having a harmonious agreement an intention both of you set or?
Ben: Yes because we still wanted to be friends afterwards and we still wanted to work together afterwards. And I mean I at the time had tax practice and number of my clients; my tax clients were [inaudible] [42:37] book clients; bookkeeping clients. And we commonly referred between them like my … tax clients and my virtual … clients need a bookkeeper and they were a good fit then I'd sent them out to [inaudible] [42:40] and vice versa. If someone was looking for a tax accountant or wanted to understand the numbers a bit then [inaudible] just send them to me. And that worked because this is the type of client suited the both of us. And so it was a no brainer to preserve that relationship as well as still staying friends and making sure that element worked well.
Michaela: That's great! I think an inspiration to anyone who's in business with other people.
Ben: thank you
Michaela: So let's switch now to something else which is how do you look at the right time to work on a particular project in your business? Do you just make a goal list and a to do list and just plow ahead with it or wait for the right timing or?
Ben: Yeah this is something I've been doing a lot more of this year; the last four months. And then it's become a lot more conscious in the last four weeks even. I am very excited to move ahead with things. And to create something new in the world, to start a new project for the business that would be of benefit to my clients or make my life easier or anything like that. I'm really excited to get started and just run with something. And a little bit impatient at times. So I would sometimes start projects and you know if it doesn't quiet flow easily. Roadblocks and obstacles come up. Whereas when it's the right time for something and externally and when it's the right time for me to do something everything just flows.
And I've noticed that my intuition is pretty good at letting me know when it's the right time to move forward with something. So I have my list of goals; the things that I want to happen. And I started removing specific dates from it. So I might have this vague sense of time like in the next year I would like to do X or in the next well I would like to be approximately here in the next say three to five years. Or I might say in the next two months, I would like to get started on this project.
And there are just wait and when it's the right time, my intuition usually lets me know with like I'll feel a burst of excitement and motivation and that sense of flow whenever I start thinking about it or talking to people about the project or even just blogging plans or notes about the project. And then things generally work a lot better. My intuition isn't so good on this. This is fairly new. But it's definitely making my business life and my life in general actually a lot more relaxed and calm and easier. Like the sense of ease when it's like, "Okay, it's the right time. I'm gonna do it now." That's been really, really helpful.
Michaela: I mean that's sounds really a big change for thing things that happen at the time they're on your goal schedule.
Ben: Yes, a few things helped highlight to me that I'm pushing too much and I need to wait until it's the right time. Is that I had a quiet period over December and January. Like a lot of my clients they're either on holidays or they are busy selling their little hearts out over the Christmas retail period. So it gets really, really quiet over there. Felt like new inquiries for new leads. And that forced me to wait on a few things. And then I just kept waiting. Other things came up like when the quiet period ended some new client leads came in and I was focusing on those rather than trying to plow ahead with a few projects. And then I noticed just my intuition say it's time to do this one now and it just worked. Whereas where I was forcing it before Christmas…
Now after the slow period ended, my intuition said it was the right time everything just flowed. You know the thing I credit is your influence actually. I follow you on Facebook and all of the stuff you talk about on intuition that… I don't remember what specific thing it was that reminded me of it, but between… I think it was this perfect storm of… I think it was a comment you put in the DC, some totally unrelated thread about the "what would it take" exercise. And my intuition was actually I think was a few days after that the feeling that yes I can move ahead with this now. I think those two coming together. Maybe think about it a lot more and made it more of a conscious decision to actually wait for my intuition to say that it's the right time to do something.
So like a right of the moment I'm thinking of offering group programs instead of just like one on one advice and retainers. And that's been something that I really, really were really wanted to get started with six months ago. But was never quite the right time and… What we can a half ago my intuition tells me no it might be the right time to start data group of people that you've talked with before that you think would be a good fit. Just now might be the right time to do that and so I've started writing notes about it. And then in the last week or so starting this feeling that maybe it's not quite the right time.
And I think, "Okay why is my intuition telling me that?" And I sit down with a journal and I just brain dump my train of thought. And it turns out that my calendar is full for the next week; for the next week or two. So now is a terrible time to say that people should get on a call with me to talk about this group program. Whereas if I hadn't listened to my intuition, I probably would have posted this; posted an offer in that group about the group program and it just wouldn't have gone so well. So it's a bit more of a detailed example of how that waiting for my intuition to say now is the right time.
Michaela: That's a great learning you had around waiting… feeling for the right time in your business moving forward instead of pushing. I did an interview with Justin 50:46 Episode 39 where he talked about [inaudible] a lot of folks are interested in that. So now some people who look actually you know the energy of the day and the calendar and pick days that have good energy even using astrology or some other method to make up the energy but that will be good. Do you do anything along that regard to look into the future or?
Ben: Not really. Seasons are a thing for me. Like during the winter months; less heat, less sunlight. I tend to feel a bit more sluggish. Seasonal Affective Disorder – SAD; the acronym. Might be something like that. So I try not to start anything new or anything that's going to require a lot of my energy. I try to do that in the winter or if I feel like it's the right time, I don't go gung ho with it. I make it more of a relaxed thing. So the seasons are definitely something to keep in mind.
And apart from that, it's a little bit more practical. Like I don't do things over Christmas and I don't do things over the 30th of June, July, August which is year end here in Australia. And for a lot of my career, I've been super busy doing tax returns or preparing financial statements or doing bookkeeping. So that time of year has a lot of the sense that I'm not going to have all that much energy or that much free time. I'm gonna be super bus. So yeah, I tend to avoid starting new things around them.
Michaela: Yeah, I mean I used to get season defective disorder when I lived in England which has really dark…
Ben: yes
Michaela: … winter. But since I've been nomadic, I guess actually have… You know I don't hang around in places in the winter like that.
Ben: Nice, yes I stayed in England around the Lakes District over… for a couple of months over Christmas. And it was the first time in my life I'd ever come across this idea that the sun can only be out for six hours in the middle of the day.
Michaela: You get up before the sun is up and you come back from work after it's gone down.
Ben: Yes yep, that was a bit of a challenge. I'm a bit spoiled here in Australia for sunlight but even here there is like… That's why when like I mentioned every two or three months I would fly up to see Meryl is because she was in the sunny beachy location. I was in like the suburban not so sunny beachy location. So that definitely impacted the decision.
Michaela: Cool! Yeah [inaudible] [54:25] really helps my point. And you know if you don't have sunshine you can we do the T.L.C. connect to the light exercise I talk about in my book and website. So let's switch to some slightly different topics first which is; why are you proud to use your business intuition?
Ben: I was thinking about this before we started recording; proud. I haven't really articulated it that way that I'm proud of it. But thinking about it, I think I am because it works and it gets the kind of results either for me, for my clients. It gets the kind of results that you can't get other way. It helps get me out of my own way as well a bit. Even just taking a moment to listen to my intuition and filtering out the other voices like you know my sense of self-worth, or the self-sabotage, or if I'm hitting my own ceiling like a mensch with my clients. Just that process of shutting them out or quieting them down so they can listen to your intuition.
Even like getting the break from those other voices can be really, really helpful. But yeah the results I think, the surprising results as much as the effective results I think. It's like people say about networking. When you're networking, the idea isn't that you sign up this person as a client. But there is also it's of other random opportunities that come out of nowhere from networking and I think that's kind of how I think about my intuition versus the logical analytical part of my brain is that it has all of these benefits that you just can't get any other way. For me anyway.
Michaela: So if you may know I'm on a mission for all businesses to… all entrepreneurs to openly use their intuition because they'll make more profit and have less stress, be more joyful in their business. And also, I think if every business leader on the planet use their intuitive sense as well as their rational mind, they'd make less stupid decisions that hurt other people on the planet. So I'm curious to ask you; what would it take to make this intuition more openly used this year?
Ben: Well for me, what worked in the past was just having a reminder of some sort to check in with my intuition. So like I mentioned for the hiring. It was actually written in the checklist of all the questions I was gonna ask them and there was a gut check was written there. And now that I think about it, there was some like in general notes I had for myself and checking in with the intuition; the feel, that was at the top as well. So probably writing my own checklists for maybe like I do a weekly or monthly review of my business; how it's going, how I'm feeling about it. And I don't think I actually written down gut check into there. So I will actually right after we finish recording. I'm gonna go from that Google doc and pop it in. I've also recently started journaling most days.
Supposed to be a daily habit, but I'll get there. And that is a pretty good way for me to check in with my intuition because I do the style of journaling where you just start by thinking of the problem and then you just write your train of thought down. And getting it out there where you can see it has all sorts of benefits because then you get rid of that terrible mindset issues when your logical brain can look at it and ask you questions. But also just letting your train of thought go gives your intuition an outlet. If you're not listening to it in any other way with all the signals it's sending to you through your body. Having it come out that way is another option for people who don't feel comfortable listening to the physical or mental signs from their intuition.
Michaela: Cool! So if folks want to find you online Ben, what are the best ways to do that?
Ben: Yeah, so my website is Ben McAdam.me which will be in the show notes if you don't know how to spell McAdam; it's M C A D A M. Or I'm also on Facebook and the page is originally titled Ben McAdam.me as well. So you can search for me there and I'm sure the links will be in the show notes as well. Also I have a podcast. I keep forgetting about that. Which I'll be interviewing you on next week I'm looking forward to. The business numbers podcast dot com.
Michaela: Great! Well thanks so much for being on the show today and spreading the accounting intuition mission with folks.
Ben: It was an absolute pleasure. Fantastic questions, I had a great time, thanks.