You can listen to the podcast and read the show notes here.
In this interview, I spoke with Taylor Pearson.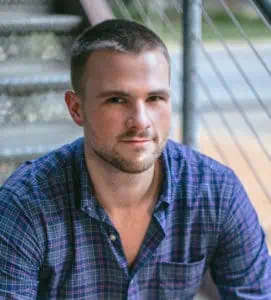 Michael Smith: Hi, welcome back. We're here with Taylor Pearson, author of the bestselling book, End of Jobs. Taylor, tell us about intuition in your business.
Taylor Pearson: When I think about intuition in my business the first thing that comes to mind is this idea I started playing with maybe a year and a half to two years ago, I call Founder-Product-Market Fit. You get a lot of talk with startup world about Product-Market Fit. I have this product, how do I get to the point where it's a good fit with the market? The question that very rarely gets asked is, am I the founder? Or, am I a good fit for this market and am I a good fit for this product? And those are very intuitive questions.
One of the questions I've asked myself when it comes to "Am I a good fit for this market" is, think about who your ideal customer avatar is. Think of a specific person who might be a customer for this product. You're walking down the beach on vacation with your family or your friends and you see them. They're on the beach and they're walking towards you. How does that make you feel? Are you excited? Oh, I haven't seen Brett in forever and we get to catch up, and this is great. Or, I hope he turns around, or, I'm going to hide behind this shrub. Or, I'm going to shield my face when I'm walking by. It's sure to give you the sense for okay, is there a market I'm excited about serving.
I remember, there's a story from Steve Blank, who is one of the very early founders of what's now called Lean Startup. He had a book called Four Steps. He told an example, he started a company making video games for teenage boys. He'd done the market analysis, it was a great market, it was growing very quickly. He realized that the one problem with the business was he hated all his customers. He mostly wanted his customers to go away, and so they did (laughter). So it turned out to be a very, very bad business. It was a very good business for someone else but it was a very bad business-
Michael Smith: It was a bad Founder-Fit with the market.
Taylor Pearson: Right. He wasn't really excited about making video games for teenage boys.
Michael Smith: So how long did it take him to find this out, that his business was grown and crashed?
Taylor Pearson: I think about two or three years.
Michael Smith: And how much money did he lose on this deal?
Taylor Pearson: Millions of dollars, I don't know how much.
Michael Smith: If he'd just done this visualization exercise you're suggesting where he saw the teenage boys from down the beach, would he like, "Wow, teenage boys, let me go talk to them! Games!" Or, he's hiding from them.
Taylor Pearson: Right. It was a two million dollar lesson to understand that that's an important question.
Michael Smith: I think a five minute visualization exercise is probably worth two million dollars.
Taylor Pearson: It is. It seems much less expensive.
Michael Smith: Cool. And then you said also, Product-Founder fit. So how do you work on that part of the triangle.
Taylor Pearson: I tend to think about what does the day-to-day of running this business look like? What do I enjoy doing day-to-day, what am I good at day-to-day? What does this day-to-day business require?
I am competent, although not good at sales, but the idea of waking up and doing sales all day every day is not super exciting to me. Occasionally I like to do it when it's necessary. I've had business ideas or I've had business opportunities which required a sales role. You need to go out, and what's it going to take to grow this business to a thousand customers. We're going to hit the phones. We're going to pull up this customer list and we're going to call down the list. And I can look at the business and say, this is a great opportunity, this is a great market, it's definitely growing very quickly. I have no interest in pursuing it. Because I'm not going to be very good at it. This particular lesson I learned because I had a marketing agency for a very brief period of time and what that requires is you do a lot of sales calls. You get on the phone with people, you do appointments, you do proposals.
Michael Smith: I can hear that in your voice. You went from excited to Oh, God, do I have to do this again?
Taylor Pearson: Right. I was doing marketing for-
Michael Smith: So that's another way to take this. You're talking about visualizing the tasks you do in that job. I'll give you another test to do it, just talk about doing that job, working with that market. And then make a recording of it and listen to the tone of your voice, and hear how excited you sound in the recording. That's a clue for both you and anyone else who's going to be involved.
I use that when I'm making investments. I'm in a private investor thing and they bring us offers. We get on a Telecall and you hear from the CEO and maybe some other people in the company. I had the experience six months or maybe a year ago, they brought on this opportunity. It was British run, this company, and it was going to pay 15% interest over six months which is a 30% APR, which sounded pretty good. And they had all these logical reasons why it was a great deal and how it was collateral protection and we were ahead of other people and blah, blah, blah. On paper it looked like a perfect deal. But there was something wrong. The CEO just didn't sound passionate about it. His legal advisor was on the call, this guy was Darth Vader in a lawsuit. (laughter) So I didn't do the deal. Even though it looked like a no-brainer, easy way to make money.
Well, they went bankrupt. All the protections that were supposed to be there disappeared. They're now mired in lawsuits. We don't even know if the people who did invest in it get the money back. So I'm very glad I listed to my intuition and listened to whether they had passion. Because when you invest in a business you're investing in the people. I guess in some sense you're evaluating, is there a Founder-Product-Market Fit? How is that triangle set up?
Taylor Pearson: There's a book by Jonah Lehrer called How We Decide. It just came to me as you were talking. He summarizes that when you're making a decision with five factors or less, you can make that in a very conscious life. So if you're deciding what kind of peanut butter to get and there's two options, is it crunchy or smooth, organic or non-organic? Okay, I like organic crunchy peanut butter. But when you're making a decision with more than five factors, usually five or seven factors, the best way to do it is to kind of take in all the information.
So if you're choosing a car and there's a hundred makes and models and there's different colors and there's fifty features in every car, you look at all the options. You read about them, you sleep on it for a few days, then whatever you're most excited about or whatever you gut sense is, is the one that statistically is the better option. So they've done these interesting correlations where they ask you a brain teaser and then they have them say what's your gut sense? Explain to us logistically why you think you should make this choice? The logistical people that have to provide this rational explanation, I want this car because the tax rebate and yadda, yadda, yadda, yadda, actually make poor decisions. They went back and evaluated and surveyed those people a year later, they were less happy with their purchase.
I don't think you used the word intuition but it always makes sense to me. I've always found it to be a very good rule of thumb for- is this something I should make from my logical brain, do I just say crunchy peanut butter? Or is it something that I should say let me sleep on this for two days and see what I really think in my gut.
Michael Smith: I think the gut is really smart and it's helpful to get some space to be able to listen to it. I think another important thing there is not to second guess the initial reaction you have. That's the thing that put Malcolm Gladwell, who wrote a book called Blink, where he's saying the initial impression you get is often the true one. And then we try and rationalize it and try and shoehorn in a second guess and change that. Something I've found that helps to improve that is keep a decision journal. I don't know if you've ever done that where you keep a record of the decisions you made, what your reasoning was, what your gut feeling was. Whether or not you listened to your gut. Maybe you decided to go ahead with it any way. Then you see, you go back six months, a year later, you revisit. See okay, how much was the rational mind intruding? Was this a good decision overall? What did I learn from it?
Taylor Pearson: I just have a ninety day planning process we talked about before and I've started doing that as a part. I choose my three initiatives from days and I write a little paragraph on each. Why did I choose this one, why did I think it was important? It will take me a while to build up enough of a journal to see how my thought process goes but I'm excited to see what that looks like.
Michael Smith: That's a great idea. I know you do a daily planning process where you're like, what tasks are you doing today, what for, how did it go, what lessons did you learn. It would be quite possible to do that on a daily basis.
Taylor Pearson: Yeah, that's true.
Michael Smith: What did I pick to work on today, how did that work out? What did I do to make it successful.
Taylor Pearson: If I can flip the script and ask you a question. I tend to listen to my gut much more in domains I feel like have expertise. So if it's a marketing question, I feel like I have pretty good expertise in marketing and I'll kind of listen to my gut. But if it's the kind of domain where I have no expertise I'd be much more cautious or much more hesitant to listen to what my initial reaction is. Say, I don't even know what I'm talking about, this is kind of a shooting in the dark scenario.
Michael Smith: I don't think we have to know what we're talking about to have good information. You mention shooting in the dark, I mean, an example of that is if you're walking down a street and you get a weird feeling, you shouldn't go down a certain alley. You don't really have detailed information of what's happening down there you just got like, hey, there's something weird happening here, I just don't want to go down there. That's an example of when you don't have the information, you don't really have experience walking alleys in Bangkok or wherever you are and yet you're still getting valuable information. The same thing in business. You can still get valuable information, even if you don't have deep experience in the field. And in some ways, although you may not be able to interpret the information as well as someone who has a lot of experience, if you've got a lot of experience in marketing you know where to hang your gut feeling onto. But in some ways you're less corrupted by having all that thought pattern and learning getting in the way of what your gut's trying to say. Sometimes people who know a lot actually don't make the smart decisions.
Taylor Pearson: Have you ever heard of the sophomore slump?
Michael Smith: No, what's that?
Taylor Pearson: I was a big college football fan growing up, and there's this phenomenon called the sophomore slump. A lot of times you have a freshman player who's really good. He'll have this amazing freshman year, and then just will slump in his sophomore year. Then he'll come back his junior and senior year and he'll be good. But very common to have a very strong freshman year, a weak sophomore year, and a stronger junior and senior. I wonder if they start to think about it and they start to-
Michael Smith: Maybe they over analyze that play, or they worry about it, yeah.
Taylor Pearson: When they were just going with their gut sense of "how do I play?" their freshman year, they were great. They had to go through this period where they over analyze it and get back to where they had been initially.
Michael Smith: I think sports is a great area where people do use their intuition. If you're playing football, you really don't have time to get a spreadsheet out and analyze all of the factors. I mean obviously if you could stop time and all people froze, you could analyze everything and say, okay, this person is 16.5 yards away from me and here's their statistical history of how often they've done this. You could totally analyze it. But we don't have time to do that, so you've got to go with what's your instinct. The best football players, the best sports people are able to do that like that. They can immediately figure out, what is the thing to do in this moment against this opposition.
Taylor Pearson: They just know, yeah.
Michael Smith: Yeah. That's in sports. I think the same is true in the military. Not in the military where they're all on parade, following orders, stepping in time. That's all rational thought or maybe it's not even rational thought but it's not intuitive. When they get into a battle, and they're at war, that's where the soldiers who are able to access their intuition know that oops, I need to not step in this direction because there's going to be a bomb that's going to land there in a few seconds. And they don't know why, they just don't do that. Or I'm not going to put my foot in this direction because it doesn't feel good. Then someone else does that later and there's a mine there and they blow their leg off. Generally successful soldiers are able to access that. Of course, in the fog of war, when there's so much confusion going on, you don't really know what's happening. That's when intuition comes for battle.
In fact I read this for another book, but there was a war game that Pendleton ran quite a few years ago, and I think they spent several hundred million dollars on this war game. It was against a middle eastern country. So they have red team, blue team. I think the red team represents the opposition. They got this, I think he was a Major or Colonel, I forget which rank he had, but he'd been in the Vietnam War, he was a well respected, practical soldier. Then they had all these analysts and other people on the blue team using all the data capture and resources the US Military has. Then within minutes of starting the war he'd already confused them as to what was happening and he managed to destroy two of their aircraft carriers when he wasn't supposed to be able to do that. He won the war game. Then they stopped it and started it again and changed all the rules to kind of stop him being able to do this. The truth was that the soldier who was able to use their intuition better actually won.
So it's not just business. This applies to many other fields. It also applies to medicine. The best doctors just know, what is the cause of this illness. And then they all just test to back it up. But really they're following their intuition.
Taylor Pearson: I believe it. Yeah.
Michael Smith: It's really interesting. So, the same thing with your Founder-Product-Market fit. You're asking, if you're evaluating yourself, you're saying, hey, am I a good fit for the market and all that. If you're doing it intuitively you visualize that as a triangle, between F, Founder, P, and the M, Market. What are the three sides of that triangle? Are they bright and shiny? Is one of them kind of dull? Is the line connecting two sides a solid line or is it dotted? What information can you get just intuitively, evaluating it quickly.
Taylor Pearson: That's interesting. I'll try that one next time. The idea of just looking at the triangle, what does it look like?
Michael Smith: Yeah. And then you can do the analysis that you're doing already or do the visualizations you're doing and then compare them. Maybe you already have the info and you can get the answers really quickly. At least to eliminate something, it's like, Eh, No. This is a "V". Or this is a single line. I'm good. I'm not even going to delve into this. I think one of the things that's going on right now is everything's getting faster. There's more products coming out every year, the product cycle is reduced in time, and there's more technology coming out. It's just hard to keep up with stuff in business.
Taylor Pearson: Especially if you don't like it.
Michael Smith: Even more. If you don't like it, it's hopeless. But even if you like it, it's impossible to keep up with all the change that's happening. That's one of the reasons why now is the time we need to use our intuition as well as our rational minds in our business. Because if you're going to analyze everything, it's like trying to be the football player on the football field and they're like, "Can you just hold up, guys? I'm just going to analyze this for the next half hour." It's not possible. Because the competition is going to run you over. I think it's critical that you use this.
Right now, if you were advising another entrepreneur, and they were starting their business, and they said, "Hey Taylor, I'm just not going to use any spreadsheets. None of my staff will use any spreadsheets for my business, because are kind of newfangled, and a bit weird, and I don't really understand how they work. I know there's some programming going on but I haven't read the code, I don't really understand it. So I'm not going to use them." You're dealing with crazy!
I think in a short amount of time, in the future, if an entrepreneur said, "I'm not going to use intuition in our business, none of my staff will touch that stuff. I don't really understand how it works." People would say, what are you talking about. This is a tool. Why would you not use a useful tool in your business, even if you don't understand? We use hundreds of tools in our business. Particularly technological tools. But we don't really understand, right? Unless you're some kind of coding jockey that understands how that stuff works. You just know that hey, I've got stuff in spreadsheets, it helps me plan my business. I do SCO, optimize my pages, I get more traffic, it makes more sense. But you don't understand the details of how Google actually sends traffic to you. You just have some rules of thumb that yeah, this works.
I think the same thing is with these intuitive tools like what would it take all the other tools. You don't have to understand on a deep level why they work, you just need to know, yes, use the tools. I can apply it, I can get stuff done quicker in my business.
Taylor Pearson: I think I started to see phenomenologies I mentioned this when we were talking earlier but I took all the articles I'd written over the past three years and I was trying to analyze which ones did the best and which ones did the worst and-
Speaker 3: It's like on a spreadsheet, right?
Taylor Pearson: Yeah so I pulled out my spreadsheet-
Michael Smith: How many words did they have, how was the title optimized.
Taylor Pearson: Exactly. How was the title optimized, what was the subject matter about, what day of the week was it published, what year, yadda yadda yadda.
Michael Smith: What did you discover?
Taylor Pearson: The only correlative factor I could figure out was how excited I was when I was writing the essay with how well it was received and how well it performed. That kind of phenomenologies, that track record, you can look back and say, I spent three years doing this and the biggest factor for me is how excited am I when I write the post is actually, I can go back and look at how much revenue it drove or how many visitors it drove or very objective data points but the input to those is was I excited about-
Michael Smith: So this is now a predictive tool for you. Now, it's before you right the article you're asking how excited am I about this because that predicts how successful it will be in connecting with people for you.
Taylor Pearson: Right. I keep a file of about twenty articles that I'm kind of loosely working on so I'll have an idea and I'll type it up and I'll write a few sentences or a few paragraphs about it and then when it's time in my publishing schedule to publish something I'll just kind of scroll down the twenty and I'll say which of these am I most excited about and that's-
Michael Smith: I love that.
Taylor Pearson: what I'm going to work on next.
Michael Smith: SO you're feeling where the excitement is and that's the one that wants to, it's almost like the article wants to be written. You know, you're writing the article but it's also, the article writes you. It's almost like that article is like, "Me! Me, Me, Taylor! Write me!" And you're like, "Yeah, I feel excited about that."
Taylor Pearson: I read Steven King's book on writing earlier this year or last year, I don't recall. He was interviewed by a reporter and I think the reporter asked him, "How do you write your books?" And he said, "I don't write my books. I channel the book. He writes the book and I kind of go through it and report it. He's like, "You don't really believe that, do you?" And he's like, "I do. You don't have to believe it." I thought that was interesting that he's written so many books and obviously-
Michael Smith: He's a bestselling author.
Taylor Pearson: Yeah, but as the idea comes to him, that he just kind of, it's going through his fingers that are on the keyboard and he's pushing it.
Michael Smith: Then it's easier to write. That's a useful technique and I've certainly experienced that. That I think is true of when we're creating businesses. Coming back to that Product-Market-Founder fit. In some sense the business is out there already and it's just looking for the right combination of market, product, and founder to come together in order for it to be born into the world. Part of that equation is how passionate those three components are for creating it.
Coming back to your picking what essay to write or what task to write on, you can take that a step further and look ahead of time, how passionate am I going to feel about doing these things in the future? We cut out writing about until they are excited. The other thing that occurred to me is that if you have something that for whatever reason your rational mind's like, yeah, this would be a good topic, but I really don't feel that excited about it you can ask yourself on a scale of 0 to 10 where 0 is it sucks and 10 is I'm wildly excited. Suppose it's a five, you can say, what would it take to take it to a six? From a five to a six. Maybe I need to tweak it a bit, or maybe I need to interview someone. Then okay you got it to a six, what would it take to get this from a six to a seven? You get more inspirations. You may be able to bump it up to a ten in cyber level just by manipulating it and using what would it take to get more inspiration, to adjust it. Or maybe you find that you can only get it to an eight and you can't really bump it beyond that, which may or may not be where you want it to be.
It's not like it's set in stone. Level of excitement is very easy to manipulate. I guess that's the NLP technique as well. You ever done the NLP, Tony Robbins?
Taylor Pearson: I did, I did. Two or three years ago I read a bunch of the books.
Michael Smith: So he tells a story where he's with a kid who wants to stop drinking cola or something. And he's like, "Well, how much do you want to drink this cola right now?" And he says it's like a two out of ten. His scale goes from minus ten to plus ten. And the kid wants to stop drinking colas, right? So he first of all runs him all the way up to ten out of ten, he's super excited to want to drink it, just to prove to him, you can play with this thing. Then he runs him all the way back down to minus ten. And then at that point the cola is like drinking shit, he doesn't want to touch it. SO you can adjust how you feel about things. You can take a task, like, I don't want to do my bookkeeping. It's ugh, boring. But you can make it exciting.
Taylor Pearson: Or outsource it.
Michael Smith: Or you can outsource, why the inspiration you get? I need to find someone who's really good at this and just pay them to do it. Absolutely. You don't need to do everything yourself. You can use your intuition to figure out which things give you more joy and profit by outsourcing. Because you can compare by profit graph, here's the task outsourced, here's the task for a higher number of staff, here's the joy and profit if I keep doing it myself. Here's the joy and profit if no one does it. Don't forget, it's always an option when no one does the task.
Taylor Pearson: More frequently the best option. We were talking to them about email that often times the best way to respond to an email is just not to respond. Just let it go.
Michael Smith: That's a good tip. Any other ways to use intuition in your business? Or you want to share today?
Taylor Pearson: I don't think so. I think we've covered it pretty thoroughly.
Michael Smith: All right. Well it's great talking to you, Taylor. How will people find you if they want to see some of these passion filled articles that you've curated?
Taylor Pearson: Sure. My website is taylorpearson.me. That's Taylor as in Taylor Swift and then Pearson P-E-A-R-S-O-N dot M-E. I'm the same at twitter @TaylorPearsonMe and my email is [email protected] Feel free to drop me a line.
Michael Smith: Fabulous. Well thanks so much for being on the show.