You can listen to the podcast and read the show notes here.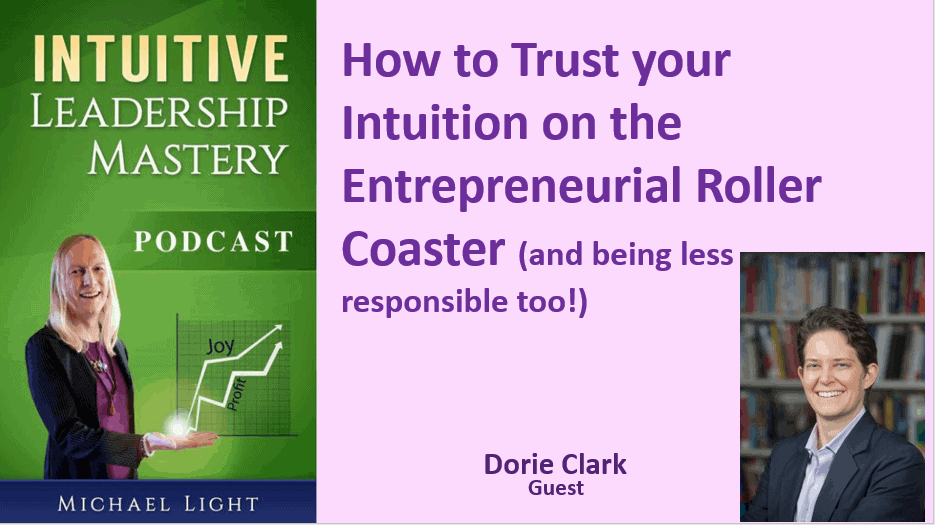 Michael:          Welcome back to the show. I'm here with Dorie Clark, and she's a bestselling author, and has written four books both which is coming out real soon now. And we'll be talking about that in the episode. But maybe we're going to be focused on how you can trust your intuition on the entrepreneurial roller-coaster, and how you might be better off being less responsible too. And this especially applies to people who are getting started in business.
So, we'll look at why is now the perfect time to start a business, why virtual internships are a smart move these days, how she balances her intuition, and testing to figure out what the ideal audience really wants. And how to fight discouragement and depression; those twin sisters of despair when you leap on the entrepreneurial roller-coaster. That's a long word for me to say. And we'll also look at why being less responsible is critical for your career progress. So, welcome Dorie.
Dorie:              I'm so glad to be here. Thanks for having me Michael.
Michael:          Oh you … so welcome. So, why is now the perfect time to start a business? Because many people would say it's a crazy time to want to start a business.
Dorie:              The truth is this. This is a crazy world, so it's kind of a crazy time to be doing anything. But what I think is actually the craziest is relying on one job, a day job, and assuming that that is safe. I actually got my own education in this early on unfortunately. Because in my very first job, I was a newspaper reporter. I was fresh out of graduate school, and a dinner reporter for a year. And they called me into the H.R. office, and laid me off.
Michael:          why?
Dorie:              I just I had no sense it was coming, I had no idea. And they gave me a week's severance. Technically, I had already worked a day of that, so it was four days severance pay and then, I somehow had to find a way to support myself. And so, I realized just how precarious even a "safe job" can be. And so, something that I came to realize in the course of researching my new book "Entrepreneurial You" is that one of the best ways that we can build more freedom, and fulfillment, and economic security into our own lives is by cultivating the multiple streams of income.
And even if you have a day job, just finding other ways to create things on the side for yourself. But certainly if you're an entrepreneur, monetizing in a variety of different ways. Maybe it's podcasting, plus coaching, plus having as online community, or whatever it is. But that is the way to really free yourself up, and de-risk yourself in a world of unpredictability.
Michael:          And it certainly seems to be getting more unpredictable. I mean things we've seen this year which has being crazy.
Dorie:              it's true
Michael:          I mean
Dorie:              You never know what's around the corner.
Michael:          Right and I'm not just referring to politics, or the weather, or the economy, or both; so business innovation. There's always new technologies coming out and that could totally change a lot of people's jobs. So, there's a lot of things that lead me to think now is that good time to start a business. So, if someone listening wanted to start this way. I know you wrote an article in Forbes on virtual internships where you work for free for someone else. So, tell us why you think that may be a good way to get into this.
Dorie:              Yeah, well, it is in some ways a controversial idea. I mean every once in a while as I re-twit that post, it'll be a Twitter war with people saying, "That's so exploited, people need to be paid for their work." And of course I don't disagree. I think people should be paid. But however, a key thing to keep in mind is that oftentimes, the people that you most want to learn from are not looking to hire anyone. That does not even on their radar and so, if you want to be really strategic and in rather than just saying, "Oh well you know, I heard about this random thing maybe I'll do that. They can give me money." If you want to really take the reins on your career in the direction you want to go sometimes, that involves actually you doing the legwork. You doing the stocking (in a nice way of course), and finding the people that you admire, and want to learn from.
And so, you go to these people, and I mean of course if they have a job listing post, you apply for it by all means. But odds are they might not. And so if you can go to them and find something, some way that you can contribute, it often is a way in. It's a way to build a relationship and learn from someone that can give you insight into whether this a potential career path for you, and built really important directions. And so, in fact, the young man that I interviewed for that piece that I wrote in Forbes was a guy named Charlie Hone. He was in his early '20s, and he was able to build up a relationship with Tim Ferris who of course is a well-known business author because Charlie proactively approached him on his own.
Tim wasn't looking for anything, he hadn't posted any jobs. But Charlie reached out at very targeted tactical suggestions about how he could be helpful to Tim. It wasn't like, "Oh if you need something let me know." That's just putting the burden on the other person. Instead Charlie said, "Look I can see that you need this, this, and this for your website. I can do that for you for free. Would you like me to handle it completely for you?" And that's a pretty nice offer. A lot of people would say yes to that. So, you don't have to be a web developer either. There's a lot of things whether it's doing a writing project, or videography, or whatever your skill set happens to be. There are opportunities, and this could be something that may turn into an important break in your career.
Michael:          And what did Charlie get out of working for free for Tim Ferris?
Dorie:              Well, what he got over time actually. He started out working for free. And eventually, he did land a paid job with Tim because Tim realized how valuable he was. And so, that turned into a paid job for a number of years. Ultimately, when Charlie decided to leave, he had built up a really strong network because in the process, he had gotten access to Tim's friends. And so he met a lot of people in the business community. And he's now written a couple of books, and was able to launch them very successfully thanks to those networks. And Tim is one of the people who helped promote him, and really shine a light on Charlie's accomplishments. So, it was there working for free certainly, you have to teach a leap of faith. It doesn't always pay off. But sometimes, it can quite handsomely.
Michael:          Well and you know you're not talking about full time here necessarily. It quite possibly is some part time thing while you make money somewhere else. And it seems to me you're getting to let grow your skills, grow as you say grow your network. And quite possibly, you're doing something that you really enjoy doing. It's a job that you really get a load of joy from whereas maybe the day job you have may not be providing that. So it's giving you a stepping stone to having more joy in your life.
Dorie:              That's exactly right. I mean we all have nights and weekends, or whatever our quick equivalent is maybe you work nights and weekends, so you have day time; whatever it is. But we have a little bit of free time. The question is how do we want to deploy it? There's another example actually from my first book "Reinventing You" where I profiled a young guy named Kevin Roosts. And he was a college student, and he came to New York for the summer, and he got a job as a waiter. Nothing fancy, he was just working as a waiter, but he had free time when he was not doing that, and he wanted to really make something of himself. So he approached his favorite author who had gone to the same college as he had, and wrote him a note. And said, "I am basically just kicking around being a waiter in the summer. If you need an assistant of some kind, I am happy to do this for free."
And the reason he volunteered I mean he was making his money from being a waiter. But he wanted to have this opportunity. And the writer thought to advertise for an assistant; that wasn't on his radar. But when someone into him and said, "Hey, I'll do it for free." He said, "Yes." And that actually opened up huge opportunities for Kevin. The writer A.J. Jacobs introduced Kevin to his literary agents. Kevin was able to lay into the agent which ultimately resulted in him selling a book. He was able to publish a book before he even finished college. Today, he is a reporter for "The New York Times". So, he has just done very well for himself, and a lot of it frankly is attributable to that early connection, and that early patron that he had.
Michael:          Yeah and another friend of mine, Taylor Pearson in his book "The End of Jobs". He recommends this kind of virtual internship, or route as well. So, I know that's how he got his start. He started off as an intern and then he ended up publishing of a great book, and he started his own business. So, I think it's a lot of value in doing that because it makes it very easy for the person to say, "Yes".
Dorie:              That's right, that's exactly right.
Michael:          Yeah, so let's move forward and look at how when you're building a business, you've got to get customers who are going to pay you money, right. And you probably don't know ahead of time who they are going to be, and how much they're going to pay. So, how do you balance your intuition, and testing when you're figuring out are people going to buy this book, or a people to buy this product, or service?
Dorie:              Yeah, it's an important question for any entrepreneur who's just starting out, and trying to figure out what is it that the market wants? Will customers be interested in this? I think a place where a lot of people go wrong is just assuming they know the answer to it. Intuition is extremely important in this. But it becomes more powerful when you use that as a guide, and then temper that with the in research from the market that together research and intuition I think are much stronger than either one alone.
And so, it's important to create a hypothesis. What is it based on your own experience? Whether it's solving a problem that you have, or maybe you've worked with a certain client base before, you have a pretty good sense of them. What is it you think that they would like? And like a scientist, you're really setting out to prove or disprove that hypothesis. The trick is that a lot of people get so wrapped up in their brilliant amazing ideas that before they even revealed it to the world, they've spent huge amounts of time and money perfecting something only to put it out there in its crickets.
And that can be extraordinarily costly, and depressing for an entrepreneur. And so, what is a far better approach (and this is one that I outlining in "Entrepreneurial You") is that ultimately, we should be guided initially by our intuition. But we should make sure never to extend ourselves so far that we can't come back from it. You want to take small pilot tests, you want to try and see what [inaudible] [12:00] value phrase called the 'minimum viable products'. And basically, what they mean by that is by creating something small to test and see if people are even interested in it before you go too far down the garden path. And that's a way that you can really protect yourself as an entrepreneur, and make sure that you're keeping your cash, and your time intact.
Michael:          That is a great strategy there, Dorie because so many people when they're starting a business, they want to do everything. They want to get the office space, and the business cards, and the website, and they haven't even sold one customer to find out if their service, or product is saleable. And I think finding that out soon as you can, and then adjusting things, or pivoting to find something that does work is important. So that M.V.P. or minimal viable product is a great way to try that out. And that may even be if you're going back to Tim Ferris thing. I mean he used to test things just by throwing up sales pages that didn't actually you know, you could try and buy it. It would look like you bought it but then it would say, "Sorry we don't have any stock."
Dorie:              That's exactly right yeah. And it's a very common entrepreneurial strategy, a good one too. I mean if you think about it for instance, there's a couple of paths you can take, right. If you … let's pretend you're a coach, or consultant; something like that, and you want to do a workshop. You could spend 25 hours developing all the materials for your workshop, all the handouts, all the agenda, you're doing everything.
And then, you announced it, and no one signs up. It would be a lot easier, and better to create a one page sales page on your website. Send it to your email list and say, "Hey, I'm doing this workshop". Of course you know the material, so you know that if people are interested, you can create a great workshop. You just haven't done it yet. And so then if people do register for it, then you go ahead and you invest time but you know that it's worthwhile.
Michael:          That's a much better way to do things, or even just posting. If you've got a big following on Facebook, or Twitter posting on there that look I'm planning this thing, who's interested? What do you think? Can see you know do you get crickets coming back because no one's interested, or a whole bunch of people are interested. And then, you could go further on that. So, definitely makes sense to me. And coming back to this time of chaos and change, I didn't say so early.
But I think it's really important people amp up their intuition because if there's so much change going on with technology, and politics, and social stuff. You can't just make decisions rationally anymore. You've got to use your intuition as well as the rational mind. So, if you tried to make a spreadsheet of all the possible products you could do right, and then test each one, one at a time, you never get it together before the market to change. You need to start over.
Dorie:              very true
Michael:          So, let's talk about those twin sisters of despair; discouragement, and depression. When you're getting on this entrepreneurial rollercoaster, what you do to deal with those? Because when you start a business isn't all unicorns, and rainbows.
Dorie:              It's true unfortunately, almost everybody has a lot of zigzags, a lot of setbacks on the path to their hopefully eventual entrepreneurial success. There's some interesting research that was done by a Harvard Business School professor named Teresa Amabile. And she wrote a book about it called "The Progress Principle". And what she discovered, she and her husband Stephen Kramer who was a co-author on the book did a huge amount of time tracking with hundreds, and hundreds of employees at a company. And what they were trying to figure out was, what was it that was contributing more than anything else to the employees overall sense of satisfaction, or wellbeing in their work? And what made them really feel good about their day? And what she discovered was; and this is of course the secret to the progress.
What she discovered was that the secret to really feeling satisfied at work, feeling like you had done something meaningful was if you could have a feeling that every day in some way. Even if it was tiny that you were making progress toward a meaningful goal, that you were just moving the needle forward. I think it's why a lot of us if all we do all day is just answer e-mails, we feel like, where did the day go? That's not progress because the e-mails keep coming back. It's not like you just [inaudible] [17:06] It just like I said they spring up again. So it's progress on something you actually can track it, and monitor it, and it's getting you somewhere. And so in fact in my book, "Entrepreneurial You", I profiled a woman who did this really well. Her name is Stephanie O'Connell. She's a personal finance blogger.
And it's a long road to getting known as an expert in your field. But what she told me was that in the early days, she didn't focus on the fact that okay, she wants to have whatever a million readers and she started at zero that would just be depressing to think of it that way. She created these smaller metrics for herself and it was things like going from writing for free to having someone pay her 25 dollars for a blog post because that showed that someone thought her work was worth money. Or it was main an influence or retreated one of her posts, or it was getting excepted blog for a publication that she had wanted to write for for a long time. Just the small milestones and some of them were involved money, some of them didn't. But they were a way that she could track herself over time and say, "You know what? I am getting to or the direction that I want to be." And I think for all of us, we need to start thinking that way.
Michael:          I mean it's probably like if you are climbing Mount Everest. It's nice to be able to see the summit and you actually have got nearer, and it's just like not like a day after day of charging and not getting anywhere. So that makes a lot of sense, and in a business, it's unlike a mile at least on a mountain if it isn't fog, you can see the summit whereas with the business, you may not be able to really tangibly see the success until that actually happens. So having similar instance there is good. So any other tips you have for dealing with discouragement, and depression for people who have businesses?
Dorie:              Yeah, it can be a really challenging process absolutely. When you are a business owner and just especially because in our culture so often, the way to success stories are told is, oh it's just this magic happened to them, and we don't see because it's the less sexy part. So, the media doesn't tell it, or if you have a little podcast interview, there's not time to tell the story about oh well, the ten years when you're slogging. And so if all you're seeing are the successes, it really makes you question well, what am I doing wrong? Why am I not doing that? And so, I think that one of the most important things (and this is something that I really wrote about a lot in my most recent book "Stand Out").
The very first step in spreading your ideas, "Stand Out" is a book about how do you develop breakthrough ideas, and then spread them to the world? And I outlined a three part process about spreading your ideas, and getting it recognized. And step one in that process is developing a tightening network around you of trusted people, trusted advisers. We'll call them your mentor board of directors, and these are people that could be inside your field or outside your field. But they are the people who you trust and respect, and who you understand that they have your best interests at heart so that you can really listen to them, and take it in when they give you advice, and feedback. And so, it's investing in having those kinds of people around you is so critical.
And sometimes, we have those people. We just get busy and we don't make an effort spend a lot of time with them. We need to change that, and get a little bit more proactive about how we're allocating our time and with whom. And if you don't have that in your life, it's useful to just start kind of looking around you with that lens. Maybe it's people you're in a Facebook community with, maybe it's people that you haven't talked to in a while; friends from college, or something like that. But just keeping in mind that surrounding yourself with people that you have access to where you trust their judgment, and you trust they have your best interests at heart. Those are the people that you should be listening to, and spending time with, and they can be an editor against the discouragement that we're inevitably going to face in the entrepreneurial journey.
Michael:          Right because if you're just surrounded by friends, or colleagues who always look on the negative side, and aren't giving you objective advice about your business, it just makes the depression worse. And that's probably a lot of reasons why many people either don't start a business, or give up because everyone around them is not there supporting them. So, I think that's a key point.
Dorie:              Yeah, you need the right crew; that's for sure.
Michael:          So, I read an article that looked a little controversial that you wrote. It was in "Time Magazine". And it was about how if you want to get ahead in your job, or I guess in your entrepreneurial rollercoaster ride, you should be less responsible, and not more. And I think that kind of contradicts what people are told. They're supposed to get everything done perfect, and not leave any things undone. Why is it important these days to be less responsible?
Dorie:              Yeah, it's an interesting question. Thank you Michael and it is of course we can't take these things to extremes. If you're so irresponsible as a business owner, let's say you don't call your clients back, you're probably not going to be a good business owner for long. But I think that for many people, there is the opposite problem which is that we feel a constant pressure to keep performing perfectly on every front. We have to respond to every message immediately, and we have to do everything personally because no one else can possibly do it as well as we can. And we need to keep up doing all of the same things that we've always done even as we ascend the ladder. Of course in a certain point, that is just not sustainable anymore. And so, the reason that I wrote this piece.
It was actually sparked by a friend's conversation with her boss who literally did tell her be less responsible which you know, it's almost like a zing poem. Like what does that mean? What I realized when we were having a conversation about it is it ultimately, if you are just a little bit less responsible, if you're not covering all the bases, and doing everything which fundamentally, that is a treadmill that is impossible to master over time. We have to accept first of all that no one can realistically do it. Many people try, but you can't do it. Understanding that you can't successfully do it opens you up to saying, "Alright, if I actually can't get it all done, what do I need to do to cope with that reality?"
And it helps force you, it's a forcing mechanism to start thinking smarter to apply more of the 80-20 principle where you get 80 percent of the results from 20 percent of your efforts, and just applying that lens. So for instance, it begins to force you to think well, what could I delegate? If I just simply can't get it done, what can I hand off to other people they would be okay? It also asks you to prioritize because if you're not going to be able to get it all done, certainly, you can't get it all done immediately. How can you get smart about what is the most valuable task you could be doing, and maybe ignore the rest. And also just think about procrastinating, right. We all think oh, the cultural thing of procrastinating is just terrible.
Oh! You should never procrastinate. It's actually there something says probably better to procrastinate on doing some situations at work, or in your company may well resolve themselves. It is sometimes better not to get involved. Of course, the trick is knowing the difference, knowing which ones that's the case for. But just asking those questions, and being forced to think a little differently about the problems can sometimes yield unexpected, and fruitful results.
Michael:          I think there's a lot of wisdom to that. I know when I've gone on vacation, I'll come back to my email, see a problem and then a day or two later, it got solved by other people. Whereas if I'd been there, I might have jumped in and tried to micromanage.
Dorie:              That's exactly right.
Michael:          So, if you're going to prioritize, or decide the 80 percent of your tasks are going to get delegated, or not done at. How do you decide which are the most important tasks?
Dorie:              Well certainly of course is your listeners know intuition plays a big role in this. But if I was offering a framework for people to think about how to determine what they should be doing, I would say one question that you should ask yourself initially of course is; is this activity something that directly relates to servicing my clients? That is often the thing you should be doing first as a business owner. Making sure that you are providing high quality customer service, and not letting that drop because it's your customers that keep you at business; period. If you don't have good relationships there, nothing else matters. It doesn't matter how pretty your website is, it doesn't matter how immaculate your quick books accounting is because the money isn't going to come in. So that's one key thing.
Another way to ask yourselves is will solving this problem, take care of other problems down the line. This is where you really want to look at leverage. So certain activities have to be just proportionate value because they will solve a myriad of other things downstream. I'll give you an example: one of my weekend projects which is so boring, and I am not looking forward to it at all. But I have been switching over contact management systems. And in the process of doing this, I have to get a research to contact management systems, I had to get my data, and clean it up so that it was all you know, things were all in the right places; categories, and things like that. But in doing this, once you have a really good contact management system, it means that any time I want to find someone, look them up, get their information.
I don't have to be looking in 35 different email accounts. I don't have to be hunting around in all was … where was that, how do I reach Michael? Instead, I can get it in two seconds, and it just… all of the little like five minutes of hunting for oh what was Michael's email address? That is just wasted time and you compound it you look at what I spend in a year in doing now and it's ridiculous. So getting it cleaned up once and for all even if it's boring, and annoying pays dividends down the line. It will make me better, it will make me more efficient. So, those are the kinds of things that actually have real value to spent time on.
Michael:          That makes a lot of sense to me is kind of it's sort of like repairing broken things at home because they're irritating you every day, and they're draining your energy three percent a day which doesn't sound like a lot. But you add it up over time, it's a lot of energy drain so.
Dorie:              exactly
Michael:          Yeah, so tell us about a time when you've either listened to your intuition, and it was good, or you ignored your intuition.
Dorie:              Yes, so intuition is really a powerful tool in business of course. And I think that for many of us particularly early on. We can often be so driven by the need to bring in money that we sometimes overlook warning signs in a business. Of course, I have never worked for a client that is really objectionable to me in terms of their oh, their politically they're standing for this terrible thing that I hate or whatever. I mean those are easier boundaries to draw in a lot of ways. But what I think is harder, and more subtle is the people who … they're great people in general.
They may be your work even for a great cause that you support, but you just feel like, "You know what? This is going to be a difficult clients." And sometimes a person that can be a nice person may be a very difficult client. And you see things like you know their quibbling over the language of your contract just back and forth, or maybe even early on they're not getting back to you in a timely fashion. And it's almost to the point where it's disrespectful that you send them three, four messages; nothing, and you're waiting for a response. It's easy sometimes to cut them slack and say, "Oh I'm sure they're just busy, and oh once we work together, I will be much better."
But the truth is once they give you money, it's actually worse to work with because then they feel like oh well, I paid them so it's fine for me to behave in this way. And so, I think learning one of the things that I've really worked on is trying to learn to get better about my intuition, about what it would be like to work with someone, and whether that would be a pleasant experience during a consulting engagement. And in just getting a vibe for how someone treats you in that earliest stage of the business courtship.
Michael:          That is sort of like dating really. If you get a bad vibe about someone you're thinking of dating, or are dating do you want to have continued to have dates with them?
Dorie:              It's true, I think there's plenty of instances where I shouldn't listen to my intuition more on that also.
Michael:          So, let's just wrap this up. I've got few questions I'm asking all my guests which is, why are you proud to use your business intuition now?
Dorie:              Well, I am particularly proud to use my business intuition for a couple of reasons. I mean one is that of course, the more we're able to tap into our intuition effectively, the better decisions we can make. I mean I am able to enjoy my business so much more now, that I'm able to vet clients more effectively, and really understand who would be great to do business with. You want your colleagues, your clients to be a joy to you. That's what we want if we're spending 8, 10, 12 hours a day working, you want to be around people that are great. And so, learning to pick out that better is really nice.
And then of course, I'm also proud to be using intuition because as you guys know better than I even, there's been so much research into the second brain in your gut. I've got intuition for so long people who just as use that as a phrase. But now, we realize the extent to which there are serotonin, and all these other chemicals actually in your stomach. Your intuition is a very real phenomena that your body is trying desperately to tell you something. Not just in your head also, all over your body. And so, if you're not listening to it, we're really doing a disservice because we are shutting out a message that our body wants to help us by conveying.
Michael:          That makes a lot of sense, and there's definitely is a lot of research on the belly, brain, and it has a lot of neurons in it so. But let's not dive into that because I have another question, and this relates to the mission I'm on which is to get all entrepreneurs, and business leaders to openly use their intuition. Because it will make their business more joyful, and bring them more profits, and reduce their stress. And perhaps also more globally, I think of every business leader was using their intuition openly, it would inspire others and they'd make less stupid decisions that hurt other people, or hurt the planet. So, I think it's really critical right now at this point in time that everyone not only uses their intuition, but uses it openly. So, my question to you Dorie is, what would it take to make business intuition more openly used this year?
Dorie:              Yes, such an important question, Michael. Well I think for any of these things and you are really kick starting the conversation in a powerful way by championing it, getting people to talk about it. Because with any social movement, I mean let's pick one I'm familiar with the LGBT movement it is what really turns the tide is people willing to speak openly about their own lives, and their own experiences. And sometimes, it doesn't necessarily come up organically. But if you can create safe spaces, if you are someone who uses your intuition a lot, and can talk about that, it give someone else who maybe a little less far on that journey room. Say you know what? I do that too, or I want to do that more. Let's talk about it, and that starts the conversation, that spreads the conversation.
Michael:          That is a great idea there. So thanks for being on the show Dorie, and I know you're a busy person. You've got a book launch happening. You're also a professor at Duke University, or adjunct professor. And you've write a lot of articles. So, it's great to see you here today. If people want to find you online, what are good ways to do that?
Dorie:              Well, thank you so much. Probably, the best way to find me online is through my website which is dorieclark.com. And more than 400 free articles there that I've written for places like Forbes and the Harvard Business Review. And for folks who are interested in tapping more into their entrepreneurial abilities, and really learning about different ways to be an intuitive entrepreneur who makes a lot of money; that's one of my chief goals. I really want to help people learn to build this hysteria thriving. I have a free self-assessment. It's 88 questions that walks you through the process of developing a robust entrepreneurial enterprise, and anyone can get that for free at dorieclark.com/entrepreneur.
Michael:          Well, we'll put those links into the show notes along with all the other books that you mentioned. And the articles in Times, and Forbes that we talked about in case people are curious about those. And you can find those on intuitiveleadershipmastery.com. So, thanks so much Dorie.
Dorie:              Thank you for having me.
Michael:          Okay, bye guys.