You can listen to the podcast and read the show notes here.
In this interview, I spoke with Amanda Cook.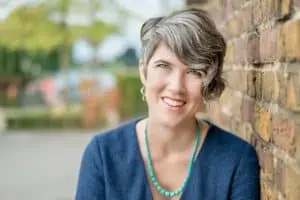 Amanda:              So Michael, thank you so much for taking the time to talk to me. We're here in Bangkok at this conference and you hosted a wonderful meet up a couple of days ago about using intuition in your business and I just knew that my audience would love to hear more about this. I'm excited to have you here.
Michael:               I'm excited to be here Amanda. It's really good to talk about business intuition and how we can increase that so we can run our businesses with less stress and take less time but get even more results.
Amanda:              Give us some examples of how you use intuition in your own business.
Michael:               I use it when I'm working on attracting new clients to my business. I look at what is my ideal client and I write that down. How old are they? What kind of person are they? Do they pay on time for example? Do they appreciate my work? Then I do ask myself, what would it take to get to the person? What would it take to attract my ideal client to my business? Then I listen to my own inner guidance to get inspired actions to take to attract that person.
Amanda:              Awesome. There's several things in there I want to pick up on. First of all, you have this lovely question of what would it take? This has been coming up quite a bit throughout our conference so far and we've been saying, "Oh, to ask Michael's question, what would it take?" Can you, before we get back to the finding clients, can you just talk a little bit about the power in that question? It's so simple.
Michael:               It is powerful because instead of focusing on the problem and worrying about it, instead you are now focusing your brain on finding solutions. It's sort of like putting something into Google and Google goes off and searches. If you ask your brain a question, it starts searching for the answer even if it doesn't know it right now.
If you ask, what will it take to attract the ideal clients or what would it take to add ten percent to my income this year, immediately you start thinking of things that will solve that. Now on a spiritual level what would it take also clears anything that's in the way of you getting what you want. It's a clearing question as well.
Amanda:              Okay, if I'm a health coach out there listening and I'm feeling really frustrated because I don't have enough clients and I really want to find a new client, you were saying, you would just ask. You would get quiet and really tune in and then be like, what would it take for me to find my ideal client?
Michael:               You could ask what would it take to fine my ideal client, having got a clear what your ideal client was because maybe part of your problem is you're not clear what your ideal client is.
Amanda:              I think that is a huge problem that I see all the time.
Michael:               Yes, particularly if you're attracting people who only stay for a few sessions or they're just a pain to deal with or they don't have enough money. That would suggest to me that they're probably not ideal for you. Clarity, when you both on the practical level and on the spiritual level, if you're not clear what you want how can you expect the universe or other people to give it to you?
Amanda:              I'm sitting here nodding everyone, you can image. That is so true. But you know what I find is so many wellnessers that I talk to, when I say, "What do you want," they don't actually know. We don't know what we want.
Michael:               Then you could say, "What would it take for me to know what I want to get?" Probably you have some resistance to having this wellness business. It's possible that you have had experiences either in the past in this lifetime or you've had past lifetimes where being in a wellness business was a route to torture and pain. That would tend to make you not want to be clear about what you need to do to grow your business. You're trying, on a subconscious level, you're probably trying to hide your business.
Amanda:              Completely counter, I mean counterproductive to what we're trying to achieve then when you're doing that. You're sabotaging yourself.
Michael:               Yes and I think we've all seen that in our businesses. We take two steps forward and one step back because there's part of us, either from our own childhood or from a past life, that is afraid. There's something dangerous about having this business and getting it to grow. Just to be explicit here there was a whole genocide of wellness people a few hundred years ago.
If you were preparing herbal remedies in the village and the witch hunter came around and collected people to be tortured and killed maybe you'd better not promote your herbs and healing powers. That is still in the consciousness. Even when we go to school, it's not like being a wellness practitioner is encouraged in high school.
I don't remember the career counselor saying, "Oh yes, why don't you go off and be a yoga instructor." I think there is resistance there whether it's in our consciousness or not or even our parents may or may not directly encourage. They're like, "Oh, why don't you get a steady job at a company."
Amanda:              What are some of these, when you come across these blocks … I'm trying to sort out my thoughts here because there's so much. When you use your intuition it's the truth. In a way that can be scary because that's the thing. If you're really listening to your intuition you're like, "That's what I need to do." Then you might not want to face that. You're starting to hit these blocks and these fears. What are some of the tools that you use to clear those? Where can people start to look for guidance on that?
Michael:               That number one tool I use and if you don't get anything else out of this interview then this is connect to the light. Which probably you already know how to do. You just take your conscious up a few thousand miles, bring the energy down through your head, through your throat, through your chest, your tummy, your legs, go down through to the center of the earth.
Feel the power of mother love there, mother earth and her support and total acceptance and understanding of you and bring that up through your feet, your tummy, your head. Now you have light coming from below and from above at the same time and expand your heart out as big as the room, the city, the country, as big as the solar system across the universe.
Amanda:              Then when you do connect to the light then that helps you get more in tune with your intuition.
Michael:               That helps you connect. When you connect with your intuition you can connect to different levels of truth. You really want to connect with the universal truth but if your energy is smaller you're going to be connecting more with your ego. That's where a lot of people run into issues because they ask, "Is this really my intuition or is this my ego talking or is it someone else talking?"
Also many people in the wellness sector are very intuitive, very sensitive to other people's energy and that's why we're able to help heal people. On the other hand if we're around people too much we pick, up what they want instead of what we want. Which is another reason why it's good to say, "What I want in my business." I often find myself it helps to get outside into nature and to get way fro mother people and then meditate and connect my intuition.
Amanda:              What do you do in your own business? Any secret health habits or routines that really keep you grounded and in touch with your intuition?
Michael:               I think everyone is different. I would ask your own intuition, "What would it take for me to be more in contact with my own intuition?" See what comes to you. For me personally I find walking everyday, getting out in nature. If I'm feeling overwhelmed from social situations, just get away from other people.
If there are people who are energy vampires in my life or in my business, removing them from my life or business. Spring clean your Facebook friends would be a small example of that. If thee are people you find drain your energy when you read their stuff, just remove them as friends. They won't know if you remove them. You will know though because you will feel better.
Amanda:              If Facebook drains your energy.
Michael:               Just remove Facebook, yes. I also do yoga and I meditate. I listen to my body. My body often will tell me if there's something I need to be doing differently. I try not to have rigid rules. It's more like go with the flow, listen to what my body or spirit is telling me in the moment. What I may need today may be different from what I need yesterday.
Amanda:              Is there anything else you feel really needs to be shared with this audience about intuition?
Michael:               Trust your intuition. What would it take for you to trust your intuition twice as much as you do already? I know you use your intuition in your work. You could use it more in your work, more in your business. The more you trust it, the more results you'll get. Related to trusting it, maybe keep a journal of decisions you've made. How you have made the decisions? Then come back to it in future months and see how did things work out. Which things worked, which things didn't.
That can help give you more confidence in your ability. I encourage you to trust yourself. So many of us have self-doubt educated into us in schools and through parenting. The more you can delete that self-doubt and trust your own inner knowing the more successful you can be and the more inspirational you can be to your clients.
Amanda:              I love that idea of an intuition journal. Because I think it's providing, especially for those of us who get stuck in our heads it really provides the proof that, "Look, I used my intuition here and it did work." It helps you build that trust.
Michael:               Well I think one of the problems we have in our society is we treat our minds and our heads as the ones in charge and the intuition is just hanging around occasionally to be checked in with. Let's switch that around. Our spirit, we are spiritual beings with a body having human experience and the mind is there as a tool to be used. Logic and rationality is there as a tool. They're not here to run the show.
Amanda:              Totally. Awesome. This has been so great talking to you. Can you tell us what you're working at that you're excited about right now and how people can get in touch with you?
Michael:               My name's Michael Smith. My website is intuitivebusinessgrowth.com and I'm working on a book that's going to be released in January next year and I'd love people to connect with me through that website and we have a Facebook group for people interested in this topic. You can find that on the book page of the website.
Amanda:              Awesome. Thank you so much Michael.
Michael:               Thank you Amanda.