You can listen to the podcast and read the show notes here.
In this interview, I spoke with Neil Napier.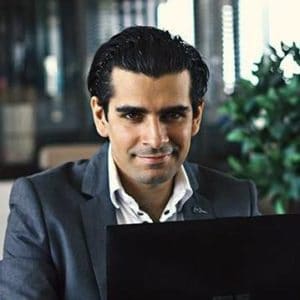 Neil Napier: Hey there, this is Neil Napier from JobRack and today I'm joined by Michael Smith. Michael is the founder of Intuitive Business Growth and he is also author on book about business intuition. Now, I have to tell you that I met Michael about this time last year. I think it was at a DCBKK event in Bangkok. I'm just impressed by the approach that Michael takes towards building a business, towards being an entrepreneur, because many people that I meet day in, day out, are all about … They talk about the money that they're making. They talk about raw success. They post pictures of them sitting in business class seats in an airplane and all their Lamborghinis and what not. The approach I think that Michael takes, and again this is my perception, is more of a humble entrepreneur who is creating a difference not only in their business and for other people but also spiritually, who's growing as a person and not just as a business.
Michael, please tell me if I have that right or completely wrong?
Michael Light: You've got it completely right, Neil. You must have read my mind.
Neil Napier: No, I think it's just, it's amazing just to see the way … When I read what you write, by the way, and I want to tell you this, when I read what you write I feel positive about what I'm doing, which is much better than reading someone else's post about how much money they're making or all the flights that they're taking these days in business class. Yeah. It's a fresh change.
Michael Light: Well, that's good to hear. I work on writing positively and also I put positive energy into the messages I post on Facebook or emails. That's a little extra tip for you and your listeners. When you're sending an important email give it some positive energy because it makes a difference, it kind of makes it pop out at the other end.
Neil Napier: That's actually quite interesting because only the other day I sent out an email. I know this is not our main topic today but it's interesting, because the other day I sent out an email in the morning and I sent our another in the evening. In the morning there was a bit more negative spin on it because I wanted to instill fear and in the evening it was a bit more positive. The positive one got so much better reaction in terms of people writing back to me, telling me their pain points, their problems that they were facing.
Michael Light: That's great.
Neil Napier: Yeah. Interesting. Michael, tell us a little bit more about yourself, I mean your background. What do you do? Your business and so on.
Michael Light: Sure. Well, I started off more than 30 years ago starting my own business. I did a math degree which is very logical. I was interested in personal growth stuff but for a long time when I ran my business I did it from a logical, analytic point of view. Spreadsheets, pros and cons list, all that kind of thing. When it came to
hiring I had great difficulty hiring good staff. I do all the checking their references and going through their resume and what have you but it seemed to be a crapshoot as to whether I got someone who is any good or not. I think that's an issue for a lot of entrepreneurs hiring people. It's a challenge.
Neil Napier: True. Most entrepreneurs think that's it all about the numbers game in terms of hiring, that they put out a post, they get 50 applicants. Maybe one or two of them will turn out to be good. I think that's a very inefficient approach to take. I know you made a post recently about intuition and abundance for successful hiring. Could you shed some more light on that? How do you see this being put into action?
Michael Light: Well, I think it all starts about being super clear about what your ideal candidate for this position is. That's more than just a job description. It's what kind of characteristics they have. What kind of person they are. What kind of qualities they have. Do they have integrity? Are they positive? Do they have a lot of energy or drive? How are they getting on with your other teammates? Every business has different set of criteria based on what's important to you, and probably based on where you've had problems with people in the past because any time you've had a problem with a previous employee you want to think, "Okay, what were the issues here? How did I create this and what are the characteristics I want to avoid?" Then flip those negative characteristics around and turn them into positives.
If you had someone who was always late to meetings, you flip it around and say, "I want someone who's always on time for meetings and deadlines."
Neil Napier: Interesting, because I myself have noticed that, again just talking about meetings for a second, people who are often late, they don't really have the commitment or the loyalty to be there when the chips are down. We've started avoiding those kind of people in our hiring process as well.
Michael Light: That's very easy to spot. If you arrange an interview with them and they're late for the interview and that's an important issue for you, that would be a no hire. No matter how clever they are, how charismatic, how much their resume looks wonderful. If you've got things like that that you're looking out for, subtle signals. It's different for every person. On person like you, it may be, "Are they on time for meetings?" For someone else it may be, "Do they take the care and attention to avoid spelling mistakes in their cover letter or in their resume?" For someone else it might be, "Do they bother to send a hand-written thank you note to you?"
Many different things you can look out for. It depends what's important for you, for your ideal candidate.
Neil Napier: True. Let me play devil's advocate for a second here, because I've been in situations in past where I've desperately needed to hire someone. My support
staff left, I had something big coming up and I needed someone new and so I started to make exceptions. I started to … When I post a make a job post saying, "Put this special keyword in your job post so I know you read it," and people still don't do it, I look past that. I think it's a human fallacy where we want an outcome so badly we don't care what kind of outcome that is. Would you agree?
Michael Light: I've done that myself, where I've looked past it and then I have to tell you, often it's come back to bite me in the behind. Someone who doesn't pay attention to an Easter egg question in a job application, they're not going to pay attention to other details in the job. Assuming that attention to detail is important to you in hiring an admin assistant, which to me it is. It depends on what the job role is. Maybe for another job that isn't so important.
Neil Napier: True.
Michael Light: That's something to pay attention to.
Neil Napier: I think that's an interesting point as well because most people, and we see a lot of jobs coming through in JobRack and a lot of people make the mistake of having a blanket policy for what they expect in a person who joins a company. That's okay if you want to build a certain kind of team, but you're right that certain jobs require different characteristics from people. Correct?
Michael Light: They do. Different businesses require different characteristics. You might have the same job admin assistant in two different businesses and they hire two totally separate, different kinds of people, but they both work out great because they had a different culture and a different team and a different leader in each company.
Neil Napier: Got it. Tell me this, Michael. How did you come to this conclusion? This is a very unique way of thinking when it comes to hiring, because it's just never been talked about before. How did you get to this?
Michael Light: Well, I went through lots of bad experiences in hiring people who weren't a good fit, and then I learned through both experience and working with various business coaches to look out for these things ahead of time. As I said, this only works if you're really clear about what you want, both on the practical level when you're screening through all the applicants, but also and the spiritual level you want to attract the person who's a good fit for you. If you're kind of putting a fuzzy message out to the universe or putting a fuzzy job ad out … I mean, I've looked through some of the ads on JobRack and I'll be honest Neil, some of them suck. If I was a candidate I'd be like, "What do these people actually want me to do?"
Neil Napier: Yeah.
Michael Light: There are good ads there and there are bad ads. That's true of every platform for advertising.
Neil Napier: Of course. I think the way I see it, a mistake that a lot of employers make is that they think that just because you're paying someone money they have to sell themselves to us, they have to convince us that we should hire them. It goes the other way around as well, because there's so much competition these days for positions, both ways, that even job seekers want to work for something that they really crave. This is interesting but my dad used to tell me this, that back in my grandfather's days when they were offered a job they would say, "When do I start?" Right? Because they wanted a job desperately. They had eight or nine kids. In my father's age they would say, "Well, okay. How much is it going pay? How much can I make because I want to provide a good life for my kids."
In today's day and age when we are offered a job, we ask the question, "What is it?" We want to do something we enjoy, so I think it is very important that employers, companies, actually sell the job to potential job seeker as well.
Michael Light: Absolutely, because if you don't sell the job, and that's both in your job ad, it's in what your company's website looks like, it's how your receptionist answers the phone or virtual receptionist service if you don't have someone on staff who does that. All of these details come together, and how you respond to emails. You've got to remember that you may not notice this because if you had a hundred people apply for the job and you didn't have these things right and you weren't selling the job you might think, "Oh, well I got a hundred people who applied." Did you get the real superstars apply or not? Or did they skip over your job and you didn't notice?
Definitely you need to sell the job. Make the ad interesting. Add a little bit of personality into it. The best job ads make people smile a bit. They're like, "Yeah, I want to really work there." I think that's very important to do. You're selling the company, your company, to the applicant. They are selling themselves to you for working for you. It's a mutual sales situation that occurs.
Neil Napier: True. Do you think … I mean, you already have been doing this for some time. The retention rate that you have with your employees. It's good? How do they feel about this as well?
Michael Light: Yeah. I have good retention rates. Let's just look at the numbers.
Neil Napier: Sure.
Michael Light: You want to put your analytic hat on. What does it cost you to hire someone? How much do you spend on the advertising of the job? How much time do you spend, would your staff spend, screening and interviewing people? How much time do you spend training a new person for the position? How much opportunity cost have you lost because you didn't get that hire to happen as
quickly as you could have done. Maybe you lost six months of extra sales that you could have made because you didn't have that position filled and you were losing opportunity.
Then if you make a screw up on hiring, what is that going cost you? "Oh, now the team's kind of demoralized because they're working with someone who's a bit of a dipshit." Now you've got to go and deal with them like, "Well, shall I fire them or am I going to try and improve them?" Now you've wasted extra time with someone who's subpar. It can work out to tens of thousands of dollars to make a mistake in hiring. It's not something where you want to just say, "Oh, yeah. Let's just not be serious about this. I'm just going hire someone." Or a situation like you were referring to earlier where you're in a bit of a panic and you've got to hire someone quick. That wouldn't be a good idea.
To put it into another metaphor, if you had a health problem would you be like, "Oh, I need to get an operation quick. Let me go down this alley and get a quick operation." No, you'd try and figure out, "What's the best doctor to go to, what's the best hospital and how am I going to get this dealt with?" Or if you're really smart you dealt with your health proactively so you don't get as sick as often. The same thing with hiring. If you think about how to make your employees happy, how to attract great candidates, and how to retain them, then you don't have panic situations and people don't leave you in the lurch. They give you a reasonable amount of notice. They have documented how their job is doing. They do training for the new person who's going take over. You can't chain people to the job and you wouldn't want to, but you can certainly hire people who are responsible and smart and do the best thing and want to help the business succeed.
The other thing that's related to this that I recommend people do is always be hiring. You've already filled your admin assistant to your developer or your marketing position or sales or whatever, but continue to look for quality people who are like, "Okay, when I have an open position, either because someone's left or they had to go on leave or my company has grown and I have extra opportunity, I would love to hire this person and make a Rolodex of good people," that if they're still available in six months or a year's time when you need them you can go straight to them. That way you don't have that panic situation.
Neil Napier: That is true. I think again, a lot of entrepreneurs I work closely with, they tend to hire last minute. They're problem is they think, "Okay, next month we have something coming up. We need to hire someone in the next week or next two weeks." Like you said that's never the right answer. That's never the way things should be as well, which brings me to another question. I mean, knowing that you hire often, do you also have systems in place? Is more or less everything in your business now systemized or are you working towards that?
Michael Light: I think it's more important to hire smart people who can create the systems.
Neil Napier: Okay.
Michael Light: People who are smarter than me in whatever the field is. I just hired someone from JobRack who's a marketing genius and he's going know far more about what's important there and what systems need to be set up than for me to tell him, "Here's every detail of what you should do." Maybe for some positions you'd have a system in place ahead of time, and certainly after you've hired someone in there you'd have the documentation to pass forward to whoever takes that role on after them. I think there's an over-reliance on having SOPs and systems there to the exclusion of hiring great candidates.
Neil Napier: Got it. I think that's a way for people to … Because they're sacrificed on, like you said, hiring the smart people. That's a way to compensate by doing SOPs because that makes them feel less guilty about hiring someone who might not be as efficient or innovative.
Michael Light: Hiring someone for your business is a long-term investment. We talked earlier about how much it costs if you screw it up. In the tens of thousands of dollars range, typically, for a position. Why would you not want to have the best person there? It just kind of boggles my mind there that anyone would want to have … Do it on the cheap. Why would you not go to the best place to hire people and pay them whatever the fee is to get great candidates and why would you not pay whoever you hire what is a fair wage.
Neil Napier: True. True. I agree with that.
Michael Light: I don't know. I can't quite … It would be sort of like if you were building your own house and you were like, "Oh, yeah. Let's do some cardboard for the walls. We don't really need a nice floor. Let's just leave a few splinters in the floor. We'll just step around those problem areas." That's like hiring a semi-good employee and like, "Oh, I won't give them the real heavy tasks to do. I'll keep those for myself because they can't handle it."
Neil Napier: That's true. I think people are afraid of giving up their control, as well. I think that might be an issue. I don't know if you have any thoughts on that, on giving up control.
Michael Light: I think that's one of the number one issues entrepreneurs have in growing their businesses. I've had this issue myself where I grow my business to a certain level and then I was having difficulty getting above that level. Often it came down to me letting go of control and hiring someone better in that field to take over whatever the task was. I mean, some of the most successful entrepreneurs have been geniuses at hiring people. They were not geniuses at whatever their business was. They really didn't know how to do a lot of the business. What they did know how to do was how to hire and motivate top talent and to get them to work together as a team in order to reach the business's goals.
Neil Napier: That is very interesting. Very interesting. I think Michael, this approach is very unique and I definitely appreciate you getting on a call with us today to talk about this. Is there anything else you'd like to add before we end the call today?
Michael Light: The other thing I'd say, when I posted this marketing position in JobRack was, I was looking at the responses people gave me and I looked at the factual things they gave, but I was also just feeling their energy. One of the tips I would give people is always ask for people's social media profiles. You get an enormous amount of information on the intuitive level from someone's linked in or Twitter or Facebook profile. You can feel what kind of person they are. Are they eager? Positive? Do they complain a lot? Do they post weird pictures that you really don't think are a good fit? There's all kinds of information. Or maybe they just don't maintain their profile very well on LinkedIn and it's out-of-date and missing a lot of stuff. It can tell you a lot of stuff and give you a gut feel for someone very quickly.
Neil Napier: I have to admit I think you kept the best for last because I've never thought about this and I think this could simplify the hiring process so much, just by being more intuitive by looking at who they are as a person than just what they know.
Michael Light: You can always train someone on skills, some new piece of software that's come out, or whatever the task is. You cannot easily change someone's basic character. You need to hire for someone who has the right character fit. Obviously you want them to be interested and have passion for the area they're going work in. If they're going be a bookkeeper for you they'd better love dealing with numbers and books. If they don't have integrity, you've got a problem. If they don't have reliability, like you were saying, to turn up on time you've got another problem. These are all good things to figure out. Often with human characteristics it's not like a checklist you can look for. You've got to come to some kind of intuitive idea or gut feeling about, "Is this a good fit?" Yeah. That's a great thing to do.
It's been great talking with you Neil. I really appreciate what you guys are doing with JobRack and I'm looking forward to looking further with you in the future.
Neil Napier: Likewise, Michael. Thank you so much for such an interesting perspective on hiring. I think this would really help to JobRack community. Thank you.