You can listen to the podcast and read the show notes here.
In this interview, I spoke with Yamile Yemoonyah.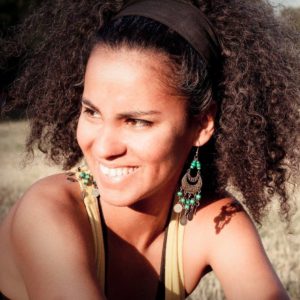 Michael: Hi. Welcome back. Today I'm talking to Yamile Yemoonyah. I'm saying your name right? Is that how you pronounce it?
Yamile: It's Yamile Yemoonyah, but it's fine.
Michael: All right. Thank you. We have very interesting topic today for business intuition, which is getting help from spirit guides in how you run your business. Can you tell us a bit about that and how you got into it?
Yamile: Sure. I got into working with spirit guides 16 years ago. It's kind of a spooky story. I was at home. This was back in Germany. I was sleeping. It was night. I woke and I opened my eyes and I saw a guy standing in my bedroom, a guy that I didn't know, a stranger. I was freaked out, but I couldn't move, so I just stared at the guy, and he stared at me. Then from out of nowhere, he had this like red glowing ball in his hand, and he threw it towards me and it landed on my bed. I can still feel it. It landed to my left. I just stared at him again. I saw he was clearly South American. He was just wearing jeans, no shoes, no shirt, short black hair. The next thing I know, I blacked out. I woke up the next morning. Without even thinking, my hand went to search for that red glowing ball. Then I really woke up and I was like, "Wow! What was that? That was really weird." Then I called my friend and I told her all about it.
I think it was two days later, we were signed up for a workshop on shamanism, because this was back in the time that I got interested in my roots because I'm half indigenous from Colombia. They are called the Embera, and they live on the west coast of Colombia. I started being interested in that and researching and decided to sign up for that workshop. I had read some books and I had read that there are beings that are called spirit guides. I went to the workshop and there the first thing that we learned was how to travel to the spirit world and meet your spirit guide. The guy told us before we did it that when we, if we would meet our spirit guide there were two things or one thing that would probably happen and that was that they would give us some kind of energy. Usually they would do this in the form of either giving you a big hug and then you would feel the energy flow into your body, or they would give you a red glowing ball. At that moment I nudged my friend who was also there and I was like, "Oh, my god. That's what this guy was. He was my spirit guide."
That's how I met my spirit guide for the first time. He physically appeared in my bedroom.
Then I got interested in the whole topic, obviously, and started researching it and started learning about all kinds of different spirit guides and also different kinds of entities that humans can contact, like ancestor spirits and power animals, are also called totem animals. Then there's also of course aliens. I like to call them star beings because aliens sounds a little bit spooky to a lot of people. Yeah, there are different kinds of beings out there that we can contact and that we can communicate with. Some of them, the nice ones, like to help us. Just like we make friends with other human beings, we can also make friends with nonphysical beings. They have knowledge that we don't have. They can help us with all kinds of things from family problems to business problems.
When we have a business or start a business or have a problem –
Michael: What's an example of a business one of your spirit guides has helped you with?
Yamile: For example, my newest business where I connect people with their guides, that totally started because of them. They started nudging me like, "Hey, listen. Not everyone can see us or communicate with us. Maybe you want to help others connect with their spirit guides as well." That's how I got started.
you can also get help from your guides with other things. Just if you have to make a decision. For example, should I … Pricing, for example. That's always something people are worried about. What price should I give my products or services? That's something you can ask. You just sit down and say, "Hey, dear spirit guides, thank you so much for helping me with my business. I want to price my product and I'm not sure. Thank you for sending me a sign today." That's all it takes. Then you just go throughout your day and you don't think about it all the time. You just let your guides give you a sign. Sometimes it will pop up as, let's say, a number plate or sometimes it will pop up like a number on your phone, or it will be another like sign where you see the number, something that reminds you of one of the two or three choices that you have for your pricing. Don't hold on to that thought all the time. Just let it go and let the signs come.
Michael: Mm-hmm (affirmative). Did you come up with pricing from doing that?
Yamile: Yeah, totally. Yeah. I do that sometimes. When I'm not sure I will always ask my guides.
Michael: Cool. What other kind of problems have they helped you or your clients with?
Yamile: Basically everything that I'm not sure about, I ask them. For example, sometimes someone wants to work with you and you're not sure if it's really a good fit. Sometimes, I mean we all know that, especially when you have services and you work one on one with people, sometimes you take on a client more out of fear than out of love. Especially in the beginning when you are, you're running out of money and you need money and there's this one client, and you kind of know that it's not a good fit, but you still want the money so you take that on. These kinds of things are always great to ask. That's actually an easy one because you can sit down and also ask your guides for help. Then all you have to do really is feel into yourself if you can feel like fear in the pit of your stomach, if you feel that, don't go with that client. Other people feel their fear more as a headache coming on, so you have to know where you feel your fear. Once you know it's fear based, don't go with it.
Michael: Mm-hmm (affirmative). That is good, great advice. Yeah, clients and employees gained from a sense of fear generally don't work out.
Yamile: Yeah, exactly. You have to do everything from a place of love, because then it can grow. Then it's much easier to attract abundance and other things that you want in your life.
Michael: I mean, this sounds really useful. If someone wanted to connect with one of their spirit guides and get help in their business, you know, how would they go about that?
Yamile: Well, you basically, what you don't want to do is ask from a place of lack. You don't do it, say, "Please, please, please help me." What you do is, again, you come from a place of love and from a place of trust they are there. What you do is you just thank for their help and their guidance. Instead of saying, "Please I need to make that amount of money," or, "Please I need to get a new client," or whatever it is that you need. Don't ask for help, but say thanks for helping me. Again, then you don't come from a place of lack or fear, you come from a place of abundance that's already in your life, for example.
You just say, "Thank you for being here. Thank you for guiding me. I don't know you yet, but I do know that you're around. It would be great if you would make yourself known to me so we can work better together. Send me a sign, and thanks again for helping me." Just do that every day. Say it in your own words, obviously. Do that every day when you get up or when you go to bed at night. They will send you signs. They will show you who they are. Maybe you don't get a name, but that's not important. Maybe you don't see them as a person. That's also not important. Some people see their as lights or just as a color or as a triangle or whatever. Don't be fixated on seeing them as a human being.
Then, just ask, well, thank them for their help and just like you develop friendships with other human beings, it's the same with nonphysical beings. It's not something that happens right away. You have to keep at it. You can connect with them. The more you connect with them, the better you can communicate with them.
Michael: Mm-hmm (affirmative).
Yamile: Especially for business, you can ask for a spirit guide that helps you specifically in your business. There are some things that I call professional guides. For example, I had a grandfather who ran a company and I asked him for help because he knows what it's like to run a business. I say like, "Hey, grandpa. Thanks for helping me. I need to make this decision. I'm glad you're hear to guide me."
Michael: You can ask specific people who you think would be helpful in your business, whether they be guides or-
Yamile: Yeah, totally. Totally, yeah. Even if you don't know anyone, then just say, "Listen, I have this specific problem in my business. I need someone who knows about this and can guide me. I'm open. Please come help," or, "Thank you for your guidance."
Michael: Are all spirits good to be guides for your business? How do you tell if-
Yamile: No. No. Let's say [inaudible 00:11:40] … Let's say you have a grandma who was a housewife and was really great with kids. She's probably not the one you want to ask about your business. You want to ask her about your family problems, for example. You need to tune into someone or a being that is more, that knows about business, if you want help with your business.
Michael: That works for dead family members who you're asking to help. What about other guides? You know, I've had guides who've been spirit animals or angels or all kinds of spiritual beings.
Yamile: Yeah. For example, spirit animals are great if you, for example, work one on one with people, or with people generally, because they can help you open your heart. The more you open your heart, the more love you can give and the more you will attract people, also clients.
Michael: What spirit animals have you worked with and how have they helped?
Yamile: I have one spirit animal who's a bear. That's a healing spirit, so … A lot of healers, if you have a healing business, like reiki or if your a doctor or something like that, then it's great to work with bear spirits because they are known to be great healers. About with the animals, it's a little bit different than with others, because the animals usually choose you. You don't choose them.
Michael: Okay. You see what animals are attracted to you and then you can figure out what aspect [inaudible 00:13:45] and what you can work with.
Yamile: Yeah, exactly. You can definitely also basically ask to connect with your power animal and then it will appear. Sometimes it will appear in your dreams or it will appear in real life. If an animal appears in your life, it could be your power animal, but make sure you see it like about three times in a short period, amount of time, and then it's very likely your power animal, yeah.
Michael: Right. I have a spider as one of my power animals. I see a lot of spiders.
Yamile: That's a great one.
Michael: Yeah, I know.
Yamile: That's a great one because spiders are great for networking. They know how to build, what do you call it? Networks.
Michael: Right. They can build a web of connections.
Yamile: Yeah.
Michael: They're also very creative. Because their body looks like a figure eight, you turn that on the side, it's the infinity symbol, so it's a symbol of the infinite.
Yamile: Yeah, that's true.
Michael: They're very patient, as well. They sit around all day waiting for their food to come to their web.
Yamile: That's true, yeah.
Michael: They're also very sensitive to energy. That's another characteristic that I've utilized in my life and business.
Yamile: They get rid of bad energy, as well. Like, they get rid of the bugs and all that kind of stuff.
Michael: Mm-hmm (affirmative). Yeah. Perfect. What about, you know I … You mentioned an initial encounter with the spirit coming into your bedroom, which sounded a little bit frightening. I know some people I've worked with, the idea of talking with spirit guides is a little scary. How would you, you know, address that?
Yamile: Well, usually they don't just appear in your bedroom like it happened with me. I think I needed a real wake up call. You can just ask them to not scare you, and then they won't, usually. The other thing is, just tell them to appear in a way that doesn't scare them. That's probably the main thing. They won't do that.
The other thing is, if the whole idea of spirit guides freaks you out a little bit, just think of it as your intuition. Just make something up. Make a being up in the sense that … You listen to your intuition. Let's say you sit down about the pricing again, and you just feel if you feel love or if you feel fear. Then you imagine it to be a being that talks to you. It doesn't even matter if you just make it up. Just imagine it to be an animal that you like or imagine it to be a star being or imagine it to be whatever you think. In reality, spirit beings don't have a physical form. They just show themselves in a way that makes sense to us. If you give it a form that's nonthreatening to you, then they will use that to communicate with you. Then you don't have to be scared.
Michael: Okay, that's helpful. You really want to get out of your mind all the movies that you've seen around Halloween.
Yamile: Yeah, yeah.
Michael: Scary ghost objects, because that's just movies and really spirit guides don't have to be that way. They only would be that way if you made them that way.
Yamile: Yeah, exactly.
Michael: What about if someone is having trouble hearing their guides or getting guidance? A lot of people have blocks to hearing guidance.
Yamile: Right. What I would suggest then is first of all, meditation. Like sit down every day for 10 minutes and meditate. Most people think meditation means to not have any thoughts. That's not even, that's not the point. It's really hard to turn off your thoughts. It's pretty much impossible. The point is to just sit down and do nothing and concentrate on your breath. If your mind wanders, just bring it back to your breath and just concentrate on your breath, every day for 10 minutes. The point of that meditation exercise is so to just feel your own energy because most people don't know what their own energy feels, because they're always busy, they're always with other people, they're always doing something. If you sit down for 10 minutes a day and start feeling what it's like to be you in your body. Your spirit in your own body. Once you figure out what your energy feels like to yourself, then it's much easier to detect changes in your energy field. When you start working with spirit guides, you will feel them in your energy field. That's how you start. Sit down every day for 10 minutes. Just figure out what you feel like. Once you have that down, then you can start inviting your guides to come and sit with you for a minute. Not even like communicate, just so you can feel their energy. That's how you learn to like build that relationship.
Michael: That sounds like a good way to both connect with your own intuition and also to be able to connect with your spirit guides better.
Yamile: Yeah, exactly.
Michael: Is it necessary to actually hear your guides? I often-
Yamile: No.
Michael: Right. What other ways might you get messages from them?
Yamile: There are actually seven different ways to communicate. It really depends on the personality. One is hearing. That's what a lot of people think, that you actually have to physically hear them. That would be called clairaudience. There are six clairs all together through which you can connect to the nonphysical world. All of them have two variations. One is like subjective and one is objective. When I saw my spirit guide, that would be objective clairvoyance. I saw my spirit guide physically appear in my bedroom. There's also the other sides, like the subjective clairvoyance, which is if I see something in my mind's eye. It's very much like imagination. That's what they use, with people who are clairvoyant, they use the imagination to communicate. Like I said earlier, they don't really have a physical form. They just use a form that makes sense to us.
A lot of people will be clairvoyant but not even know it. They will, for example, see their spirit guides as figures they've seen in Disney movies. They think it's their imagination, but it's not. It's just their spirit guide communicating with them. For example, I once, I did an ayahuasca session and I wanted my spirit guide to be around. Somehow I got scared, and I asked my spirit guide, "Okay, I want you to come close, but I don't want to be scared." He appeared in my mind's eye as Winnie Pooh. I was like, "Oh, so it's you, bear spirit." He appeared in a nonthreatening way to me. That would be clairvoyance.
Then you have like I mentioned earlier, clairaudience. Also again, you can have it objectively or subjectively. You can like actually hear voices outside of you. A lot of people will have that. They will hear someone call their name. You can also hear it in your own head. For example, some people hear a specific kind of music when their spirit guide is around. A specific song that makes them remember something or that makes them raise their vibration from fear to love. That would also be your spirit guide.
Then you have clairgustance. That is when you taste something. Yeah, some people have that. They will-
Michael: Get a funny taste when their guide is around.
Yamile: Cooks, for example.
Michael: Right.
Yamile: Yeah, exactly. Then you have … I forget the french term for it. Clear smelling. A lot of people will smell violets, for example, even if they're not around. That's also your spirit guide. Or, you will smell a certain food, like for example, your grandma would always bake cookies. You don't even think about her but suddenly you smell her cookies. That's your grandma saying hi.
there's clairsentience, that's clear feeling, which means you can … These are the people that are empaths. These are the people that go into a room and feel the energy of the room or these are the people that start crying if somebody else is really upset. Their spirit guides will communicate with them through feeling.
Then you also have claircognizance, which is clear knowing. These are the people that suddenly just know something. They don't see it, they don't hear it, it's suddenly in their mind. That often happens with business people. They are very idea-driven people so their spirit guides will often communicate with them through claircognizance.
Michael: Lots of different ways.
Yamile: I think I forgot.
Michael: Yeah, I think you went through all of them. Lots of different ways you can connect with spirit guides. They don't have to just appear in your room.
Yamile: No, no. Absolutely not.
Michael: You might just hear the message, get signs, or coincidences happen. Spirit guides arrange for stuff to happen that gives you the message.
Yamile: Yeah. The thing is, you have to figure out what kind of personality you are. That's kind of easy. If you are, let's say, an artist or someone who's very visual in your daily life, then you're probably clairvoyant. If you're someone who's a foodie or your a cook or someone who's into wine or something like that, then your spirit guides will probably communicate with you through clairgustance. You can figure it out and then pay specific attention to these sensations.
Michael: What about angels? Do you work with them as guides to your business as well?
Yamile: Angels, I say not directly in the sense that they give me advice for my business. Well, the angels that I work with, they are very much about helping me raise my vibration. There are some arch angels that you can work with. For healers, for example, it's arch angel Raphael. Also, for traveling, if you go on a business trip for example, you can ask arch angel Raphael to make it a good trip, make it a successful trip.
Then you have arch angel Michael. You can ask him to cut all kinds of cords. He is the one with the big sword. If you want to, let's say, let go of something in your business that's not useful to you anymore or like an old mindset that you have that you think is keeping you back in your business, ask arch angel Michael to cut these cords for you.
Michael: Mm-hmm (affirmative). Yeah, he's very powerful for cord cutting.
Yamile: yeah, exactly.
Michael: yeah. If you have a particular issue in your business, maybe you're hiring, you could always ask for an angel who would be especially helpful in this task to come forward and give you some advice.
Yamile: Yeah, absolutely. Yeah.
Michael: What about-
Yamile: You can always also-
Michael: Go ahead.
Yamile: You can always also ask like your own guardian angel, because everyone has a guardian angel, to connect other people's guardian angels who would be perfect clients, for example. Then these two angels work together to bring people together.
Michael: Angel marketing.
Yamile: Yeah, basically. Yeah.
Michael: Yeah, that's great. One of the other concerns I think people have with working with guides, once they get over the being scared part, is you know, what if you open yourself up to the spirit world and then you get overwhelmed with too many spirits coming towards you? I know I have experienced that. I don't know if you have.
Yamile: Yeah. Again, you just tell them it's too much. Please like keep a little distance and don't scare me and one at a time. Once you open up to the spirit world … Spirits are usually very excited when humans do, because not a lot of humans do, so they all want to talk to you at the same time. Especially ancestor spirits because they're excited to tell you about like your family on the other side or they want to know about what's going on here. Yeah, you can just tell them, basically, take it slow.
Also, it's very important to learn for yourself to be able to turn it on and turn it off. You don't want to walk around and have spirits with you all the time. That can be annoying. There is a exercise you can do, again when you meditate, do your 10 minute meditation. Once you start asking your guides to come and be with you for a little while during a meditation, what you do is, before you ask them, you imagine either like a switch in the back of your head that you turn on, and then at the end of your meditation you turn it off. Or you can imagine your third eye opening and then closing again. That gives them the sign, okay, now I'm ready to talk to you, now I'm not ready to talk to you.
Michael: Right. You decide when you want to be approached by them. You don't have to be overwhelmed by hundreds of spirits coming to you once you've opened up.
Yamile: Yeah, exactly.
Michael: Another similar thing is just set office hours, right? Okay, spirits, come one at a time and you only can come on these days and these hours.
Yamile: Yeah, exactly. Like using schedule works for the spirit world.
Michael: Any other things that would be helpful to people using spirit guides to help in their business.
Yamile: I think the most important thing is to not be afraid. Yes there are spirits out there that are not good spirits, that don't want to help you, just like human beings. We're all able to see or feel if someone is good for us or not. If that person is not then we just go away. It's the same for spirit guides. They can't touch you. They can't do anything that you don't want. You just invite the ones that are helpful to you, that can help you with your business or [inaudible 00:31:23] of your life. That's really all it takes to not be scared.
Michael: Mm-hmm (affirmative). Yeah, so just being … It's sort of like when you hire employees. You need to be clear what you're bringing into your business and into your life.
Yamile: Yeah, exactly.
Michael: Only invite spirit guides who are beneficial to you. I would say only ones who have a vibration of love or higher.
Yamile: Yeah, exactly. Absolutely.
Michael: There are some spirits out there that are fear based.
Yamile: Yeah.
Michael: That may be the reason they're still on the planet wandering around, because they didn't make-
Yamile: Maybe even do it just like you would, like you say, when you hire someone, like write down what kind of spirit guide you want to help you. Actually sit down, open a document, write it out, what you want, what you don't want. Be clear yourself. Then you only open the gates for a spirit that fits that description, that job description.
Michael: Makes me wonder if there's an [inaudible 00:32:28] spirit guides you can go to.
Yamile: I don't know. Maybe.
Michael: I think they're a little beyond that in the spirit world. You just put the message out there, you get what you need.
Yamile: Yeah, exactly.
Michael: Cool. Anything else you want to say about business intuition?
Yamile: Generally, I want to say that what most people call intuition is already working with the spirit world. That's basically the gate between our world and the spirit world. You are already talking to spirits. You just call it intuition or your gut feeling or whatever you call it. It's actually the same thing. Just go, keep walking that path, using your intuition. If it's a little bit scary to you, the whole spirit guide thing, just call it intuition, that's fine, then work with that. It's basically the same thing.
Michael: Mm-hmm (affirmative). I mean, are you including your higher self as one of these spirit guides, then?
Yamile: Yeah, higher self is definitely the best spirit guide, because it's you. The best version of yourself. It's definitely very important to be connected to your higher self. That is also the part of you that protects you because it's pure love and there's no fear in your higher self, so you also can't even attract fear based being into your aura if you are connected to your higher self.
Michael: Cool. How would people get in contact with you if they want to learn more about spirit guides? I know you're writing a book on spirit guides as well.
Yamile: Yes. You can go to my website, that's my last name, it's [inaudible 00:34:33]. I will spell it. It's Y-E and then M-O-O-N, like moon, and then yah, that's J, sorry, Y-A-H, like the Rastafarian yah, what they call god. That's my website. There's also a contact form. You can contact me. I also have a spirit guide quiz where you can find out if you can find out if your spirit guide is an angel or an ancestor spirit or any of the other kinds. That's free, and that's fun to do.
Michael: Great. Well, I'd certainly recommend people investigate their spirit guides and start talking with them, see what information you can get on your business and what help you can get. It's certainly been a big help for me.
Yamile: Yeah. Awesome. I'm glad it was so helpful. Thanks for having me.
Michael: Yeah. Thank you for coming on the show.
Yamile: Absolutely.