You can listen to the podcast and read the show notes here.
In this interview, I spoke with James Jacobson.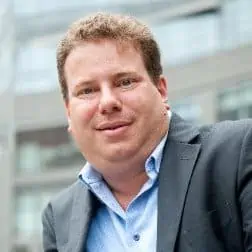 Michael Light: Hi, welcome back to the show. I'm here with James Jacobson, and he is a bestselling author of How to Meditate with Your Dog, which you might think didn't apply to your business. We're going to discover differently. He's also CEO of Functional Nutriments, if I've got that right, James.
James Jacobson: That is correct! It's great to be with you Michael.
Michael Light: It's great to be with you. I've known you for a while now and I know you use your intuition in your business. Can you tell us a bit more about that?
James Jacobson: Sure! I am an entrepreneur. I've built and sold a number of companies. Probably one of those entrepreneurs who started back in high school. Whether I call it intuition or gut instinct, I've definitely always connected to that feeling of intuition as you talk about in your book, in terms of what to do next, who to hire, who to fire, where to travel. Basically, everything I run through a litmus test that is beyond what I think and more what I feel and where it feels right. Usually when I do that, things work out really well. When I don't or when I ignore that gut feeling, things don't work out so well.
Michael Light: I think a lot of us have had that experience. Sounds like you're good at actually hearing your intuitive messages. Maybe you could tell us a bit more about how you personally hear them.
James Jacobson: That actually is through meditation. I think that people meditate for a variety of different reasons, and sometimes people believe, and I would say, erroneously, that the purpose of meditation is just to totally clear the head and whenever a thought comes in, to let it go and just let it go and let it go.
I believe that once you become proficient at meditation, you will start to get more intuitive thoughts. In other words, thoughts that are more worth following a bit. That is something that I've just been lucky to have experienced when I was a kid, like two or three years old. I would sit and just be quiet and navel gaze or just focus on nothing. What we now call meditate.
That's where I was able to hear that small, the very intelligent voice. That's what I call intuition.
Michael Light: Meditation is not just to clear out the clutter from our mind. The monkey mind, as some people call it. It's also to listen to our intuitive mind.
James Jacobson: Absolutely. I think that's the key. You, first of all, have to be able to discern the difference. I think one of the things that meditation does is it teaches you discernment, and the ability to figure out if it is that monkey mind or if it is something that is truly worth listening to, worth following. Once you develop that filter, then you can know, this is a thought that is worth contemplating.
Michael Light: This is sort of like a spam filter for the intuition inbox of your meditative mind.
James Jacobson: That is a great way of looking at it, yes. If you're thinking about picking up groceries or what you're going to do, you know that's probably not an intuitive hit that you need to really engage with. If you can feel it in your heart, and you can feel it. Your higher self, or whatever you want to call it, is suggesting that this is some juicy ground to chew through. It's perfectly fine, in my opinion, to do that during meditation.
Michael Light: Help me understand. How do you distinguish between monkey mind thoughts, worries, ego talk, and real messages from your intuition?
James Jacobson: If someone is new to meditation, I think it's a little bit difficult. If you're new to meditation, what I advise is you do what most people do during meditation. When a thought comes in, just lovingly let it go. See it like a cloud across the sky and move on to the next thing. It's the space between those clouds that is true meditation bliss.
After having done that for awhile, the discernment quality will start to be developed so that when you see or feel this more interesting thing that you perhaps have been thinking about or grappling with, comes into your mind, allow it to be there for a moment. Don't just dismiss it. Explore it. Feel into it, and see if there's something there that is worth pondering, meditating on.
Michael Light: When you say meditating, some people might have a mental image that you have to shave your head and sit in lotus pose in a monastery in the middle of Tibet. Not everyone who has a business could do that. What are the different meditative options people could use?
James Jacobson: I'm a firm believer that it doesn't matter how long you meditate for. It's the daily practice of meditation. Even if all you can do is three minutes a day, that's fine. Just do it. It's better to do three minutes a day then twenty minutes a week. Obviously you don't need to be in an Ashram, and you don't need to be anywhere. You just need to be able to go to a quiet place. Although, I have meditated in the middle of New York City outdoors. You just need to be able to close your eyes, I think that does help, and sit and focus on your breath and that is really the simplest way to start meditation.
In my book, How to Meditate with Your Dog, I obviously talk about how, if you have a dog or a pet, you can leverage that connection you have with your animal to meditate. But, you don't need a dog or a cat. You just need yourself to do it. Sometimes people will do things for their dog that they would never do for themselves. That's the idea behind that.
Michael Light: Let's come back to the dog part. I think that's very interesting. You saying you could be in your office, you could close the door, put your phone on do not disturb, turn off any notifications from your computer, and just close your eyes for three minutes, and do that once a day. That would produce benefit?
James Jacobson: Absolutely. I think doing that, I think having it as part of our morning ritual is nice. Perhaps doing it at other times of the day. Certainly doing it anywhere. In your office. Outside in nature. If the weather permits, I think doing it outside in nature's a great idea.
Michael Light: You might even be waiting for something to happen. Maybe you're in a line somewhere. You could just meditate then.
James Jacobson: Absolutely. I think that it's really setting the intention, to use your word, it's setting the intention and doing it. It's the practice. It's just the practice of sitting. Of choosing to do it. Sometimes, for early meditators, for people who are just beginning a meditation practice, I firmly believe in the idea of fake it until you make it. Meaning, just do it, just pretend. If you have to conjure some idea of a yogi sitting on top of a mountain doing it, do that. Just feign it. Create the body imagery to do it and then the actual faking it will make it real and you will experience it. It is one of the most simple things to do, but I truly believe one of the most beneficial that we can do. For ourselves, for our loved ones, for the planet.
Michael Light: When you say do it every day, it's a little bit like working out. Instead of working out once in January after you make new years resolutions for an hour and then giving it up. It's better to do three minutes a day of something.
James Jacobson: Absolutely. It's the regularity of it that matters as opposed to the depth. I know that when someone's starting a meditation practice, it can seem intimidating and scary. Like, I can't get this right. If I sit down to meditate and all these thoughts come into my head. That's okay. The Dalai Lama has said he can't even meditate. There's no one who can. You're always thinking about things, because that's the nature of being a human being. What you can do though, is lovingly release those thoughts, notice them as they're clouds across the sky, and then go on to the next one until another cloud comes along. If that little space between those thoughts, the little space between those clouds, that's meditation bliss. It may only be a few seconds, but cumulatively, they add up and they have value.
Michael Light: It reminds me of keeping my room clean when I used to do all my cleaning myself. You don't say I'm going to clean my room every day and expect it to be clean before you start cleaning it.
James Jacobson: Exactly.
Michael Light: There's going to be some dirt and gunk and yucky stuff to clean up when you sit down and meditate. So many people today are addicted to their phones or other devices and they're afraid to go to that quiet space, because then they might have to deal with some difficult emotions or unpleasant thoughts, that have been lurking around in the background.
James Jacobson: There are. I know that a lot of your listeners are technology fans. Let me share with you something that I've been meditating with. It's actually a tech app. It's called Muse, M-U-S-E. It's from a Canadian company. It is a headband that you put across your forehead and your temples. It's an EG monitor. It used to be really expensive to make these types of things, thousands of dollars. I believe it's about three hundred dollars now. It uses your smart phone. It's basically a bio feedback device, for people who like to score things. People who track their steps and track every calorie they're eating and all that stuff.
This is a device that basically helps you stay motivated. It has the ability to do a three minute mediation, a five minute meditation, or whatever. You're listening to, in my case I listen to ocean waves. The weather changes as your brain starts to become more active. When it's calm, it's just a very soft waves coming in and some birds chirping. If you have monkey mind, the weather gets a lot worse. It sounds stormy and the waves are pretty violent. That's a cool hack for people who are interested in that type of thing. You don't need the realities, you don't need to spend three hundred dollars. You don't need to do anything other than close your eyes and be.
Michael Light: Some people like listening to meditation music, particularly if it's the beats, where there's a different sound going in each ear and it makes your brain go into a meditative wave form.
James Jacobson: Guided imagery or guided meditation is also really good as well.
Michael Light: It doesn't matter whether you use a vacuum cleaner or a broom, or a dusting cloth to clean your room. The question is, do you commit to doing it every day?
James Jacobson: Amen.
Michael Light: Let me ask a question to our listeners. What would it take you to meditate for at least three minutes every day? Ponder that. Maybe in your next meditation.
James Jacobson: Hopefully.
Michael Light: I find if I ask a what would it take question before I meditate, and then let it go, sometimes things pop up in my mind during the meditation.
James Jacobson: That what would it take, you're sort of known for that. That is a wonderful question. It really does open and engage the mind to look at possibilities.
Michael Light: It does. I feel what would it take is a bit like typing a search into Google. You put the what would it take into your mind, and then all kinds of answers come back from your intuition.
James Jacobson: Absolutely. The answers are there.
Michael Light: They're there, but I haven't been listening to them.
James Jacobson: Silencing the mind through meditation is a way to enhance that listening ability. That's where you, to bring this full circle, that's where you intuition starts to kick in and you're able to recognize that brilliant intuitive voice that you have. That we all have.
Michael Light: Now, some people I'm imagining are thinking, I don't have time to take three minutes out of my day to meditate.
James Jacobson: You don't have time not to.
Michael Light: What would you say?
James Jacobson: You don't have time not to.
Michael Light: Why is that?
James Jacobson: Why is it that they don't have time not to? There are so many benefits of it, and I guarantee you that there is no one who can't find three minutes to do that. If you have to do it while you're in the shower, do it while you're shaving, do it while you're in the bathroom. Do it while you walk your dog. There are open eyed meditations as well. If you don't have three minutes, you probably have a very serious health crisis.
Michael Light: If you look at how productive you are when you meditate for a few minutes in the day versus if you're just trying to get as much done as you can, do you think you'll be more productive if you take time out to listen to your intuition?
James Jacobson: Of course.
Michael Light: The big picture thing.
James Jacobson: It pays so many dividends. If you're a Type A personality, which I am, you may not want to think of it as taking a break or relaxation. Think of it as just as fuel that you're adding. This is something you do to receive dividends. I promise that the dividends of taking three, five, seven, twelve, twenty minutes a day or per meditation session, will be profound. Do it and experience it. Stick with it.
Michael Light: I agree with you. What's an example of some benefit you might have had? Instead of pounding away at the tasks, you took time out to meditate and something happened that really benefited your business.
James Jacobson: One of my favorite words in business is leverage. I learned that years ago. Nineteen ninety. I spent one year as a protégé of J. Abraham. He taught me, always look for leverage in a business. The leverage that I get from meditating is profound. If I'm stuck on something, I'm stuck in a business problem or stuck on a marketing conundrum, or anything. If I just take some time to just distance myself. I have a chair. I do like some rituals associated with meditation. I have two chairs. I have one in my office that I meditate in. I have one and I've dedicated a room in my home to be a meditation room. I will go and do that.
Spending some time in that creates that leverage. Because then, that's again, different from just totally trying to be in bliss. That's a purposeful meditation. I've programmed myself to be open to or to use the what would it take philosophy by saying, this is clearly not working, I'm banging my head against the wall. I'm going to do something different. I'm going to meditate, and going in and then bringing myself into the meditative state. Then, because I've seated it with the idea of the problem that motivated me to get up from my work chair, that probably means that in the meditation session, I will start thinking about and feeling another way of looking at or approaching the situation, i.e., leverage.
Michael Light: In other words, you've spent three minutes or twenty minutes or however many, but you've saved yourself days of going in the wrong direction and maybe tens of thousands or hundreds of thousands of dollars of benefit from having some new inspirations.
James Jacobson: Absolutely. It's a constantly refined process. It's not like the insider or the inspiration that you glean from an intuitive hit during meditation is the end all and be all. It is just something that may evolve to the next step. When you do it again, it shifts. It's getting yourself into the mind space to listen and be receptive to inspiration or intuition. That's what it's about.
Michael Light: You mentioned earlier that you found meditating with your pet helps. Tell us more about that. I'm curious. I know some people bring their dog to work.
James Jacobson: In How to Meditate with Your Dog, the Genesis of that book was I know that meditation helps everyone. One of my goals is to help people spend more time in the silence and meditation. Initially, I would teach people to do that, who wouldn't meditate otherwise, by saying, you can meditate with your dog, and leveraging the love that they have and connection that they have with their dog. Dogs are natural meditators. Any dog lover who's listening knows that. They've seen their dog in this state that I call "hound lounge." The eyes are half open, half closed, they're basically just sort of zen like thing. They could be aroused if someone rang the doorbell, but they're very content. That's "hound lounge" which is the doggy equivalent of meditation bliss.
What I talk about and teach people to do is to meditate with their pet, which basically is a very simply exercise. You get close to your dog. If you have a little dog, they can come up on your lap as I do. If you have a large dog, you get down on the floor with them. But, one hand, generally the right hand, on the dog's heart, chest area. The other hand on their butt. Basically following the energy meridians. One hand on their heart, one hand on their butt area. Start to initially follow their breath. This is basically the idea of following the breath.
You are following your dogs breath. In the beginning you may start breathing faster than you normally do, but at least you're becoming aware of your dogs breath. After doing this exercise for a few days, perhaps as long as a few weeks, one of the most remarkable things happens. Instead of you following your dogs breath, they follow your breath. It's pretty cool.
It's just basically the symbiotic relationship that someone who really loves their dog has with their dog, and their dog has for them. Obviously dogs exude unconditional love. This is really easy for them. They love it. It helps hyperactive dogs calm down. It helps separation anxiety. There's so many reasons to do it for the dogs benefit. The reality is, it's for the person.
Michael Light: You've had business inspirations while doing this?
James Jacobson: Of course. Yes. The current company that I'm running is definitely a direct result of meditating with my dog.
Michael Light: Wow. Your dog must be really valuable to that point.
James Jacobson: Yes. Absolutely. This was another dog. That dog passed. Absolutely. Dog lovers get it. There are so many people who are just passionate about their dogs. The question is, can you do this with cats? The answer is yes. Cats are a little different, because they're not quite going to sit down. Most cats are not going to sit down and have that direct connection with you during meditation. Although there are some, I call them heart cats and soul cats. That's another book.
Dogs are really good at this and that's why I recommend doing it. Especially if you think that you can't meditate, but you sure do love your dog. This is an easy way to experience it.
Michael Light: Can you do this with a friends dog?
James Jacobson: Yes. When I went out to promote that book, and it came out years ago. We did all these TV shows across the country. One of the things that really resonated with the producers of these various TV shows is that the talent could bring their dog to work and my pitch to them was that any dog… If you have a strong relationship with your dog, you can meditate with any dog. These TV stations would sometimes try to play tricks on me and bring me these really sort of ferocious dogs. I'm not a dog whisperer but, in the course of doing this on live television, I was able to demonstrate it, and every single dog I did this with live- this works in my real experience as well- did get into hound lounge just by, again, setting the intention, putting the hands on those spaces, and trusting. Believing that it can happen. And it does happen.
Michael Light: Maybe we don't need three hundred dollar phone apps to measure ourself. Maybe we just need to talk to our dog.
James Jacobson: You just need to meditate with your dog. I combine both. I have two dogs, Kanga and Roo. If you have more than one dog, people say, "which dog do I use?" You'll know. There's one dog that you're more connected to. I meditate with Kanga. Kanga sits on my lap. I do use the Muse, just because I think it's kind of fun and I'm sort of into quantifying things and you can get scores and all that.
The reality is, you don't need anything. You don't need a dog, you don't need a Muse. You don't need music. You just need to make the decision to do it because it is so easy to do, and it's so worthwhile and so beneficial, and it helps, in every area of your life. Business, relationships, everything.
Michael Light: Wow. If someone could copyright meditation, they'd be charging thousands of dollars for the opportunity for people to meditate.
James Jacobson: Exactly. The question, sometimes people say is, "meditation is too new age." Too whatever. "I want to pray." Okay. There is a distinction, I think, between meditation and prayer, but it's kind of refined and somewhat nuanced. There's no dogma, there's no religion, there's no spiritual imperative other than to just be still and listen. Luckily, if you're able to do that, by following your breath, you will get into meditation. Even for a moment or two. That moment or two is profound.
Michael Light: I think some people think prayer is about making requests from the divine. That's fine, that is part of prayer. Also, it's about listening to messages from the divine.
James Jacobson: I think that is the distinction. You said it well. That is the distinction between meditation and prayer. Prayer is generally requesting things, but you have to get into the space to actually request by listening and, may I even suggest, being grateful for all that you do have. That's also part of it.
Michael Light: That's a great thing. Speaking of messages from the divine, do you ever get messages from your dog or other animals.
James Jacobson: All the time. Yeah.
Michael Light: Obviously, dogs don't talk, and they don't email. How would you hear a message from your pet?
James Jacobson: They use thought pictures. One of my earliest entrepreneur ventures, many, many, many years ago, was a video series called You Too Can Talk With the Animals with a famous pet psychic. Basically what I learned from her, Beatrice Lydecker, was that animals create these non-verbal communications. As you say, they don't talk or email. They think in pictures.
Children are naturally able to pick up those pictures in their mind. It's why so many children's books are focused on animals, animals are the main characters. Children are able to naturally pick up on these thought pictures. This non-verbal communication. It is not uncommon for a kid to say, "Mommy! Mommy! Rover wants a bone." That's because Rover sent out an image of eating a bone that the kid was able to pick up on. What happens is mom will say, "No. That's a nice little thing. I'm glad that Rover's talking to you." Squash that ability to pick up thought pictures. Once you know that you can do it, and that's the way that they communicate, you can develop that. You can "hear" or "see" what they're saying in thought pictures.
I will suggest that the thoughts that dogs have are not terribly profound. I've never really encountered a dog that had a thought that's more profound than maybe a three year old would consider. These are not philosophers, but they're very much living in the moment, which is why they're so good to meditate with. You can pick up dogs, what they're trying to say and communicate, by just looking for that non-verbal communication, those thought pictures. Just as importantly, you can talk back to them, by giving them a thought picture, and they'll understand it.
Michael Light: I think that's incredible. What I do experience is, sometimes if I have a problem I'm working on, I'm listening to my intuitive messages, but I'm not necessarily hearing all of them. Sometimes animals can pick up what it is I need to hear, and provide that to me.
James Jacobson: Absolutely.
Michael Light: Even though they may have the mind of a younger human, I don't know if it's three years old or whatever. That doesn't mean they can't be helpful in business by giving you that intuition that you need to hear.
James Jacobson: They'll inspire things which is key.
Michael Light: You mentioned before, where you got started talking in this interview that you had a story about a psychic parking spot and I'm kind of curious about that.
James Jacobson: Years and years and years ago, when I did a talk radio show in Washington, there was a psychic on the air who was on before me- after me- I forgot. I asked her one day, when I was about fifteen years old, "am I psychic?" She said, "oh, you're really psychic." I said, "how do you know?" She said, "you're about to get your drivers license." I said, "you must be psychic." She said, "would you like to always get a parking spot?" I said, "sure." She said, "you can get a psychic parking spot. Here's all you have to do. Before you get to your destination, envision a car pulling out, and you pulling in. Envision that spot where you want it to be." Many, many years older than fifteen at this point, and I have done that my entire life. I would say ninety nine percent of the time, whether it's in midtown Manhattan or a busy suburban area, or just anywhere, I have been able to have a "psychic parking spot" when I intend or visualize that right before I get there.
Michael Light: Wow.
James Jacobson: It works.
Michael Light: I've seen midtown Manhattan. Those parking spots are pretty hard to find.
James Jacobson: They are hard to find. They don't recommend driving in New York unless you're used to that. It is definitely something that, because I was receptive to that idea early on and tried it and didn't resist it and started getting good results, that I've become even better at it because I just sort of expect it. It's a rare occasion when I do that and I don't get the spot. It's been working for me for many years.
Michael Light: That's a fun thing for people to experiment with. It's nice to get a good parking spot. If you don't get one, you can always go in a parking garage and pay twenty bucks or whatever they cost these days. It's not fatal if it doesn't work out. It's like a low risk environment to play with these psychic skills that we all have.
James Jacobson: Yeah. I do another thing with pennies. If you want to see if the universe is divinely abundant, you just have to set the intention that every day, I will find money. Be open and receptive to it and, you know what? I find money every day. It's a penny or a nickel or a dime. I once found twenty dollars. It is just really setting the intention and being on the lookout for it. You have programmed your mind to be receptive. By being receptive and being on the look out, you're likely to get it.
Michael Light: These are cool experiments for us to play with, but they don't really impact our business. Can you do something similar in your business that has a bigger impact?
James Jacobson: I think finding money every day is pretty good. This is about setting the intention of figuring out what you want, and going out and doing it, and knowing that every day you're moving closer to it. I think, as it applies to business, because we're not talking about pennies or quarters or even twenty dollars. It's about looking at what the steps are that are necessary to get to where you want to be or where you'd like to be. There's no better way of knowing where you'd like to be then drawing on your intuition. Drawing on your subconscious to intuit and to know what success looks like and go there, and also do that with the permission that, and the acceptance that, this is going to change. This is what it feels like, looks like, today, but it could change in the future and be malleable to that. I love the phrase, "if you want to hear God laugh, tell him your plans."
Michael Light: That idea of setting your intention and clearly visualizing it and just feeling certain that it's going to come, that's something that really resonates with me. I wrote about that in my book Intuitive Leadership Mastery. For goal setting, hiring, sales. If you're hiring, you need to visualize, what is the ideal candidate, and just see them easily coming in to your business.
James Jacobson: Absolutely.
Michael Light: Instead of making the whole hiring process a struggle.
James Jacobson: Absolutely.
Michael Light: Anything else you want to share? I know we're coming up against time here on the episode.
James Jacobson: No. I've enjoyed chatting with you and sharing with you some of these things that I've been doing for years. They're very much, sort of, outside of what I'm known for or what I do these days, but I would say that they're all connected and it's a delight to share with you.
Michael Light: Thank you so much James, it's been delightful talking with you.