You can listen to the podcast and read the show notes here.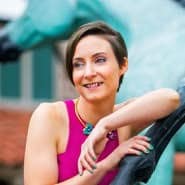 In this episode, I spoke with Rachel Archelaus.
Michael Light:                    Hi, welcome back to the show. We have a very interesting guest with us today, Rachel Archelaus. I hope I said your name right, it's a somewhat unusual name. She is the founder of the Intuitive Arts Academy, and she teaches people how to have a two-way conversation with their intuition. She has been doing this for over ten years and been doing it online for four years. She's known internationally as a spiritual teacher and a business mentor to [light workers 00:51]. She has a book coming out in a few months called Intuitive Art: Have a two-way Conversation With Your Higher Self, so welcome Rachel.
Rachel A.:                            Thank you, really really glad to be here.
Michael Light:                    I'm glad you're here too. I just want people listening to know, we've got some interesting things coming up. We're going to look about how you can figure out what to do in your business using your intuition and Intuitive Art, some practical applications in your business, why Rachel is the person for this right now, what is your higher self, or intuition, and why you'd want to have a relationship with her in the first place, and then also how do you trust yourself more, and why that is so important in business this year. Another thing is, why is a two-way conversation with your intuition important? Lots of interesting things. If it's okay with you, Rachel, why don't we start off with how you can figure out what to do in your business using intuition and Intuitive Art, which I must admit is an interesting idea, Intuitive Art, what exactly is that?
Rachel A.:                            Intuitive Art is just an alternate way to access your inner wisdom, your intuition, and it's a nice way to do it outside of your head. I find that so many people are stuck in their heads overthinking things, or in that mental loop of not making a decision, just having all the options go around and around. I teach intuitive development but when I ask people to just go in their bodies and see "Okay, How do really feel about that?" Or, "What do you think your intuition is saying about that?" They get kind of stuck.
A great way to learn to trust yourself and get more context out of your intuition is to use Intuitive Art. It's really just a three step process of asking a question, doing a little scribble … you do it with your eyes closed so it's not about making a drawing that looks like anything … and then looking at your drawing and seeing what colors are there, and using the colors and shapes to have your answer come to you. In this technique we bring you through a guided meditation to find out what your colors mean so that you have a really easy color sheet to reference when you're looking at your drawing. No real art is involved, and you don't have to have any intuitive experience. Sometimes the name freaks people out, but it's really quite simple.
Michael Light:                    So anyone could do this, you just have to have …
Rachel A.:                            Absolutely anyone, yeah.
Michael Light:                    Great. How does this help you figure out what you're going to do in your business, do you ask yourself a question before you start creating the art or …
Rachel A.:                            Yeah. I've been doing Intuitive Art longer than I've had a business, but when I got into business I realized that there's so many things you have to decide on every single day, like "What is my marketing funnel gonna look like?" And "How do I get clients?" And "What do I say to them?" And "What should I sell?" There's so many things we have to know about ourselves that we have to make decisions on for a business to function and grow that doing it just in your head can be completely overwhelming, so I use Intuitive Art to answer everything. We all know that going to our intuition is really … if there was ever a shortcut, that's it because our intuition has our best interests at heart, it knows what we want, it's connected to everybody else on the planet. It's kind of like having a friend at the top of the mountain seeing everything and reporting back down "Okay, this is your best bet, go here." When we use Intuitive Art or our intuition in our businesses it's really a good way to take a leap forward without all the stress.
Michael Light:                    So you can use this for solving practical questions in your business today?
Rachel A.:                            Absolutely yeah, everyday.
Michael Light:                    What kind of things might we use that on today?
Rachel A.:                            Just for an example, on my wall I have a couple of my drawings up just so that I can reference them everyday and one big one is my "Why". We all hear the Simon Sinek book start with the "Why" and how that really should be the cornerstone of your business, but a lot of people lose connection with that so I just have my "Why" drawing up. I also have a business plan that I do at the beginning of each year with Intuitive Art hanging up so I can see the focus and the intentions I've set for my business. You can wake up and say okay, well I want to get three new clients this week, and do a drawing about the best way that you can get three new clients that week. It can be super practical or more conceptual, anything you need.
Michael Light:                    Wow. So I love how you have a drawing of your "Why". Is that sort of like a vision board, but it came from your intuition?
Rachel A.:                            Kind of. I think what it does is … I feel sometimes I can think about what my "Why" would be or I can feel it out in my heart and it might seem like I have five different "Why's". I don't really know what the exact right words to use are, but when I did the drawing it so completely summed it all up. For me it's spiritual embodiment and wealth and love. Those are the only three things that showed up, but that's exactly why I'm in business, to experience wealth in all ways, to further my spiritual embodiment because that's really what I'm looking for, and to experience more love, share more love and receive more love. I feel like I really couldn't have done that as well as my intuition could have summed it up for me. That's what I love about those overall more conceptual uses of Intuitive Art.
Michael Light:                    It sounds like it's not just the words, but the fact that it's art speaks to you at a deeper level.
Rachel A.:                            Yeah. I feel like when we have … we have our color sheet, so we have the words that go with the colors, but then when we also see the color it goes deep within us. We're all very visual people, even blind people have visions and feelings. When we use more than one sense at a time we get more benefit from it. I am very visual, I think we all are.
Michael Light:                    That sounds like a wonderful method that any practical problem you have, you can just do some art, get out of your head, and get messages from your intuition. Not only that, sometimes the art becomes something you can have in front of you every day to remind you of that message.
Rachel A.:                            Yeah, it's really nice. It does add a lot of color to your office.
Michael Light:                    For those people who are on the go, you could put it on your laptop background or on your phone background …
Rachel A.:                            Absolutely.
Michael Light:                    … There are many ways to take it with you.
You've been doing this work for ten years now, why is this so special for you, Rachel?
Rachel A.:                            I grew up really open, really psychic, and really creative. The first time I ever did Intuitive Art, this method, was when I was eleven. It really made a big impact on me, I can tell you the story if you'd like.
Michael Light:                    Yeah, please do.
Rachel A.:                            I was eleven, sitting on my floor in my bedroom painting the top of a cardboard box for my mom, it was a small one, the kind you get at the crafts store. This painting … I was just spacing out doing this art … and it had a black cross and four different colors of orange in the corners. Obviously it doesn't really look like much, but I look down at it and this thing popped into my head, kind of out of nowhere, and it said that my mom compartmentalizes her problems. I really didn't know what that meant, per say. I was a smart kid and everything, but I didn't really have any context for what that would mean. I went to my mom and I totally ruined her birthday surprise, but I asked her if that made sense, and she looked at me kind of taken aback and she said yeah. She didn't tell me everything, but later on I learned that at the time she was dealing with some trauma that had resurfaced in her life from when she was young. Not wanting to put that burden on my dad, and not wanting to upset me and my sister she was also thinking about getting a divorce, a lot was happening and she really wanted to keep a brave face on for everybody.
When that first encounter happened, I just thought it was so interesting that I kept going. Over the next few years, I just did more drawings and more paintings and the voice would come again and tell me what it meant, but then eventually I realized all the colors always meant the same thing. Black always meant boundaries, so it made sense that the black in that original painting was showing the boundary between those four different orange things, the four blobs. Orange always means a mental color, for me anyway, everyone's colors are different. After I noticed the patterns I realized I didn't need that voice in my head to tell me what it meant anymore, I could just figure it out. I could look at it and see, this means that, and that means that. Fourteen years ago, I decided to see if everyone could do this, if I could teach this to people, and it worked. I could help people figure out what their colors meant in an easy way, and then show them how to do the technique so they could get their questions answered, and I've been doing it ever since.
Michael Light:                    Wow. That is very powerful that you were able to access this part of yourself, your intuition, when you were eleven years old, because so many of us were able to access it when we were little children, but then it disappeared as we got older, as we went through school. How did you manage to retain access to this throughout your school years?
Rachel A.:                            I was always a really different kid. You hear stories of kids growing up who are a little different, I'm sure a lot of people listening to this really felt kind of different from their peers. I also grew up very open, talking to my relatives who'd passed and seeing my guides and everything. I think it was just a part of me that was more out front than most people, so I just didn't lose touch with it. I also had the benefit of spending a lot of time outside in nature, and being by myself, and I think that really helps keep that intuitive connection when you can be in nature all the time.
Michael Light:                    Yeah. I think that helps both children and adults, if you want to get more in touch with your intuition, one way to start that process is to go into nature more.
Rachel A.:                            Yeah, absolutely.
Michael Light:                    I noticed your last name is a little unusual, is that the name you were born with or did you pick it yourself later or …
Rachel A.:                            It's funny, yeah it's definitely not the name I was born with. I was born [Mingalelo 13:54] which is very Italian. I was married for a time and got divorced, and then after I got divorced I realized I wanted a new name. I didn't want my childhood name, and I didn't want my married name anymore, but I didn't know what to do, I didn't have anything that I had just always wanted my whole life. So I asked my guides and I heard the name Archelaus after I asked, and I had no idea what that name was about or if I heard it correctly, it's kind of a different name I'd never heard before. For the next year I really spent trying on different names, thinking of things myself, asking my friends, and I did some research on the name Archelaus just to see if it's something that had resonated with me or if there was any power to it or whatever I would find, and then I made it legally changed about a year after that. It was given to me by my guides and just out of a place of wanting something new.
Michael Light:                    Wow. So this was your personal name, but you could ask your guides what a good name for your business would be, or a good name for a product, or their advice on a good name on anything in your business I'm guessing.
Rachel A.:                            Yeah, absolutely they're very …
Michael Light:                    So you mentioned you work with people, helping them connect to their higher self and have a conversation with them. What exactly is the higher self in your world view, and why would you want to have a relationship with her?
Rachel A.:                            Yeah, that's such a good question. Things really aren't linear, meaning we're not really separate from our higher selves, we're not really separate from all that is, but I'm going to describe it like it is just so you can get a mental image of what I mean. In my view, our higher self is just a bit above us dimensionally. If you imagine god, or source, or whatever you call it as the sun, the sun's in the middle of the universe and everything else revolves around it, and everyone is connected to the sun. We are a sunbeam, we're a little shard of the sun coming out and hitting the earth. If you can imagine god, source, as that sun, the sunbeam being us, we're hitting the earth, that's the whole dimensional spectrum. We're all that, we're all connected to that. We're all a part of the sun, we're all coming down and meeting on earth as individual beings.
Your higher self is a little bit higher up on that sunbeam, so it's not connected to the earth, it's not bound by time or space like we are, it's not so individuated that it can't really talk to other beings. It's more connected to source than we feel we are. It can run up or down that sunbeam and go to source, and then run down somebody else's sunbeam and talk to their higher self, so it gives us a lot more access to information, to feeling, to whatever else is out there in the universe because it doesn't know that it's limited like a lot of us on earth think we're limited. It's also more connected to us and our personality-self, than a higher dimensional part of us. All in summary it's like the best go-between between god, or source, and us living as people. That's why I really like consulting my higher self and that's kind of how I like to describe it, even though it's not completely what's happening, it's just a good way to look at it.
Michael Light:                    That sounds wonderful, why would we want to have a relationship with our higher self from a business point of view?
Rachel A.:                            I don't know about everybody listening, but when I started in business there is just so much advice out there. It was hard for me to understand what really would apply to me in my learning style, in my niche, to support my desired lifestyle. There's so much business help that it's really hard to navigate what tactics and strategies to try out, what copyrighting course to take, there's so much you have to do and assemble. I really needed a way to figure out what would work for me and what would help me grow spiritually and creatively and not just … I'm not just looking for money, I'm not just looking for a quick fix, so I needed to really navigate all that, and I couldn't have done it without consulting my higher self, which is really the part of us that gives us our intuition.
The more I relied on asking my higher self for advice on which business classes to take and how to show up in my business, what tone to take and what packages and programs to offer, the easier business was for me. I see it as kind of a shortcut or a direct route to finding the best advice, the best wisdom in my business so that I can just do what I love doing and I can develop a business that will grow and also support my desired lifestyle. I didn't want to just make money and be burnt out, I really wanted to have more of a lifestyle travel business, and that's what I have thankfully, but it's really with the help of my higher self, because otherwise I could have easily gone on the road of having just private clients and getting burnt out and not being able to travel.
Michael Light:                    So this is the best part of yourself, and she has access to more information than you have, both in terms of knowledge and in terms of time, and she can really advise us on what's going to give us what we want in our business.
Rachel A.:                            Yeah, so again if you knew there was a part of you that had the best answer for you, wouldn't you go there? Yeah, I think most of us would, and that's why Sir Richard Branson and Oprah and all of these really amazing, connected, philanthropic business leaders, they all say that they really value their intuition as their number one business tool. It's because it can see more than we can see here on earth, and we can leverage that relationship so easily and quickly in our lives, just tapping into your intuition takes seconds, and doing Intuitive Art takes a couple minutes, and then we've got our answer that comes from a place that's much wiser than we are.
Michael Light:                    Oh, I didn't realize that, so when you do Intuitive Art, it's more like doing a doodle. You're getting out of your mind and just letting the pens move across the paper, you're not trying to create a masterpiece there.
Rachel A.:                            Exactly, it's going to look like something your kindergartner did. The actual drawing part takes about sixty seconds, and you're doing it with your eyes closed and your hand is the brain. You're just quickly scribbling and opening your eyes. It's really quick.
Michael Light:                    Why is it important you do this Intuitive Art with your eyes closed?
Rachel A.:                            We do it with our eyes closed for the same reason that people don't trust the information that they get from their intuition in their heads. It's mostly just because they think it's them. Because you have your color sheet filled out, and you know for instance say red means anger, or blue means peacefulness, if you had your eyes open when you were going to make your drawing and you were going to go grab red, you would freak out for a second, and be like "Oh, I don't want to grab red." And you would get. The reason we have our eyes closed is so you have no idea what colors you're doing your drawing until you open up your eyes and you're all done. That way there's no judgment, there's no interference, and you can't say, "I just picked that because I like that color." There's none of that.
Michael Light:                    That is very clever. That makes me think, some of our listeners, they're wondering, this is great for Rachel and maybe Michael, but how can they trust themselves more and their intuition and higher selves?
Rachel A.:                            Yeah, it's a tough one. We're not brought up to believe in intuition. We're not brought up to trust ourselves. We're really brought up to look to the outside world for all of our validation, and that's just turn on a TV or pick up a magazine and you're just going to be indoctrinated into the fact that the outside world knows best. Luckily that's changing little by little. The best thing you can do to trust yourself if you're not used to it is to just do little things at a time. The next time your intuition tells you to take a left instead of a right that day, do it, take a left instead of the right. Often times when we don't do that we'll get stuck in extra traffic, or we'll see something we really didn't want to see. Taking those little bits to heart and following through with your intuition no matter how big or small, that's really going to start to develop trust for yourself, but also starting to access your intuition on purpose is, I think, the fastest way to develop trust.
For instance, when you have a decision to make, instead of going over and over about pros and cons in your mind ask yourself how you feel about it. Your intuition comes in feelings in your body, and if you're feeling open and light about a decision, do that. If you're feeling constricted and heavy about something, then avoid that. As you start living that way you'll start to realize that things are going a lot better than they were before you started listening so hard. If you have a really hard time with any of that, or you just want extra, do Intuitive Art because it's outside of your head, you're doing it with your eyes closed, so there's no chance of you and your mind making any of it up, and you'll start to see the miracles that really start to happen in your life when you live that way.
Michael Light:                    Is there a time you've forgotten to trust your intuition?
Rachel A.:                            Yeah. There is a big time that I really had trouble with my intuition, and that was when I was married and things weren't going so well. It's a time in my life where I look back, and I was just such a mess, I was crying every day for years, and things just … I wasn't a happy person and because I let it go on so long, I really lost who I was on the inside. I wasn't talking to my guides, I wasn't consulting my intuition, I was just broken. My friends were, I love them, bless them, but I think they were a little sick of hearing about the same thing over and over again. The problem I was having was that I couldn't trust my partner anymore, and I thought he was having an affair, but he wouldn't admit to it, and I was just driving myself crazy in that pro and con mental loop confusion. I had really forgotten how to trust myself.
Then some stroke of genius, wisdom, came down and was like, duh, don't forget you have this tool here, and I went out and I bought some art supplies, a sketch pad and a new box of pastels, which are my favorite to use with this method, and I just started drawing. I made lots and lots of drawings. "What should I do?" "Is he cheating on me?" "What would it be like if I left?" And I just started releasing in front of me, and again, outside of my head, what was happening, and after a little while that gave me the confidence to leave without even having confirmation from him that he was having an affair. About two months after I left him I did get confirmation that he was having an affair and he'd been having an affair for years and so I felt really good that I'd been able to make the decision and go and start to relive my life without that first. That was a huge point in my life where I trusted myself again, and it really paid off. I don't know what would've happened to me if I'd stayed in that situation. I probably would've really broken down, I don't know if I would've been able to recover.
Michael Light:                    Was that empowering afterwards, after you'd made the choice to trust your intuition?
Rachel A.:                            Yes, It was incredibly empowering and it really started me in a direction that was so much healthier. Because that big decision had been made blindly, just using my intuition, I had so much strength in that connection after, and I started doing my candle company again, just so many things. I reconnected with friends, I started planning this business, and things really went up from there. It was really great. I haven't forgotten my connection since, thankfully.
Michael Light:                    Wow. That's really powerful. Some people listening may be good to trust their intuition on a big decision like that, whether it's leaving a partner, or making a business pivot, or making a big hire. Other people might not be quite at the point where they're prepared to take an action solely on the basis of their intuition. What would you say to them?
Rachel A.:                            I would ask them to look back in their own lives and see where they followed their intuition and how it went, and where they didn't follow their intuition, and how that went. We all have so many examples of this, and it's often easy to review, going backwards. It's really hard to look into the future and say, "I can trust that this would work out if I follow my intuition, but I'm scared." But when you look back you can see it just so plainly. You can probably also thing about other people, right? If you have close friends or family who consult you on their decisions and you have heard the stories of, "Well I don't think this job's going to work for me." But they want to do it anyway, you can look on their lives as well. Take a breath, the reason that we often don't follow our intuition is fear, and that can be tough because fear feels so big often. If you can look back and get some trust looking at what worked out and what didn't and why, then looking ahead you can psych yourself up to move through the fear.
I do that by really identifying that fear and excitement are the same thing, they're just perceived differently. We perceive excitement as fear when it gets stuck in our chest. It's almost like the excitement turns into a brick in your chest, and then you think that you're afraid, but if you really think about it on the outside of that, in your whole body, fear feels so energizing, right? It might just be me, but that's just how I feel it. If you can conjure up the feeling of fear in yourselves right now, just take a breath of that, it's kind of energizing, right? It's just that the energy gets stuck in a part of you and that kind of creates that paralysis that fear gives us. If you can get it moving again, move your body around, try to act like you're excited instead of fearful, that will often help you break through the fear so you can take the decision that you really want to take and see it through.
Michael Light:                    I love that idea of reframing fear to be excitement and moving your body in order to help that shift. I don't know if you remember the scene in the movie Parenthood with Steve Martin, but he was really afraid that his child was performing for the first time on-stage, she was five years old at the time, or something, and he was afraid it would be a disaster. His mother or grandmother was there, and in the movie the whole scene he's in a crowd of parents, and he felt like he was on a roller coaster and he was going to vomit. The mother character said to him, "Isn't it exciting, I feel like I'm on a roller coaster it's so exciting." And then he was able to reframe that in his own mind and actually enjoy seeing his daughter perform and make some mistakes.
Rachel A.:                            Mm-hmm (affirmative), yeah that's so powerful. Even the last thing that you said about, he was excited to see her, and even make mistakes, that's just part of life, right? Mistakes aren't always bad, it doesn't always mean that you made the wrong choice, often mistakes are what give us the best stories later on or the avenue to find out what really does work for us. Removing the pressure from yourself of making the perfect decision really helps to move forward with things. There's no perfect decision, you can't make a wrong turn in your life, it's impossible.
Michael Light:                    Because either you have an experience or you learn a lesson.
Rachel A.:                            Yeah, exactly.
Michael Light:                    I'm interested … There's a lot of changes going on in the world, why do you feel that business intuition is so important to use right now?
Rachel A.:                            I have two answers for that. The first answer is that the information age is saturating everything, there's so much information out there. You can find whatever you want, you can learn how to build any kind of business, any kind of lifestyle, any kind of product or program or sales technique, you can learn all of it. Everybody's an expert now, which is fabulous, I love that everyone is starting businesses and getting their work out there, but it makes finding the right information for you really hard unless you're using your intuition. That's kind of the short answer. The longer or, not longer, but the more higher concept answer is, I see the rules of reality changing. We're entering into this period where there's more light on the planet, we're ascending if you're following that whole narrative of five-d integration and ascension, and the rules that we believed in and allowed to govern us before, like time being linear, and all these other things, we're not really buying into that anymore as a whole collective. Even quote unquote normal people are experiencing really cool awakenings.
The more we rely on our intuition or the more inner connection we have, the more fun and ease we can experience our businesses with. We don't have to go the long way of learning all the stuff, becoming an expert in business, we just don't have to do that anymore, we don't have to pay our dues, we don't have to do a lot of the old fashioned things that you used to have to do. If you can develop an inner connection then you can bypass a lot of that stuff and just go straight to abundance and fun and ease. That is really what I'm trying to help people do now, is to realize that this opportunity is here, and take advantage of it. It can really change things for you. If you have lived a life of hardship and you're just done with being low-energy and frustrated, it's such a good time to allow yourself to have a new experience now, and it can really be done easily, I think. Have you experienced that too?
Michael Light:                    Oh yeah, I've had a thing, I refer to it as SEA, S E A, which to me stands for sexy, ease, and abundance. In the context of business, sexy means going with the flow and being flexible. I ask the question I ask a lot, which is what would it take for this task to be SEA successful? What would it take for it to be flexible, easy, and abundant, and successful. My intuition tells me, this is the way you can do it to get that, instead of going around the hard way and struggling. For me, the opposite of SEA would be rigidity, struggle, and scarcity, which is the old way of doing things. You've got to follow the rules, everything's got to be hard, and there's not enough to go around. It makes sense to me. The whole ascension thing in five-d makes sense to me, it may not make sense to everyone listening, could you say a bit more about what that means that we're shifting in reality to a different dimension and we're ascending?
Rachel A.:                            If you're not into this kind of thing, that's okay, you don't have to believe in it or understand it for the good stuff to leak it's way down to you. You can totally ignore it and you're fine. In a nutshell, you know how I described the higher self as being above time and space and having access to all the higher dimensions and all the other people, and everything else that the sun is connected to, everything else that god or all that is has access to? We're just moving up to that level. We are embodying our higher selves, so we'll be able to have that kind of power and experience here as people. Basically just changing the rules of reality to fit more of what our higher self would be capable of doing.
Michael Light:                    That makes sense to me, and I think really we've always been spiritual beings having a human experience, but we create a lot of beliefs around ourselves to limit ourselves, like the belief it must be a struggle to build your business, or the belief that there's not enough to go around, or the belief that I don't know the answer, even though in reality our intuition knows all the answers, and we did that in order to pretend that we're more limited than we really were. This ascension process is a process of re-remembering how powerful we are.
Rachel A.:                            Exactly, yep, it's all just a really fun game and we're still playing.
Michael Light:                    Yeah, and seeing it all as a game, and that we're playing makes it much more relaxed.
Rachel A.:                            Yes.
Michael Light:                    That is a great thing to look at it. You probably know the Marianne Williamson quote around our deepest fear, that our deepest fear is not that we are inadequate, our deepest fear is that we are powerful beyond measure, it is our light, not our darkness that most frightens us.
Rachel A.:                            Yeah.
Michael Light:                    I think she was spot on when she said that.
Rachel A.:                            I agree, and that's definitely what I see in myself and also in my clients who are trying to start a business and get off the ground. It's really that value piece that people struggle with the most of seeing what they have as valuable and knowing that they're good enough already and embodying that light that they already are. That's the hardest part I think.
Michael Light:                    What a wonderful time to be alive.
Rachel A.:                            Absolutely. It's so fascinating, I love, love, love being alive, it's even more beautiful every day.
Michael Light:                    I know you talk about two-way conversations with your intuition, but why two-way, why is that important?
Rachel A.:                            I think it's important because when we just get intuition on something, not necessarily with what you were mentioning, because you asked the question, and you get the question answered back, that would be a two-way. How most people experience it is they get a gut feeling of that's a good idea or that's a bad idea, or go left or go right, that's not a lot to go on so that's blind faith there. Having a two-way conversation allows you to get a little more context. You can ask a question and get an answer back, and then you can ask a follow-up question and get a follow-up answer back. You can create this dialogue that gives you a lot more information on why to go left or why to go left, or why to stay home or why to go on the date. As people, little kids, they're always asking why, why, why, but adults really need that too. When we can have a two-way conversation it just gives us a whole lot more to go on, it makes us feel a lot safer, and engages our mind more so our mind can be more relaxed about following our intuition. I think it also helps you in body, your higher self, your connection becomes stronger and louder as well.
Michael Light:                    Right, because by asking questions your intuition pays more attention to you and the messages come more easily, whereas if we're ignoring our intuition most of the time it tends to get tuned out.
Rachel A.:                            Yeah, you're really rewiring your brain to look at that connection more often.
Michael Light:                    Is there anything else you'd like to share with our listeners about Intuitive Art and intuition and higher self and helping your business succeed in this modern time?
Rachel A.:                            I think the hardest part about all of this is just remembering that it's there. I even have to remember that my intuition is there, I can do an intuitive drawing if I'm trying to make a decision about something, or come up with a new strategy for marketing, or whatever. Try to set up reminders for yourself, put a post-it on your computer or somewhere in your car, "Ask." It can just be those three little letters, "Ask." Just remind yourself I have this amazing multi-dimensional connection with me at all times, it's a part of me, get curious about it. It's just a bigger part of you that's always with you, you're not separate from it. Get curious and remember to ask. I like to call what happens that you get multi-dimensional results.
When you start following your intuition regularly you'll start to see things happen in your favor that you never could've even imagined. It's not that you just get good ideas and you go the right direction, so to speak, things will happen, synchronicities will happen that you couldn't even have dreamed of. It's really magical when you start to follow your intuition and you see that happening. I like to say that you don't even know how good it can be because your mind right now can't perceive how much better your life will be when you start following your intuition and it keeps getting better and better. Definitely ask, get curious, follow though, trust, and your life will really change.
Michael Light:                    I love that idea of having some reminders to ask, just writing "Ask" on a yellow sticky and sticking it on your car dashboard, or maybe putting it on your phone background. I'm just thinking, how many of us ask our phones for things by looking up stuff, or whatever we do on our smartphones these days, I sometimes wonder what I do on it or what other people are doing on it, but the question I want to ask everyone is, what would it take for it to be so habitual for you to access your intuition as it is for you to reach for your smartphone during the day? Because your intuition is a billion times smarter than your smartphone.
Rachel A.:                            Truth.
Michael Light:                    Well, it's been wonderful talking with you Rachel, how would people find you online if they wanted to learn more about Intuitive Art and having a two-way conversation with their higher self?
Rachel A.:                            Well, we have a free class so you can learn the whole technique for free at intuitiveartacademy.com and you can find out more about Intuitive Art at intuitiveart.com
Michael Light:                    Fabulous, well thanks so much for being on the show Rachel.
Rachel A.:                            Thank you, this was such a great conversation, I really appreciate it.