Laura Roeder talks about "080 Fast Fundraising Using Your Intuition ($300k in 30 Days for Ropig)" in this episode of the Intuitive Leadership Mastery Podcast, with host Michaela Light.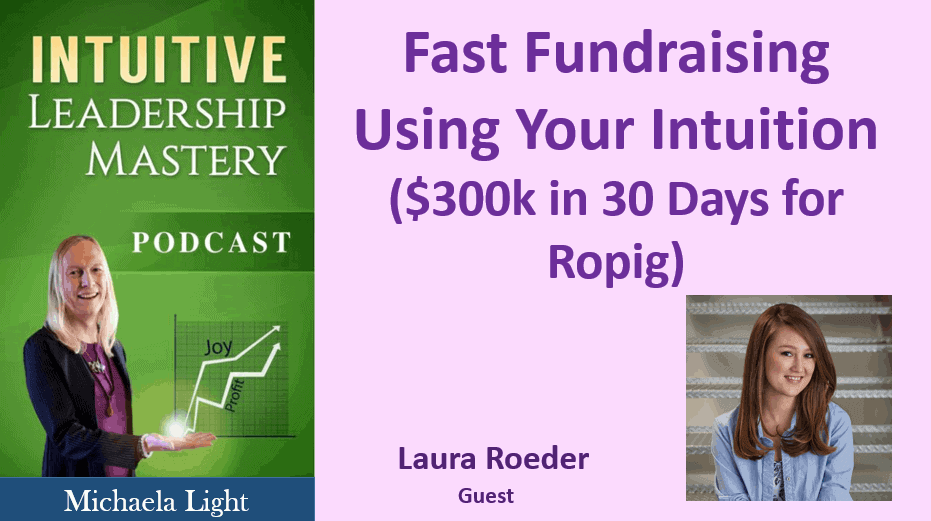 Here are some of the topics discussed in the podcast:
Why did you raise capital rather than bootstrap?

How did you use your intuition in deciding who to pitch?

Setting the minimum investment at $25k, I'd need 20 takers to meet my goal. Believe it or not, though, that list of people I emailed didn't include everyone I know. (I'll tell you in a minute how long it took to narrow it down.)

Friends and family fundraising

I have been on receiving the end of other people's pitches

This is a long-term relationship. Never accept money from anyone you don't actively want to be in business with over the long haul.

Ryan Delk

Energy connection with investors

So before sending each email, I asked myself if this was someone I would be genuinely happy to make a part of my new business. And honestly, some contacts, even very "important" ones who seemed likely to invest, did not pass that test!

Accountability and control. No boss. Not crazy

Clean connection

Is there a way to raise money without saying we'll sacrifice all our morals for the sake of growth?

VC

Growth at all costs

Short

Uber bad decisions about culture and staff are treated to make our numbers. Living in fear.

Mindset shifts

It was emotional, and I constantly had to work up my nerve to hit send on the email. I was asking people for a LOT of money – people who may or may not have any interest – and I had to constantly remind myself that I was offering an amazing opportunity, not asking for a favor!

Resistance to starting

More personal growth

What is the worst that can happen?

Lose a friend

Fail in raising the funds

Followup

Not bugging people.

I followed up 3-5 times with each person I pitched – and you wouldn't believe how many people wrote back on the third email thanking me for following up. Most people give up too soon, but the people you're reaching out to are busy, and you are not their first priority!

Some busy people look for 3+ times follow up

Not selling – offering a opportunity to invest

Even the No's were friendly and supportive

A friend gave me the feedback that my pitch doc lacked passion, and I think he was right.

To be totally honest, I was scared and uncertain when I started this process. I didn't know if the product I had worked so hard to create had a future, or was about to die a sad, broke death. I think this lack of confidence sometimes came across, and I wish I had gotten myself in a better headspace before I started.

Fear of over hyping the pitch

I doubted myself constantly

When you talk to a VC, they obviously believe that their way is the best way – and they can make that argument fairly convincingly. Was I making a huge mistake by not pursuing millions in funding right off the bat? And on the other hand, was this whole thing a waste of time? Should I just go back to bootstrapper land where I belonged?

Fundraising is emotionally exhausting, because you're constantly trying to prove your worth.

Making it enjoyable and easy

Feeling other people's opinions

Similar to the point above, I was constantly second guessing myself for two very big, very different things – one, raising money at all, and two, not taking the typical VC path.

Why are you proud to use your business intuition?

WWIT to make business intuition more openly used this year?
Mentioned in this episode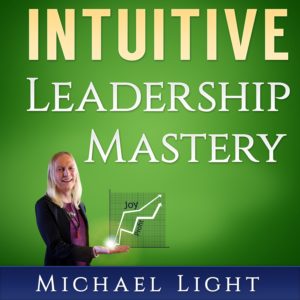 Bio
Laura Roeder is the founder of Edgar, a social media automation tool designed to prevent status updates from going to waste. Laura has given talks at conferences like BlogHer and South by Southwest, and has spoken about the value of independent entrepreneurship at the White House. She's also appeared in Forbes, Fast Company, Mashable, CNET, and other major publications.
Edgar is a social media scheduling tool that automatically builds a library of every update a user uploads, so they can share them again and again over time. The app pulls updates from that library to automatically fill the user's queue. That way, they never run out of things to post, and their updates get the chance to be seen by new people in their audience. This breaks the constant cycle of manually refilling an empty update queue, and gives every update multiple chances to find an audience.
We currently have 7,000 customers, made up of all small businesses. We are a completely bootstrapped company with $4 million ARR.
We are a 100% remote team made up of 30 employees. Something that makes us unique is that we have absolutely no sales team.
Edgar Values
Our relationships with our customers and with each other are built on trust and respect. We leave our egos out of the equation, we give people the benefit of the doubt, and we help one another to be our best selves
Everyone on our team has the opportunity to make a significant, long-lasting impact. We grow by being profitable, not by relying on investors, and that means we're all directly responsible for our own successes.
Edgar's users and his team are what keeps this whole thing working. We make sure that the people responsible for our success are treated the way they deserve.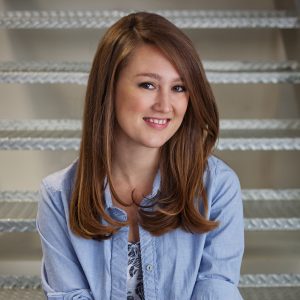 Learn more about Laura Roeder at: