I was a guest speaker in an episode of Live Your Heart Out, with host Conni Biesalski.
Some of the topics we discussed in the podcast are:
How Michaela always knew she was transgender
What her trigger was to come out and why she used to deny her identity
When Michaela came out and the positive impact this had on her life
How important community has been to Michaela and whether it still is
What changing her name was like and how she told her clients
What groups and communities were the most accepting
How seeking alternative therapies and groups led Michaela to discover healing and intuitive life coaching
What the challenge is with making intuitive leadership more mainstream
How she challenges the masculine approach to the hustle and the feminine predisposition to the intuitive
How listening to her intuition guided Michaela to create her books and podcast
What an intuitive yes and no feel like to her and what it might feel like for you
How you can cultivate your own intuitive responses
What Michaela has in common with Richard Branson
How to differentiate between intuitive information and fear based information
What she's learned so far in her 90 day video challenge and why this approach works for her
What Michaela's calling is
Listen to the podcast HERE.
Check out more of Conni Biesalski's podcast episodes at Live Your Heart Out.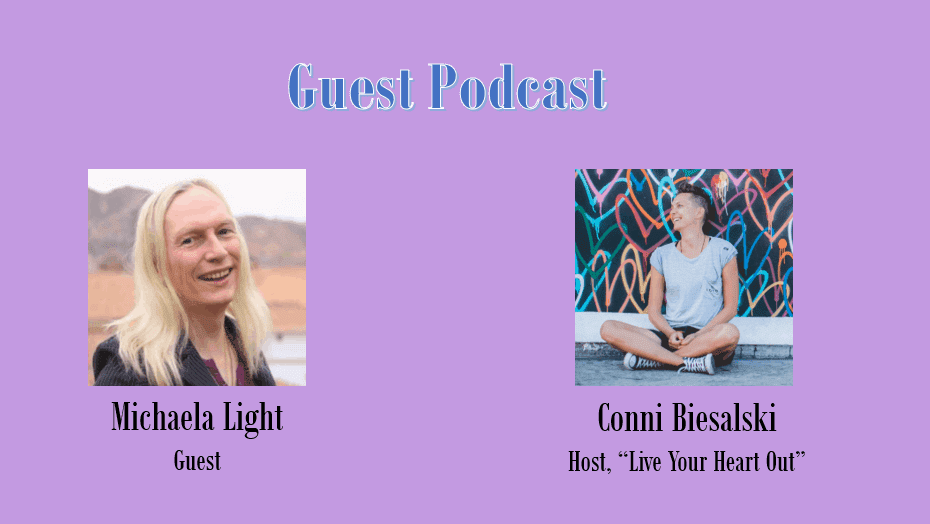 If you want to double your profits and half your stress, check out the Biz Intuition Profit Doubler. It is a free course for you to use intuition in your business.