You can listen to the podcast and read the show notes here.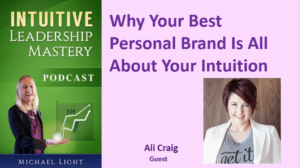 Michael:          Welcome back to the show. I'm here with Ali Craig, and we're going to be talking about why your best personal brand is all about your intuition. And during today's show, we're going to look at how her gut tried to save her from a disaster guest on her T.V. show, but she ignored her intuition. And also, another instant where she ignored her intuition, and got the business partner from hell, and how she wouldn't do that again.
So also, we'll look at why using your intuition smartly can save you thousands in branding, and how she nearly died at age 21, and how that changed her connection with God, and Spirit. We'll also look at the amazing science behind gut instinct. And also, you may not know this about her; she has written three bestselling books and she's been on hundreds of T.V. shows and her secret is to how she doesn't get nervous doing any of those things. So, welcome Ali.
Ali:                  Thank you so much for having me.
Michael:          You're so welcome, and she helps people use their heart, soul, and brains to sell themselves through their brand. And also, she has a T.V. show. What's the name of your T.V. show?
Ali:                  That's my brand with Ali Craig.
Michael:          Fabulous! We'll put in the shows. So, let's come back to that first point about you had a guest on your T.V. show, they look perfect on paper, your producer was like, "Yes Ali, we need this guest." And they answer all the questions right, but your gut was telling you something else.
Ali:                  Yes, clearly I am know what not to do when it comes to listening to your instincts [laughing] [01:37] basically. You know for a season one we're doing the show. The show was on the Success Network which is on Apple T.V. and Roku and all those kind of online platforms. And so, we have hundreds of applications that myself, and my team, and the producers are going through, and I personally interviewed a lot of the people. And there's this one brand and they looked amazing on paper. They answer all the questions right. When you asked about could their commitments and all that stuff you'll be like yeah. And the producers were like we love them, we love their camera presence, we love their answers. And I'm like, I don't know what it is, but I'm like I would never take them as a one to one client.
Like even if they could pay me all the money in the world, I wouldn't take them. They're like what tell me why. I'm like I can't tell you why. I couldn't articulate what my gut was telling me about, and this is not what to do. And so, they were accepted for season one but they are not on season one. Because they ended up not delivering what they're supposed to do, and the kind of the falsehood in what they were saying came through. And so we ended up being in a struggle because we didn't have back up brands. So, we had to figure out a way to now fill this other episodes spot this brand was in charge of, and so we were all scrambling. So, hopefully now, the producers will listen to me when it comes to casting the next season's on. Just if I can articulate why, just trust my gut that I know this isn't the right brand for us.
Michael:          Well, that's a good thing. I mean we how… It is hard to sometimes explain to people that our guts are telling us something. What's the… How would you explain that differently I mean?
Ali:                  Well, I think we live in such a so fast pace, or at least we feel like we're supposed to be fast paced. You know the people I work with are entrepreneurs. Everyone just feel like they're behind. And I think when you have that mindset, and that perspective, you don't allow yourself to have the time to really check in with your instinct, with your gut. And then, it sometimes takes practice to be able to articulate that feeling that doesn't sound logical, if the facts don't add up straight, but you just know.
You just know without a shadow of a doubt like this is not the right thing. So I always say that's where nonverbal communication comes in. And so, it's like if someone's a scientific answer on why, like it was my nonverbal… their nonverbal communication not matching up with what their words were saying. That's my scientific answer for why I don't agree with something sometime.
Michael:          So you also had a business partner who wasn't ideal; to put it kindly.
Ali:                  Very, very kindly you know, it's like you pray you put out in the universe kind of what you're really feel like you're needing, or wanting. And I really thought this business partner was answer to prayer about how to really grow, and help my audience. And so, was oh, this seems really perfect. Again really good answers, but I remember leaving the first meeting of meeting this guy, and I got to my car, and I was opening up the door. And I still remember exactly how the parking lot looked and how bright the sun was and I think it is almost like I heard the voice on the inside saying don't. Just like just walk away, don't ever return to this.
Michael:          wow!
Ali:                  Almost immediately, my brain said, "But if he emails you back and does what he says, well then look, that's proof that he's willing to… he's a man of his word. And he did e-mail back, and he did do what he said then. Two and a half years later, lots of money spent, and nothing good to show for it other than a really good lesson learned. That [inaudible] [05:27] voice that you hear listen.
Michael:          Well, that's great that you heard the voice.
Ali:                  But I didn't listen so.
Michael:          Well, you know it's a multiple step thing. First, you have to hear the intuition, or however you get the intuitive message whether it's a gut feeling, or hearing something, or seeing something, or getting a dream, or whatever the message is. And then, the second thing is acting on it which I think that's something a lot of us listening could improve.
Ali:                  It's a progress. I like to say I'm progressing on step two now.
Michael:          Yes, so you mentioned that this person came in answer to a prayer. Did you have an explicit prayer you'd made?
Ali:                  I did actually. So, I always knew about myself when I became an entrepreneur executive, an entrepreneur when I was 18. And I became an entrepreneur because I just thought they could do it better than my boss did it. And so, it was pure bossiness that I was like becoming an entrepreneur. Not because I had this great mission, or had. Like I just know I can do this better, and I like these people, and I serving them so that works. And so, I always knew though that I wanted to be have a partner in business.
And so, after being divorced, and thinking that my husband or at that point ex-husband was going to be my business partner. I was really looking for a partner to kind of help understand what being a creative entrepreneur was like. And also had a tech side because everything is an app, and a code, and everything and there's processes that I do in branding that I would love to share at the masses. But I need to have a technology part that I didn't have the skill set for in order to have the financial budget to go out and spend a couple hundred thousand dollars to find somebody to write this code for me.
And here's this guy coming in who finds me through a business referral. He's moving to the state that I currently live in. And so he's like… and he has all this knowledge, and all this skill and that exact weakness that I didn't have. And so I'm like this is an answer to prayer. Like this is what I've been looking for, and he's a creative person. So he's going to understand that the creative process, it can't be scheduled sometimes. Like you can have all attention of doing something today between the hours of nine eleven, but if creativity doesn't strike, it doesn't happen. I mean that's why I love the idea of what the ancient Romans believed that creativity was a spirit that came to visit you.
Michael:          The muse, right.
Ali:                  That's what it was for me. You know that's exactly how I feel like creativity is. It's a spirit that this it's you, and you can't sometimes schedule that visitation.
Michael:          So it sounds like you… This person was fulfilling a need you had, but you didn't actually have a particular prayer you put out [crosstalk] [08:20]
Ali:                  No, I actually prayed for months.
Michael:          Oh, you had? That's what I'm curious about. What was the wording of the prayer?
Ali:                  I don't remember the wording specifically. But it was that if there's a way to meet… to reach the masses, to take this information. Because to me, my work really is… it's divinely done. I mean it's not… there's logic and science behind it. But a lot of it is pure intuition on which way, or branch you go, how to communicate to the market; that's all kind of gut instinct. And so, I have since over the last 18 years really kind of created a process of how you can discern which way to go. Like yes or no, left or right, and so I wanted to share that on a bigger scale.
And I didn't know how to do it other than trying to bring in a more tech savvy way because I know I can only work with so many people one on one. I can only teach it so much one on one and I was just really wanting to make a difference in bring this into the world on a bigger scale. And that's really where like who is going to help me do it because I know it's not within myself. And so, when this meeting was called, I was like, maybe this is it, maybe. And clearly I wanted it more than what it really was but.
Michael:          So tell us a bit more about that that you know using your intuition smartly can really save you a lot of time and money on your branding.
Ali:                  Well that's the thing that most people… It's like a hidden secret because branding is a deeply personal experience. If you look at what's taught to you outwardly, it's taught as a system, it's taught as a strategy and there is strategy to it, but those are logistics. Logistics are easy to do. Building a website is easy, creating a logo is easy. Those are logistical steps you take. But your brand is about your relationship. It's a relationship between your product, and service, and your audience, and you're in the mix of all that basically. And so what I'm trying or is tend to forget is that our personality is really what a brand is.
So when we can trust our gut instinct, and really hits happen, and stay grounded in who we are what we're about, and the position we're really coming from, it makes everything so much more magnetic to you. It does that scientifically, and also, it does that logistically when it comes to the audience that you really want to serve. So it's easier said than done to stay grounded some days and crazy worlds that we live in. The best method ever because you're able to… your audience walks away thinking, "Oh my gosh! How did they know that about me? How did they say that right word, that right phrase? How could they articulate my pain in that exact way?"
You know great sales copy is wonderful, but if you can tap into your intuition, you're going to automatically say that the right phrase, position yourself the right way, share the right information at the right time, and that you don't necessarily logically know that that's the story or example they need to hear. It just does and it's like. The Holy Grail when it comes to your brand. Being able for your audience to see you and be like they are the what.
Michael:          Now you mentioned grounding a few times, and I get what you mean. But maybe some people listening don't. What do you mean by being ungrounded, and how do you stay grounded?
Ali:                  Staying grounded for me is a daily struggle. I will totally admit that because there's so much noise out there. And we all logically know that I don't think we logically understand how many impressions we ourselves are making personally and professionally, how much intake that we're having information wise, and how much has changed culturally not just within the last decade or two just within the last three or four years. I mean when I started doing branding – which was '98, your brand would rebranded every six to eight years because that's how fast culture was shifting.
Now, it's six to eight months in getting closer to three and four months. Is how fast our society is shifting because of all the information, but with the information comes noise. And so, it's easy to lose our personal perspective, our personal thoughts, our personal beliefs there are reasons why we're doing things when you have all that noise on the outside trying to get in. And so for me, I really do a lot of meditation, and I am a big fan like really short and practical. So for a while the idea of completely emptying my brain does not work well and I really love mantra, and power statements. I actually normally send clients mantra. And I actually have a whole list of cards that I've [crosstalk] [13:14] for my clients.
Michael:          Uhu! Can you show one of them to us?
Ali:                  Yeah, let's see.
Michael:          These are branding mantras. Sounds so intriguing, and for those people listening to us on the audio version, we'll describe what we're going to see.
Ali:                  So, they're just really cute little cards that I made [crosstalk]
Michael:          It says I … read out what it says there, Ali.
Ali:                  It says; I am passionate, I am driven, I am successful so when you have those moments of doubt that you can't do this thing, I appreciate respond appropriately. It's all that people do for me. I am built for greatness, and my life reflects this. So I ended up creating these actually last year. I am always well received – which is one that a lot of people struggle with when it comes to, oh my gosh! Like I got this great opportunity. But what if someone doesn't like me? What if they my message. You know what if what if I put a video on Facebook in me they hold it kind of thing so I actually made these.
Michael:          How do you use these? Do you repeat the mantra over and over or what?
Ali:                  Yes, so basically, I actually… there's literally hundreds here. And so, that I have as a debt. And so, it's almost like okay, guide me. Spirit guide me to which one, and then it's amazing how it's always guided to the right one.
Michael:          Yes, so it's a bit like doing a tarot reading. You shuffle the deck with your client and you pull out the mantra that they need.
Ali:                  Yes, and I actually mail a lot of them to my clients as well so that way, when they have their struggles because struggles don't happen between nine and five. Meltdowns don't happen at business hours necessarily. But they have a tool that they can use to really kind of own their brilliance because we forget it so often. And I think that's where grounding comes in is that when you're grounded, you do kind of have a little bit less of those moments of doubt because you really know what you're about. And it doesn't matter what's coming in from the outside, doesn't matter if haters are hating, it doesn't matter if people are saying, "Why I don't really get what you're doing, I don't understand." You know your intent. Like you know that your intent was pure and so it's easier to stay there, and to really serve which is really what we're all about, honestly.
Michael:          I love those cards. Is that something you can get on your website or?
Ali:                  If your people would like them, all they have to do is e-mail me their mailing address, and I will mail them for free.
Michael:          wow!
Ali:                  I actually don't sell them but I'll be happy to share them with your audience.
Michael:          wow!
Ali:                  Well, we will give that in the show notes, and we're going to give you a website at the end of the show so.
Ali:                  perfect
Michael:          Yes, so I know that you had a little bit of a near death experience. How did that affect your business? This was a while back when you were 21.
Ali:                  Yes, I know I don't look at day over 21, but at this point, that was like 15 years ago. No, when I was 21, my now ex-husband, but then husband moved back to Louisiana which is where I'm from. And we ended up getting into a house that had black mold in it, and we didn't know. And so, I just started getting really sick, and we weren't sure why. And my ex-husband is a doctor, and so we went to see all his guys, all his colleagues and they're like, "We have no idea why everything shutting down. Your wife would just leave her in the hospital and she'd be gone in like six months or less. There's no way she could live. Everything's so out of whack, and horrible." And come to find out it was actually toxic mold and Stachybotry [16:58] which at that time, people didn't know that much about because pretreated. I'm totally getting myself here.
But what it did do, and what that experience has taught me besides there is a purpose for your life. So if you're here, just like absolute live it to the fullest on every level. But it reminded me about really feeling God's presence. I was raised in a very structured religious household, and went to Catholic school my whole life, and then went to Art College. So, I went from super conservative to super liberal. And going through that experience and it made me realize that my intuition, it did matter what the experts said, it didn't matter these people are the most… the best PhD's, and went to the highest medical schools, and all of that. They didn't know that was couldn't necessarily communicate to them on why I just knew what I know like something's wrong. Like something's wrong. I don't understand why you don't know what it is.
It was by pure loop [18:00] that we actually found the diagnosis because before I got diagnosed with the toxic mold, and Stachybotry.
At age 21, they told me I had Alzheimer's, I had Lyme disease, West Nile. And I was just like okay, I can't go from being a healthy 20, 21-year old dabbing five major illnesses. Like that doesn't make sense. And it was seriously, but a total fluke that I was you know this point, we are friendly. Thank goodness it wasn't near the traditional doctor patient relationship. And I was like mail off my blood work to this one lab in California that does mold toxicity. Like what does it hurt at this point? Like we tried everything else. Like it can't get worse. And the head of the lab actually called my ex and was like I don't know if you're still in that environment, but get out because I've never seen numbers in twenty some odd years of running that clinic. We're that high. He was like we've been out for eight months, and they're still that high.
Michael:          wow!
Ali:                  So the only reason why we had diagnosis was because I was like, "Just try. What does it hurt to try?" So I like this into my gut instinct and I wasn't 100 percent aware of that.
Michael:          Wow! So that gave you more of connection with God, and Spirit. It also sounds like it gave you a feeling there was more to the world than just appears on the surface.
Ali:                  Definitely and I think that's one reason why… And I think it also shifted the brand I like to serve because I was serving brands back then as well and it definitely made me shift more towards the heart passion behind an entrepreneur and that yearning with your soul has a reason, or purpose to be here. And though business… The society says business and personal, and business and spiritual are separate. The truth is they were the same, and at least in my book. And when it comes to creating a relationship with your audience, I think your audience wants it to be one the same because they're not separate entities, you're not a separate entity, and I think there's more harmonious and a whole approach. Because the truth is the really good brands, it isn't logistics.
There's hundreds of people doing the exact same thing you do, or products that you have. It is really about being able to touch that deeper level, that subconscious mind, our innate human that we have, the stories that we have running through our brains, and really making that true connection. It's interesting to see the shift in audiences with you look at human needs psychology, there's fundamental human needs that we all have. And the funny thing is that early to mid-2000, I could guarantee you that significant growth in contribution were going to the top three or 90 percent of any brand out there; that's just what it is.
If you're trying to market to anybody in the United States, significance what major number one. Your audience want to know they matter that they were the bomb dot com basically. It totally shifted them. Now, love is almost up to number one for most brands. And love is about feeling that you're purely accepted for just being you. Not for what you give, not for what you do, but just for who you are. It's amazing to see that shift that that is the need that most audiences are truly having. And if your brand can speak to that, and if you are your brand, and you allow your intuition to guide do you, you're going to find the perfect ways to fulfill those needs for your audience and you could never strategize that out. But it would be the most impactful work for you and for them.
Michael:          That's amazing, it sounds like is less that you do branding work, or you're more in touch with the societal guides of society.
Ali:                  That's a good way of putting it.
Michael:          So I'm also wondering. You know we talked before we started the interview about your life book, and how this near death experience connects you with that a bit more. Tell us what a life book is for those who don't know that they have one.
Ali:                  I don't know if I can say it perfectly on what a life book is. But in my world, before we got here because I do think there was a before that we got here I do think there was an after once we're not in this physical body that we chose our path on many levels of who we're going to create or meet, what we're going to create, what our purpose is, and there're obstacles we are going to come across and I think often actually…
Michael:          Well, you wrote a humdinger of a book there.
Ali:                  I know that's exactly what I think. I think, "Gosh, I was a [inaudible] [22:43] up there." Like before my soul entered this body, my Spirit is this body. I think Wow I thought I could like take on the world and then said well let's just have some more, and then some more. So that's kind of where the life book is. I honestly you laugh at it on lots of levels and he think okay, if I did think I could do it, then I could do it. I can still do it. So no matter how tough days get, you can still do it.
Michael:          That's a great attitude to have. Have you edited your life book since you became more aware of it?
Ali:                  I don't know. I don't know if you know if you edited, or if you already edited it. You know what I mean? Like it's kind of like, which comes first, the chicken, or the egg? Like what this plan here that I decided to change it, or did I already decide that I was going to give myself a little bit more. Though I got to say I look very forward to seeing the big picture on the other side, and reading it from cover to cover, and see the whole landscape from that bigger perspective because that's what I do for brands. I look big, and I look close. And right now, I'm looking close when it comes to my life look, I look forward to looking at it from a bigger perspective in the future.
Michael:          What would it take for you to have that perspective from your own life book?
Ali:                  I don't know.
Michael:          Other than dying. We don't want you [crosstalk] [24:11] I'm just wondering if some meditation, or some magic mushroom or something else would.
Ali:                  Well, I can't have mushrooms, that's a fungus. That will kill me instantly.
Michael:          There you go well, L.S.D. then. Never not, maybe that's part of what one of the psychedelic experiences is having a bigger view of your whole life book.
Ali:                  maybe
Michael:          Yeah, so I know you're also involved in some of the science behind gut instincts. So, tell us a bit about that because I know some people listening are into the [inaudible] stuff, and some people aren't. And maybe the ones who aren't, it helps to know there is a science behind this.
Ali:                  And that's the amazing thing that we're realizing now. It's like we have had all these ancient principles and ancient books for thousands of years at this point, and we as a society for the most part think it was passed or it was wooed, or what not. But now, we have the science and technology to actually prove the truth in a lot of it. And so, there's Heart Math Institute which has been around since the 1970's that is focused on figuring out the science behind the heart. And it's amazing the work that they're doing to know that the electromagnetic field that your heart alone produces [which is not your aura; that is a completely different thing] goes 200 feet outside of your radiance.
Michael:          200 feet!
Ali:                  200 feet
Michael:          Well, doesn't that mean if you were in a room with other people you're like feeling their energy?
Ali:                  You are, and especially if you're grounded into your intuition, you will be and the great thing is that it's magnet. So it's something what's a magnet, like attracts like. And so, when you're grounded into your intuition, think about how powerful that can be to know that that gut instinct that you're having isn't… it really is something that your body is trying to biologically share with you, and to listen to that, and to honor that. And this isn't some crazy idea, or thought in your head. It's really your body working to your advantage.
Michael:          And hope maps has these little machines you could hook up with.
Ali:                  And they even have an app for that like everyone else. And but a lot of their science actually they have a whole series that's just based on getting into your heart rhythm, and that you don't even need the app, or anything for the information is free on their website. So, it's a great resource that if you really want to know more about the science behind it, that they have that scientific proof.
And I find it very fascinating to oh like this was always there then I believe, and I don't know why I believed it, and then to know their scientific proof. Like it's like yeah I wasn't some crazy [inaudible] with that. I just chose to believe, I just chose to make important. Like that was really in my gut instinct telling me there's something deeper here, you just don't fully understand the situation at hand.
Michael:          And there's also the… you know, we have the brain in our head, but we have our gut brain, and that's been [crosstalk] [27:30]
Ali:                  See, part of what I do is not verbal communication, and so, we have all these expressions like gut instinct, and the weight of the world on your shoulders. And when you realize scientifically where those came from, I find that very humorous. So the top of your gut actually has very similar neurological tissue as in your brain. So it really does have that gut instinct about it, and your heart is your fastest connection to your brain. From your heart than any other neural connection or blood connection in your entire body. So I just… that is just amazingly fascinating to me.
Like where in society with these phrases came up we didn't know the science behind it and now you know the science behind it. It's like why we were there wedding band on our ring finger of our left hand versus our right hand because this is the fastest connection straight into the heart, and straight into the brain.
Michael:          And if you happen to come across the heart, the gut brain before. If you have a look at antidepressants, they tell you not only is this going to affect your brain, but it affects your digestion, and that's because it's affecting your arms you know, in that gut as well as in the brain so, that's an example of that.
Ali:                  We aren't separate entities.
Michael:          Yes, it's a brain. Is [crosstalk]
Ali:                  …cut off the arm, and it won't hurt anything. It's all meant to work together.
Michael:          Yes, it is. You know I was reading the other day that you know how they have these robotic arms that they give people who've had amputations. They're actually doing amputations differently now because they want to have a good connection from the person's stump of their arm to the things that they actually you know, it's… I mean they have done it differently for hundreds of years. But now, they're doing that differently so they can have a better connection there.
Ali:                  It's amazing to see that working actually. I mean to say that what the power of the mind really has. And to think that the power of the mind they control of this robotic arm. But then to say the power of the mind has no effect, having negative thoughts has no effect on your life, or your business. I mean it's like okay, well you can't have it both ways. My mind can't be so powerful that I can control this arm, but yet not so powerful that it's not going to create like what I'm secretly thinking.
Michael:          Well I mean for folks who don't think their thoughts affect their body and their business, there's a great book called 'The Biology of Belief' and I'm spacing on the guy who wrote it. But it will come to me in a moment particularly when Mr Google, or Miss Google tells me. Bruce Lipton and he talks about the biology behind how beliefs do affect our bodies. And I think our beliefs affect our businesses too.
Ali:                  They completely do. I was actually just having a conversation with another entrepreneur and she focuses on helping women who are in service based industries because service based industries are so few. They're not spoken too often everyone's told to make an e-product. They have a coaching practice. But no one's told like do your craft kind of thing. And we were chatting about really the negative self-talk that women have; and I'm sure guys have it too. And the negative stories that society has embedded intentionally, or unintentionally that's another debate. In our brains and how that can affect it doesn't matter if you pretend, you try to be the super power house. If your internal dialogue is why would anyone ever want to work with me, I'm a fraud, I only think of an expert it's going to come across.
It's like a couple years ago when the American market crashed and I was actually doing on volunteer work for this government program called 'Work Force' which was to help people get jobs. And I was helping them do their interview skills, so practice interviews, and this lady came in. And I didn't want to meet them before. I wanted to be as original, and natural as possible. This woman came in, and she's walking like this, and she has this power suit on in her mind, and she has a handshake it's like a death grip. Like she's really short. Like she's five foot. Like I'm five five, so you're really short and so they reckon. I'm like okay, great and I have a lovely seat you know and so we start chatting [inaudible] interview. And the whole time she's leaning across the desk over halfway through, and she's just doing the death stare.
Michael:          the death stare?
Ali:                  She's just staring at me right into my eyes, no blinking, just really, leaning forward, answering the questions, but just like… I'm like okay. And so afterwards, I was like, tell me what was up with that. Like I was told that if I did a firm handshake, that meant that I was secure in who I was. I was told that if I leaned forward that meant I was interested, and I was told that if I looked at you directly in the eyes that that showed that I was engaged. And I'm like you look like a rabid dog. I'm like you have to let it come naturally. That's not [laughing] [32:40] handshake. You can't fake it, you got to feel it.
Michael:          So, you've been on hundreds of T.V. shows, Ali. And you've written three bestselling books, but you never get nervous when you're on T.V. shows.
Ali:                  I don't actually, doesn't matter if it's a T.V. show, or speaking. I mean I've had interviews where we're supposed to talk about business style for women in the summer and I get to the show and I meet the host. And they're like, yeah don't want to talk about this we're going to talk about swimsuit trends instead. And we're live in three, we're live in two, we're live in one. It's like what are you going to say? Because you know a producer is prepared for a business style, and this chick wants to talk to you about suits. And you're like wait, are you branding [laughing] together. I don't get nervous because it's not about me. None of this to me is about me, and I think that's one reason why I work so hard, and I am so driven to create, and to serve is because I love helping David beat Goliath. It's one of my most favorite stories in the Bible.
It still is to this day that idea of having a little guy win, and it's not about me. It's God coming through me, it's the universe coming through me. It's not my answer, and so that's one reason why I've learned long ago that I don't work well with corporations. Those corporations want the facts. They want like the fact really. What should this, or a why be? And I'm like I can tell you factually, but I can tell you like instinctually that ain't the way to go. I can't give you the are, or why at it right now. I can probably come up with some statistics to support my theory. But my gut instinct tells you this isn't the way to go, and it's not and I know that's not me. I know that's not because I'm this super smart human being. I know this is really a calling for why I'm supposed to be here right now. That's way higher than this body.
Michael:          Nice, great! It seems to give you a lot of energy and drive and it also lets you just be true to yourself.
Ali:                  Yes, which is the easiest way to be when it comes to [inaudible].
Michael:          Instead of having to lean forward instead because you were told to do that. Hopefully, that woman has learned from that experience.
Ali:                  I really hope and pray honestly because it was a little scary.
Michael:          Yeah, so anything else you want to share with people listening about using their intuition in their business?
Ali:                  You know I think the marketplace is flooded with systems, and strategies, and follow what the guru did. It's not going to work for you, and it's just an honest truthful fact. There's many reasons why society is changing too quickly. There are different things new. The truth is that it doesn't matter if the experts say to do it this way. I mean after I got divorced, that was the worst time in my business in all 18 years because I didn't want to be an entrepreneur solo. And so, that's when I hired my first really expensive business coach again, but I was doing the right thing there.
And that took my business down a rabbit hole for three years that didn't produce anything except loss of money because it was doing business their way. Where I knew in my gut instinct, that wasn't the right message for me. Like they didn't understand my true message. But that's okay, if everyone doesn't understand your true message. You have to understand you and stay true to that, stay grounded in that, trust your intuition that you may have a lot of people may bounce of a lot of people who are like, "I don't get that, that's confusing." That's fine, they're not your people. You're gonna find the right people, you're gonna find that right little niche, and they're gonna stop and look at you and think you're absolutely brilliant, and those are the people you're meant to serve.
Michael:          Well that is an inspiring message for a lot of people out there who want to change the world with their business so. I appreciate you sharing that. I'm on a mission here myself to get people, to get all entrepreneurs to openly use their intuition at work because I think you'll make more money, they'll be happier, less stressed. I also believe if everyone was using their intuition, we could make less dumb ass decisions in our businesses that hurt other people, or hurt the planet.
Ali:                  When I think that it's shifting now.
Michael:          yes
Ali:                  If you look at where the market was, it is shifting. It's just a slower shift than some of us would like.
Michael:          Yeah, well, what would it take to make that shift happen this year?
Ali:                  I think people being honest. I think the honesty especially as entrepreneurs. When you look at social media, everything's perfect and rosy and everyone is making gazillion of dollars and no one's being really real about what they're really doing or what their struggles really are, what their… I think being truthful, and being vulnerable which is a great buzz word. But I think very few people really can do it in a smart way.
Because being vulnerable isn't crying to your audience on Facebook, or social media about your life being horrible. But it is about being real about the truth about what your life is. That's one reason why on my bio three clicks and says of me is that almost died at 21, divorced, adult, dating that's always a fun one psychologist let alone the eight cats you know which everyone thinks I'm the crazy cat lady. And it's just you know what that's the truth about me. It's really who I am and it's my life, my perspective, and where business comes from.
Michael:          Yeah and I think there's a lot of it creates connection by being on a system vulnerable. There's a friend of mine who she does a video blog and she did a challenge to herself to have 30 days of being vulnerable on her video daily blog. And she told all kinds of stories on that, and got a lot of great connection with her audience for doing that. But it is a challenge for a lot of people to be vulnerable.
Ali:                  I think society has a misconception of what vulnerability is. It's not weakness, and it's not necessarily guts in all the mess of life. It can be sometimes but there's a way to be vulnerable just simply by being… saying your truthful perspective about what you believe in, what you think versus being concerned about, oh will they not like me now, or will they think less of me now because I tell them the truth. Whether I'm really honest with this brand about I don't think that what they're going after is going to make them the finances they think or they don't see the flaw in that thought. I don't want to be mean, I don't want me that girl… you're supposed to be nice, you're supposed to be kind. And it's all that in her look of a story inside your head just stops you in your tracks from actually just being real, and true, and invulnerable, and trusting your vet.
Michael:          Yeah, I think that's a good point there that we're not trained to be okay with being vulnerable. You know that's not how schools typically train children.
Ali:                  No, not in the least.
Michael:          Which is a shame because that's where the real connection in humanity occurred.
Ali:                  exactly
Michael:          The person's name was Connie. I'm going to probably miss transom the last name. It's Beliskey. I'll put in the show notes.
Ali:                  God bless the show notes. It's like…
Michael:          yes
Ali:                  …the show notes
Michael:          Exactly, but you can find it on YouTube. Well, fabulous! So if people want to find you online, what's the best ways to do that?
Ali:                  The easiest way is The Ali Craig, so T H E A L I C R A I G dot com. So, thealicraig.com. I'm thealicraig on every single social media platform out there. So whatever your fancy is, I probably have an account, or at least I'm redirecting you to the accounts I actually really love so.
Michael:          And if they want to find your T.V. show, where would they find that?
Ali:                  It is my brand with alicraig. So if you have Apple T.V. you want to find the Success Network and that's where we air is on the success network. It is available on Apple T.V., Roku, Amazon, Fire. If by chance you do not have any of those T.V. methods, just go to fix my brand alicraig.com, and we're airing all the shows there as well. They air every Tuesday so.
Michael:          Wow, fabulous! So, and if someone wants to email you, they can find a contact page on your website; I'm guessing.
Ali:                  Yep, you can find the contact page on either fix my brand with alicraig.com, or thealicraig.com.
Michael:          Excellent! Just in case they want those brand mantra cards.
Ali:                  Yep, if you want your brand little cards, I'm happy to send you a deck so.
Michael:          All right, very generous offer. Well, it's been fabulous talking with you today, Ali
Ali:                  Thank you so much for having me. I have so I enjoyed our conversation.