You can listen to the podcast and read the show notes here.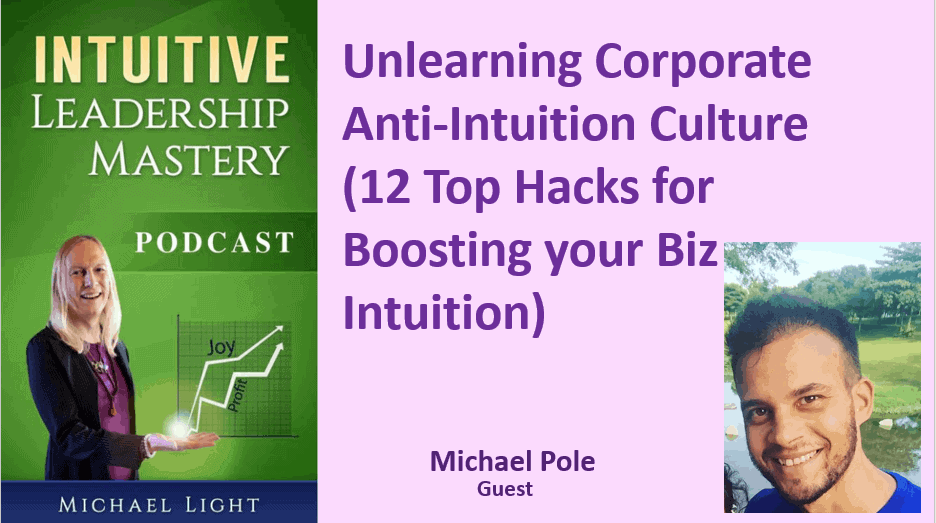 Michael Light:            Welcome back to the show. I'm here with Michael Pole and we're going to be looking at and learning corporate and intuition culture with twelve top packs he has for boosting your business intuition.
We'll look at the 00:14 [inaudible] clever ways he blocked his intuition for over seven years when he was working in banks in London. How the corporate coach works against using intuition openly. The twelve top packs for boosting your business intuition that he uses every day and how constant stress can be blocking your intuition.
Also, he has just co-founded the X mansion; a next level entrepreneurial co-living, co-working space that's location independent self which shall be incarnating in Lisbon real soon now. I think in September; if I remember right. So, welcome Michael.
Michael Pole:              Thanks good to be with you.
Michael Light:            And just in case you don't know him, he is a health enthusiastic entrepreneur, crypto currency educator and he as I said earlier, co-founded the X mansion which is a very exciting new initiative.
So, you worked for a long time in the corporate world at a bank in London, can it get much more uptight and stiff lipped than that?
Michael Pole:              yeah totally
Michael Light:            But prior to that, you were telling me earlier that you were you know, you went to a ward off school, you were really pretty open and intuitive. So, how on earth did you manage to close down your intuition during those seven years?
Michael Pole:              Yes, it's an interesting story. Actually, I wasn't ward off schooled but I was homeschooled so it's a simple 01:32 [crosstalk]
Michael Light:            Oh! I'm sorry
Michael Pole:              That's fine but yes, I like the word of concept. It's a great idea of schooling children in a more holistic way. So, we can definitely talk about that. But yes, over the first ten, eleven years I was homeschooled. I think that's quite important to get into that. And then, I went through normal schooling, college education, university came out of the corporate world.
And so yeah, I worked in the banks in London for about six, seven years. I moved to Singapore, did a couple more years of Singapore very heavy kind of corporate culture working in I.T. and the banking finance industries.
So yeah, it's like doesn't getting more stressful than that. I think that kind of intuition gets crushed at a very early age actually. I noticed it when I went to school. But you know, you wear uniform, you're forced to conform. Just obey, just follow orders and then, that continues pretty much throughout your career.
So yes, it is something I've always felt didn't sit right and I guess I didn't have any other models or frameworks to compare it to. So, it took me awhile to kind of figure my way through that.
Michael Light:            Yeah, I mean it's funny schools do a lot of things to turn people into automatons. It's not just the obeying orders. They have bells that ring like every hour and you're supposed to change what you're doing. It doesn't matter how interested you are in Geometry or French or Art or whatever the subject was. Now, you have to switch to some other subject just because the bell rang.
Michael Pole:              Yeah, it's like you have a lost dog.
Michael Light:            Yeah, exactly and then how many you know, when you go into the corporate culture, it's a bit more subtle there; the same kind of thing. You know you're basically expected to follow orders and follow the group mind think.
Michael Pole:              Yeah, you got to be rushing into work, you're not late. If you're late, your boss gives you hell. If you're late for meetings, you feel the stress and so you just rushing, rushing all the time. And I think that doesn't really give you space to ever stop and reflect on what you're doing. The system is designed to keep you very busy and very distracted and that's a very clever trick.
Michael Light:            Yeah, how do they keep us distracted?
Michael Pole:              Well, I think time is reduced and concept. I don't know how deep you want to go into it. But a kind of how we perceive time. Like you said they ring the bell every hour in schools. A time is kind of divided up into these periods and so, the way we perceive time is kind of like this linear divided concept.
It can be very stressful because you're always rushing to something. Either rushing to school or you're rushing to pick your kids up or you're rushing to meet a deadline. And this whole framework of how we live you know, time could be useful obviously to arrange meetings and stuff.
But I think when you let it run your life like that then, you feel like it was never enough time. That's kind of how it feels for most people and I think that's where a lot of stress comes from because you just like you never have enough time.
Like you have two days a weekend to yourself and then five days back to work. Every one dreads going back to work on Monday. They hate Mondays. They look forward to Fridays, look forward to the weekend. I mean this whole mentality is kind of crazy.
Michael Light:            Well, I think we're lucky we get two day weekend. It used to be a one and a half day weekend. You know not that long ago, people worked Saturday mornings regularly and before that, they would work the whole of Saturday. It was only Sunday they got off so.
Michael Pole:              Yeah, well if you work in the banking world, that's also quite common. You get called in the 04:36 [inaudible] so it's like constant. Yeah, you're constantly alert, constantly on that so you can never switch off.
Michael Light:            Right because even when you've gone home for the evening or it's the weekend, you're supposed to have your phone with you constantly.
Michael Pole:              yeah
Michael Light:            Glued to your hip or wherever you stash your phone.
Michael Pole:              Yeah and that becomes your identity because you're so wrapped up with work, that's how you identify yourself. So what you think of success is how much money you earn, your whole status; all a kind of thing. You compare yourself to your colleagues and you know, you're going to get a promotion next year and that's just what drives you.
But that's only really a part of who we are. It's like we have to connect with ourselves to really understand what makes us tick, what we enjoy. And we never get that time like I said because of the power system is kind of designed you just rushed into education and you're in there. Then, you have to get pay a few days and then you get a mortgage on your mortgage. And it's just you know, it's that whole wheel. It's very, very clever.
Michael Light:            It is, that's not quite the corporate career ladder that people climb; though that's another little trap. It's like the life success ladder that you're supposed to do those steps and if you aren't doing them, there's something wrong with you.
Michael Pole:              Yeah, exactly and you look around you see everyone else doing it. You think that's normal. So, unless you really have your own mind and you have other people or models you can look up to or see how a different path, it's very hard to get out of that. It's just all around you.
Michael Light:            Yeah, I remember some friends at college and they were like. You know, they'd done a degree in let's say English or whatever it was that they had passion about. And then when it came to jobs and I got to go get a good job so I can get a mortgage. So they go off and work at accounting companies or consultancy companies and they hated their jobs.
And it's like, why are you doing this to yourself? Not to say some accountants may not love their jobs but there are definitely some people who go into it just because it's like the right thing to do. And the same thing with Lauren Malison.
Michael Pole:              We're looking too much to rationally or logically in terms of what's going to make us money or we think we need to be happy. And so, even if you don't really enjoy it, you'll do it just because you think that's what it's going to take to be successful in the world and that's what it's going to be happy.
So, it's like where we find purpose and happiness is just you know, sits in these things that the system teaches you think you need that to be happy, So you get career counseling at school that what career you want to have a really lucky interest certain path or a certain decision, a certain you know choice A or choice B. and that's a very limited choice so.
Michael Light:            Yeah, I remember when I was a kid. I either wanted to be a math professor or an entrepreneur. And I either wanted to go to the United States or go to Hong Kong because I figured they were more entrepreneurial.
Michael Pole:              That's pretty open minded already, yeah.
Michael Light:            Yeah and I went to the career counsellor and he was like …
Michael Pole:              07:24 [inaudible]
Michael Light:            Yes fortunately, I didn't follow his advice. But we mentioned how corporations have systems. The norms are stay busy, follow the clock, get a lot of distractions. But why exactly does that block your intuition?
Michael Pole:              I think when you're in a state of chronic stress and most people don't even realize they are because it's so normal. That you're not really able to access the other parts of yourself that can guide you. They can tell you what to do.
So your intuition it's very much comes from a state of not doing so much but more like being and really in certain terms of like feeling your body almost. There's a whole mind body connection there which I think most people are so disconnected to their bodies that's why we eat a lot of bad food. So, we don't look after ourselves and we don't value our health or our time.
There's all these kind of things that kind of block that. It's just a 08:24 [inaudible] that keep you disconnected from who you really are. And I think a lot of that has to do the environment and yes, not just the work environment but the fact we live totally indoors, cut off from nature. And that's really powerful.
The effect, people don't even realize what that has and I would see then on top of that you have all the culture around you and politics and work and things like that. Especially in these high pressure jobs and there was backstabbing and all kind of stuff goes on. So it's yeah, it's crazy.
Michael Light:            Yeah, office politics that's probably another thing that gets in the way of being open about your intuition because you might be worried, what will all the people think or will they use this against me?
Michael Pole:              You have to be so guarded. I mean you're always worrying about who is going to use these actually information against you. You [inaudible] that openly you're worried it might be used against you.
So, I don't think many corporations have a very good culture for that for encouraging that kind of collaboration. It is a very competitive world especially in consulting where I kind of came from. So, you might have one of your friends you trust. Ultimately, you have to really; you feel like you have to really look out for yourself and if there was a kind of survival mode.
Whenever you're in survival mode, you don't have access to your intuition. It's very hard to tap into that because you just worried about getting through the day, trying to get the next promotion and doing whatever it takes to get there. Just pushing, pushing, pushing to do that so.
Michael Light:            Wow! When you speak about it I almost feel like I'm in a bank, in competition with all the people. And I'm just thinking that sort of mirrors how many schools are. You're in competition for exams and there's only a limited number of university, places and you mustn't …
Michael Pole:              exactly scarcity
Michael Light:            Right, you mustn't collaborate with other people whereas in the best companies, team work and collaboration is the way to get creativity and have the most success. So, it's kind of ironic.
Michael Pole:              And I saw that when I moved to Singapore those systems there are even more. You know, people can do anything but without thinking for themselves. They have to take orders. They can't they think themselves. The way the education system set up is just purely obey, follow and so these guys are just locked in there and they just can't think for themselves. They're frozen until they get directions from their boss. And so yeah, they have no way of tapping into intuition and things like that. So, I think in some other systems.
Michael Light:            Yeah, I've done some business with some companies in Singapore and sometimes I get frustrated when they are following the rules to such a degree. Not everyone but you know. I got so frustrated with one of the companies there. I just kind of did a whole bunch of magic and upgraded everyone in the company to a higher level of consciousness. Because I was tired of them not being able to do what was obviously the right thing for their customers. And then a few days later, they managed to figure out how to do it so. Yes, they came into my reality that's their problem.
Michael Pole:              Yeah, if you can do that, that's pretty powerful. I think it takes some skill and some learning to really know how to share that with other people. And that's kind of what I'm getting into now. So the corporate world is really tough to crack.
Michael Light:            Yeah and some of the other things that we talked about earlier. The ways people clamp down on using their intuition openly. Obviously, whatever their parents' viewpoint was which is probably the same; don't use your intuition openly, it's dangerous.
Churches and cults; I think you mentioned you were in a cult or something or church or something that began with letter 'C'.
Michael Pole:              Yeah, same thing more or less. But one is recognized by society and one demonized. But yeah, I think any belief system which is really rigid. Especially if you're enforced at a young age, you don't have that kind of discernment to know. You just again you're kind of you know, you're taking everything in and you're just like a sponge.
So, I think a lot of our belief systems are shoved into the very early age before you can question them. And if the parents are not giving any information in any context then, they're probably doing the same thing they got from their parents. And that's kind of passed down generation to generation. Yeah, it's a cycle. It's really interesting how we take those beliefs and therefore never question them.
I think this is what our generation is going through now. This is big awakening to realize wait, what we were taught what our parents and that what worked for them is not going to work for us. And so we have to really think and find our own path and question everything to find out more about who we are.
Michael Light:            Well, that leads me into the twelve top packs for boosting your intuition because I know the first one you mentioned to me was question or belief systems. So, that's a meta-belief for helping you get rid of beliefs that are not useful anymore.
Michael Pole:              Yeah, I think for me, the best place to start with is I don't know. And every time you say I don't know, it opens up the potential to anything. And the second you think you know something, you lock yourself into a certain way of thinking. And so, that for me has been… I'm very careful about doing that. I try not to identify or attach too closely to one belief system because something else might come along that just makes more sense.
And so, I don't want to be stuck in a dogma that stops me moving to a better way of doing something. So yes, so I grew up in a culture where they were very rigid and had a lot of belief systems and that affected me for a long time before I was able to let go and release that.
Then I went to school from being homeschooled, I went to the normal schooling system. The education system again, it's not a rigid belief systems about what it takes to be successful. And then, as an entrepreneur again, you have belief systems that you need to be productive. There's always tax free you know doing things more effective your time. 13:46 [inaudible] always kind of things which I think you know it can be helpful in context. But again, it's a lot of it seeing time is kind of a scarcity thing that's always rushing around.
And again, that's not a great place to access your intuition from because you're approaching things from a place of lack. And yes, so I try and question all belief systems and see is this really true for me and that's just this is your way of looking at things. You don't have to be so attached.
Michael Light:            Yeah, be open to what's coming in the moment and the idea of just being and doing nothing. I can imagine being accused in school. Hey Michael, are you daydreaming?
Michael Pole:              Yeah, I was 14:23 [crosstalk]
Michael Light:            [crosstalk] evil thing and many churches and other systems have a belief that idle hands are work for the devil; misquoting that. You know this that actually [inaudible] Yeah, thinking is self-sustained us. And also, some religions or churches have beliefs that if you're hearing voices, well maybe that's the devil talking to you as opposed to your intuition so.
Of course there's the other view in some religions that it's angels talking to you or it's God talking to you or whatever. But it's definitely not strongly encouraged. They much rather look the priest or whoever the leader of the church is the one getting the inspired messages and they pass them on to the congregation.
Michael Pole:              yeah
Michael Light:            Rather than each of the congregation being able to hear that messages themselves.
Michael Pole:              I think of a big part of that has always been putting someone between you and then whatever you want to call it God, creator, consciousness and someone is an expert who you have to go through to get that knowledge or get that wisdom or intuition. So, I think I've been able to kind of get that directive through nature and that's really interesting things that happened for me lately.
But I think we all have different ways of doing that. Some people have you know, they believe in spirituality in one form or another or they have one religion that works for them. But I think direct access and direct experience is the most powerful thing to opening up intuition rather than just reading books and trying to intellectually understand something because it's very limited.
So far, we can go with that. You know one part of us that's the part that's really reinforced and ready conditioning to us so, it comes at a cost.
Michael Light:            Yeah and I've done a process that I believe Quakers do in a meeting where everyone sits in a group and you're all silent until you're inspired to speak. So that seems to be more open to the individual getting direct info from spirit. But …
Michael Pole:              I like that.
Michael Light:            Yeah, it's a nice practice to do whether you're a Quaker or not. I'm not a Quaker but it's a nice thing to do in a group. Just sit in meditative silence together; which is a powerful thing even if you're not interrupting to speak on occasion. Just being in a group in silence is great for the group's consciousness and mind.
So, we talked about twelve hacks you use for boosting your intuition and questioning all believe systems so that they don't get in the way of you access, your intuition. What other things do you use?
Michael:                      So I think for me, nature has been the biggest one. There is different aspects of that in terms of how our bodies respond. I think the environment you're in is really powerful; that's kind of something I've come to understand more and more. I didn't realize that when I worked in the corporate world. And when I spent a lot of time at my computer I think people think that's very normal. But actually, what I found is that being in nature is a completely different environment everybody responds to completely differently.
And so, in terms of being in touch with your body, that is where intuition comes from. You know that mind-body connection it really depends on your state and your state is dependent on your environment. So, we can talk a lot about that maybe. Yeah, there's tons of things.
Michael Light:            Yeah, I mean do you mean to say that humans didn't evolve hundreds of thousands years ago sitting in front of computers on the light caveman paintings where they sat in front of a laptop. You know contemplating the bison on the veldt they're going to hunt later.
Michael Pole:              Yeah exactly, I think a lot of people you know, we just grew up in an environment we don't question again because it's what we think it's normal. And the road is designed that way almost to keep us in a very artificial environment.
So, it's really interesting when you get into these Futurists philosophies are we in a simulation or all these kind of stuff. But fundamentally, when you're in nature it's very, very powerful and you do it consistently for me, it changes my whole state. And I think we do in train to our vibration. We are ultimately, we pick up energy, we're sensitive to energy. We get it all around us so, you're taking it in from nature or you're taking it from your environment wherever you are.
And I think when you're indoors and you know more and more in cities you're exposed to bad air, Wi-Fi, E.M.F. these are all spectrums of stress and life that affect us. And when you're in nature, it actually reverses some of that and gives you more resilience because it's exposing you to your natural state.
We have kind of disconnected ourselves from nature and see it as ourselves a separate. Again is the whole thing of you know looking at ourselves and to find with our body it's who we are. But actually, we are part of nature and so, you can't really disconnect yourself from nature without feeling the consequences. It's like taking a plant indoors and it wilts. It's the same concept. We just wilt slower so.
Michael Light:            Wilt slower; I like that phrase. I can just see all the people in their cool 19:10 [inaudible] slowly wilting, their auras turning gray and…
Michael Pole:              Yeah, I don't know how it all plays out but I think that your energy is massively affected. I think I've got so much energy now and I eat so much less because I mean nature so much so much more. And so, I get a lot more my nature, a manager from nature and that's how people compensate when they don't have that they end up eating more. You become addicted to certain foods and you need those things that compensate because you're not in your natural environment.
So, a lot of addictions are just compensation for lack of vitamin which you get from the sun. So for example, being outside, being in nature. Even so far as like in London, I go out every day whether it's sunny or cloudy. It doesn't make a difference because I feel so good at the end of it that I can't really go a day without that.
I feel like yeah, it's so noticeable to me when I'm indoors, I try to spend less and less time with my laptop. We all have to make a living. But I think there's definitely a balance there and just trying to do more, do more all the time doesn't really lead to the results you might be looking for.
Michael Light:            Yeah, I mean speaking of E.M.F., I've got one I just went to grab one of these. I've got a little; I don't know if you can see that.
Michael Pole:              20:20 [inaudible] yeah
Michael Light:            Yeah, it's a little thing that measures magnetic fields and electric fields. In fact, if I put it nearer to my computer. Let me see if I can do that. You see how it's going up? Now, it's six inches away from it and it's like going 'woo'. I got this a few years back and I went around my house and like saw where are all the electromagnetic fields, where are the radio fields?
And it turned out right next to my bed, there was this enormous E.M.F. field and it's because the electricity came into the house there and went through a little converter thing and [inaudible] or whatever. I just moved my bed into another room and I started sleeping a lot better.
Michael Pole:              Massive; that's such a big thing. The grounding of the wiring in the house. Electricity is just not something that's recognized even but more and more I think people are becoming aware of these things.
Obviously, we carry cell phones around all the time. We're exposed to constant E.M.F. in cities. It's really you know, I'm in a block you might have twenty Wi-Fi signals in any one time. Your body is just constantly being exposed to it. And this kind of background chronic stress is something that it kind of wears on you as events over time so you don't realize it.
We kind of we kind of chalk that down to aging which is really interesting because of what we think about as aging it's like oh, it's normal to get diabetes, it's normal to be obsessed, it's normal to get Alzheimer's; always kind of weird conditions that just become normal because we see it happening all around us. But this is not obviously how our bodies are supposed to be.
Michael Light:            I don't think is normal to age. I think it's normal to be healthy and young as long as you care to being incarnated in this body.
Michael Pole:              Yeah, I think I'm realizing that more and more in nature that actually, I feel better than I did ten years ago. So I think we can all… If you question all reality question, all belief systems it's going so far as the fact do you have to age the way we think we need to age. Is it inevitable to get these diseases like cancer?
Obviously not, I think once you reach a certain level of health and vitality, you realize the rest of the world is just on a different path. And I really feel this reality is diverging. That's very interesting that some people are waking up, taking power back over their bodies and their minds.
And some people are still completely clueless and just following conventional science and nutrition and diet and all these things. They only lead you so far. So I think this all ties into intuition because your body has to be working, functioning correctly and ultimately for you to have that energy, for you to be access intuition.
So I feel like that comes when you're in nature, when you're in a good environment. When you're not, it's just that much harder. I don't know how. Yeah, maybe some people have mastered how to do that but I find it's just so much easier in nature.
Michael Light:            Yeah, I mean I opened up to this late 1990's I think. There's a book 'You Can Heal Your Life' by Louise Hay. Doesn't totally talk to the aging as a false belief though. I guess it does maybe not explicitly. But it does list all the possible symptoms and diseases you might have and what the spiritual meaning is. And a lot of disease comes from false beliefs manifesting into the body.
I think it also comes just from us. When we're stressed, we tend to stuff energy into body parts we don't pay attention to. And if you stuff enough crappy energy into a body part over years, it will physically degrade.
Michael Pole:              Yeah, I think of this concept of stagnant energy. The Chinese have the system of T.C.M. mostly it's about every illness, every disease coming from an energy blockage in the body. And I think stress and trauma is one way that energy can get stuck.
And obviously, when you eat bad food or you're in a bad environment, energy is not flowing. And take grounding as an example; when you're in nature, the Earth has a negative electric potential. So you have basically electron donors coming in through the earth. If you're grounded barefoot coming into your body and this changes the whole state of your body.
Like you can feel it. If you're in nature, you become so relaxed very quickly and that state of stress you are in just kind of disappears within half an hour it's gone. But we never take that time consistently to experience that. And I feel like it's very powerful when you start to do these things consistently on a daily basis; it's cumulative.
Just like being in an office all day is weighing down your resilience over time. Being in nature kind of built up so, it's very powerful.
Michael Light:            You know and I think everyone can relate to that just going for a walk in a park or if you have to go to the seaside and just sit on the beach that's really rejuvenated so.
Michael Pole:              Yeah I mean whatever doesn't go on holiday they go rushing to the beach you know so the body knows, they just haven't figured it out; it's interesting.
Michael Light:            One of the hacks I used for this is a thing called unearthing sheets or an earthing pad. It's a bed sheet that has little silver threads in it and then you hook it into the earth or you run a line out into the garden and pound earth, a cup of steak into the ground. Not for killing vampires but to 24:54 [laughing] to the earth.
And I found I do sleep better when I have that going. And I have one under my computer too. So I'm more grounded and even though I'm sitting in front of a computer a fair amount. And I do take breaks. Like after I've done this interview, I'm going to go outside this little piece of garden and I'm just going to lie down and shake grass because it's like releases any crap I've picked up by working on a computer.
Michael Pole:              Yeah, I used to take on [inaudible] into the corporate world actually as I started getting pissed off of them in their earlier, I used to take it in. I did think it helps but it's again it's compensating for something, right. Like being an unnatural environment so, there's a lot of other things I had to release and remove and I was sitting outside was just much more powerful and trainmen in terms of the environment I was in.
So, I think I used those things when I had to. And it can be useful but also maybe the thing that can really substitute for just being in nature. And again when you go outside like you said getting ground or getting barefoot because most of us wear shoes, we walk on concrete. We're never really connecting with our environment. And the system, I think is kind of designed that way. It's designed to keep you disconnected because that's where your true power is.
Just as the church for years trying to stop 26:07 [inaudible] so people can access information directly. I think there's certain systems of control still set up to kind of keep us disconnected from our true powers. I think we don't really realize or appreciate how powerful nature is.
Michael Light:            Yeah, I mean going barefoot is definitely a good thing. I mean shoes these days are usually made of plastic instead of leather. And I think…
Michael Pole:              insulators yeah
Michael Light:            Yeah there is an insulator whereas at least a leather shoe does have some connectivity. Though I have seen people who have shoes with these little metal conductor things that go through the sole. So, even though you're wearing a shoe, you're still grounded.
Michael Pole:              Yeah, I tried those.
Michael Light:            Yeah, it felt good when I tried them, trying those again. The other thing I do with a Wi-Fi is I just went to the hardware store and got one of those little electronic timers that turn a thing on and off at certain times of the day. So, the Wi-Fi turns off eleven P.M. and turns on at six am. And I find that helps me sleep better by not having the Wi-Fi on running twenty four seven.
Michael Pole:              I think it's a really powerful reader as well. They're going to be really close to your head when those things make a huge difference so yeah.
Michael Light:            Yeah and this idea that you should sleep with your cell phone under your pillow is nuts.
Michael Pole:              Oh, my God! Oh no!
Michael Light:            Because think about it. If you use one of these things; I don't get any money from talking about that. If you bring them near to a cell phone particularly one those like getting data or making a call, you'd be blown away by how much cell phones give off. I never put cell phone next to my head if I can avoid it. It just gives off far too much radiation.
Michael Pole:              And the thing is again, if you're using a cell phone but you're grounded, that stuff is going to discharge because the most powerful instrument is the earth. But when you're in a state in energy is staying in your session. It's got nowhere to go. There's no flow so, your body is completely in a flow when you're grounded because you're connected to your environment. And that's pretty who you are. It's part of nature.
When you're disconnected all those energy points just stay in you and that's where the energy gets stuck. So I shouldn't worry too much about cell phone signals and Wi-Fi anymore. I find I used to care about this stuff when I didn't really have access to nature and I felt like it made a difference. I was definitely noticing when I would you know get away from that, it would help.
But now that I'm in nature obviously, I don't use cell phones all the time but, I just don't care about it as much because I find that my resilience is so much stronger. I can be in a city and I can still have incredible health and energy. I never get sick anymore. So, as long as you have the right daily practice and sort of a consistency, you get a better resiliency. And then, things like fasting on Sundays you can talk about are really, really powerful techniques to kind of recharge your body and regenerate your body. So all those things kind of work together with nature.
Michael Light:            Yeah, we'll talk about those in a moment. I think it's also possible to do magic on yourself to like make the E.M.F. or whatever the other stresses in your environment are not affect you. It's almost like one of those waveform things where one wave passes through another and it doesn't affect the first one. You can definitely. I've done this with electronics. They continue to have varying E.M.F. but, it just doesn't affect me.
Michael Pole:              Yeah and that comes back to belief systems. So, it's really interesting. I met a functional neurology doctor just the other day and he does muscle testing. He uses kinesiology to test what causes stress in the body and how your body responds to that and it was very interesting. He could actually test which of the things were beliefs about something making you weak that actually were causing the weakness in the body.
So he could actually show what is almost perceived as that effect or belief. And that was really interesting because if you had the intention that you're not affected and you can create almost like a shield or that energy around you is strong and then, you're affected by these things.
And again I think the good natured really builds up that energy feel around you. So you become very strong and you're not so settled suit to all these stresses.
Michael Light:            Yeah muscle testing is a great way to hear your internal intuitive voice, to hear a yes or no. So, well worth checking that out.
Michael Pole:              Really interesting stuff.
Michael Light:            It's amazing. So you mentioned fasting, how often do you fast and are you just not eating food, are you not drinking water or what's your …?
Michael Pole:              Yes so, I supposed I started fasting about eight years ago and I think you know, there's different ways of fasting. When people think of fasting all have different ideas. Some people think it's just having a juice for a few days. You have like a fruit fast or a juice fast.
So, I've done those things and then I gradually moved on to doing a green juice fast with no sugar and that's a lot less appealing to start with when you're addicted to sugar. And then gradually moving to water fast with no calories and then even from there to no water.
So water restriction or dry fasting which is I guess the harshest or most severe form of fasting in terms of what the body can take. And all these things have slightly different effects. But I would say that you start somewhere because all those things can be beneficial just to help cure your body over time. Especially if you eat a lot of refined foods.
You don't know what that's doing over time to your body and especially it's just good to clear out. And the body doesn't need to be fed as much as we think it does. So I think the biggest thing for me was when I went for example seventeen days on a water fast. I had no food for seventeen days. I was in a city, I was still under a lot of stress and I wasn't doing everything correctly but I was able to go seventeen days without any food.
And so, that taught me a lot that my body is a way more resilient than I thought it was and those kind of experiences really push you outside your reality box and you realize oh wait, there is a lot more going on. We never get told these things but fasting is a major part of all religions. I think if you look to Jainism, Christianity, Judaism even Islam stay, right. Moslems stay in Ramadan, they fast.
So I think it's something which kind of lost that knowledge over time where the body goes through a sort of healing process when you fast and especially without food and without water. It's really exciting; that healing regenerative process. And we can talk about the science if you want or in terms of the spiritual benefits. I don't know what's more interesting to you.
Michael Light:            Well, just briefly you mentioned both of them.
Michael Pole:              Sure so from a scientific perspective, I think intermittent fasting is becoming very accepted now that's more in the paleosphere. People recognize you don't need to eat three meals a day because when you stop eating basically, your body goes into repair mode. So you have this thing called a 32:15 [inaudible] where your body is basically clearing out dead cells and weak cell.
And what you're doing basically what you fast is you're putting your body into a state of stress. But it's how your body responds to that stress is actually quite beneficial. So, it's almost like the fittest cells survive. So if there's weak cells or cancer cells and you're restricting nutrition in your body, those weak cells wouldn't survive.
And so you can use that to clear any kind of illness or disease fundamentally just with fasting and it's really a powerful thing. People have noticed they can heal leaky gut and things like that just for the three days fast. You can regenerate your immune system. These are actual scientific studies on 32:48 [PubMed] you can go look up.
And then obviously, prolonged fasting is where you get more than a few days without food. So yeah, I think seventeen days is the longest I've done. I've seen other people do thirty, forty day fast.
So what the body can do is really quite miraculous and then the other benefits that come for I guess more the mental peace you get from not eating that detachment from your body is very interesting. How it changes your perception, your realities. So yes, it's really interesting.
Michael Light:            How was your reality changed by not eating for seventeen days?
Michael Pole:              Also the first thing is after a few days, you actually stop feeling hungry. And then you're like okay, what is this? Because you're still moving around, you're still operating but you're not getting energy from food.
So you start to realize where am I getting energy from? Then you start to become more aware of your body. And you just realize that our body is run on a lot of other things than food and so you get you 33:38 [inaudible] basically you're not so attached to what you're eating in terms of the kind of sensory stimulation we get. We're always attached to our five senses.
So it's like we perceive reality by what we see, by what we touch, by what we eat. All these kind of senses are triggered all the time and so that becomes what we think of as reality. Suddenly, when you're not eating, you're not taking in food your whole reality changes because you're not getting that stimulus. And when your attention, your focus is not on those things, you start to go inwards. And you just have much more awareness internally of what's going on in your body
Yeah, it's a very different state. It's almost a different state of consciousness. Yeah you have to experience it to really understand it. But it's very powerful and you just tend to yes, stop pushing so hard. You take more time to relax. You meditate for more or you just kind of connect your body and you get I think yeah, the access to intuition is really powerful actually because when you're not constantly stimulated by external things, your attention or focus is really freed up for other access to awareness you didn't have before.
Michael Light:            Yeah, I mean I've fasted one day a week for at least five years. And I found it very useful for not both getting in touch my intuition but also, not being as addicted to food. And when I'm emotionally upset, not immediately reaching for food as the way to deal with that.
And if people listening are thinking all that's too much. I couldn't deal with not eating food for a day, just consider that everyone eats breakfast, right. I'm pronouncing that a little weird because you're breaking the fast that you took when you lost a dinner until you got up and ate breakfast.
Michael Pole:              yeah
Michael Light:            And if you push the dinner off or get rid of dinner and don't eat so late at night and maybe move breakfast later in the day you could easily be fasting for twelve hours a day.
Michael Pole:              yeah
Michael Light:            And sleep is regenerative in a health sense and for getting intuitive messages for several reasons. But I think one of them is because you're just not eating at that time when you're in bed.
Michael Pole:              So you can extend that fast even longer and I think again, being in nature is really interesting because I did that seventeen day fast but I wasn't in nature very often. I was going maybe outside a little bit but mostly indoors.
And then later early this year actually I did a fast in Portugal and I was basically by the beach. I had access to the beach every day. I was swimming every day. I was in around it doing yoga outdoors every day. 36:00 [inaudible] aside to some days and getting two, three hours of sun in a day. Suddenly, I had so much energy. I was realizing I'm totally eating out of habit.
I'm not feeling any hunger. I'm just eating because it's dinner time. My wife's making dinner or we're going out for dinner. And I realize, what if I stop eating? What's going to happen? And she stopped eating and I stopped drinking water as well when I went basic six days without any food and water. And I found it was even easier than the previous fast because I had so much more energy just from being in nature.
So that was a really powerful shift and again my perception of how much power we can draw from nature not just physically but mentally in terms of our whole connection to nature. And since then, I've been spending a lot more time in nature because I just feel it's much more natural way to be, to live.