Anna Rova talks about "Clear Inner Voice (And How She Trusts It)" in this episode of the Intuitive Leadership Mastery Podcast, with host Michaela Light.
"For me, it wasn't important and then my inner voice which was my true intuition I suppose was just telling me that. The most important thank you what is your mission steered towards what makes you feel good if you don't win Wimbledon as conversations don't and a lot of women actually a lot of people want to be involved in that and I just don't see the point of arguing about something that's that's not my main Like why we're arguing about feathers in the year." – Anna Rova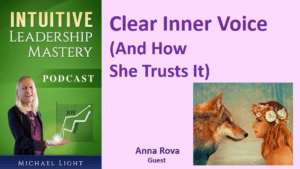 Here are some of the topics discussed in the podcast:
How she decided to start a podcast using her intuition

Letting go and listening to her intuition

Being a channel

How she deals with controversy

Overcoming her fear of saying things that others might not like or get angry with her. Fear of confrontation.

"If you are scared to write it that is exact what you need to share"

Attracting your ideal guests

Clear boundaries and blocking

Intuition and Branding Challenges

Running with wolves and wild woman

Feathers in hair – Cultural appropriation from Native Americans

Trusting my intuition and going with it

Playing with the puzzle pieces

Creative work

Is this important, Is this worth my time and energy, is this love

Moving from Moldova

Making decisions when there is no data

How she deals with her mistakes

Learn from it, shift and try something else

Strong inner voice since a child

How Yoga helps,

Move body, release blocks

The Power of Breath

Her morning routine

Relationship with all her body parts

Morning pages by Julia Cameron

Tarot card

Track my monthly cycle

Art meditation

Her biggest fears

Waves, spiders

Fear of death and ghosts

Why are you proud to use your business intuition?

WWIT to make business intuition more openly used this year?
If you want to double your profits and half your stress, check out the Biz Intuition Profit Doubler. It is a 5-day quick course using the WWIT technique.
Mentioned in this episode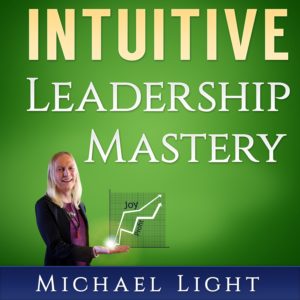 Writer, podcaster, yoga instructor and location independent entrepreneur, Anna Rova is the founder of Girlskill – an online media platform, publication and podcast empowering women to live a life of freedom, joy and creativity.
A former email marketer, she loves being on stage sharing her knowledge on relationship dynamics, feminine/masculine energy and the power. Born and raised in Eastern Europe, she is on a mission to redefine female success and femininity. She believes in creating a thriving community of conscious and awakened women through providing inspiration, tools and resources that will help us all build a better, more sustainable world. She had also founded ManInside Show – a podcast about men where she's interviewed John Gray – best selling author of "Men Are From Mars, Women Are From Venus."
Together with her husband, Anna has traveled the world being on the road full-time writing her personal blog, recording podcast episodes with incredible women for the Girlskill Podcast, practicing yoga and spreading love and positivity. She is passionate about yoga, personal growth and spirituality, fashion design and writing fiction.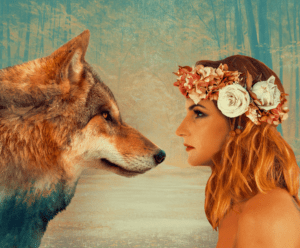 Learn more about Anna Rova at:
Interview Transcript
Michaela: Welcome back to the show. I'm here with Anna Rover the host of 'Girl Scale'. And she's gonna talk about how she decided to start a podcast using her intuition. And intuition and branding challenges she's had and a quite controversial story that she's gonna tell us. And how she trusts her intuition and goes with it even when she doubts. And how she makes decisions when there's no data. So welcome Anna.
Anna: Hi Michaela, thanks for having me. I'm really excited to be here. It's an honor.
Michaela: It is and in case you don't know Anna, she is a writer, a podcaster, she's a yoga instructor, and she is a location independent entrepreneur together with husband. So both of them have their own businesses, and travel around the world; pretty amazing.
Anna: whoo!
Michaela: So tell us about how you decided to start a podcast using your intuition.
WWIT to start using your business intuition more openly?
Learn more about this powerful technique and how it takes only 10 minutes to learn a new technique that makes running your business 3x easier